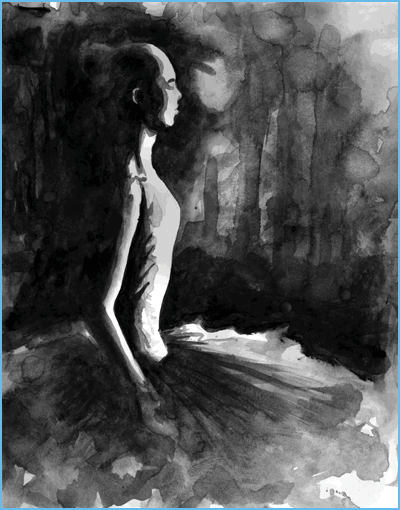 Order online at www.amazon.com

Order online at www.Barnes&Noble.com
Order an autographed book from www.CedarCrestBooks.com
Soldiers of Beauty
is a sumptuous book. It celebrates ballet in a unique combination of poetry and art that appeals to the mind, the emotions and the senses. The book dances, leaps and sings to all the rhythms, sounds and colors of ballet. Rottenberg writes from the point of view of the dancers, the lovers of dance and the lovers of the dancers. The poetry is funny, sad and beautiful. The artwork is simple, sensitive and vivid. Every page is a true delight. It is exciting to see and to read. Soldiers of Beauty is a book to cherish for yourself and give to your friends. To see what the book looks like inside, click here.
"The book delivered a poignant and soulful performance. Like any true dancer, it came from the heart. I enjoyed it tremendously and it was wonderful to get to the end without any blisters on my feet!"
-Jennifer Gelfand, former principal dancer, Boston Ballet
"… David touches the heart of our art form through his words… the love, the sacrifice, joy and pain. Beautifully done!"
-Melianie Atkins, Soloist, Boston Ballet
"Poetry, art and ballet! Soldiers of Beauty is a perfect book for anyone who loves dance."
-Tony Williams, Artistic Director, Balletrox
"The writer has a great sense of the soul of dancers…. For anyone who knows anything about dance, especially ballet, reading this book will be an absorbing and meaningful experience."
-Richard Rutherford, former principle dancer, Royal Winnipeg Ballet,
former associate Artistic Director, Royal Winnipeg Ballet
OTHER BOOKS
Dancing on my Grave
– Gelsey Kirkland wrote this autobiography and it ranks as the steamiest, most interesting book written by a ballet dancer ever. She was a principal dancer with the New York City Ballet and the ABT in the 1970s and a long time dance partner (as well as lover) of Mikhail Baryshnikov. Although the book near the end becomes somewhat like a journey into The Bell Jar when Kirkland has a mental breakdown, it does make for wild reading. This is sex, drugs and ballet.
Winter Season: A Dancer's Journal
— A beautifully written book by dancer Toni Bentley describing a year with the New York City Ballet and Ballanchine. It's the kind of book you always wished a ballet dancer would write and here it is.
Holding on to the Air
– An autobiography by Suzanne Farrell and Toni Bentley. Suzanne Farrell is one of the greatest dancers of all times and Toni Bentley is one of the greatest writers of ballet books, so it has a lot going for it but it does bog down a little near the end. Still it's a very fine read.
Ballet Stories – Red Hot Reads
– This book is a collection stories and is intended for girls 9-14. Many of the stories are excerpts from novels and two are from chapters from the autobiographies of Margot Fonteyn and Lynn Seymour, so anyone reading the book should find something in it to love.
Once a Dancer
– Allegra Kent details her dance career with lots of anecdotes about herself and other well-known dancers with the New York City Ballet. Like many autobiographies it entertains and bores in equal parts. You can buy a used copy on Amazon for as little as $3.45.
The Unmaking of a Dancer
– Joan Brady – This is the biography of a woman who danced with Balanchine and didn't like it. It's another expose of the hardships, backbiting and tears of ballet with very few of the joys. But it is the real story of a woman who lived it.
Ballet Shoes
– Noel Streatfield tells a story about three orphans, Pauline, Petrova and Posy who are adopted and attend a special school for the arts. At the school, they learn to dance, act and sing. It's intended for 8-12 year olds but it is so well-written anyone can enjoy it. Girls love it.
On Pointe
– Lorie Ann Grover – This is a book about the struggles of a teenage girl who wants to become a professional dancer. What is unusual about it is that the story is told in free verse. The writing is excellent. Even if you think you might not like an entire book in verse, it's worth checking out. This book could be very special for you. Ages 9-12.
A Dance of Sisters
– Tracey Porter – Although intended for preteens and teens, this book is so beautifully written that it transcends age.
It has some of the most evocative passages about dance that have ever been put by pen on paper. It is about two girls, Pearl and Delia, who are left motherless, and one of them, Delia, turns to dance to help her with her grief. Although Delia confronts the usual obstacles of ballet–a stern teacher, backstabbing friends and anorexia, the book has much more to offer than that. Like a ballet, the plot doesn't matter much. It's the writing that will make you soar. Highly recommended. Ages 9 and up.
Ellie's Chance to Dance
– Alexandra Moss – This is the first book in a series about a group of young girls who attend The Royal Ballet School for Dance in England. It's sweet. It's a series. And it's very easy reading. Ages 8-12.
Dancing in Red Shoes Will Kill You
– Dorian Cirrone has crafted a teen novel revolving around a ballet dancer and her breasts. Kalya is an excellent dancer who attends a school for the arts in Florida. Due to the size of her breasts she is denied a role she deserves. Suddenly, the whole school becomes involved in the decision about whether Kalya should "whack the rack" or "save the hooters." It's funny, sad and somewhat true. Definitely for teens.
Alphabet City Ballet
– Erika Tamar – A story about Marisol, a Puerto Rican girl, who wins a scholarship to the Manhattan School of Ballet. Marisol has to deal with her family, her poor neighborhood and the struggles with ballet. It's written in the slangy style of the Spanish ghetto has proved its appeal for preteens and teens.
Another Way to Dance
– Martha Southgate – Vicki Harris is accepted to the School of American Ballet summer program in Lincoln Center. All should be perfect except Vicki Harris is black and experiences racism for the first time. The book deals which what she learns that summer about herself, about her friends and about ballet. Well-written and engrossing. Ages 9-14.
Sisters Impossible
– J. D. Landis – This is one of those books that seemingly everyone who reads loves. It's about two sisters who become closer when they both become involved in ballet. It's intended for younger girls but teenagers love it, too.
The Gilded Bat
– Edward Gorey – If you like Goth, if you like ballet, this little masterpiece of a picture book is for you. You really have to see it to understand what we're talking about. Strange, macabre and beautiful. Definitely, check it out.
The Ballet Book
– Darcy Bussel – An illustrated step-by-step guide for learning everything a young ballerina needs to know, from holding the barre to arabesques and pas de deux written by one of the world's greatest ballerinas.
The Ballet Book: The Young Performer's Guide to Classical Dance
– National Ballet School of Canada Karen Kain (Foreword) – A guide for kids who love ballet. Includes sections on finding a teacher, evaluating a studio, and outfitting and grooming tips, plus chapters on ballet positions, steps and exercises with lots of pictures.
100 Lessons in Classical Ballet
– Vera S. Kostrovitskaya – The complete 8-year curriculum of Lenningrad's famed Vaganova Choreographic School, which trained Nureyev, Baryshnikov and Markova, including over 100 photographs. A volume which no teacher, scholar or student of the dance can afford to miss.
The Pointe Book: Shoes, Training & Technique Second Edition
– Janice Barringer Sarah Schlesinger – A thorough examination of pointe technique and pointe shoes. Dancers tired of their pointe shoes wearing out too quickly benefit from research that illuminates the shoemaking process and tips that show how to best fit, care for, and custom order their shoes. Interviews with ballet stars Martine van Hamel and Darci Kistler reveal their highly evolved but proven methods of caring for pointe shoes. The basics of the pointe technique, different pointe methods, and the history of pointe are discussed. A handy reference on pointe-related injuries and their remedies is included.