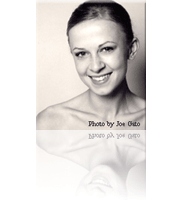 Agnieszka Szymanska started dancing when she was nine years old in her native Poland. At the age of ten she was selected to enter the Warsaw Ballet School, one of five state sponsored schools for talented dancers. There she trained under Teresa Memches, Barbara Sier and Irina Kacprzycka among others. As a student, she won many prizes and competitions, and joined the Warsaw Ballet Company in 2002. After competing in the Jackson International Competition, she was asked to join the Miami City Ballet where she dances in the corps and performs many featured roles.
Q. You started dancing in Poland?
I grew up near Warsaw. It's about an hours drive from Warsaw. That's where my parents live. It's a very small village, and as a small child, I always wanted to be a performer. When I was very young, I would do my own shows and present them to my parents. My favorites were a dance show and a fashion show where I would just put on a bunch of clothes and march around the room. When I was a little older, my parents signed me up for some ballet classes. I guess I had too much energy. After three or four classes, the teacher talked to my mother—I guess she saw something in me—and she said I should consider dance as my career.
Q. How old were you then?
I was nine years old. It's pretty late but that's how we start in Poland. In Poland, there are only five big ballet schools and they are government sponsored, so I didn't have to pay for my training. It's ballet school with regular school and you start when you are ten and you graduate when you are nineteen. My parents couldn't drive me every day, so I lived at the school in the dorm.
Q. Were you close enough to still see your parents?
Yes. I went home weekends to see my parents.
Q. Did you love ballet? Was this what you wanted to do?
No, in the beginning it was boring. I thought I was going to get these pretty tutus and nice pointe shoes and I was going to be on stage and look pretty. Instead, I had to stand at the barre and repeat movements that were so boring and slow and hurt.
Q. When did you finally start to like it?
I don't remember exactly when I started to like it but after doing it every day I finally found some things that were pretty interesting, and at the end of the first year we finally had a show. My first dance on stage was the Chicken Dance with music by Moussourgsky. I remember I was in a pretty costume but I was very stressed out about it. I don't even remember if it was hard to dance, probably not, as it was my first year. It was a group dance but I think I had a few steps that I did solo. By the second year, I had a solo piece and I liked the shows.
Q. What were the teachers like?
The teachers were good. They taught Russian and French technique. One of my teachers was a Polish teacher, Barbara Sier, a very educated woman and who to this day is my idol. She had spent many years in France and her teaching was very French. A few years later, I had a Russian teacher. This was my hardest year because she was very, very tough; not only physically, but mentally even more so.
Q. How was she tough on you mentally?
Sometimes in order to get me to work harder she would use various expressions like, "You dance like overcooked kielbasa (Polish sausage)," or when I was practicing for a competition, she said, "You village girl, what are you doing here? You are entering a national competition." (I got a gold medal). Sometimes, she would just make me hop on my pointe. One time she made me do the whole diagonal in the Giselle Variation when my toenail was coming off and my toe was bruised and bleeding. It was very negative reinforcement but it worked. It made me stronger and taught me not to give up easily. And because of my teachers and my parents support I am here where I am today.
Q. In Russia the stages are tilted. Are they tilted in Poland?
I danced on this kind of stage only once when I was in a competition in Lausanne in Switzerland. It was something new and it was really hard to dance on this kind of stage. We don't have this kind of stage in Poland.
Q. You graduated from your school when you were 19?
Yes.
Q. Do graduates of this school immediately join the Warsaw Ballet? Or do you audition for that, too.
My last year of school was kind of exceptional in that I was already offered a job with the Warsaw Ballet Theater. It seems that the director of the theater knew the director of my school and my school director told him about me and the theater director asked me to join the company. My school let me study independently, so I could dance at the theater and not have to go to school. But I still had to take my final exams in dance and in academics and on top of that dance with the company and get ready for the Jackson Competition. So, that was all happening in my final year in school and it was very hectic.
Q. At the International Ballet Jackson Competition, was that when you were seen by the Miami City Ballet?
Yes. We had to prepare four solo variations and two contemporary pieces and there were three rounds. The first round you did two variations, and if you passed the first stage, then you had to do another two pieces, and after the second round, was another round with another two pieces. Then, there was a final performance.
Q. Were they upset in Poland that after spending all this money training you, you were off to Miami?
Well, I don't know. I danced in Warsaw. They already knew after the Jackson Competition that I was offered a contract here, but I didn't decide for a while whether I should go because it was a big decision for me. When I decided I wanted to come here, there was still a long process of getting my visa which took about five months and I danced with the Warsaw Theater all that time. I told my director in Poland that I wanted to keep my contract because I didn't know if I was going to like it here. I didn't know anybody in America and I hardly spoke English. So he allowed me to keep my contract until the next summer when I came back. So I had the option to come back or to quit which was very nice of him. Now, every time when I go back to Poland and I go to the theater to practice and meet my ballet friends, the director always teases me. He says, "Oh, there she is—the American Ballerina. She left us for America. So, how are you? When are you going to come back?" He's always funny and ironical about it. I'm sure if I wanted to, I could go back and dance in Warsaw.
Q. You came to Miami in the middle of winter?
Yes. It was the 3rd of December. I remember exactly.
Q. What was that like coming from the Polish winter and suddenly finding yourself in Miami, surrounded by palm trees and beaches?
That was like the earth and the moon. Two different worlds. But it was funny when I first arrived at the airport, someone was supposed to meet me but no one showed up and I was waiting at the airport expecting to see someone with a sign with my name or something and nobody was there. I mean I was in a different country with hardly any English and I didn't even know who to call because I didn't know the name of the person who was supposed to meet me. I waited for an hour and a half before I realized that nobody was coming. So then I started looking through all of my papers and I finally found a phone number to the company, and when I called, they connected me to the wardrobe department. The people there had no idea who I was or what I wanted. They transferred me and eventually we got it straightened out and someone came to pick me up. But it was scary because I was in another country all by myself.
Q. You came to America right in the middle of the Nutcracker. What was the difference between doing the Nutcracker in Poland and the Nutcracker in Miami?
The first thing is Miami uses the Ballanchine version of the Nutcracker. In Poland, we do the classic Russian version. It's a very different performance. But the Ballanchine is nice.
Q. How was it fitting in with the other dancers? Was that difficult?
Everyone was friendly. My first day when I showed up at the studio—I don't remember exactly who they were—but lots of people came up to me and said hello and there were a few dancers I had met at the Jackson Competition who remembered me and they asked if I needed anything and offered to help. It was very nice.
Q. Is there an American style of dancing that's different from the European style?
The European style is different than the American. In Miami , we do a lot of Ballanchine and use Ballanchine technique and in Europe it's more classical, more Russian. The training is different. I remember my first few classes with Edward Villella, I couldn't even get the combinations. Now, they're very simple but back then I couldn't do them. In those first few days, Edward came up to me and smiled and said, "Don't worry. Everybody who comes here has to go through that. It just takes time for your body to adjust to the new movements, and counts and rhythm." But now I have it.
Q. Was there a change in ballet shoes and did it make a difference?
In Warsaw, we had our own shoe makers. It's a very big theater—one of the biggest and oldest in Europe and there's a whole department of people who make pointe shoes, although some of the dancers got their shoes from Russia. My shoes now are from England. It took a while to get used to the different pointe shoes. Dancers are so into their bodies and movement—once you get used to one thing, even a slight change makes a difference.
Q. Do you do a lot of work to your pointe shoes when you get them?
Everybody has to prepare their pointe shoes. We have to sew the ribbons. Some people put super glue inside—I do this—so they're harder and they last longer. Some people cut them in funny places. Some people clip them under the heels. We torture our pointe shoes before we use them.
Q. What style of ballet do you prefer?
I like classical because I was trained in it. That's my base and I had good teachers. I know a lot about classical technique and I feel confident with it. When I came here, I had to learn Ballanchine which is a different approach. I read many books to understand the movements and to understand his approach. But I think my thing is more classical.
The other day I went to see Merce Cunningham and I realized how different movement can be. If you only see classical or Ballanchine you never realize all the different types of movement that are possible; that people are doing and that are beautiful.
Q. What do you like best about ballet?
The best thing is being on stage because it takes so long and so much hard work to get there. On stage, you are finally ready to show what you've done; what you're capable of. That's the best feeling. You can be tired and in pain and you want to give up but then you get on stage and you know thousands of people are watching and you suddenly get a rush of energy.
Q. What's the worst thing about ballet?
It's the constant struggle you have to fight with your body. Your body tends to get comfortable. It wants to be just where it is and it doesn't want to stretch or do too much. So you always have to push your body to do more and improve and it's very demanding.
Q. Any advice for young dancers?
It's a serious decision when you want to become a dancer. You either commit yourself totally or you just don't bother. It takes up all your life like in my case I had to leave my parents pretty early and I'm not complaining. It made me very strong. I'm here in Miami by myself and I don't need any help and I do things by myself and I'm fine. But you have to be smart when you are deciding to become a dancer and know that it's what you really want.
Q. Is your life as a professional dancer better or worse than you imagined it would be?
The hardest part was school. In my case the school that I went to was very professional. We weren't allowed to wear any make-up or change our hair color and we had to be in bed by ten o'clock. There were lots and lots of rules and I didn't live the life of a regular teenager but in a way it was good because it taught me a lot. And I always admired all the dancers. They were grown-up and smart and I learned a lot from them. When I was young and I got a smile from an older dancer or they said something or they just acknowledged that we were there, it was such a big deal. Now I see myself somewhat in the other position where students dance with us in the Nutcracker and they really look up to us, so now I try to be nice to the students and say, "Hi," and ask them what they think about the performance and how they feel and I know they'll remember that.
Q. How much dancing do you do in the corps?
Well, in our current program of the Raymonda Variations, Lilac Garden and Symphony in Three Movements, I dance every performance of the Raymonda Variations and every other performance I do a solo performance. I also do every performance of Symphony in Three Movements, so it's a lot. Right now we are preparing Giselle which will open in a couple of weeks and I will be dancing Giselle's friend and one of the Willis. It is a beautiful ballet, one of my favorites. It is very emotional and sad and every time I'm on stage and Giselle goes insane and dies, it feels like it's happening for real and my emotions just go crazy.
Q. How do you survive from all that work?
I've learned how to use my energy. I try to rest during the breaks, eat good meals, and if I know that I have a hard performance the next day, I don't go out. No parties. I go to bed early.