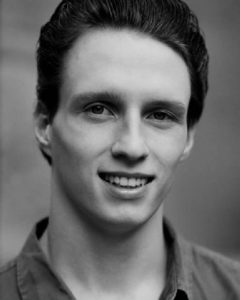 Alexei Agoudine (Alexey Agudin) was born in Moscow and began his ballet career in Moscow's School of Classical Ballet, where he studied with some of the finest professionals worldwide: Boris Rachmanin, Natalia Zolotova, Alexandra Markeeva and others. He continued his studies at the Vienna State Opera Ballet School under the main influence of Ballet master, former Kirov principal, Valentin Onoschko. Alexei has since danced with American Ballet Theatre, New Jersey Ballet Company, Ballet Internationale, Universal Ballet of Korea and The Suzanne Farrell Ballet. Alexei was a Silver medalist at the 4th International Ballet Competition in Vienna and a Bronze medalist at the 7th New York International Ballet Competition. His repertoire includes Romeo, Siegfried, Cavalier, leading and solo roles in Allegro Brillante, Theme and Variations, The Prodigal Son and many contemporary works.
Q. How did you get into ballet?
My mother brought me to ballet school when I was eight years old. She wanted me to be fit and elegant growing up.
Q. Male dancers often have trouble as dancers growing up. In Russia with such a strong national tradition in dance, is it easier for a guy to be a ballet dancer?
Dance as a profession has never been popular for a man even in such culturally sophisticated country as Russia. Legendary male dancer Rudolf Nureyev was physically abused by his father for his interest in ballet. Theater arts in Russia during Soviet Union and before that in monarchal Russia were funded by government, therefore it was easier financially for those involved in the industry. However, it was harder to get involved in the industry because of tough selection. Capitalism on the other hand offers great opportunities, so everyone can study the art of dance.
Q. You've spent most of your ballet career outside of Russia. Was that deliberate? An accident? What are some of the differences between dancing in Russian companies and in companies outside of Russia?
I did not leave Russia intentionally; I followed the opportunity, like most dancers do. Apart from language, work of a dancer is quite the same everywhere as well as the people. That is why they call it "ballet world".
Q. Are you able to get back to Russia frequently? Is your family still there?
It has been ten years since I left Russia and I have never been back. My family is still there.
Q. Do you see the world of dance becoming more alike or are there still major differences?
Some things become similar and some remain different. Exchanging of experience is enriching and positive. On the other hand the art consumers may find themselves seeing the same thing anywhere they go and that is not always good.
Q. Is there a lot of red tape moving between countries to dance?
It depends on nationality. For some people traveling is much easier than for others.
Q. Many Russian versions of Swan Lake give the ballet a happy ending. I would have thought they would try to preserve the purity of the original. Do you have any sense of the history of that change and why they stick to it?
In the root of this ballet lies an old belief that a betrayal must always be punished by death. A lot of people disagree with that philosophy arguing that the circumstances of the betrayal do matter; therefore Prince Siegfried does not deserve to die. That is how two different versions of Swan Lake libretto were created. And both versions were later used to stage Swan Lake around the world. There have also been few ballets inspired by that libretto, like Schurale by Oleg Vinogradov.
Q. You've competed in a few international competitions. It's something some dancers do and some dancers don't. Why did you decide to do it? Has it been beneficial to your career?
No one can deny the attention that ballet competitions attract and that is exactly what young dancers need to build their career. I do not really like participating but it is something I had to do.
Q. How do you decide which pieces you'll perform? Which competitions you'll go to? Do you enjoy meeting other dancers, etc?
Being choreographer I have created pieces for myself and many other people to perform at competitions. For me, that was biggest and the most interesting part of preparing for a competition. Seeing new places and meeting new people is always exciting. But overall ballet competitions are conjugated with a lot of stress and that is why I like watching more than participating.
Q. What is the process like in terms of whether you dance with a partner or by yourself? Do male dancers more often dance with partners?
Ballet stage until the middle of 20th century used to belong to a ballerina. A man was only a supportive figure. Male dance technique started to rapidly improve in Russia in the beginning of 20th century with the help of Bolshoi ballet stars: Asaf Messerer and Alexei Ermolaev. Later Rudolf Nureyev brought the new and improved male dance technique to Europe from where it has found its way to the rest of the world. Today ballet stage is shared by men and women equally and the technique of all the dancers around the world continues to constantly improve.
Q. What advice would you give to other dancers entering competitions?
With the improvement of dance technique I often see dance being lost as an art form in a hurricane of useless acrobatics. The advice I can give is the same advice I got before going to NYIBC: do not base your performance on showing off what you can do, but rather create a ballet no matter how big or small.
Q. You danced as a guest artist in South Korea. How did that job come about?
Mr. Oleg Vinogradov – former artistic director of Kirov Ballet and the artistic director of Universal Ballet Company at the time and the executive director Julia Moon had invited me as a guest artist to dance in Romeo & Juliet.
Q. What was it like dancing in South Korea as compared to dancing with a western company? The audiences? The repertoire? The other dancers?
I really enjoyed working with the company and I liked the country, too. Dancers were friendly although I did not speak a word of Korean. Universal Ballet is a company of great potential and has great ambition. Their repertoire includes all the Russian classical legacy, contemporary ballets and ballets with ethnic Korean theme. Audiences in South Korea traditionally do not express their emotions loudly during a performance. It may feel a little discouraging for dancers who are used to great ovations, but it by no means indicates that the people don't like the show. Koreans are punctual and performances always start on time.
Q. Did you get an opportunity to see Korean traditional dance? Did it influence you in any way?
I've had the pleasure to see a Korean dance festival on the street in Seoul. It is very colorful, pretty and I like to think it influenced my creative vision.
Q. You also choreograph. How did you get started with that?
I liked to improvise with dance since I was very little. Choreographing is something I always wanted to do. I do not remember what my very first work was but I enjoyed choreographing to some popular music back in school.
Q. You're also a dancer with ABT? How do you have time for your own projects and how does it work with the ballet if you suddenly get a commission to do a work somewhere else? Do they just give you time off? Do you still get paid? Do you have to work only on your off times?
Yes, I am a dancer with ABT. Time issue is always difficult. American Ballet Theatre is one of the busiest and most productive ballet companies in the world. Working as a dancer I do not have enough time to do as much of my own projects as I would like, but I do my best. Sudden commissions are uncommon. Usually things are negotiated well in advance. I try to fill my time off, but if some arrangements invade a period of working with ABT, I must receive official release from the company's administration and, no, I do not get paid for the time I do not work.
Q. ABT is a very big company yet you've also danced with smaller companies. What are some of the differences, some of the good and bad things of each?
The work of a dancer is quite the same, but few aspects get shifted because of circumstance. It is similar to the differences between big and small towns. The biggest and most obvious difference is the number of people and the repertoire that can be produced based on that number. For that same reason small companies usually do not have more than one cast of dancers to perform the ballet. Financial aspect is also very important because small companies often have to present the same production as a big company, but with much lesser budget and it is of course difficult. Big companies on the other hand have more productions to do.
Q. What inspires your choreography? Where do you get your ideas? Do you need to have the music first? What is your choreographic process like? How much is done in your head? How much requires other dancers?
My ideas often come unexpectedly as I go with my everyday life. I am most inspired by music and Russian classic literature. I need to have the music first before setting the choreography, unless it is my own music, then I can compose it afterwards. The beauty and the difficulty of choreographing as well as any creative process is that there is no and cannot be any formula to how it should be made. Every ballet to me is unique in its history and destiny.
Q. As you're also a composer, what kind of music do you compose? Is it for your own choreography? What instrument do you play? Do you also compose non-dance music pieces?
Many people have asked me what kind of music do I compose and I think most composers only work in certain genre. I have never learned to compose music nor studied music professionally. I've learned to play piano and six string guitar in ballet school, but very little, just enough to have a basic understanding of how to read a music score. I write different kinds of music from classical to jazz. Many of the pieces I use for my own choreography, some I give to other choreographers to use in their productions and sometimes I create music and choreography at the same time which gives me great opportunity to make the connection between music and choreography more harmonious but that is very difficult and tiring process. I do not believe there is such thing as dance music or non-dance music. It is possible to listen to any music without seeing dance and it is just as possible for a choreographer to create a dance to any kind of music.
Q. As a writer or a painter all that one needs for one's work is paper or a canvas. As a choreographer, it's a much more complex proposition in that you need dancers, a stage, music, money, etc. Does that inhibit your choreographic thinking in that you need to gather so many resources in order to explore your ideas? Are you getting choreographic ideas and saying to yourself, "I'll never be able to get that many dancers? I can only think about choreography for a small number of dancers." How detailed can your ideas become before you require other dancers and music, etc.?
I think it all depends on specifics of each particular project. As we all know, everything has its price. A canvas and paint for an artist are not free; it is a production related expense that someone needs to cover. Although that expense is much cheaper than renting stage and paying dancers and crew, it is the same thing. Michelangelo used much more than just a canvas when he was hired to paint the Sistine Chapel. Stage is my canvas, music is my paint, and dancers are my brushes. It does not matter to me how big the ballet is, I just use any opportunity to create it. As a choreographer I do my best under circumstances and I am willing to make any compromises that are necessary for the show to work. I have more ideas than I will probably be able to realize in my lifetime and most of them are ready to go as soon as I get the resources.
A need to organize a performance event is the general specific that differentiates visual performing arts from the other art forms. But let us not forget that literature and painting are part of ballet, because ballet is a polyphonic art which contains a few different simpler art forms: music, choreography, literature, painting, and costume design. Each of these arts exists independently and choreographer is only a part of a team of people working on creating a ballet. Although all the art works that go into creating a ballet performance are equally important, it is the choreographer who usually takes the role of a production director that is why it is very common for a choreographer to also be an artistic director of a company or the leader of a team or project, but it is not necessary.
Q. When you get choreographic ideas, are you able to choreograph in your head? Do you need other dancers? What is the process like for you?
It is impossible to create the entire chorographical content of a ballet all inside the head. It is just as impossible to come to rehearsal with dancers without having any idea in the head. I like to be quite prepared. I develop the idea to a certain level before coming to rehearse with the dancers and since each of my choreographic works is unique this level varies.
Q. In movies, they have a script and then it becomes a story board where the visual can be combined with the written words, so that before the movie is made, it can reach a very detailed level. Can you do that in any way with dance?
It is hard to compare dance and movies because they are two different complex art forms. There are different kinds of movies and different kinds of ballet. Silent movie for example does not have the same kind of script as a movie with sound, and divertissement dance does not have any story. Some choreographers are very detailed when it comes to content of their work and some are not so much. Dancers usually receive their material in ballet studio during working with choreographer. There are some traditional guidelines in pantomime, but even then there is always a room for modification even during the performance and a complete improvisation in not uncommon too, because ballet is a live performance.
Q. What type of choreographic works have you done?
I have mostly done divertissement choreography.
Q. What choreographic works are you planning?
I am planning some story ballets featuring Russian classical dramaturgy.
Q. Would you like to choreograph a story ballet? What kind of dance are you interested in?
I have already choreographed story ballet. I am interested in all kinds of dance.
Q. What choreographers do you like? Who inspires you?
I prefer not to have favorites because I like to keep my mind open and clear. I am inspired by works of Marius Petipa, Maurice Bejart, Ali Pourfarokh, Lar Lubovitch, Mats Ek and Anthony Tudor.
Q. Any books or movies that you recommend?
All the books are worth reading.
Q. Any advice for aspiring dancers?
Do not create yourself Idols, learn from everyone.