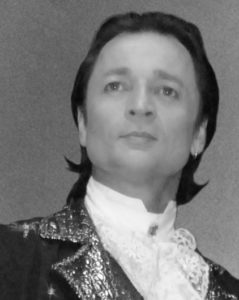 Andrei Litvinov, born in Bender just outside of Moscow, was 1 of 3 children selected, out of 360 auditioning, to attend the preeminent Bolshoi Academic Choreographic College, known informally as the "Bolshoi School," in Moscow. He graduated in 1982 and after five years of study, went on to the Chisinau Choreographic College and was immediately asked to join the company. Called to military duty as an anti-aircraft gunner and tanker, he returned to dance after a year of military service, dancing the archetypical Soviet Prince in leading roles of the classics including Swan Lake, Sleeping Beauty, Romeo and Juliet, Spartacus and more. He danced with the lead ballerinas of the day including Lyudmila Semenyaka, Nina Semizorova, Alyona Zaitseva, Nadya Cotets, and Maria Polydova and was the lead danseur in the premiere of Yuri Grigorovich's Nutcracker and Carmen Suite as well as Carmen choreographed by internationally acclaimed, Moldovan Radu Poklitaru. He graduated from the Academy of Music, Theater and Fine Arts in 2003 and became Moscow Ballet's Ballet Master in 2004.
Q. Where did you train?
Chisinau Choreographic College.
Q. What do you look for in dancers for your company?
We look for long lines of legs, arms and bodies. Great strength and partnering for the men.Also, personality of the characters must come through the dancing.
Q. Companies that are very particular about what their girl dancers looks like often seem less concerned about the height and weight of male dancers. Why do you think that is and is it also true with you?
In Russia there are many professional male dancers and so we can get the look that we want that best compliments our women dancers.
Q. On your tours, do you do other classical ballets?
Yes. This year (2011) Moscow Ballet's doing an all new production of Romeo and Juliet. Last year (2010) we did Swan Lake and in 2009 we did Cinderella. We also do Sleeping Beauty and more.
Q.How do you keep the repertoire of classical ballets fresh?
Our Ballet Masters re-stage each ballet with their own vision. We are always looking for new ways of presenting the story, new props and costumes. In 2010 we premiered the gold cannons that shoot roses which were taken from statures in the beautiful historic gardens of St Petersburg.
Q. When you tour in the United States you audition dancers from the local areas to participate in the performance. What ages are the auditions for?
The children are generally from 8 yrs to 16 years.
Q. How does a dancer find out about these auditions?
From the press in their area or from the web site nutcracker.com. Which tells them when and where are they held? That is unique to each city. Often they are in a host dance studio and sometimes in community centers or even local malls.
Q. Do you have a whole staff going out auditioning or do you rely on local teachers?
We are very unique in that we fly in 4 soloists each year from Russia who travels across the country in September and October auditioning and rehearsing the local children. The chance to work one-on-one with a Russian pro is a once-in-a-lifetime opportunity for most of the young ballet dancers.
Q. What are some of the biggest headaches of being a director of a touring company like the Moscow Ballet?
Finding good food for the dancers.
Q. What is the most rewarding?
That has to be the audiences and their wonderful reactions!
Q. What advice do you have for young dancers who want to make dance a career?
Go to classes at least once a week and keep on going! If it is your dream you can make it a reality and always keep practicing!
Q. Where did you train?
The Bolshoi Academic Choreographic College in Moscow, known as one of the top ballet training schools in the world, and subsequently Chisinau Choreographic College.
Q. Where has you career taken you?
Started my career with the State Theater of Opera and Ballet of Moldova and became the Artistic Director there. I am now Ballet Master for Moscow Ballet and travel with my company as the opportunity arises. I just returned from a tour in China in the summer of 2011.
To learn more about Andrei Litvinov, click the following URL:

To learn more about the Moscow Ballet and how to audition for their American performances, click on the following URL: http://www.nutcracker.com/
To return to this website, click on the Back Arrow in the upper left hand corner of your browser.