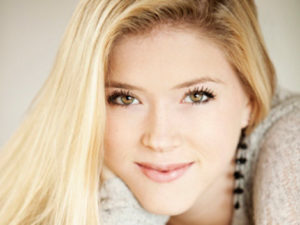 Chloe Freytag is from Wayzata, Minnesota. As a young girl, she trained at Summit School of Dance and the Minnesota Dance Theatre. At the age of 15, she moved to Pheonix, Arizona to train with Ballet Arizona., and at the age of 16, she auditioned for the Miami City Ballet School and joined MCB as a School Apprentice. In 2012, she was promoted to the company as a member of the Corps. Early this spring on a whim, she entered the Seventeen Magazine "Pretty Amazing" contest and has been chosen as a finalist.
Q. How did you get interested in ballet?
At two years old, I begged to join dance class even though you had to be three to register. I can't remember a point in my life where my world didn't revolve around dance. Although I was taught jazz, tap, lyrical, and hip-hop, ballet always stood out as my favorite. It was just something I was drawn to naturally.
Q. What were your first ballet schools like?
My first dance studio was a wonderful community called Summit School of Dance. At Summit, we learned all types of dance and would perform in competitions throughout Minnesota. In comparison to other competition dance studios in the state, our studio had a strong ballet program driven by Linda Muir, and she initiated my love for ballet. As I got older, I decided I wanted to focus more on ballet and less on everything else. This led me to switch to Minnesota Dance Theatre and train with Gloria Govrin and Lise Houlton. This was quite a change from my familiar competition studio but it was beneficial for me to begin to focus solely on ballet.
Q. Why did you move away from home to train with Ballet Arizona? What were they offering that you couldn't get with Minnesota Dance Theatre?
While I enjoyed my experiences with Minnesota Dance Theatre, I couldn't help but wonder what else was out there. I knew Ballet Arizona was a critically acclaimed company and was very interested in seeing the inner workings of company life. I was lucky enough to have family that could house me in Phoenix and felt that this was the next step for me to get closer to reaching my dream. I took a risk by moving down there but I was greatly rewarded. After a few months I was offered a traineeship with Ballet Arizona under the direction of Ib Anderson. I had an absolutely wonderful and eye-opening year doing corps work and learning about what life was like inside of a professional ballet company.
Q. Why did you want to go to the Miami City Ballet Summer School?
I auditioned for the Miami City Ballet Summer School because I wanted to try something new. I had been to a few other summer courses at Pacific Northwest Ballet School and School of American Ballet and was ready for a different environment. I had heard nothing but great things about MCB so I figured I'd give it a shot! Little did I know that I would end up where I am today!
Q. You joined the Miami City Ballet Company at the very young age of 17. You obviously have a great deal of talent as a dancer but what is it like for you being in a very adult world at such a young age?
Honestly I feel completely natural working in an adult world. I matured at a very young age and I have spent most of my life feeling older than I actually am. Growing up I was used to being the youngest one in a group. I think the fact that I was around older people so often in my life definitely plays a part in my maturity. Its funny, my friends and I joke all the time that my age isn't real because I seem so much older.
Q. At 17 most other girls socially are thinking about getting a date to the senior prom, you're dancing with men in their 20s and 30s. What is that like?
Obviously, whom I interact with socially is much different than most girls my age. Dancing with older men is part of what my job entails, so for me, it really doesn't faze me. Honestly, thinking about getting a date to prom is what feels weird to me, but that is just because my life has gone in a completely different direction.
Q. You've just been chosen to be a finalist in Seventeen Magazine's "Pretty Amazing" contest. How did your participation in the contest come about?
I had heard about the contest and decided to enter it completely on a whim. I figured why not? So I wrote in an essay and sent in some pictures and figured I'd be lucky if I even heard back. I was shocked when I received email after email requesting more information! The whole thing has been so unexpected.
Q. How did you hear that you were a finalist?
I had been emailing back and forth with Seventeen Magazine when they told me they wanted to do a final interview via Skype. Turns out, the "final interview" was actually the Editor of Seventeen Magazine, Ann Shoket, calling along with other editors to inform me I was a finalist! My jaw completely dropped and I'm pretty sure I just kept saying "Oh my gosh!" over and over.
Q. What are some of the cool things that have happened to you so far due to the contest?
Every day gets crazier. First, it was so incredible to have so many of my friends respond by reposting my voting link! I am beyond surprised at how much support I have received from everyone! It was also amazing to have Dance Spirit, Pointe Magazine, and OMG Dance Blog tweet out my voting link. Pointe Magazine proceeded to post my photo on their Facebook urging readers to vote! Also, Miami.com posted an article on my story and now I'm doing this interview! Like I said, every day gets crazier!
Q. Seventeen brought you to New York. What did you enjoy about the city?
New York is a crazy place. There is always commotion everywhere you go and I love the energy! It's been so much fun to just be in the city and take it all in!
Q. Have you gotten to know any of the other contestants?
I have gotten to know the other girls and they are fantastic. We all clicked very quickly and these girls are truly inspiring. Each of them has so much to offer and I feel very honored to even be in the ranks with them! Not to mention it's been so fun for us to all share this experience together!
Q. Have you gone to any shows?
Unfortunately, we did not have any time to go see shows. But we did get to sight see from the Hudson River, and that was really beautiful.
Q. Ballet involves a lot of very hard work. What's been hard about being in this contest? What's easy? What's the most fun?
The hardest part of this contest for me was definitely the speech I had to give at the luncheon. I have never been comfortable speaking in front of a group of people, let alone speaking in front of the celebrity judges! (Actress Emma Roberts, Celebrity Blogger Jared Eng and Seventeen Editor-in-Chief Ann Shoket) It was extremely stressful for me and I was shaking like crazy during the whole thing. But I made it through and after that it was really smooth sailing. Seventeen had set up so many fun adventures for us and one came right after the other! The most fun part was definitely the cover shoot. It literally felt like it was straight out of the movies with the wind machine, and the makeup artists touching you up between takes. I had the time of my life! This trip was so special and I am lucky to have these memories forever.
Q. Did you get to meet any of the celebrity judges?
I did get to meet Emma Roberts and she was absolutely adorable! She was super friendly and real! It was cool because the first time we saw her was on the Red Carpet and she looked so professional compared to us, but then when we sat down to talk she was so normal, asking us where we got our dresses and complimenting our outfits! Jared Eng was another celebrity judge and he was very nice too. He was a bit quieter than Emma but still very friendly. We only met Emma and Jared for one day, but Ann Shoket was around us a lot. Having her around was so amazing. She is so funny, positive, and in general an awesome person. Seventeen Magazine is the magazine I read throughout my teenage years and meeting her gave me a special insight in to the positive direction of Seventeen. Seventeen does such a wonderful job of empowering teenage girls and Ann Shoket has so much heart for the young girls who read her magazine. Meeting her really made me realize how exceptional Seventeen is.
Q. Can you tell us a little more about the photo shoots? Did you do any other kind of photo shoot besides the cover?
The photo shoots were so much fun! My first shoot was the cover shoot and like I said, it was straight out of a movie. It's cool because the photographer was so friendly and the whole shoot was just smiles, jumps and fun! My second one was a ballet shoot in the streets of NYC. I loved the setting of this shoot and had so much fun dancing in the streets. The only downside was that I was in the bike lane, and apparently bikers are the most aggressive people in NYC. There were quite a few profanities yelled at me when I was dancing in their way. Regardless it was an amazing experience!
Q. What are the make-overs like?
The makeovers were awesome! The salon they took us to was so nice and I was really blown away by how friendly everyone was. Not only were they nice, but they were also very talented! It was so fun to see all of the girls dolled up with new looks! For my makeover, they added more highlights and low lights to my hair and also chopped off a decent amount. I was kind of stressing about the cut because I was concerned it wouldn't be able to fit into a bun, but they kept it long enough that it still goes up. They even did our makeup and nails too!
Q. Will you be doing any TV appearances?
As of right now, I am not scheduled for any TV appearances. But I guess you never know!
Q. What's your favorite New York Store?
My favorite store in New York was definitely the Yumiko Store. Yumiko is a line of leotards and it was really exciting for me to go there and get new pretty dance wear!
Q. What did you buy that you like most?
Definitely my new leotards, and I also got 2 new skirts! I'm really excited about them.
Q. Has being in the contest allowed you to score any good free stuff? And what?
Both Seventeen and Neutrogena have been incredibly generous. When we arrived there was a gift bag from Seventeen filled with so many cool things like sunglasses, nail polish, Seventeen's Guide to Style book, a reusable iced coffee cup, a $50 gift card, and much, much more! Then after that we got 2 absolutely insane gift packages from Neutrogena. Both were filled to the brim with every product you could imagine from face wash, to eyeliner. It was so incredibly kind of them to give us such awesome gifts!
Q. Anything else from the trip and the contest that you'd like to share?
By going on this trip, I realized how truly special this contest is. First off, Seventeen worked so hard on everything and treated us like guests of honor. But also the whole meaning behind this contest is to have real girls inspire others. For me, just meeting the other contestants in itself was inspiring. But I think of all the young girls out there who read the magazine and I think about how special it is for those girls to read about a real girl who has done something extraordinary with her life. It is humbling to think about how many young girls will be affected by this contest and that to me is very special. I commend Seventeen for running such an amazing contest and I also feel extremely blessed to be a part of it.
Q. What sections of Seventeen Magazine do you like the most?
I'm addicted to horoscopes! That is probably my favorite section of the magazine. I also love when they feature health and fitness advice! Their snack recipes are always delicious!
Q. After ballet have you thought of what you might like to do? Anything related to acting, writing?
I've never been much of an actor, and I'd say I'm more of a reader than a writer. After ballet I think I would like to go into the nutrition field, because I am extremely interested in health and wellness.
Q. Most dancers don't want to do anything that takes their mind out of ballet. Has this contest been a distraction for you or a help?
Although my mind is invested in ballet, I personally believe it is healthy to have some distractions. Ballerinas are always striving for perfection and thinking like that 24/7 is going to harm your mental stability. I think it is very important to have interests outside of ballet to maintain sanity and so this contest has been a wonderful and unexpected distraction!
Q. What do you win if you win the contest?
I would be beyond excited if I was chosen as the winner. I hope that my story would inspire Seventeen Readers to go out there and chase their dreams, whatever they may be. I think it is important for girls to hear success stories and use that as motivation in their own lives!
Q. What have you gotten out of the contest so far?
So far this contest has given me so much inspiration. The amount of support I have received thus far has been beyond overwhelming and it's still so early in the contest! I have had an unbelievable amount of support from my community. It has also been amazing to hear from other girls who tell me they were inspired by my story! Every person I hear from, whether a friend or stranger, gives me inspiration and I feel very blessed to receive that.
Q. When do you get back to ballet?
I'm heading back to Miami on June 24th to get back into shape for company rehearsals starting July 30th.
Q. What are you looking forward to next season?
Next season I am looking forward to new opportunities, whatever they may be. I'm looking forward most to working with Liam Scarlett who is coming to set a new work on us! I love his artistic direction and am very excited to have him back in our studios!
To vote for Chloe on the Seventeen Magazine website, click here:
http://www.seventeen.com/fun/articles/pretty-amazing-voting
To return to BalletConnections click on the Back Arrow in the upper left hand corner of your browser.
To check out Chloe's Seventeen Magazine video:
http://www.seventeen.com/video/pretty-amazing-finalist-chloe-f-video-166…
To return to BalletConnections click on the Back Arrow in the upper left hand corner of your browser.
To check out Chloe's background information on the Seventeen Magazine website:
http://www.seventeen.com/fun/articles/chloe-freytag-pretty-amazing
To return to BalletConnections click on the Back Arrow in the upper left hand corner of your browser.
To see Chloe on the Miami City Ballet website, click here: http://www.miamicityballet.org/
To return to BalletConnections click on the Back Arrow in the upper left hand corner of your browser.