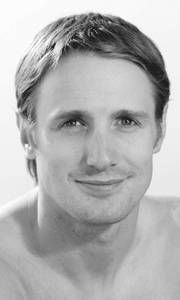 Christopher joined the Northern Ballet Theatre in 2000 and was promoted to Leading Soloist in 2007. He was born in Wolverhampton, England and trained at the Walsall Academy of Dance and the National Ballet School. His favorite roles are Demetrius, A Midsummer Night's Dream; Romeo and Mercutio, Romeo & Juliet; Valmont, Dangerous Liaisons; Dracula, Dracula; Scrooge, A Christmas Carol. His career highlight was the choreographic process of creating and dancing the lead in Hamlet in 2007.
Q. Girl dancers always make a lot of fuss about their shoes. Do men dancers also have problems?
There are a couple of different makes of shoes but they're pretty similar and it's not much of a choice. But you don't need as much of a choice as girls need. Girls need their shoes to be stiffer or wider at the pointe but for boys it's simpler. It's a bit of slipper.
Q. You basically wear the same kind of shoe throughout the entire ballet?
Pretty much the same shoe. There's nothing underneath the metatarsals of the foot. You just have a pallet at the front and a pallet at the back but pretty much the same.
Q. What kind of training do you do for strength?
We do normal class every day but for additional stuff we do weights and press ups and sit ups. We've got a thing at the moment we like quite a lot called a BOSU. It's a ball cut in half with a plastic base that has many uses. For instance, we can do press ups off of it and what it does, if you use one arm more than the other, the ball moves, so it forces you to keep yourself balanced and helps you exercise both arms equally.
Q. To keep your body healthy, do you use chiropractors and massage?
We're quite fortunate in that Northern Ballet Theatre has a full time physiotherapist, so when we go on tour she comes with us and we also have a masseuse who comes with us on tour. We see her twice a week. We're quite lucky that way really.
Q. Because the men do a lot of lifts, is the back a problem area for you?
Actually, it's more my ankles. The thing with the back is that sometimes when people are doing pas de deux, they forget technique and resort to brute strength to throw somebody. Occasionally, of course, if a girl's a little bit heavy your back may get sore but I think a lot of the problems is with forgetting about technique because you're doing it so often like trying to lift a girl without bending your legs. If you go down and lift a girl you won't hurt your back. It's a bit like lifting weights but more refined.
Q. Ballerinas are getting bigger and bigger. In many companies the girls are very tall. Does that make it more difficult for the men?
The size of the girls will depend on the director—of what they like to look at. Our director, David Nixon, seems to like shorter ladies, although we have a few tall girls for different roles. I think it depends on the director and what he visually likes.
Q. Have you ever said to yourself, I'd hate to go to that company because the girls are so tall?
No. The funny thing with those tall girls is yes, it's a little bit more difficult but there's a way around everything, especially when it comes to partnering. It may involve more hard work but you can get around everything. When I was a student, I used to partner some of the taller girls and they were five foot nine and when they got up on pointe, then you've got a six foot three girl in front of you. It wasn't fair to these girls not to have someone to partner them, so you figure out how to do it. Instead of holding her hands maybe you hold her wrists. It was a more like chess. You've got to figure out the move. You've got to put a little more thought process into it. It's also the same with the boys. If a boy has shorter arms, he has to compensate a little bit. Otherwise he couldn't do what he needs to do.
Q. What are the most important things in terms of technique a male dancer has to master?
I think for classical, it'd have to be—well, it's actually becoming more similar—it used to be just jumps and turns because those were the tricks, those were what was spectacular. But if you look around now, a lot of the boys are much looser. They have longer limbs. They have feet that are almost like girls in pointe shoes. Now, the boys are doing a lot more of what the girls can do and the girls are pushing themselves, so they can do a lot more of what the boys can do. You are seeing girls now who can really jump. My girlfriend's American and she says, the girls over there are all about jumping and turning and dancing.
Q. Are choreographers taking advantage of this?
Oh, yes. Definitely. You've got to take advantage of what's put in front of you. If you keep doing the same things that have been done before, nothing progresses. I think when the choreographers see something they like, they definitely take advantage of it.
Q. What got you into dance?
I had a little sister who took ballet and I used to go along and sit in the car and wait for an hour and I thought to myself, well, if I'm here I might as well do it. So, I started in jeans and my t-shirt and went on from there really. My sister eventually gave up but I stuck with it.
Q. Do you usually work with one partner?
No. I'm quite fortunate. I've got about four or five girls I work with and they're all of different heights and different sizes which is a nice little challenge.
Q. Do you work with each of these girls individually outside of class?
Because of the amount of rep we do over here for Northern Ballet Theatre, I've been dancing with one girl for about five years. Tomorrow, I'll be dancing with another girl that I've been dancing with for four years. So, it's been the same with each girl, so I've been able to develop a good relationship with each of them. We do 190 performances a year which is quite a lot, so you get to learn the girl's bodies quickly and they also get to know what I'm like as a partner. If I want something then they know I'll ask and if they want something, they can just ask. We're never worried about anybody's feelings because we've got too many shows to be worried about that.
Q. How long does it take to feel comfortable with another dancer?
I think it depends on how honest you can be with them. If you can say, I want to change this or I need to do this or can you give me this and they can say the same back, the quicker you can get to know their body and how they work. If there's no communication, you're struggling because if you're not being told that something's wrong or if you're not being told that something doesn't feel right or if you're doing a lift and it doesn't feel comfortable for the girl, you don't know unless they tell you and it's vice versa.
Q. When do you start learning partnering?
I was quite lucky. When I was twelve, I was at a small school and the teacher liked having partnering, so she used to do some partnering with me and with some of the girls. It was only small stuff like promenades and pirouettes and small lifts but I got the feel. Then, when I went to ENB School I had to partner every day for at least an hour and a half and we had a really good teacher. His name was Anthony Dowson so when I left there, partnering was one of my strong subjects. Then, when I came to NBT, David Nixon likes partnering, and he likes strong partners, so I've been quite lucky that way. Something I've been training for has continued throughout my career. So it's been quite easy.
Q. Is there much talk between partners on stage?
You'll have those nights when someone's feeling a bit more nervous or they've forgotten stuff and I've gone, Don't worry. I'm here. Relax. You're not gong to fall. Then, I've felt that they've relaxed a bit because their mind's been taken off and it's OK and they're not going to panic or sometimes if you're late on the music—occasionally, you are—I'll go, OK. Let's continue onto something else. It's very rare but it happens.
Q. Story ballets are generally female oriented. Because Northern Ballet Theatre does so many new story ballets, are there some that are more male oriented?
We've just done a piece based on Hamlet which we did after Christmas and that was more male, Hamlet being the center of it. Also, we did, A Tale of Two Cities, which has two major male roles. Peter Pan, Romeo and Juliet and A Midsummer Night's Dream also have good male roles. There are a lot of good roles for men to do in this company.
Q. I understand in your version of A Midsummer Night's Dream somebody actually speaks….
Puck speaks at the end of the ballet.
Q. Did you have that role?
No. I have a bit of a strong accent. Have you ever heard of a place called Birmingham?
Q. Sure.
Well, I've a bit of an accent from that area so I don't do that role. I'm stuck with my accent.
Q. What are the differences between dancing in story ballets and modern ballets?
I think with story ballets the main thing is to get the story across and to keep in character. When we did Hamlet, we had six weeks of rehearsal and I was in a room with David for six hours a day and it was very hard because you'd be depressed all the time thinking about all that the character was going through. But you have to go through that to get the character to convey that emotion on the stage. With the modern ballets, the character is not as important, if there is a character. Usually, it's more what the steps represent. When we did, A Tale of Two Cities, the choreographer said she didn't want it as acted. She wanted the steps and the way your body moved to portray the story more than your facial expressions and your emotions which is difficult but it's another challenge.
Q. And did you have a guillotine?
Yes. We've got a guillotine. You see one of the characters put his head through, but as he does the curtain comes down, so you don't actually see his head.
Q. How do you prepare for a character?
I think David has an idea of what he wants in a production and he'll tell you what he thinks the character is feeling. But as an artist, you have to go away and do your own homework. You can't expect to be spoon fed. I watched a lot of films for Hamlet and I also read the play. I watched Kenneth Branagh's version which is four hours and ten minutes long. To watch him do it is quite amazing and I also watched Mel Gibson do it. He does it totally differently but there's something from each particular production that you can take away and use. You can't use their Hamlet. You have to use your own. But there's still something you can take away. Whenever we do a story ballet, if there is a script involved, if you read the script, you'll understand better what the choreographer is trying to choreograph. For instance, with "To be or not to be," if you read the entire monologue, you understand what the choreographer is trying to get across when he set the dance sequence.
Q. So you danced Hamlet?
Yes. I did.
Q. It must've been exciting.
It was exciting. It was a lot of fun. Hard work. Very emotional up and down. But it was a good piece.
Q. There's a Nazi element. Is Hamlet a Nazi?
No. The production was set in occupied Paris. They tried to put the production in a setting that could be understood today rather than leaving it so far back in Denmark. Shakespeare's work is so timeless, you can move it practically anywhere. Like Romeo and Juliet set with swords in Verona in old Italy but then they did that movie with Leonardo Dicaprio with guns and cars.
Q. What do you think makes a top male dancer?
I think especially for an audience, they want to come out thinking, wow, he was amazing. Someone like Carlos Acosta, he's absolutely amazing. There are companies who don't have that quality a dancer, but the audience still comes out thinking, wow, he was amazing.
Q. Who are ballet dancers you admire?
When I was younger I was at the English National Ballet School and we had Greg Horsman and Thomas Edur at the company and they were the people you looked up to because they made it look so easy.
Q. When you sit in an audience what do you watch when you watch the ballet?
When I was younger I used to be all about watching the technique and I still love that. I think it's amazing what some of these top quality dancers can do with their bodies—their amazing turns and jumps and the way they move. But sometimes it's nice to see someone who comes out on stage and who has thought more about the emotional side which gets lost occasionally because people are thinking about the technique and the tricks and that element which is great but you don't want to leave the emotional element behind. I look for that now more to see if anyone is going to try and push it. Like when we had Rudolf Nureyev who was very emotional. He was a great trickster but he was also an emotional dancer and I think sometimes that gets overlooked.
Q. What do you enjoy about performing?
I love going on stage. There's no better drug or adrenalin than going on stage and doing something that you love to do and to have people appreciate it and then to come off stage feeling that you've done something amazing, there's no better pickup. The only downfall is that if you don't have a very good show then it can be quite horrific. But then again, there's always tomorrow.
Q. 190 performances is a lot. How does your body take that?
Unfortunately, not very well. I turned 29 in June and I've already had my third operation on my ankle. Last year I had a bulging disk in my neck. Your body is a great thing. You can keep knocking it and it'll keep repairing itself but when you get to a certain age, your body can't take it as much and you have to start being more cautious. You don't finish class as often as you might want to and you probably don't push the rehearsal as much as you used to when you were younger. But you've also grown more in experience, so you don't have to. I think you also take more care. You go home and stretch more then you used to. I take regular ice baths for my ankles and hot baths and saunas.
Q. What are some are you favorite ballet books and movies?
I don't have many. For me, it's seeing things.
Q. Any advice for young dancers?
Work hard and enjoy it. It's over too quickly. And especially if you're a young lad, don't let anyone bully you or pressure you into feeling it's a bit girly because it's not. It's a great job. It's short but it's definitely a job worth doing.