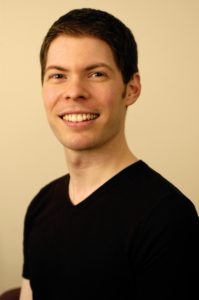 Christopher Hird is the Artistic Coordinator of Boston Ballet School. Mr. Hird joined the school in 2003 and was appointed Assistant Principal, 2004, Artistic Coordinator, 2007. Mr. Hird teaches students in the Intensive program at all levels as well as being a ballet master for Boston Ballet School Ensemble. He has staged Swan Lake, The Nutcracker, Coppélia, La Bayadère, Giselle and Sir Frederick Ashton's Birthday Offering for Boston Ballet School and Boston Ballet's Summer Dance Program as well as being the Children's Ballet Master for Boston Ballet's productions of La Sylphide and The Nutcracker. Mr. Hird is the cooordinator of the Summer Dance Program audition tour team. Mr. Hird is originally from London, England and trained at The Royal Ballet School. He danced professionally as part of a company headlined by the international ballerina Sylvie Guillem, touring Europe.
Q. As a dancer when did you think about becoming a teacher?
I didn't really think about it. When I was young I just thought about dancing. Teaching really didn't come into play until I was in my mid-twenties. I actually stopped dancing quite young because of an injury. I was working in arts administration and then realized I wanted to do something more on the artistic side and that's when I got into teaching.
Q. You were in England at this time?
Yes. I spent all of my life in England until I came to Boston in 2003.
Q. Did you take special training to be a teacher or as a professional dancer is that qualification enough?
Just because you're a good dancer doesn't mean you will be a good teacher. I was inspired to take a teaching path by the director of The Royal Ballet School where I was working at the time, Gailene Stock. She said that I would make a good teacher and before I came to Boston I went to Canada's National Ballet School and did their teacher training program for former professional dancers. The training was for one year to help you use the tools you already had but to now apply them to work with children, to understand curriculum development, to learn more about anatomy, music and pedagogy which help make you a qualified teacher.
Q. What are your goals as a teacher and for Boston Ballet School?
Mostly, I want students to develop the love of dance that I have. I want them to understand the importance of working hard to achieve their goals. At Boston Ballet Schoole always want to improve our standards and if I can be a part of that and help train students who will go on and have professional careers and, potentially be the new leaders of Boston Ballet, I will really have achieved something.
Q. What qualities do you bring from your dance career to your teaching that you think are most valuable?
Probably my work ethic. The harder you work at something the better you get. If I ever get frustrated now as a teacher, it's when I see students who I know can do better than what they're showing me in the classroom. A lot of times you see students who have this wonderful ability and it comes a little too easy for them; they don't realize how much better they could be if they just worked more at it.
Q, What qualities did the teachers have who helped you as a student that you found valuable?
The teachers who inspired me were the teachers who gave me a reason to work on something and helped me achieve a result and yet made it fun as well; the teachers who made me feel like I was performing even when I was doing an exercise in class. They really inspired me.
Q. What did you hate about ballet school?
Having to take class at 8:30am!
Q. Were you at a boarding school for ballet?
Not really. I went to The Royal Ballet School when I was 16 but I lived with a family. Before that I was at a local studio about 2 hours from London, so I went to ballet classes after my regular school.
Q. Was there anything you really loved about ballet school?
I think it's that I was with a group of people who shared the same things as I did, who had the same dreams, the same goals. I struggled as a younger person in my normal school with kids teasing me about what I did. It was so much easier to be with students where that wasn't the case. We could make fun of each other for the right reasons, not because you were the odd one out.
Q. What are your responsibilities at Boston Ballet?
I am the Artistic Coordinator of the school, so a big part of my role is as a member of the full time faculty. I teach classes in our Intensive Program and Elementary Program. I'm also responsible for a lot of the administration and the running of the school. I develop curriculum, along with student placement and career help and I also rehearse children for The Nutcracker. I go out on the audition tour for our summer program. I put that together and I audition students. My role is so varied, I love it. I'm also a liaison for the student trainees with the company and help them feed into the company. For events around Boston we put on such as at the Children's Museum, I help put together the program as well as rehearse the kids for those performances.
Q. Did you have anything to do with Boston Ballet students who were in the movie The Game Plan?
No. Actually I didn't have anything to with that. That was Anna Lantz, one of our full-time faculty.
Q. What advice do you have for a student who wants to be a professional dancer?
Work hard. It's a very challenging profession. You've got to want more than tutus and pointe shoes. You've got to want to work on dance whether you're thirteen or thirty. You've got be realistic as to your goals and what your body is able to give you. If you have a natural facility it helps but there are dancers who don't have the most natural facilities who work their bodies in such a way that they have a professional career because they disguise what they don't have with what they do have. It all comes down to working hard and seeing what happens because if you don't try now when you're young it's going to be too late. We have a lot of adult classes here and I see a lot of talented adults who say they danced when they were young and then stopped and they wished they had kept dancing .
Q. Ballet is well known for pressure and health issues. How does Boston Ballet School help students deal with these issues?
There's naturally a competitive edge to ballet. So, it's important to keep the students level headed. We have an open door policy, particularly for the older students to come in and see us if they have any concerns. Most times they just need to know they're doing fine and they're on the right track. If there are any health issues that come up, we have a nutritionist available. A real benefit we have is the collaboration with Children's Hospital, one of the top specialists in physical therapy. They partner with us to provide provide physical therapy and nutrition support to our students. We also have the Professional Development Lecture series for our upper level students where every month a different person comes in and talks about things like injury prevention, putting together a resume, and nutrition.
Q. Do you recommend any books or movies or videos for students?
I particularly like the Ballets Russes video because it shows where ballet comes from and I think people should see that. In those days, they danced because they loved it and only sometimes were they paid. . A dancer should think about ballet as a profession because they love it. It's not a profession because of money. Unless you're very, very exceptional, you're not going to earn a lot of money. But there are many, many books and videos out there and students should read and see what they want to in the areas they're interested in. Youtube is a great resource – I know I spend hours on there!
Q. Most people think that a school like Boston Ballet is only for students who want to be professional dancers. Is that true?
No. We actually have a lot of community programs. We have our Classical Ballet Program which gives our students comprehensive classical ballet instruction. This year we have introduced the the Flex Program where students can take classes 2 or 3 times a week instead of committing to 5 days a week because of school or sports . Around the age of 12, we start to see where students are going in terms of their ability and that's when some are chosen to go into our Intensive program. So we are certainly not a one track school. We have that important pre-professional side because we are the feeder school for Boston Ballet where we train students to go into the company. But we also offer through our three locations—soon to be four— other options for students who just love to dance.
Q. What is the admission process?
For our children's program which starts at age 2—we have classes for 2 year olds to begin with their parents— there is open enrollment. There's no need to audition. Once you go into our Classical Ballet Program around the age of 8 and older we have ongoing placement/audition classes and we also hold auditions about 2-3 times a year. In terms of our intensive program, those students are invited either from our lower school or perhaps a video audition or they come through our summer program. At our top level, students are very much auditioned and hand selected because that's the level where they start performing with the company in roles with the corps and hopefully either go on to join BBII or other professional companies.
Q. For people who are interested in ballet and who don't live in Boston or some other major urban area, how do they go about choosing a ballet school?
That's a very good question, particularly in this country because there's no accreditation requirements for teachers. In England, most ballet teachers have an accreditation with a ballet examining society. In fact, England is becoming stricter in that a teacher will have to have an accreditation in order to teach. Over here it's different because there isn't a training ground for teachers. So, I would suggest to parents that they find out what kind of dance a school teaches. There are so many schools out there that teach different forms of dance, but they're not necessarily the best ones for a student who wants to focus on ballet. You also have to see what the teacher's credentials are. Have the teachers have danced professionally or done a lot of ballet? If the teachers' background is mainly in jazz, they're not going to be the best ballet teacher for a student. It is also important to find out whether the studios are build for dance, e.g do they have sprung floors (necessary to prevent injury); is there live accompaniment; does the studio spend more time on competitions than training dancers, etc. It'd be nice in this country if there was more help for teachers and more help for parents, so they'd know where to send their child rather than saying, "Oh, there's a dance school down the street. That looks OK."
Q. How does a student know if he or she is good enough to take a professional approach to ballet?
I think that depends a lot on the quality of the teacher they have. One of the values of our summer program is that students can come and train at a very good institution for five weeks and really see what the life of a professional dancer is about. A good teacher will point students in the direction of schools that have high caliber pre-professional programs. They'll say, "OK. I can't do anything more for you now. You need to go to a big institution. You have that ability." Some teachers like to keep hold of their good students but that is often a disservice to them. The students might not develop the way they would if they came and trained with students who are of their same ability. If you are good at what you do, you need to train with students who are as good or better than you, so you have something to work towards. A summer program in this country is a very good way to decide at a young age, "I want to do this. I like dancing intensively 6-10 hours a day." And it's also a good way to see what's out there in terms of the level other students your own age are at.
Q. So, let's talk about the summer program at Boston Ballet. How do you apply?
Our summer program begins in July and goes for 5 weeks. It's by audition only. We have a big audition tour around the country where for five weekends, we send three teams of faculty out to visit 30 cities and they see about 2,000 students. For the first time this year we are holding international auditions in Canada, Brazil and Asia. This last year, we invited about 280 girls and about 40 boys to come to us for the summer. You can also apply to the summer program through a video audition. We're one of the top programs in the country and a lot of our students come back every year. It's a great way to feed into our intensive program for pre-professionals.
Q. What's the youngest age that students are accepted into the summer program?
We normally have students starting at age 10. We have 2 programs: one is our junior program for students 10-14 and the other is our senior program for ages 15-19. Both programs are co-ed. We had boys for the first time this summer in our junior program which was very successful.
Q. How much does the summer program cost and are there scholarships?
It costs about $5,000, including tuition and accommodations. You can also come as a commuter in which case it's about half that. We do offer scholarships for talented students and financial aid is available.
Q. Who are some of the successful graduates of Boston Ballet School?
In the past ten years, probably our most famous graduate is Sarah Lamb who is now a principal dancer with The Royal Ballet. This last year we had three of our trainee students enter our BBII. The year before we had six students from the trainee program go into BBII and this year two of those have joined the main company. We have dancers in American Ballet Theatre, in Houston Ballet, in San Francisco Ballet, Kansas City Ballet, Pennsylvania Ballet and Richmond Ballet to name but a few. We have dancers all around the country. All around the world really.
Q. When you're a senior in this intensive program, what does the school do to help you join a professional dance company?
We have a Career Prep Program for our upper level students to help them prepare a resume, depending on what they're going for. If it's a college application, sometimes they'll need a video of them doing some class work and perhaps a variation and similarly for a company, if they're not actually going to an open audition, they will also need a video and one of our faculty members helps them put that together.
Q. Can colleges help a dancer attain a professional dance career?
There certainly are come wonderful dance programs around the country like Indiana University. Indiana's program is run by Violette Verdy, one of the former directors of the Boston Ballet. You can go to a university and join a company. Sarah Wroth who went to Indiana University is with Boston Ballet right now. However, most dancers apply to college and then defer their college entry until after they finish dancing.
Q. Is their a maturing process where dancers are at their peak?
When you leave ballet school, your technical skill is very strong but you haven't developed the artistry. Some dancers, some very talented dancers are pushed too young to do major roles. They can do the roles very well technically but they don't yet have the maturity to achieve the necessary artistry. It's hard for a teenager to have the artistry to do the major classical or romantic roles. I would say from a dancers' mid-twenties to their mid-thirties is when they attain the peak of their artistry. Of course, by then their body starts to break down and the technique is more difficult.
Q. At Boston Ballet School is their some style the school emphasizes?
We have a curriculum at the school that is designed to train students to dance any style of classical ballet. It's not based on any particular system or style. It's a very pure training ground. When the students get older, they have an opportunity to work on Balanchine choreography and other styles of dance. Dancers have to be very flexible today in terms of what they're expected to do. Ballet companies like Boston Ballet don't just do classical ballets. They do a lot of modern works. So dancers have to be versatile.
If you want to find out more about the Boston Ballet School and how to apply to their summer program, check out the Boston Ballet website http://bostonballet.org/school/summerprograms/default.html