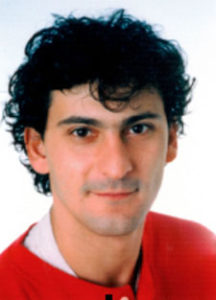 Cosmin Marculetiu is a native Transylvanian from Sibiu, Romania. At age 9, Cosmin was accepted into the Academy of Arts and Choreography in Cluj-Napoca, RO. He completed the Academy with honors and also received certification in pedagogy and choreography. After graduating, Cosmin danced with the Romanian National Ballet in Cluj-Napoca, RO. He continued his professional dance career with the Croatian National Ballet in Croatia's capital, Zagreb. Cosmin danced in various productions and commercials produced by Zagrebacka Televizija, which was the leading television network in Croatia. In 1992 he was engaged as a soloist with the Landesbuhnen Sachsen in Radebeul (Dresden), Germany where he danced for 10 years. Cosmin has established himself as a master ballet instructor in New England and the east coast since his arrival to the USA in 2002. He was on the dance faculty of the Boston Arts Academy and artistic associate at Jose Mateo's Ballet Theatre where he coached, taught and rehearsed students and company members. In August of 2010, Cosmin founded the International Ballet Academy of Norwell dedicated to serve the South Shore of Massachusetts, and he is the Ballet Master of the Festival Ballet Providence.
Q. You were born in Transylvania.
Yes. I was.
Q. It's a tiny country that everyone has heard of but few have visited. What is Transylvania actually like?
Transylvania is a very beautiful part of Romania. It's in the central part. It's surrounded by mountains. And the famous person who comes from Transylvania is Vlas Tepes!!!! The vampire Dracula who actually was a king of Romania. He was a big king of Southern Romania and a count in Transylvania. Transylvania is rich in natural gases, gold mines and other minerals. They have salt mines because it is all mountains. It has a lot of minorities. It has a lot of Germans and Hungarians and Romanians all mixed together.
Q. As a child did you hear a lot about Dracula? Did it feel spooky growing up there?
When I was little I was really afraid of Dracula but then when I studied the history of the country, I learned he actually helped the country a lot. He was a great king.
Q. Was Romania still a communist country when you were young?
Yes. After I finished school, I escaped from Romania. I defected.
Q. Your ballet training must have been state sponsored.
Yes. In Romania at that time we had only two ballet schools. But they were very big schools. One was in the South in the capital of Romania, Bucharest, and the other was in Cluj in the Centre of Romania. I attended the school in the North, and even today, both these schools are financed by the government.
Q. You must've gotten very strong training. I understand you lived there. How old were you when you went to the school?
I was eight and a half years old. We lived in a dormitory and every day we did academics, music and, of course, ballet. We had school Monday through Saturdays. Saturdays were also a school day. Sundays we had performances or we had the day off. Vacations I would go home to visit my parents.
Q. Do you have any brothers or sisters?
I have a brother but he doesn't do ballet. He's an engineer.
Q. At eight and a half years old is there a counselor in the school who takes care of you? What was the dorm life like?
It was a communist country, so the country was very poor. We not only were communist but we had a dictatorship. We were sixty-four boys in one room. And we had a teacher who would take care of us in the morning. He would bring us to the cafeteria and to classes because the school buildings were spread about the town. Academics were in one part of the town. The cafeteria was in the middle and the ballet classes were in the other end of the town. The theater was in yet another part of the town so we always had a teacher walking with us.
Q. Were the sixty-four boys all different ages?
All different ages. When I started, the school held about three hundred kids and when I graduated at eighteen, our class had only sixteen. So, every year, every semester, they cut kids off and sent them back to the public schools.
Q. So, at eighteen this was the only life you knew.
Yes. That was all I knew.
Q. You graduated into the National Romanian Ballet?
Yes. I started performing with the professional company when I was fourteen and I was still going to school. Then, when I graduated because I graduated at the top of the class, I was offered a contract to go with the National Romanian Ballet to perform as a principal dancer. At that time it was still communist. No money. Nothing. It seemed like a very bleak future, so I decided to defect. I skipped to Yugoslavia. From Yugoslavia I went to Italy. From Italy I went to Switzerland. Switzerland didn't want to keep us because I wasn't alone. I was with a few of my friends. Switzerland didn't offer asylum. So we ended in Croatia.
Q. Was Croatia part of Yugoslavia then and was Yugoslavia also communist?
It was 1989 when just at that time conflicts started growing between the different provinces. Serbia. Croatia. Bosnia. Montenegro. Slovenia. They started fighting but Yugoslavia was always a country where even though it was also communist, if you escaped to there from another communist country, they would not give you back. You could stay there or go somewhere. Germany or somewhere. I stayed in Yugoslavia for three years from 1989 to 1992. I was a principal dancer and it was there I met my wife and my son was born there.
Q. Getting back to your training, did you have mostly Russian ballet teachers in Romania?
Our academy is considered a Vaganova Academy which is a Russian method of ballet instruction. All my teachers were trained in Russia and as students every trimester we would go in exchange to Kiev and they would come to us. We always had exchanges and performances together. Kluge, the city where I studied, is not far from Kiev. It's about a five hour drive. And there were a lot of competitions—Bulgaria, Moscow, Vilna— where all of us got together.
Q. So you danced in St. Petersburg?
Yes. I danced there a lot.
Q. Was there a particular teacher who was your mentor?
Yes. He was Romanian but he studied in Russia. He was a famous Romanian choreographer. Oleg Danovski. He always influenced me. Always pushed me to the limit. When I graduated he became my boss. He was the director of the National Theatre. He always gave me good advice. He always helped me. Great man.
Q. What was some of the advice he gave you?
Shut up and work. Never talk. Always work. Always be consistent in your work. Work hard and you're going to get it.
Q. When you were in Croatia, did you tour with the ballet company there?
When I went to Croatia I had no passport. When I escaped from Romania, I swam the Danube. Like people from Cuba coming to America.
Q. What's across the Danube?
Yugoslavia.
Q. When you were in Croatia, I understand you did a lot of TV work.
In Europe, they always use dancers for New Years. If you watch PBS, you might see a New Year's gala from Vienna where the ballet performs. In Croatia, the TV always called on the ballet to do a lot of performing for New Years, for advertisements for chocolates, shoes, glasses, for everything. And also when we did ballet performances like Swan Lake, they were filmed by the state television.
Q. Was the ballet on TV all classical?
Not necessarily. It depended on what the producer wanted. We did waltzes, tangos, everything.
Q. Did you have any training in those kinds of dances?
No. Never. In Romania, we only did classical ballet and a little bit of modern and what they call character dancing which is like folk dancing. All my modern and jazz I learned after school.
Q. In Croatia?.
Some in Croatia. Mostly, I learned it in when I danced in Germany.
Q. In Croatia, your dancing was interrupted by the fighting that was going on between the provinces.
Yes. We had performances and in the middle we'd have air raid sirens and have to go down into the shelters and wait until the air raid was over and then go back on the stage and perform. Nobody from the audiences left. Everybody stayed.
Q. Who was doing the bombing?
We didn't really know. Some people said it was the Serbians . Some people said it was the Russians. Some people said it was the communist party. The communist party had a big army which was made up of Croatians, Serbs and Bosnians, so we never knew. A lot of people died but it was not as bad as Bosnia. Bosnia was very bad. A tragedy.
Q. At some point, you said enough of this.
Yes. I left Croatia. I knew the ballet directors of companies in other countries from international competitions where I won, so I was known as a dancer and I was pretty sure if I went and auditioned they would offer me a job. But I took a risk.
Q. But you were in Croatia with a wife and a baby.
Yes. Six weeks old. But we had a car and I had a friend of mine in Germany who's an actor and he owns a big theater in Germany and he always helped us and he came back to Croatia to help us because he saw the war and said we had to leave but I said, "I don't have a visa." As I had escaped from Romania, I was a man with no country. I had no Visa. No passport. So my friend helped me. My wife was no problem because she was American. My son was born in Croatia but he was American and he had an American passport, so my friend brought me to the German Embassy and the German Embassy gave me papers so that I could leave. My friend had a little mini-van and I followed in my car and we packed everything we had and drove through Hungary and Austria and into Germany.
Q. Finally, you were in a Western Country.
Yes. I got a job with a German dance company called Landesbuhnen Sachsen in Dresden. After a few months my wife got a job there, too. She had to wait a few months because we had a small baby. And we stayed for ten years as principals.
Q. What kind of a repertoire did the company perform?
In Germany it was everything. There I started to even learn more modern jazz. In Germany companies, if you are going to be a dancer you have to do everything. We had musicals, opera, ballet, contemporary. Aida, Annie Get Your Gun, Fiddler on the Roof. Sometimes we had to sing. Sometimes we only had to pretend to sing because we were so off. If they had a tango or something we had to do it. Germany is very famous for contemporary dance. A lot of modern. Monday we usually had off but Tuesday, Wednesday, Thursday, Friday, Saturday and Sunday, we had performances. And every day, we had different performances. Not like here where you do one season long Nutcracker or whatever. There, one day we had opera, next day we had ballet, next day we had modern. Same theatre. It was designed by a very famous architect—Semperopera. Very old theatre. Huge. Very big stage. He constructed the Opera House in Vienna, And also the Stadt Theatres in Romania. And even in Russia. If you look at theatres where they have two lions on top. Those are his.
Q. Did the theatre have a raked stage?
Not ours in Germany. Although you do find some old theaters in Germany that have raked stages. In Romania all of them are raked. You just have to climb.
Q. How long did you stay in Germany?
Ten years. In Germany, they have a rule that after ten years you can decide whether you want to continue or retire. We decided not to retire but we wanted to leave Germany and live somewhere else. Our son was getting older. He was almost ten and he knew German and went to public school but I felt that for him it was better to get a diploma from the United States because an American diploma will be accepted almost anywhere, but if you have a diploma from a German university and come to the United States it might not be recognized. So, the decision was to move here.
Q. Do you have a pension from the ballet in Germany?
Probably. But I will have to wait until I'm sixty-five.
Q, Coming to the United States must have been easy because your wife is American.
Yes. But we also did a lot of guesting in the United States. We performed with many companies and I never abused my Visa. So when we decided to move here we had no problems. We came here and they gave me a green card right away which gave me the right to work.
Q, How many languages do you speak?
Five: Romanian, Croatian, Italian.…
Q. Are Romanian and Croatian close?
No. Romanian is closer to Italian. It's more romantic like Latin. Romanian and Italian are like British England and American. They're very close. Croatian is a Slavic language and is closer to Russian. I also speak German and English.
Q. Where did you move to first in America?
My in-laws lived in Virginia Beach but we came to Massachusetts. My wife liked the Boston area a lot and it has a lot of culture. Florida is very beautiful but ballet is not something a lot of people want to see there. Here in New England you have a lot of places you can see ballet. Boston. Providence. New York. Connecticut.
Q. Where did dance here?
I started as a principal dancer with the Jose Mateo Ballet Theatre. I was old for a dancer but he needed someone, so I said OK. Let's do another two or three years. But after that time, it was getting harder to dance at the level I expected of myself and I wanted the audience to remember me in a good way. So I decided to quit as a dancer and I got a job with the Boston Arts Academy. It was a fabulous job with wonderful people working for the Boston Public School System. I was teaching ballet and dance history and it was very nice but after five years, unfortunately, the Boston Public Schools requires you to have a master's degree, so I had another decision. Should I go for my master's degree or should I leave. And I decided to leave because I was working to pay for my son to go to college and I didn't have the money to pay for my own degree. So, then I became a ballet master with Jose Mateo Ballet Theatre and I worked there for two years and after two years I decided to open my own studio, the International Ballet Academy in Norwell, MA which is a beautiful school with beautiful facilities but I did not want to leave completely the world of professional ballet and just then Artistic Director, Mihailo Djuric, of the Festival Ballet of Providence Rhode Island asked me to be the ballet master and so now I'm doing both. I'm teaching at my school in Norwell, being Ballet Master here and I'm opening up a second school in Burlington, MA.
Q. What is the role of the Ballet Master in a company?
The Ballet Master is a teacher. Number One I work with the professional dancers to make sure they know what they're doing. I teach them classes, I rehearse them. I yell at them. I laugh with them. I'm a mentor, teacher and advisor all in one.
Q. Obviously you're very knowledgeable with male dancing and male roles. What it's like teaching the female dancers?
Ballet is pretty much similar. It doesn't matter whether it's men or women. Because even as a male dancer, the school I went to teaches us how to teach everything. It's a little bit tough to teach the girls pointe. You know the theory but the problem is we, as men, have never been in pointe shoes so we don't know the feeling. What happens is we can teach them but we always forget how painful it can be so we don't know when to tell them to stop so the poor girls are always in tears. After several years you get it because the elements are the same.
Q. What are some of the things that the ballet is doing this year?
The Nutcracker, of course. Both the Festival Ballet of Providence and the International Ballet Academy of Norwell have beautiful Nutcracker performances. It's very close to the original choreography. Mihailo Djuric, the Festival Artistic Director set it up for both companies so the production here and the production in Norwell is similar. I advise everyone to see it. Here in Providence we will also be doing a lot of modern, classical and contemporary pieces performed in our Black Box Theatre and I'm looking forward to doing Gwendolyn Goes Hollywood in Norwell and the biggest one is the full length Sleeping Beauty here with the Festival Ballet.
Q. The Festival Ballet has its own school and you work with those students?
Yes. I teach the students, too.
Q. And you have your own school in Norwell and this new school that you're starting in Burlington. Do any of those students have an opportunity to dance at the school here in Providence?
I think it's a beautiful opportunity because the kids get more exposed. The kids from here can always go to the International Ballet Academy of Norwell or the International Arts Academy of Burlington and from my school they can come here. It's the same thing I did as a kid. We went to Kirov and they came to us. The Festival Ballet has beautiful studios and beautiful teachers.
Q. Any books and films you think ballet students should see?
I always love history and I think ballet students should read dance history. Anything about dance history because you have to know where things started to be able to know where things are going and what you're doing. Otherwise you just learn, learn, learn without knowing where dance is coming from. If you don't know where it's coming from, it's very hard to put your heart and soul into what you're doing, so my suggestion is to read dance history.
Q. Any last words about the new studio?
The new studio in Burlington Studio will be totally different from anything we've been doing. We'll teach everything. Acrobatics. Gymnastics. Fencing. Marshall Arts. Zumba. Hip hop. Modern. African dance. Tons of ballet and we will also have academics so kids we'll learn dance history. I have my own blog on dance history starting from the stone age to today. It took me five years to write it. We're going to have teachers in math and English and science. It's a big place. Twenty thousand square feet.
Q. Any final words for ballet students?
Dance is something that comes from the heart and if you don't have the heart for it, it's tough.
To check out the Festival Ballet Providence, click here: http://www.festivalballet.com/v2/index.php To return to Ballet Connections, click on the back arrow in the upper left hand corner of your browser.
To check out the International Ballet Academy of Norwell, click here: http://www.ibanorwell.org/ To return to Ballet Connections, click on the back arrow in the upper left hand corner of your browser.