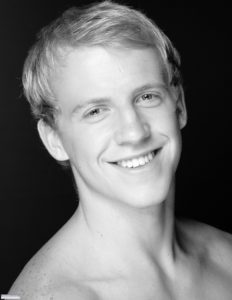 Daniel Baker is from Newcastle, Australia. He trained at SAB, Marie Walton Mahon Dance Academy, and The Australian Ballet. In 2006, he joined Miami City Ballet as a Company Apprentice. He became a member of the Corps de Ballet in 2007 and in 2008 was promoted to Soloist. He has always shown an interest in and a talent for choreography and in 2009 he won a grant "to support an emerging choreographer" from the New York Choreographic Institute.
Q. How did you get into dance?
I have an older sister who was taking dance classes when I was about three. After class she would get candy and lots of attention which made me jealous, so I begged my mother to let me take lessons as well. She thought I wouldn't last but here I am still dancing.
Q. What schools did you go to?
I started out in a tiny little jazz school that met once a week in a church hall. Then I studied at the Macdonald College of Performing Arts in Sydney and at the National College of Dance. Then I went to the School of American Ballet in New York.
Q. Was SAB just for the summer or were you a full time student?
I sent a video over to audition for the summer program, and while I was there, I got offered a full scholarship to stay for the year round program. I was there for three years.
Q. Was SAB training different than in Australia?
The Balanchine technique is extremely different.
Q. Did you like the difference?
It took some getting used to. But I was always open to learning new things and I really appreciated it.
Q. When did you go back to Australia?
I went back every year during the summer and danced with the Australian Ballet to stay in shape and just to get my face known in Australia. The Australian Ballet is in Melbourne. It's a big classical ballet company but I always wanted to live in New York and learn Balanchine.
Q. When did you become interested in choreography?
All my life—even just dancing around the house when I was a kid—I've been coming out with all sorts of different little things. But at SAB they have a choreographic workshop where I started in a more serious way.
Q. What is your creative process like?
I tend to draw little bits from every day life. I tend to be inspired by random things. I try not to come up with an idea all at once. I gather bits and pieces and then gradually it becomes what it will become. It comes from everywhere but it comes in bits and pieces, not like, "Aha! This is it." I like to come up with ideas before the music but that is tricky because trying to find the perfect piece of music to fit your ideas is difficult. You have to give and take.
Q. Do think in terms of movements and steps?
A lot of it is just being spontaneous and going with it.
Q. Some people make ballets that seem to have no roots in classical ballet and with others you can see a definite progression from classical ballet. Where do you fit in?
I certainly have drawn from the people I've worked with for inspiration like Twyla Tharp and some of my teachers have worked with Kylian a little bit so I've taken all that and put it into my work, and being from SAB, my work is also stylistically similar to Balanchine's.
Q. A writer, for example, doesn't need people skills but for a choreographer it seems essential. How is it for you dealing with dancers?
It takes the right type of person to be the director and work with people and understand how different people move and how they work. In my case, I'm this twenty year old kid working with principal dancers who've been at the Miami City Ballet for like twenty years and I'm telling them what to do. But there has to be a certain level of respect on both sides. So, I take that into consideration when casting who I want to work with as well as talent and who I think will be better to work with personality-wise.
Q. How do you get a dancer to buy into your vision?
Every dancer is different. Some will like your work and buy into it, others will hate it. I like to plan on really knowing what I'm doing and being confident about my ideas when I pitch it to them.
Q. How do you work on your piece?
Right now I dance out my ideas. I film myself and my assistant, Helen Ruiz. I do it at my place. But it's hard balancing a full time job as a member of the company and choreographing on the side.
Q. You and your assistant work together.
Yes. Some choreographers really like to be spontaneous but I'm a person who doesn't do well on the spot. I need to have a plan and formula otherwise it's a mess.
Q. Did you start with music or without?
This one started with the music but now that I've won this grant to expand it, all the ideas for how to expand it came to me before I found more music. Now, I have the first pas de deux but I need to look for more music to go along with all the other ideas I have.
Q. So, you're sticking with the original pas de deux as part of the new expanded piece.
Yes. It's the center pas de deux. And my expanding the piece is adding a beginning and an end.
Q. And the center section is to John Williams's music.
Yes.
Q. So it's a classical piece.
Contemporary classical.
Q. And the other music will also be contemporary classical.
Yes. I'm using a few different composers. I'm still finalizing. The hard part is getting it all to sound unified.
Q. So as a choreographer you need to find a lot of music.
Yes. Which is very hard in Miami Beach. I think our only record store has just closed down. I've been looking mainly online. I suppose in New York it would be a different story.
Q. Do you start with a composer and then go on Youtube, for instance, to find samples of his or her work?
Yes. And internet search engines. I search for contemporary classical composers and go through their work to see if I like it. To see if it will fit in. To see if it won't. Since I know the dance sections, I know what I'm looking for which actually makes it harder because no music is ever going to be perfect for what I've envisioned. Whereas if it came the other way around—with the music first rather than the dance….
Q. Is the problem finding a tempo or a length?
Neither, really. Just a certain mood. The dramatic effect of what's going on is mainly what I'm looking at.
Q. But when you find the piece with the right mood it will have it's own tempo and length. Then you'll adjust your piece to that.
Yes. But for the opening of the ballet I actually edited the music myself which could be considered disrespectful to the composer. But with the piece of music I found, I liked the music so much and it was so perfect for the opening, I didn't mind taking this one snippet and using it.
Q. And now you're looking for another composer?
Yes. I'm using multiple composers. I find it hard and a little old fashioned to use one complete work. I'm so driven by the idea I have for this piece that I want to almost sample and alter the music myself.
Q. What kind of musical training do you have?
We get musical training at ballet school. I used to play the piano but I gave that up a few years ago. It gave me a musical ear but I don't know how much it helped me. It definitely made me more musically alert.
Q. Are there any other significant elements to the choreography in terms of lighting or sets or costumes?
This grant was strictly for an experiment; for a pure dance piece with no sets and no costumes. But they want me to come up with an idea for sets and costumes if it's successful and performed. But right now it's black tights and leotards.
Q. How do you move between the different composers?
Silence is important to make the transitions smooth. Also for the dramatic effect. The work is fairly dark in mood.
Q. In classical music, the music states a theme and the rest of the piece is a variation on that theme. Is your piece similar in terms of steps?
Yes. The whole piece is a variation of the beginning. I've set up a lot of motifs in the beginning that you'll see throughout. And a lot of partner switches. I've developed at least ten motifs that are developed through the whole piece. And it will finish the way it started.
Q. Choreography has a spatial quality in that the dancers are not only doing their individual steps but when you're dealing with eight dancers, you're also dealing with a lot of space. Do you have a sense of the framework that the piece will be danced within?
Right now it's just going to be done in our studio theater, so I'm thinking in terms of that space. But all stages are fairly the same these days. But I'm not considering that too much at this time. For most of the piece, there will only be two dancers on stage because I've set up this theme about human relationships. There'll always be two dancers on stage with one leaving to go on to the next like a chain reaction.
Q. At the same time that you're working on your piece, you're dancing in the company in Balanchine works and classical works. You've done Don Quixote this year. How does dancing in these other pieces effect your own thinking about choreography?
Dancing in the great works gives you a sense of their structure and what they're about and you can try to relate it to your own work and analyze and ask yourself how to better structure it. I had a conversation in the studio the other day with someone about how Balanchine could come up with Symphony in C in a few weeks. It's amazing that he could choreograph a piece with that many people and of that length in such a short time. I hope to one day become faster with experience.
Q. Who are some of the choreographers that you admire?
Definitely Balanchine. Twyla Tharp. Kylian. Jerome Robbins. Christopher Wheeldon. I'm very much into contemporary modern ballet.
Q. Since your piece is all pas de deuxs, are there lots of lifts?
I use a lot of partnering work. A lot of lifting. That's why I need my assistant to help me and luckily she's only about ninety pounds.
Q. How did your grant come about?
Well, Miami City Ballet nominated me for the New York Choreographic Institute grant. I basically sent them a letter of intent, what I planned on doing with the money, a DVD of my previous work and recommendation from Mr. Villella. So I basically came out with my idea, pitched it to them and they sent back the money for this grant.
Q. Are their dance movies and films that you like?
Actually, I'm a big fan of Woody Allen movies and part of the piece I'm doing is inspired by a few of his films. It's about relationship drama. It's going to be four couples who all intertwine.
Q. Did Woody Allen himself inspire anything? He has rather unique physical characteristics.
More the mood and the sense of contemporary style of his story telling.
Q. Does the piece have a name yet?
The name of the piece is called Nightminds. The title and concept came from song lyrics I thought I could reinterpret into dance.
Q. What have you learned from working on this piece?
I need to work on being more confident in trusting my own judgment. You can choreograph two minutes and then tell yourself it's crap and go back redo it and you're really just wasting time. Just trust your initial judgment.
Q. Some choreographers take very little feedback from the dancers they work with. Others choreograph in a much more open manner. Have you a sense of how you want to work?
As long as the dancers are happy, I am happy. I want to go in with a good grasp of what I want and where I want the piece to go and as long as the dancers stay within the mood of the piece, I can give it to the dancers and let them put themselves in it. It's a collaboration. I want to act more as a director.