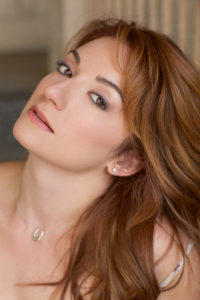 Danielle comes from a wide variety of training and professional work. She is currently with Nevada Ballet Theater. Danielle was trained by the most elite programs in both the competition world (Larkin Dance Studio) and classical ballet industry (Manhattan Youth Ballet, American Ballet Theater, School of American Ballet). All while being personally mentored by some of industries greatest (Francois Perron, Susan Jaffe, Karin Averty, and Michele Larkin). Danielle's professional career has led her from stages in New York City to commercials and TV shows in Los Angeles. Performing with Nevada Ballet Theatre her most favorite roles have been, Little Red Riding Hood (Sleeping Beauty) and a Cygnet (Swan Lake). Danielle travels the country bringing the power of Resurgence Intensive to studios everywhere. This is an intensive she launched in 2014. Her background in a wide variety of training allows her to offer a challenging and rewarding intensive for both the classically and competitively trained dancer.
When did you start dancing?
I started dance classes at the age of 2. My mother said I was a clingy child, so a friend suggested she enroll me in creative movement class at a local dance studio.
Where were you—what school?
I started my training at a studio under the direction of Shannon Butterfield Raines in Maple Grove, MN before continuing onto Larkin Dance Studio. I also took additional training classes with Minnesota Dance Theater.
When did you move to NY?
Summer after freshman year I was in Manhattan for my 6 week summer program with Susan Jaffe. I asked Susan if she would help me and bring me to a few auditions around the city to find a school for a year long program. I got accepted into a few, but chose Studio Maestro with Francois Perron. I felt most at home there. At 15 I had finally convinced my parents to let me move to NY.
Did you go anywhere for special dance training?
From the ages of 9 – 12 years old my parents traveled with me monthly to train privately across the country. My entire freshman year of high school in MN I would miss one week of school a month to travel to NY to train privately with Susan Jaffe. Let's just say my school was not very fond of me to say the least!
What was that like?
I would not be where I am today if it was not for the commitment my parents had to me and my dream. We had a deal, and as long as I worked my butt off every single day in and out of the studio, they would provide me with whatever they could. My ballet mentors I had the chance to work with while growing up are what gave me the extra push to reach my goals.
I will never forget my first private with Susan. My mom brought me to 890 Broadway and we met her in the studio upstairs. My mom asked when she should come back to pick me up and Susan said she wasn't exactly sure how long we would work. Susan sat a chair dead center in the room and placed a ballet barre arms distance away. Long story short, my mom came back two hours later, I was dripping sweat, and we were still on tendúes.
What made you think seriously of dancing professionally?
I love the challenge that dance presents to me on a daily basis and I knew I wanted to do it beyond school.
What were your auditions like?
My auditions were always a rollercoaster ride for me. Just like you would imagine, some great and some where I felt like I got cut before I even had a chance to do anything. My audition for Nevada Ballet Theatre was one of my most favorite auditions I have ever done. The way James Canefield spent time getting to know how our brains worked, not just our bodies, was something I had never had the chance to experience. He would ask us the craziest of questions, but it gave us a chance to show him who we really are beyond just another dancer in a leotard in pink tights.
What is your advice for auditions?
My advice would be to just be yourself. There is only one thing that will make you stand out from the rest and that is if you are 100% you, because no one else is you! You will get a million "no's" before the one "Yes". Don't let rejection get you down. You aren't rejected for who you are, you simply just weren't what someone needed, and that's OK.
You left ballet for commercial dance—what kind of things did you do commercially?
I was very lucky to have such wonderful opportunities in the commercial dance world. I got to perform as a dancer for TV shows on, NBC, USA, and Fox, including "Glee". I also worked on a few music videos, and a commercial for "Scheels".
How did you get into that world?
I was raised in the competitive dance realm so the transition into commercial dance seemed very natural. It was like going back to my original roots.
What are commercial auditions like?
The biggest difference, I think, is that individuality is huge. It's all about being unique and standing out from the crowd. Everything that makes you you is encouraged and welcomed.
What's your advice for dancers interested in commercial dance?
My advice would be to be a well-rounded dancer. Educate yourself and experience other dance styles. Be comfortable in your body and in your own skin, and don't be afraid to get out of your shell.
Do you have to be in New York or LA?
NY and LA are the meccas for commercial dance however other cities have opportunities available. The "Scheels" commercial I worked was actually choreographed and set by LA choreographer Jamal Sims, but it was casted and shot in Minneapolis.
Do you need an agent?
Agents are always helpful! You do not always need an agent, but to get in the right direction and get in the doors of bigger projects you have to go through an agency. It sometimes almost acts as the first filter cut of an audition. The agents send who is right for the job.
How do you get an agent?
The agencies usually hold open auditions once a year. Some also accept submissions if they are currently accepting new talent. I am signed with MSA agency in LA and got representation through referral.
What is the compensation like?
Commercial work is paid much better than classical ballet, however the industry is much harder to survive in because work is not constant for everyone.
What got you back into classical ballet?
I decided to get back into classical ballet because I felt like I hadn't fully completed the job I started. My dream was to be in a ballet company and I was determined to make it happen.
What is it like dancing in Las Vegas?
I love dancing with Nevada Ballet Theatre in Las Vegas. If it wasn't for The Strip Vegas feels just like any other normal place.
What is the studio like?
We have a large, beautiful, modern facility we get to call home. We spend the majority of our time in Studio 1 which is separated from the other 6 studios in the building. It's our home and where all our creations come to life.
Where does the Nevada Ballet Theatre perform?
We perform at the Smith Center. The first time I saw it in person it took my breath away. It's a modern 2,000 seat theatre with 4 balconies. We are so lucky to have a jewel of a venue here in Las Vegas. It's like our own mini Met.
You also teach ballet in the summer—what is that about?
Yes. Four years ago I started Resurgence Intensive. Coming from a background in competition and then continuing my training in the professional ballet world, I knew I had a lot I could bring to young dancers. I had a goal of showing dancers that ballet can be enjoyable even if it's not their favorite.
Where is it?
During my off season from the company, I travel all around the United States bringing Resurgence Intensive to studios directly. This season we will be going to more than 8 cities across the nation.
How long does it last?
The intensives are set up as 1-5 days depending on the location. They take place during June – August.
What do you teach?
I teach a variety of classes all with one common thread in mind: technique. Classes include: Stretch & Conditioning, Ballet, Pointe, Variations, Contemporary, Leaps & Turns, Jazz, Lyrical, Auditioning Technique, Seminars and more. My mission with Resurgence was to revive the joy of technique training. I know ballet isn't everyone's favorite, but I am able to renew the dancers' views on this training. By helping them understand how much it helps all styles of dance, I am able to inspire them and ignite their passion for ballet.
Where do your students come from?
My students come from all over the United States. We are constantly expanding and looking for our next studio to host the intensive.
Do you take students from other states or countries?
Yes. Students are welcome to join us at any location. Even though the event is hosted at a specific studio, it is open to the public and all dancers are welcome! We encourage dancers from all around the area of an intensive to join us. Dancers either pick a city closest to where they live, or they simply attend the location that has the best dates for their schedule.
What are the ages of your students?
I teach ages from 4 – 18. Each age brings joy to me in different ways when I am teaching. There is something to take away from every experience.
When did you get involved with teaching ballet?
The first ballet class I taught was when I was 15. It happened by accident and it was the greatest accident of my life. I was home in MN visiting from NY. I was at my old studio when the ballet teacher called out last minute. The director asked me to step in and cover for the day. I taught 3 classes that day. I fell in love at that very moment and the rest is history!
What is teaching like for you?
Teaching is a constant reminder to me as to what I was put on this Earth to do beyond dancing, share my story and inspire others. My most rewarding moments are when I get to pass on all I have been fortunate enough to learn through my journey. I realize I was beyond lucky to have the opportunities that I had when I was growing up. My hope is to bring that knowledge I gained directly to students and share what I learned then and what I continue learning through my professional experience. I always hope to inspire every group of young students and impact their lives in a positive way.
What advice do you have for ballet students?
Patience! It is about the journey, not the destination. Sometimes, we have our eyes so focused on where we want to be, that we can't acknowledge how far we have come. Ballet is never perfected and never a finished project. It is constant work on your art. Take time to notice your small improvements and it will give you the courage to keep moving forward on the tough days.
Do you prefer classical dance or modern dance? Why?
In my opinion I love both for different reasons. Classical ballet challenges me every day, and that is why I love it. The thrill of the chase of perfection never gets old! Modern dance gives me the freedom to express myself. Sometimes it feels great to trust the technique you have and allow yourself to let go and just dance!
What are some of your favorite ballets?
Swan Lake is without a doubt a favorite. I just had the honor of performing Cynthia Gregory's Swan Lake with Nevada Ballet Theatre last month. It was an unforgettable experience. I felt so fortunate to have the opportunity to work with her every day for 4 weeks as she set her Swan Lake on our company.
Ballet dancers love ballet quotes. Any favorite ballet quotes?
"Joy of Dance!" – Francois Perron. He was my director and teacher in NY. He always said this to us, even after getting mad at us for something. It was a simple reminder to us that we are all here because we love it, in the good and in the bad.
Favorite teachers?
Francois was and still is one of my most favorite teachers. He took me as I was and molded me into the best version of myself. Whenever I take open class in NY I always go for Willie Burman's class at Steps. Now with NBT I get to work with James Canefield and Tara Foy everyday. They are amazing teachers and have so much to offer us all. I love finding new growth in company class each and every day.
What makes a good teacher?
A good teacher to me is someone who always sees potential beyond what you can see in yourself. Sometimes we get so hard on ourselves that we start limiting our growth. A good teacher is someone who not only pulls out the best in me, but believes in me when I doubt myself.
What are some of your favorite dancers and why?
When I was younger a stand out favorite to me was Gillian Murphy. I have always been a turner so I was quick to be drawn to her. I also really was drawn to Maria Kowroski. Taking Burman's class with her made class that much better. It's always inspiring to observe how other dancers take class.
Favorite choreographers and why?
One of my favorites is Christopher Wheeldon. Anytime I see any of his work I immediately fall in love with the movement. Working with him is definitely on my dancer bucket list.
What are your strengths as a dancer?
I would have to say turning has always been my strength. I am always in competition with myself trying to out do what I did the last time. It's a fun challenge to keep pushing myself past my limits. Currently my pirouette number to beat is 11.
What ballet shoes do you wear? Any preferences? How do you customize them?
I wear Leo's arabesque ballet flats. My pointe shoes are Gaynor Minden. No special customizations. Thankfully I like them just the way they are.
How would someone find out more information about where your summer programs?
Below are listed the best ways to find out more information or sign up for a summer program.
Resurgence Intensive
www.resurgenceintensive.com
resurgenceintensive@gmail.com