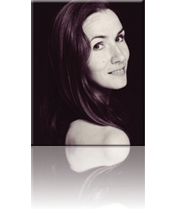 Deanna Seay studied at the North Carolina School of the Arts. In 1989, she received an ARTS Level III Award and joined Miami City Ballet later that year at the age of 17. In Miami, she moved quickly from corps to soloist to principal dancer. Her roles have included many Balanchine ballets, and she has originated roles in ballets by Jimmy Gamonet and Lynne Taylor-Corbet. Ms. Seay also worked with Maria Tallchief on Allegro Brillante, to be recorded for the Balanchine Foundations's Interpreter's Archive.
Q. You're preparing right now for a ballet you've never performed before—The Lilac Garden. What's the difference between how you prepare for a world premiere and a ballet you've personally never performed before?
When you perform a world premiere, there's no precedent. You have the opportunity to invest the steps with your own personality and to make the role your own. What's important is to rehearse it a lot to make what's new feel natural. With a standard ballet, you have video tape to refer to, you can talk to dancers who've performed it before and you're repeating steps which have been given to you . In some ways, new ballets are easier in that what you produce is what it will be. But it's important to make it natural and authentic.
Q. What about the sets and costumes for The Lilac Garden?
The Lilac Garden is a work that's licensed by the Tudor Trust. We use the set and costumes that go along with it. The ballet has to be as true to the original as possible.
Q. What do you find interesting about the Lilac Garden?
Anthony Tudor created the ballet in 1936 and for us it's a very different style from what we normally perform. It's much more intellectual. When you have two dancers on stage, you can see the interaction going on between them. In the pas de deux's, there's a lot of acting.
Q. The Miami City Ballet performs in three different venues as their "home." Is that difficult?
It's not difficult at all. It gives us more chances to perform the roles. We all have five or six opportunities.
Q. Each theater has a different size stage, different audiences, different acoustics. Is that a challenge?
You learn to be flexible. Stages of different sizes make spacing very important. You don't want to be too far away from the person you're connected with. If there's a place to be at a particular time, it's the dancer's responsibility to be there. Spacing is explained in detail at every technical rehearsal but it is our responsibility to maintain that on stage. The theaters do have different acoustic qualities—how well we can hear the music; how well the sound resonates from the walls. Some theaters are easier to hear the music; some theaters feel more comfortable. The shape and size of the stage of the new Carnival Center is very comfortable. You feel you can project to the entire audience. I appreciated that when I started performing there, even though the Carnival Center is large, the ability to project outwards is there.
Q. Does a principal dancer have more interaction with the conductor?
When I was in school, I was taught, 'Never to speak to the conductor unless he speaks to you first.' With the ballet here, he is accessible and if I have a tempo need, he will try to make it more acceptable. The music and the dancer rely on each other. You want the conductor to follow the dancer, but it's a delicate balance. You don't want the conductor to rely solely on the tempo of the dancer. That distorts the music. The dance is a visual expression of the music. In a story ballet, there are more elements involved because of the plot line and that requires more sensitivity on the part of the conductor.
Q. Do you like performing new works as compared to the standard repertoire?
I love it all. Every ballet is an opportunity to express myself whether it's Balanchine or neo-classical. It's about shaping the music and the space and expressing the choreography. My favorite ballet is what I'm currently working on.
Q. You have danced in the corps, as a soloist and as a principal. What are the different mental and physical challenges?
In some ways dancing as a principal is the easiest. As a corps dancer, you dance a lot. Often two performances a day. After a while, you don't think about it. Twenty-five minute marathons, three times an evening in a three-act ballet. You have to take good care of yourself because of the physical stress. You learn a lot. You don't have time to think about what you're doing. You just dance. As a soloist or a senior corps member, you might not dance as much but the psychological pressure is greater which sets you up for being a principal. As a principal, you have a lot more pressure to maintain a high level of artistry. You carry the ballet. It's wonderful to see young kids in the corps and see them becoming soloists and developing a personality, not just staying in the line. But being in the corps is one of the most demanding and challenging things. In so many classical ballets, the corps dancers can't change their body angle. They can't watch. They're just in their own world. Your blood drains from your fingertips and your arms get sore. But you can't have a great ballet company without a great corps. They are the heart and sole of the ballet. They integrate the story and provide the nuances and mood of the period. It's about their patterns and then you're able to see the principals.
Q. What do you want in a partner?
My fiancé who isn't dancing at the moment due to an injury was the perfect partner. We had the same ideas and he was willing to work on things until we got them right. We had the same musicality. I trusted him. I knew he would never let me go on stage if something wasn't right. He was an excellent partner. He was the frame around the picture. He had a way of making the audience see the beautiful qualities of the ballerina. I like to work on something and am interested in making it better which requires a lot of communication and he had that same ideal. We knew each other's idiosyncrasies and we could say things to each other like, "I hear this in the music and it would be nice to do this."
Q. When you think back to your student days, is your dance career different than you imagined it would be?
It's been better than I ever imagined. I was lucky to find myself in a place where they needed me to dance a lot. I've been able to dance a great many roles and grow with the company. It doesn't always happen that you are in the right place at the right time. It could have been someone else.
Q. What do you like most about performing?
There's always the moment when you get on stage and you forget that you're on stage and the steps are coming out of your mind and it's happening right there—it doesn't always happen but when it happens, it's empowering. That's when the dance becomes you.
Q. What would you tell young dancers?
I would say that dance is a tough profession, and if you really want to dance, find a teacher you can trust who will tell you what you're doing right and wrong. A child who is told she is wonderful when she has technical problems is not being helped. Correction is part of the learning process. A dancer has to understand that it's an art form and you need to aspire to do things that very few can do. It's very, very demanding.