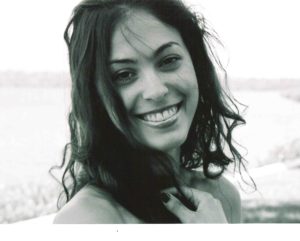 Emily Ricca began her ballet studies at eleven in Springfield, Missouri, and was invited to be part of the Missouri State University Ballet program. She has danced all over the United States under masters like Violette Verdi, Jillana, Maria Tallchief, Kyra Nichols, Merrill Ashley, Peter Pucci, Leslie Brown and David Howard. Emily was trained at the Virginia School of the Arts under the direction of Petrus Bossman, from the Royal British Ballet.
After Miss Ricca graduated from VSA, she joined Ballets de San Juan in Puerto Rico, where she worked with Ricardo Melendez and Ana Maria Castañon. In Florida, she joined Florida Dance Theatre for three seasons as a principal dancer and taught in the school. She has also taught for Vero Classical Ballet, Florida Arts and Dance Company, Indian River Charter High School and lately at the Miami City Ballet School.
As soloist, she has guested with Boca Ballet Theatre, Vero Classical Ballet, Florida Arts and Dance Company. Miss Ricca has been on the staff of The Jillana School for four summers. She is a certi?ed pilates instructor and currently is dancing for the Cuban Classical Ballet of Miami, Momentum and Ballet Etoiles. Emily is the founder and director of Romance Project, an international educational program for schools and other institutions that involve live dance and music performance with history.
Q. You grew up in Missouri. How did you get interested in ballet?
My childhood friend took me to her dance class one day, if I remember correctly it was bring your friend day.
Q. What were your first ballet schools like?
I started at a very small town studio, where we did tap, jazz, ballet, and tumbling in one hour. I soon outgrew that studio and wanted to focus on ballet.
Q. How old were you when you studied at the Virginia School of the Arts? And what was that like living away from home?
I was fifteen years old when I went away to study and for me being away from my family was hard because I was so close to them. I missed them a lot.
Q. After you graduated from VSA, you danced with the Ballets de San Juan in Puerto Rico. How did that job come about? How did you find them? How did they find you?
I knew the Artistic Director, Ricardo Melendez, he had been a faculty member the year before at the Virginia School of the Arts. He was fond of my dancing and I planted the seed in him that when I knew he was not returning to VSA because of his knew directorship at Ballet De San Juan I would say, " I want to be in your ballet company." He finally got used to the idea, and hired me.
Q. What was it like dancing in Puerto Rico?
It was hot weather wise, conditions at the dance studio were not the greatest. I had to listen and really be alert because rehearsals were in Spanish and I didn't know the language. It was a growing experience. I found the people to be very nice and always eager to help.
Q. How long did you dance there?
I danced there for part of a summer and then complete year.
Q. What are some of your best dance moments there?
One of my best moments were when my husband-to-be was commissioned to write the music for a new ballet and he was playing live on the stage as I was dancing during a performance.
Q. What was the learning experience like going from a professionally oriented ballet school to actually dancing as a professional?
I feel since I went to a pre-professional ballet school the transition to becoming a professional was very slight. I have so much respect and love for ballet therefore my directors and fellow dancers feel that.
Q. Then, you transitioned to dancing in Florida. How did that come about?
My husband moved to Florida and I wanted to be with him.
Q. How do you prepare for a role?
I watch a few ballerinas that I really admire do the role. I may read about the character just to understand more. I have different people watch me–choreographers, dance teachers, modern teachers, non-dancers. I try to get feedback from everyone to develop my version of the role that I'm working on.
Q. You met your husband in a romantic ballet way. Maybe you could tell us that story.
I met my husband when I went to audition for Ballet De San Juan. I sort of stuck out. I was the only American in the entire ballet company and I had mosquito bites all over my legs because I was new to the tropical climate. He was shocked by my legs with all those big red bites. It was love at first sight.
Q. What keeps you dancing?
I keep dancing because I need to in order to feel complete. I don't feel like my day has been fulfilled unless I have danced. Dancing makes me see everything clearer and it is a challenge that you make with yourself to keep improving every day. In ballet you are never good enough, you are constantly trying to be better, I love that!
Q. How do you bring movement to life?
I try to really feel my connection with everything within my body. Ballet is very lifted and weightless but for the quality of movement to be at my best I try to think more grounded because the up is easier for me than the down and there is a big necessity for opposition in the dance.
Q. How do you show your individuality as a dancer?
That is something you can't teach or show, you either have it or you don't. It can't be forced or prepared it is just there like a birth mark.
Q. How important is technique in achieving artistry?
Technique is like your spinal column, it holds you up and supports you so that you can be free and let the movement flow through you without struggles.
Q. What is your favorite piece to dance?
Whatever piece I'm performing in that moment is my favorite piece.
Q. Do you prefer classical or more modern ballet?
I feel comfortable with classical and more free with modern but I love and need them both in order to excel.
Q. Do you have a few favorite choreographers?
I have choreographers that I have looked up to but no favorites.
Q. What's your most memorable dance performance?
When I performed Beauty and the Beast with my husband Juve.
Q. Now, you do a lot of teaching. What do you look for in students?
I look for focus, eagerness to try new things, awareness, coordination, rhythm, of course, facility but that isn't the most important for me in the beginning.
Q. What advice do you give students when they're getting their first pointe shoes?
My advice for first time pointe shoe owners is to make sure the person fitting you is a dancer, so you get the right fit and wear your pointe shoes around your house just to get used to the feel of them.
Q. What are some of the most common mistakes that students make?
Improper Alignment. Performing steps that are too advanced to soon.
Q. How does a student gain the attention of a teacher?
Listening, and doing exactly what the teacher asks the first time. Having a cheerful spirit, and looking like you are enjoying what you are doing.
Q. What advice do you have for ballet students?
Don't take corrections too personal. Always have a positive attitude. Don't look at yourself in the mirror, feel your body.
Q. You are also still dancing. What are you dancing and where? New Projects?
I'm dancing for a new ballet company in Miami, Ballet Etoile, and a modern company, Momentum, as well as guesting for Cuban Classical Ballet whenever they have performances. I'm busy with my International Educational Project- Romance Project–with music and dance for the schools and other institutions which will be performing February 17th for The Vanguard Boarding School in Lake Wales, as well as teaching ballet at Sobe Pilates.
Q. Any advice on staying healthy and having a long dance career?
It is very simple. Listen to your body. Rest when you are tired. Eat well. Sleep well, and stop when something does not feel right or hurts.
Q. Any favorite ballet movies?
Not that I have seen recently, I do like White Nights with Mikhail Barishnikov and The Turning Point.
Q. Favorite ballet books?"
101 Stories of the Great Ballets by George Balanchine and Francis Mason, Dancing on Air by Suzanne Farrell, A Dance Autobiography by Natalia Makarova
Q. Any favorite ballet quotes?
"I didn't choose ballet, ballet chose me."
To check out Emily Ricca's Romance Project website, click here: http://www.romanceproject.org/. To return to Ballet Connections, click on the Back Arrow in the upper left hand corner of your browser.
To check out Emily Ricca's dancing on YouTube, click here:
https://youtube.com/watch?v=Vz0H6shc-C0%26feature%3Drelated