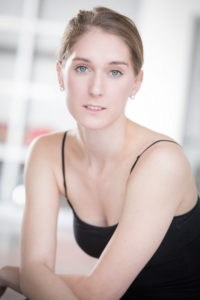 Emma Sadler is originally from Grapevine, TX. In May of 2015, Ms. Sadler graduated with her B.F.A with honors from the University of Oklahoma under the direction of Mary Margaret Holt. While there, she performed the works of Alvin Ailey, José Limón, Jessica Lang, Donald McKayle, Austin Hartel and others. Emma is also a certified IM=X Pilates instructor. Ms. Sadler joined RIOULT Dance NY in 2015. With RIOULT Dance, she has had the pleasure of touring domestically as well as performing at the prestigious Joyce Theater in New York City.
Q. Why did you choose modern dance over ballet?
Nothing is as freeing as the expression of modern dance. I love how emotionally raw and revealing it is and that every part of your being is viscerally used to connect with the audience. Being barefoot and feeling the earth as our ancestors have before us is such a beautiful experience.
Q. How much time do you still spend time doing pointe work?
From time to time, I will slip my pointe shoes on again. To be honest, I don't get up on pointe too often anymore. I take ballet class every day and use that as my primary form of training, because it should be for every dancer, but I usually stay in my ballet shoes and continuously challenge myself in class to reach new physicality in my dancing and mental capacity.
Q. You live in New York, there are many dance opportunities. Do you ever audition for advertisements or Broadway shows?
Absolutely! I think it is important for every dancer to try everything and audition for everything. The really exciting thing about being a dancer, and especially a dancer in NYC, is that there is a beautiful amount of opportunity. I try to audition everywhere I can, even if it's a brief appearance in a music video or a photo shoot. It's important to be versatile and open to new experiences, because you never know if it could be the right fit for you or take you to new and exciting places.
Q. How do you stay positive in the world of dance?
Sometimes that is not easy to do. Auditions can be so arbitrary, and more times than not, they are looking for a very specific height, or body type, or type of movement. My family has been the biggest support system for me. I've been fortunate to have such a strong family that has encouraged me every step of the way, from deciding to study dance in college, to packing my life in two suitcases and moving to NYC with no plan other than to see how I landed. I also continue to remind myself every morning that all feelings and places are temporary. Dancers need to have patience and perseverance. It's important to not try to force things, as life happens in the timing that it should. I continue to put one foot in front of the other and know that the JOURNEY is what makes this career and city so exciting.
Q. For a young student interested in modern dance, what steps should they take to become a professional? Should they do competitions? Go to a certain dance school?
Competitions, dance schools, and summer intensives are all really great to do as a pre-professional. I did competitive dance as an extracurricular after school, and played the oboe at a public high school. I decided to go to summer intensives where I could train outside of my realm and see if dance was something I really wanted to do. I will say; you don't need to go to a top-notch school to be a top-notch dancer. Your work ethic is 100% what gets you to your pinnacle in dance. Your natural talent will only get you so far, you have to continue to work every day and keep pushing yourself. Like in every aspect of life, you will grow where you are planted, you just need to trust where life is taking you and continue to show your ambition and passion.
Q. Do you have any pre-performance rituals?
I will always have either a cappuccino or mocha before a performance. That extra boost of espresso always helps focus me and believe it or not, ground me! I also like to sit on stage before the curtains close and the house opens and imagine the audience I'm about to perform for. What do I want the audience to learn about me? How do I want them to connect with me? I put my energy into every empty seat and all over the theater, so that the audience can already energetically know a little bit about me before they see me dance. I think energy is a really beautiful thing that connects humans together and I try to continue to put forth only positive energy.
Q. Dance can be expensive. Do you have any tips for young dancers on a tight budget? As a student perhaps you don't have to spend as much on pointe shoes, but any money saving tips on lessons, things like that?
I always recommend buying bulk classes at studio spaces. If you buy 5 classes at once, you usually save anywhere from $5-$18. It's important to not buy things in excess and to be practical with your purchases. It's important to invest in your career with well-made shoes and dancewear, but do you really need your 6th $80 leotard or that extra pair of leggings? I also save all my receipts for makeup, dancewear, dance shoes, and dance classes. All of those can be written off in your taxes at the end of the year.
Q. What schools did you train at and what stands out for you from your student days in terms of teachers and what you learned?
I owe my training to the University of Oklahoma (OU). Not only is their ballet program one of the top in the nation, so is their modern dance program. What is so nice about OU is that it is a small school in a public university setting. We got so much one-on-one attention where they emphasize clean and precise technique, but also still expressing our uniqueness and individuality in modern dance and ballet. Looking back, I love that I went to such a small dance program in Oklahoma because it would inspire me to work even harder, not knowing exactly what is in NYC. My modern dance professor, Austin Hartel, danced with Pilobolus in the 80's and really trained me to become the dancer I am. He taught us the importance of the simplest things like stage presence, to sustaining our bodies and working ergonomically and anatomically correctly in our professional careers.
Q. Summer school programs at the big dance schools are often the entrance way to be invited to stay for their more important winter programs. How do you stand out at the summer school to increase your chances for being selected for the winter school program?
I would always talk to my professors at intensives. I would always try to let my teachers know that I was there to be a sponge and absorb everything I could about dance and their teaching beliefs because I was there to stay! Not only talking to them is important, but showing that each day you are growing and actively challenging your mind with what their corrections were. Teachers love to see dancers who everyday are growing and pushing themselves to better technique, better stage presence, and better showmanship. As I've said earlier, your natural talent will only get you so far; teachers are more interested in your work ethic and your potential.
Q. At 12, 13, 14 years old, there are girls who are winning Olympic gold medals in gymnastics. But girls who take dance become world class dancers at a much later age. What kind of development goes on between 12 and 18 or 19 years to make a girl into a top flight dancer?
The really beautiful thing about dance is that it is still evolving every day. The repertoire that ballet companies are performing today is nothing like they were performing 10, 20, or 30 years ago. Dance is a universal language for the people, and as the people are changing and evolving, so is dance to match humanity. I also think in those young ages, kids are still emotionally maturing. Dance is used to connect with the audience, and through their own personal experiences dancers can channel these experiences to convey an emotional meaning to the audience. In those developmental years, we learn about love, loss, hate, sadness, and passion. As we become older, we understand our bodies and how subtle nuances of the upper body, of the arm, of the way we walk on stage can convey a message.
Q. Music is very important to dance. What do you do to manage with very complex music? Do different choreographers suggest different methods for working with the music?
I have the company director email me the music, I download it to my phone, and then I incessantly listen to the music! I try to separate the choreography from the music initially, just understanding the musicality and variations of the music. As I become more familiar with the music, I count it out to the movement so I can be very precise and accurate with my musicality. There are reasons the choreographer wants your leg to reach the fullest extension on the "and" count and not the "6," so I find it in the music and listen to the musicality of the "and" count to continue to understand the choreographic choices. My college professors always emphasized getting the music and learning it, and I never realized how pertinent and engraved it was in my mind until I started learning choreography and I joined a professional company.
Q. Do you have a favorite kind of makeup? Did anyone teach you about stage makeup?
I have very sensitive skin, so I love using Neutrogena for my base foundation as well as MAC products for everything else. MAC has excellent, vibrant colors that stay on through the sweat! In college, we had a course called "Stage Makeup," where we learned how to create looks based off of our facial type. We also learned different techniques of makeup; dancing in a 4-tier proscenium stage is different than dancing in a black box theater is different than dancing outside on a small stage. You can't wear the same makeup in all 3 settings; you have to find your "Goldilocks" look for wherever you're dancing- not wearing too much makeup or too little makeup. In this course, I also learned different hairstyles; the hardest to master but my favorite hairstyle is definitely the French twist.
Q. Have you had any injuries and how do you deal with them?
I've never been badly injured, thankfully, but I do have pretty chronic aches and pains in my hips due to being so flexible. I have to listen to my body! Over time, I've learned that I need a proper Pilates warm up before class/rehearsal starts and I need to stretch out my hips. I also love deep tissue massage and would recommend acupuncture to anyone who is having any issues. Acupuncture is great because it gets those small trigger points and rereleases the muscle and allows the blood flow and energy of the body to flow with no interruptions.
Q. Do you take any classes outside of your dance company and if so where and why?
I take classes outside of my company, yes. I love to take ballet and contemporary classes at Gibney Dance in NYC. I don't want to be labeled as just a "modern dancer." Through taking other styles of dance, I want to expand my versatility and continue to challenge myself to move outside of what I think is comfortable. I have this quote on my wall that I read every morning that says, "Life begins at the end of your comfort zone." In dance, I think that is very true as well. When we continue to push ourselves outside of our comfort zone, which is how we mature and grow as people and as dancers. I never try to allow myself to get complacent in dance, I'm always figuring out what new class I can take or what new style I can study and learn to perfect.
Q. What dance projects are coming up for this year and what are you looking forward to?
I'm really looking forward to freelancing this year and making my own schedule. I have a few connections in Europe and have been starting to research different places outside of the USA to study academically as well as physically. I recently worked with a filmmaker who frequently uses dancers, so I am looking forward to seeing where that connection will lead me in regards to future projects.
Q. Any advice for young dancers?
I work at a dancewear store where I constantly hear young girls talk about their bodies. My biggest form of advice is to look and see how much the body of a ballerina is changing. Dance doesn't need tall, lanky, androgynous bodies. You see Misty Copeland who is a beautiful, strong and athletic woman carving the way for young women everywhere. Like I've said, dance is a universal language, and we are here to communicate to the world as cultural ambassadors. We need to represent all the beauty in the world, because everyone has divinity within them. The beautiful, strong, and athletic body is as necessary as the tall, long legged, and slender body.
Q. Do you have any favorite dance books that are important to you?
My favorite dance book Martha Graham's autobiography, Blood Memory. Martha Graham is my biggest idol in dance. Her book is so wonderfully and passionately written, you can hear her intensity and beauty come through in the work. She also talks about how different cultures, like the Native American culture, have shaped and inspired different pieces she created. It's a great book to read about how a strong woman with an unremarkable desire and drive in life pioneered American Modern Dance, and what fueled the pieces she choreographed and the technique she created.
Q. Are you into social networking: Twitter, Facebook, Instagram. What are your favorites and what got you into it?
Unfortunately, I am not into social networking. It is something I have been meaning to start for myself!
Q. Lots of dancers love inspirational quotes. Do you have any favorites?
My favorite quote is from Martha Graham that she says in a VHS Tape before one of her first pieces she ever choreographed, Frontier, plays. She says, "A bird never flies into the dark who is built for the light." It's such a subtly beautiful message that really reminds me that as long as I continue to lead a path towards my aspirations and dreams, I can never truly steer off track. If we wake up every day with optimism and drive, we can achieve whatever we want in the world.
Q. How did it come about that you joined RIOULT?
When I first moved up into the city, I had no jobs, no permanent home, and no idea what was going to happen. I knew RIOULT was my top choice so I attended their summer intensive. At the audition, I was actually cut at the second to last cut and asked to stay in touch and to come to company classes, which of course I wanted to do. The week before their rehearsals started, I got a phone call from the associate artistic director offering me their female apprentice spot because someone turned it down. It was one of those crazy events that I never thought would happen to me, but by remaining positive and optimistic, I was offered my dream job.
Q. What kind of yearly dance program do they put on?
As an apprentice, I am a part of the company. The only difference is that I do not go on tour with them. It is my responsibility to know every part of every dance and be ready to perform in an instant. If someone was to get hurt, they trusted me to know what I was doing and be responsible enough to step in. It was a really incredible experience to have my first year out of college.
Q. Do you travel outside of New York for dance performances and what's that experience like?
I was very fortunate to have gotten to perform in Pennsylvania with RIOULT. It was a really great experience. The dancers at RIOULT are always so kind and supportive. It was a fairly short tour where we just performed one night and drove back to NYC, but I learned little things about traveling and touring. I always have slippers with me to walk around backstage so I don't get cold. I also always have oatmeal with me, because it is quick and easy and nutritious.