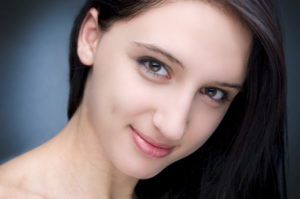 Esmiana Jani is originally from Albania but moved with her family to Broomall, PA at a young age. This is Esmiana's second season with The Washington Ballet's Studio Company. She is trained in classical ballet, jazz, modern and contemporary dance. For ten years, she studied with Denis Gronostayskiy and Anastasia Babayev at the Academy of International Ballet in Media, PA. A semifinalist in the 2010 International Ballet Competition in Jackson, MS, Ms. Jani has numerous awards in dance from 2005-2010.
Q. How did you get interested in ballet?
When I was four years old my mom saw that I walked on my toes all the time and couldn't stop so she thought of putting me in a ballet class and I fell in love with it ever since. It was fun and I enjoyed the challenge of learning new things.
Q. How did you find your ballet school?
When I was in sixth grade my music teacher introduced me to the Academy of International Ballet and Performing Arts and I saw the amazing teachers they had, Anastasia Babayeva and Denis Gronostayskiy. I've been there ever since and never left that studio until I went to dance with the Washington Ballet.
Q. The school is run by a husband and wife who are both dancers. Does getting a male and female perspective help?
Anastasia Babayeva and Denis Gronostayskiy are both so incredibly talented and such an inspiration just to watch. Denis and Anastasia helped me grow as both a dancer and a person. Yes, there are definitely advantages of having male and female teachers. Although both teach the Vaganova method, each has a different style and method of teaching. For example, my female teacher, Anastasia, focused particularly on perfecting technique, and always made sure that my technique was very clean. My male teacher, Denis, really helped me work on high leaps and turning techniques. Of course, these are only a few of the many things they taught me.
Q. The directors of the school are both Russian and trained in the Vaganova method. Was that important to you and why? What are the advantages and disadvantages?
I believe the Vaganova method helped me learn how to better express myself through dance. It entails the use of flowing lines and effectively using the arms as a part of the expression of dance. Also, the strictness of the method helped me to develop a great practice routine. I don't see any real disadvantage. Usually, classically trained dancers can step into most roles.
Q. Was there a moment when you were a student that you realized that you could really be a professional ballerina and what was that like?
I had that moment at a very young age. I was about eleven years old and my mom asked me if I wanted to do this professionally, I didn't hesitate when I answered and said "Of course, this is what I want to be doing for the rest of my life. I will never love anything more than being on stage mom!" So from that day on I knew that being a professional ballet dancer was my dream and that I would never let anything stop me from achieving it. I also found strength in the support and encouragement of Denis and Anastasia with their instruction, direction, and guidance.
Q. Did you participate in competitions? Why or why not?
I have participated in many competitions. At first they weren't to my liking because they were too much to take in. I felt that if I made one mistake I would lose and disappoint my teacher and my family. Also I saw how many other dancers were following the same dream as me. On the upside, I was also able to see that if I wanted to be successful I would have to work harder, become better, and demonstrate confidence when on stage. After my first year of competing, I became better and stronger. I also had the opportunity to meet amazing dancers from different countries with outstanding talent. That definitely motivated me to become better.
Q. How did you join the Washington Ballet? What was that process like?
I was competing at the World Ballet Competition in Boston and there was an audition class for different companies. The Washington Ballet's Associate Artistic Director David Palmer was at the audition and he offered me a spot with the Washington Ballet Studio Company. I also received an offer from Orlando Ballets for their second company. But when I signed the contract with the Washington Ballet and the season started I saw that I always had to be on my toes (pun intended) and work hard. I enjoyed it very much. It was challenging in the beginning but I feel that I grew and improved as a dancer. I have to say it was one of the most amazing experiences that I have ever had, and I am so excited to be joining them for another season with the studio company.
Q. When you get to the Washington Ballet everyone has different training and different methods they were taught by. How does it all blend in? Who blends it all in?
Every teacher has a different method, but in the end every method makes you a stronger dancer. The directors and choreographers bring it all together, but the dancer must be able to dance almost all roles. The directors and choreographers utilize the special talents and strengths of each dancer.
Q. What is your role in the company as a studio dancer?
In the studio company we are given much opportunity in the ballets, which is one of the really great things about the Washington Ballet. I've had a lot of opportunity on stage and have danced multiple roles such as, The Cards, Three Flamingos, Three Roses in the ballet Alice and Wonderland. Also in the ballet The Great Gatsby dancers have the opportunity to be one of the twins. Every role demands strong character and, as part of the studio company, we get the chance to perform these great roles.
Q. As a studio dancer do you get to compete for different roles?
I wouldn't say compete. The director shows us the steps which we repeat. He then places each dancer where the "best placed dancer" belongs.
Q. What ballets are you looking forward to this season?
I would have to say the ballet I am most looking forward to is Dracula. I have never performed this ballet before and I had so much fun watching and dancing in Alice in Wonderland on stage. I can only imagine how amazing Dracula is going to be.
Q. What are your goals for this season?
One of my goals this season is to improve and attend as many classes as possible. I continually focus on improving my technique.
Q. Do you like to perform in modern ballets and how does your Vaganova training help you?
I thoroughly enjoy performing modern ballet. I think Vaganova training helps me stay in control of my movements, body control, and especially balance.
Q. Best advice you received as a student?
That would have to be to be when one of my teachers told me that, "you are dancing for yourself in class, to improve your technique, not for me, not for anybody but yourself. So when you are in class, make sure you work as hard as you can because everything you do starts in the classroom." I have told many of the students I have taught the same thing.
Q. What are some of the most important things you've learned since becoming a professional dancer?
That you have to be quick and on your toes at all times. Being able to get choreography the first time it is shown and to always dance full out.
Q. What advice do you have for ballet students?
That would be to try to push yourself in class. Don't be safe all of the time. The more you push your limits the stronger you will become as a dancer. I think that this advice can really help. I try to go by it myself.
Q, When you go to a ballet what do you enjoy watching?
I really like to watch the dancers acting and to see how attached to the character of the story they get. I find it very breathtaking and beautiful. I admire not only their dancing skills but their acting skills as well.
Q. What ballet dancers do you admire and why?
I would have to say one of the dancers that I admire has to be my ballet teacher Anastasia Babayeva. I grew up watching her dance and watching how beautifully she moved and her strong display of the characters she danced. It was very inspiring.
Q. What were you most prepared for in your professional career and what were you least prepared for?
I wasn't prepared for working with such a large company, the many different ballets with extremely large casts, constantly dancing full-length ballets at amazing theaters like the Kennedy Center. But the one thing I was most prepared for was the many hours of continuous hard work that is necessary to be successful and that every dancer's hard work is necessary to complement the success of the company.
Q. What do you like most about ballet? What are your best moments?
The one thing I love most about ballet is being on stage and performing. The second I'm on that stage I can be another person and telling the audience a story. One of the best moments I have had in Washington was during the Nutcracker and I was one of the maids. I had so much fun during the Nutcracker!
Q. What do you like least about ballet? What are your worst moments?
I don't like how stressful it can be at times; but, even then, I think that the stress can help because ballet is more thrilling and puts me on my toes and makes me want to push and get better. One of my worst moments was when I was on stage and needed to fill a spot that I hadn't expected to do, but still had to do it. That's how I think it's thrilling. Unexpected moments make ballet even more exciting knowing that you need to stay strong no matter what people throw at you.
Q. Have you gotten a chance to enjoy Washington and what do you like about the city?
I have had a chance to enjoy Washington, DC. It's a beautiful place to live. It's so open and breathtaking. The houses are beautiful and the parks are open and inviting. And, of course, let's not forget the White House and all the fabulous sightseeing opportunities in D.C. I really like the houses and the quaint towns in D.C.
Q. Do you enjoy politics?
I have never really been very interested in politics. Of course I pay attention to the world around me, and what is going on. I certainly recognize my responsibility as a citizen and make sure to vote.
Q. Do you have any favorite ballet books or non-ballet books?
I like Pointe Magazine. I see a lot of people I have met featured in that magazine, and there are a lot of helpful articles that teach me a few things.
Q. Any favorite ballet movies or non-ballet movies?
I don't have a favorite movie, but I do enjoy watching different companies' ballets from the present time and especially the past. I wish I could go back in time and see some of the amazing shows that have been performed, and witness some of the amazing dancers that existed before my time.
Q. Any favorite ballet quotes?
"Great dancers are not great because of their technique. They are great because of their passion."
– Martha Graham
I believe that this quote is really true to ballet, as well as just about anything else in life. With anything, you really get out of it what you put into it.
To see Esmiana on the Washington Ballet website, click here: http://www.washingtonballet.org/
To return to BalletConnections click on the Back Arrow in the upper left hand corner of your browser.
To see Esmiana as a student dancer