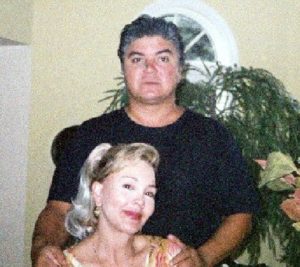 Giorgio Lalov (pictured with his wife and business partner, Jenny Kelly) was born in Telesh, Bulgaria in June 1958. His father, a family doctor and his mother, an elementary school teacher, were educated patrons of the arts. Lalov's father died suddenly when he was 9 years old, but he was fortunate to be chosen for enrollment at an elite boarding school in Sofia where all lessons were taught in French. Lalov was fluent in French when he graduated high school in 1976. The next fall he entered the National Conservatory of Music in Sofia. While on tour in Italy with a choir from the University, he auditioned for, and was accepted into the prestigious training program for young opera singers at La Scala, Milan. Within a short time he was fluent in Italian. At the age of 25 he made his debut at La Scala, but was suddenly called back to Bulgaria to see his mother one last time before she died. When Lalov returned to Italy he was engaged to tour with a small opera company throughout Europe. It was on this tour that he met his future business partner, Yves Josse. Lalov abandoned his dreams of being an opera singer and threw himself into a new role, that of Artistic Director/Stage Director of Teatro Lirico D'Europa . With his gift with languages, his training and experiences with the productions staged at La Scala, his resources in Bulgaria, and the brilliant capabilities of Yves Josse, a master at booking productions, Teatro Lirico D'Europa became the most successful opera touring company in Europe.
Q. Opera and ballet seems to be inextricably linked in your life, so before we get into your personal history maybe you can talk a little bit about the historical link between ballet and opera. How did ballet become a part of opera? And what was its role in opera?
Ballet, which originated at the Italian royal courts, as did opera, became popular in France during the reign of Louis XIV. Some of the entertainments also contained singing, however, and were called opera ballets. Later, ballet was an integral part of any French grand opera and the form was also seen in Italy. Example: Aida Ballet adds yet another medium of expression to opera which is a combination of many fine arts. A total art work.
Q. Did opera companies recruit and train ballet dancers?
Yes, major opera companies still engage choreographers and dancers. The dancers at the Paris Opera are even immortalized in art by the painter and sculptor, Degas.
Q. How were the ballets integrated into the operas?
Generally they are performed in Act II, but Wagner being a rebel, put the ballet in Act I of Tannhauser.
Q. The first composers for ballet were composers for operas?
Yes.
Q. What are some of their works for ballets?
Lully, for instance, wrote both operas and ballets for the court of Louis XIV. The king even danced some of the ballets. Composers have often written many types of music. Rameau, for example, wrote early operas such as Castor Et Pollux, opera ballets like Les Indes Galantes and pure ballets like La Princesse De Navarre. Later Tchaikovsky wrote operas like Eugene Onegin and The Queen Of Spades. He also wrote the most famous ballets: Swan Lake, Sleeping Beauty and The Nutcracker.
Q. Are any operas still performed with the original ballets?
The ballets are still performed but the choreography is usually modern. Operas like Verdi's Aida, Gluck's Orfeo Ed Eurydice, Ponchielli's La Gioconda, etc are performed with ballets, but they are generally given new choreography for each production. They did spend long evenings in the theater and often watched several different pieces one right after the other. It is an important part of operas such as Aida. Sometimes ballets are left out of operas because of time constraints, but they were often expected to be part of the performance by 19th century audiences.
Q. How long did these operas with ballet performances last?
They often lasted much longer than performances today. Separate pieces were often performed in the intermissions.
Q. Audiences must've spent many hours in the theater.
Yes, they did. Men attended at will, but women had to be accompanied by escorts.
Q. When did ballet begin splitting off from opera?
Dance came into its own at the court of Louis XIV.
Q. How did you personally become involved with opera?
I loved to sing from the time I was a small child. I would climb up into a tree and sing for hours in my little village. My mother was a Bulgarian folk singer. She had a very fine voice. She wanted me to be a doctor like my father but that was not for me. I loved opera and singing. It was in my heart and soul from the beginning of my life.
When I was in the army I was invited to sing at important parties for the government and I sang in the choir of Alexander Nevsky Cathedral. I began studying opera at the Bulgarian National Conservatory of Music in Sofia in 1976. Some of the students traveled to Italy as a choir on a small tour. While I was in Italy I auditioned for and was accepted at the International Young Artists Training Program at La Scala. I made my debut there when I was just 26, but that same year my mother died of cancer and I had to leave Italy and go back to Bulgaria. Later I returned to Italy with my first wife and began singing in performances all over and on tours very much like mine.
Q. How did you switch from your opera career as a singer to running an opera company and promoting ballet and opera tours?
While I was on an opera tour as a singer, I met Yves Josse, a former ballet dancer who was booking opera and ballet all over France, Belgium and Switzerland. I had many resources at hand. I knew many singers and I had access to chorus, sets and musicians in Bulgaria. I put everything all together and Yves booked the performances. My first opera tour as artistic director of Teatro Lirico was in 1988. We had 50 performances all over France, Belgium and Switzerland. The Teatro tours eventually evolved into even larger tours that included performances in Italy, Spain, Portugal, Germany and the Netherlands. Over the years I began to hold auditions in Moscow for soloists. The agencies I worked with introduced me to many Russian ballets. I put them on tour just as I had the operas.
Q. Coming from Bulgaria seems to have helped your career. Most Americans probably don't even know where Bulgaria is. Maybe you could talk a little about Bulgaria and the kind of artistic education you received and how your education helped you in forming your opera company, Teatro Lirico D'Europa?
Ghena Dimitrova, Boris Hristov, Raina Kabaivanska, Nikola Ghiuselev and others. Bulgarian opera singers follow the same Bulgaria boarders Greece, Turkey, Romania Yugoslavia and Serbia. There are many regional opera companies that run an entire season of opera and ballet throughout Bulgaria and the government gives these theatres funding. There is a long tradition of opera in Bulgaria. Many great voices came from there such as training as the Italians. Opera is very much respected in Bulgaria. No one would ever laugh or smile or crack a joke in Bulgaria when you tell them you are an opera singer. It is considered an honor there. In Bulgaria the opera singers are as famous as the soccer stars, maybe even more famous. Bulgaria boasts some very fine artists as well. There is a lot of talent for making sets and costumes and Bulgarians are known for having a talent with languages. I speak French, Italian, English, Russian and Bulgarian. Having these languages under my belt helps me communicate with people all over the world.
My father died when I was only 9 years old. My mother then sent me to an elite boarding school in Sofia where all the lessons were taught in French. I had to study, answer and speak French 24 hours a day. I became fluent in French. This helped me a great deal in my business with Yves Josse. When I lived in Italy I became fluent in Italian and I can speak English and understand English very well but my spelling is not so good! HAHAHA!
Q. Your partner in forming your company was Yves Josse, a former ballet divo. Could you tell us about him and how you met and how you formed your company together?
I answered a bit of this before…how we met. I want to add to it that he was a genius at selling shows of any kind and marketing them. He was a very positive person with a lot of energy and creative spirit. He was a person who spoke his mind and was exactly what he said he was. It was a sad day for me when he passed. That kind of genius is irreplaceable and I miss him dearly.
Q. What were your particular responsibilities running your company?
My responsibilities running the tours in Europe were to put all the people together…do the immigration filing and provide the orchestra, chorus soloists and tech people and to provide the sets and costumes. I was in charge of all the travel arrangements for everyone in the company. The orchestra and chorus and small roles traveled to France by plane or bus and the sets and costumes traveled there by trucks. Soloists that I engaged came to France from many different countries including the USA by plane.
Yves booked the theaters and the hotels. I staged all the operas as well and traveled with the company on tour paying the artists and overseeing everything. Now in the USA my wife, Jenny Kelly, books all the shows in the theatres-over 100 per year and she books the hotels plus provides all the theaters with marketing needs. She files the immigration with the help of an immigration lawyer and negotiates with bus companies to find the best price for each tour. I bring all the artists over from Europe and put them on the road with sets and costumes and I travel with them every day of the tour. At many theaters I have to give a master class or a lecture of some kind to help the theater with their educational programs. I enjoy that.
Q. Running any kind of an organization never mind an opera company is a backbreaking job but one that is constantly touring must be even harder. Do you have a set group of singers as a basic company or do they all change every year?
We have some comprimario singers that we have been using since 1990 that are still going strong and doing a terrific job. I like to change the soloists often because we go to many of the same theaters every year. Our audiences don't want to see the same person singing ever year. They want to see and hear new talent.
Q. Is there a home base where you keep costumes and sets?
We have a warehouse in the USA where we store all the sets and costumes so that I am not shipping the same sets back and forth from Bulgaria all the time. Shipment of sets from Bulgaria to USA round trip runs over $7000. It makes more sense to keep them here.
Q. How do you plan your tours? How many years ahead do you have to plan for?
My wife has formed Jenny Kelly Productions, and through her company, she begins booking the tours TWO years ahead. She begins to contact theaters every April for performances that will start in the fall a year and a half later. We plan our tours based on when the theaters can take the shows. It is quite a task to put a tour together and route it so that you don't have too far to travel on any day. We have performances in October and November, January, February and March of every year. We have many different productions and we offer at least four different titles on every tour because one of our venues presents us 4 times a year and many of them present us 2 and 3 times a year.
Q. Most opera companies and ballet companies lose money and rely on donations and grants to survive? How do you survive financially?
We survive financially because we have a contract with all of our presenters. They pay us an agreed to sum of money for each show. We know what our budget is before we begin each tour depending on how many shows we will have on the tour and we simply stick to the budget.
Regional opera companies that are fixed in one place spend a lot of money on rehearsing for at least 2 weeks and sometimes spend too lavishly on sets and costumes and parties. We build our sets in Bulgaria. My company has done these opera so many times that 2 and 3 -week rehearsals are not necessary. I only engage soloists who have performed their role before many times with other companies so they know what they are doing and I don't have to teach them their parts or rehearse for long periods of time.
Q. One doesn't think about an opera company or a ballet company as being a plus for the economy, but your efforts must generate a lot of business when you tour a country. Maybe you could talk a little bit about some of the ways a touring company promotes business in terms of transportation, hotels, tickets, and advertising.
Any touring company that comes to the USA from abroad is making more money for the USA than they are taking out of the USA. Be assured of that fact. All the opera and ballet touring companies are non-profit. When a company tours here they must have a US agent file immigration for them. The premium processing fees to the INS for one season of visas for our opera cost about $3000. Then there is the fee to the immigration lawyer for his work…about $6000 – $7000. Then I pay $150. for each visa to the American Embassy wherever the artist is coming from. The fee to fly the artists here from Europe to do the opera tours is close to $80,000. We come to the USA twice a year so there goes $160,000. in airfare costs. Hotels run about $3000. a day here…Truck rentals and gas pump more $ into the US economy as do the bus rentals – a per day rate of $850. per bus…and then we have many domestic flights going on in the USA during the tours. I am using many American soloists and flying them in and out of the tours! Posters and flyers are made in the USA for all the theaters…that runs over $10,000. a year…and we have made FedEx rich with all the mailings we have to do…it's ON AND ON. It is a lot of money! I have artists on tour here 5 full months of the year. The hotel and bus fees alone are a fortune that all goes into the economy here. And of course the theaters are making money because that is why they are in business.
Q. Your wife is also an opera singer, and as you've said, involved in promoting opera and ballet tours. How did you meet and how are your businesses connected?
My wife and I met in 1988 while singing in La Boheme together on tour with my company in France. She alternated singing both Mimi and Musetta and I was Colline. She books all the performances in the USA as well as all the hotels and supplies all the theaters with marketing materials. She rents the super titles and creates all the program copy for each theater and organizes interviews with press people. A lot of work for one person. She has been dealing with over 105 different theaters in the USA in the last ten years by herself.
Q. Is there a difference between promoting an opera tour as opposed to a ballet tour?
Not really. It is very much the same.
Q. Do you have any upcoming tours that combine both opera and ballet?
We do not have any upcoming tours that combine opera and ballet but we did tour Carmina Burana several years ago using my company – Teatro Lirico and dancers of Bulgaria's modern dance troup – Ballet Arabesk. It was a huge success. I also engage dancers to be a part of the opera productions when we do Aida, Carmen, La Traviata, Fledermaus, Merry Widow, Don Giovanni and Rigoleto. They add a great deal to the performances. We will have dancers on the 2009-2010 season in Fledermaus, Rigoleto and Traviata.
Q. What ballet companies do you work with and where do they tour?
We have worked with two different Russian Classical Ballet companies. We have provided tours for them in the USA as well as performances in Martinique and S. America.
Q. Are you constantly looking for new cities to go to or do you tend to stay in the same cities? How do you find what cities to go to? Do you always deal with a local organization that invites you to come to their city or do book the theaters and the cities totally on your own?
We do what every other touring group does. We offer our productions to all the US theatres that have performing arts series. They present us on their subscription series. We produce ourselves only in Boston at the Majestic Theatre. We have 12 performances there a season with our own subscription series and it works. We are constantly offering our operas and ballets to theaters where we have not been presented before and on each tour there are usually several new venues. We rent and produce only the Majestic Theatre in Boston on our own.
Q. Are their any records or videos of your company?
We have many professionally mastered CD recordings of our operas created in Europe on the Harmony Music label of Italy. We have DVDs of many of our US performances as well.
Q. One of the technological advances in Opera which makes it much more enjoyable for English speaking audiences is that now most opera performances use "super titles" which are like subtitles in movies. On either side of the stage, screens show the dialogue and the lyrics in English so the audience can follow the story of an Italian, French or German opera. Do you use super titles for your performances?
We HAVE to use super titles. They are a part of the CONTRACT with EVERY theater and not only do people look at them…they scrutinize them as if they are more important than the music and the singers. Here's a funny story about our experiences with super titles. When we switched over to high intensity power point super titles after using slides for over 15 years, we had great super titles created by a wonderful individual who is a master at that… but we should have used a MAC, not a PC to run them. Someone had installed an anti virus disc on the PC. At the first performance on the winter 2005 tour in Boston where we were doing La Boheme, there was a major malfunction. As Mimi was singing her famous first act aria…instead of the English translation running across the top of the stage…the anti virus disc started running. We never heard the end of it! It was in every review and there were also articles on many other Internet sites that deal with computer issues about this incident. It was big news.
Q. What future plans do you have for your business?
We will continue to have our opera and ballet tours in the USA and we receive many invitations from other countries now. Our web site has helped tremendously in documenting what we have accomplished and generating new business.
Q. How does one find out the dates and places your opera and ballet companies are touring?
We post this information on our website. http://www.jennykellyproductions.com/index.htm