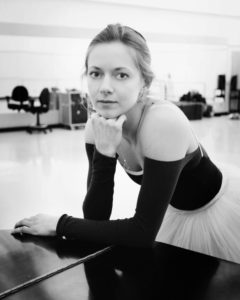 Julia Erickson is a Principal Dancer with Pittsburgh Ballet Theatre. Julia received her training on a scholarship with Pacific Northwest Ballet School and San Francisco Ballet School. She toured Europe and Asia with PNB and danced with the Fort Worth Dallas Ballet for two seasons, prior to joining PBT in 2001. Some of Julia's roles include Odette/Odile in Swan Lake, The Sylph in La Sylphide, Sugar Plum Fairy in The Nutcracker. Lady Capulet in Jean-Christophe Maillot's Roméo et Juliette, and the leads in Balanchine's Agon, Prodigal Son, Who Cares? and Serenade. Julia's love for cooking began at an early age. She relishes her time experimenting in the kitchen, and she's thrilled to be able to combine her two major passions, ballet and food, in creating Barre, a maker of healthy snacks for dancers, athletes and anyone interested in eating well.
Q. How did you get interested in ballet?
When I was seven years old, six of my friends started taking ballet on Saturday mornings. I joined them a few weeks later. They all stopped after the first year.
Q. What were your first ballet schools like?
Besides a very early creative movement like class during pre-school, I actually began my training in Level 1 at Pacific Northwest Ballet, so I grew up in a large school associated with a professional company.
Q. Who were some of your mentors?
I've had many throughout my training and career. I consider Francia Russell to be a mentor. I would also say that many women (and men) made smaller contributions to my success and helped foster my growth, especially Victoria Pulkinnen and Truman Finney from PNB. Certainly during my time at PBT, older Principal Dancers Ying Li, Maribel Modrono, and Erin Halloran have mentored me. I also consider Tamar Rochelle, former PBT Principal, to be a mentor – I am lucky enough to take Pilates and Gyrotonic lessons from her.
Q. Most of your early training was with schools on the west coast. Most of your professional career has been dancing on the east coast. What are the differences between ballet on the west coast and ballet on the east coast?
I'm not sure the differences are coastal, rather that each company and affiliated school seems to have its own style and mission. On the West Coast, my experiences at PNBS and SFBS were very different—I venture to say Pittsburgh Ballet Theatre falls somewhere in the middle of the two stylistically.
Q. As you go through the ranks in ballet, there are different challenges and responsibilities. How would you define these challenges and responsibilities as you move from the corps, to soloist, to principal?
In the corps you are trying to create a singular body of movement with your co-workers. You are creating the support that buttresses the Principals and the production as a whole. You learn how to move as one; you grow your "fish eyes", so to speak. But you are also trying to stand out from the crowd—not by dallying outside of the lines, but rather by exhibiting excellence and inspiration within the confines of the corps choreography. If you can show that specialness within those constraints, I believe this takes you very far—this is ultimately what people want to watch.
As a Soloist you bridge the gap.
And as a Principal you are responsible for carrying the ballet. You must make your mark. You must give the audience that which they want to consume, and you must set them at ease. It's such a treasure because it allows for the greatest freedom—the greatest artistry—that one can achieve in classical ballet. As a Principal you also play the role of a spokesperson/model of sorts, both internally and externally, for the company. You must exhibit leadership and set a good example for the rest of the company to observe and aspire to. Likewise, you are somewhat of an external spokesperson for the company.
Q. A lot of talk is spent on partnering with males but in ballet women are often partnered with other women in that many numbers have 2, 3 or 4 girls are dancing together. What is that kind of partnering like?
I love this type of partnership. Though the circumstances vary widely depending on the ballet, I find that females in featured roles generally take to this very well due to their (prior) experience as corps dancers. I can think of several times when a colleague and I, when paired, have made a point to drill down to the minutia so that every head, angle, and accent we produced was seamlessly matched. It's a pleasure!
Q. Along the same lines, just like males and female partners often create dance relationships, girl dancers are often grouped together over a long time. For instance, in Boston there are two blonde soloists that always dance together. Have you been paired up like that and what was that relationship like? What did you do to make it better? What were the difficulties, the challenges, the rewards, the fun?
Yes. As I said in the previous question, when you get together and take the time, the whole can be better than the sum of its parts! I was paired with another blonde tall dancer, Megan Trambley, early in my career at PBT, to dance the role of Flower Girls in Don Quixote. It became somewhat of a game, because people started marveling at how similar we looked, which inspired us to coordinate our dancing even more. It ended up being a really great pairing and a special time.
Q. Do you have a regular male partner? What is that relationship like and what do you to make it better and what are the challenges, the difficulties, the rewards, the fun?
I have two regular partners, one for more classical things and one generally for contemporary things. I am extremely spoiled because they are both great partners, incredibly supportive, tirelessly patient, and easygoing—a beautiful trifecta. I am also quite lucky because there are quite a few tall men in the company at the present time.
Q. Dancers are almost always in costume? What are some of your favorite costumes memories? What are some of your worst? Is there a certain type of costume that you prefer to dance in? Does it help your dancing or your acting more?
I like flowy stuff generally; chiffon or some other fabric that helps enunciate and continue the body's movement.
Q. What are some of your favorite dances?
Tough question. The easy answer is Serenade and Swan Lake: the beauty of gorgeous choreography and moving music uniting, and you are the vehicle.
Q. You've had a long career. What keeps you dancing?
I grow more in love with dance every day. And I keep discovering more as I continue. I think I have a more intellectual and more emotional relationship with my work at this point in my career.
Q. Most of your career has been with the Pittsburgh Ballet. I think during that time you've had the same artistic director. I've often thought that a new artistic director is one of the biggest traumas in a professional dancer's life. Any thoughts on that? Horror stories (or good) stories from other dancers?
I've been very lucky to have the same Artistic Director, Terrence S. Orr, throughout my time at PBT. I think a new Artistic Director has the potential to be very traumatic for a dancer, because undoubtedly one's career is shaped somewhat by your relationship with the Artistic staff. Conversely, I do know of dancers whose careers have had life breathed into them by the appointment of a new Artistic Director. It just depends on the situation.
Q. How do you show your individuality as a dancer?
For me, when I am well-rehearsed and ready to perform, dance becomes about intention, about tone, about the space between the steps. I want to explore each role to the fullest, and imbue it with a part of my personality. I also try to connect with the audience: it's important to remember that (generally!) there's no screen between you and the audience—there you all are, in the same great big room, exchanging energy. It's really a two way conversation. I try to hold that dear and actively engage the audience to that end.
Q. Do you prefer classical or more modern ballet?
I have a hard time deciding this, and in fact I refuse to. I love dancing in a company whose rep runs the gamut. However, if pressed, I'd say I feel most at home dancing Balanchine ballets.
Q. What's your most memorable dance performance?
The first time I danced the lead in a full length ballet, La Syphide, is one. First time dancing Odette/Odile in Swan Lake is another.
Q. Recently, you've branched out and become a businesswoman as well as a dancer.
That's right, I have indeed. My partner, Aaron Ingley, and I have started a nutrition bar company called Barre, the real food bar developed for dancers, created for everyone.
Q. Why don't you talk a little bit about what your business is and how it got started?
I was rehearsing for Swan Lake in Spring 2010 and was looking for a better in-between rehearsal snack. I had stopped eating nutrition bars because they just didn't taste like real food! So I started experimenting in the kitchen and concocted something out of superfoods that was my perfect balance of slow and fast burning carbs, protein, fiber, and natural electrolyte replacement. I loved the energy it gave me and I loved how it tasted! I shared it with a few colleagues and they loved it. I started fooling around with the flavors, making a new version every few days and bringing these little snacks into work for the dancers to share. It was fun, everyone loved them and a few people said "hey, I would buy these from you"! I mentioned this to Aaron, one thing led to another, and we got to thinking about starting a business. We saw that there was a real market for them, in both the dance world and beyond.
Q. Any parallels between the life of a dancer and the life of a businesswoman?
I think there are many parallels. Don't people say that ballet is the best training for, well, almost anything?! Hard work, faith in oneself, dedication, a hunger to fulfill one's potential…these are all things required for success in both careers.
Q. When one thinks of a ballet dancer, the food business is not an obvious choice for a business career.
On the contrary, I would say that many dancers have a particular interest in food. Whether it's the artistry of fine food, or an interest in nutrition due to the obvious demands of a dance career, many seem to find food compelling. I know several retired dancers in food-oriented careers (not to mention a ton of current dancers who are obsessed with food!).
Q. How did you get interested in cooking and health bars?
I've been a foodie for as long as I can remember. I asked for Gourmet, Bon Appetite, and Chocolatier Magazine subscriptions for my ninth birthday! I've always been creative in the kitchen and was someone family friends would call "The Beefeater", meaning I would try anything. Because I became comfortable in the kitchen at an early age, I rarely strictly adhere to a recipe. This is how Barre came about—I was just fooling around with different mixtures of ingredients. I had all these superfoods that were delicious independent of one another, but I thought, 'I bet they'll taste better after a little kitchen alchemy'…!
Q. Pennsylvania, of course, is the birthplace and home of Hershey. Have you looked into their facilities or studied there company at all? Hershey was a great philanthropist as well as a great businessman.
I've read a bit about him and he seems like a very generous businessman. We've never been to Hershey, though it's on the list!
Q. Maybe you can give us a quick history of how the bars went from your kitchen to becoming a product?
With the help of PBTS, Aaron and I did a little market research on the ISP students during the summer of 2010. We found that they almost universally liked Barre, and when we started selling to the students they bought quite a few, despite having myriad other sweet choices right in front of them. We then realized we needed to ramp up production if we wanted to make Barre into a bona fide company capable of reaching our target market of the dance and related fitness/wellness worlds, so we started researching manufacturers. Luckily, we found a local one that was willing to produce a very small batch of product for us.
Q. Where are they now manufactured?
They are manufactured at a facility about an hour away from Pittsburgh.
Q. Who designed the packaging?
Our friend and former dancer, Alexa McNae, with Watson and Friends out of NYC, created our graphic design.
Q. How did you come up with the catchy name?
Aaron thought of it. At first I thought it was silly. Then I realized it is perfect!
Q. Who does the distribution?
We currently distribute Barre.
Q. Is it hard to get into Whole Foods?
Whole Foods has been an incredible champion of us, so our experience was very seamless. They vet their products significantly, but if you meet their standards of quality they are incredibly supportive of entrepreneurship and local companies.
Q. How do you find the time to work as an entrepreneur which is a 7 day a week job as well as being a dancer?
I have learned that it's all about time management (and the help of a smartphone!). Most in-season rehearsal days I work in the morning, at lunch, and in the evening. But it always varies. Ballet is the perfect antidote to being "on" all the time with Barre, because when you're in rehearsal you must be 100% focused on dancing. It's a great privilege that we as dancers may not always acknowledge—the ability to maintain singular focus on what we are doing, without feeling the pull of an ever-present inbox!
Q. What are the goals of the company?
We would like to continue to grow and make our presence known in both the dance and natural foods worlds. We also aspire to exert a positive influence on the eating habits of dancers and non-dancers alike, and to help bring dance to the fore in society in general.
Q. New products?
We've just launched an exclusive flavor for Whole Foods Markets, called Ballerina Spirulina, that is available at all Mid-Atlantic Whole Foods stores. We're very excited about the flavor…it's my current favorite. We have a few more flavors in the pipeline as well. We also have some fun ideas for brand extension.
Q. Are you always testing new products out on your fellow dancers?
Yes, that is one of the best aspects of the job.
Q. What have been some of your biggest business thrills?
It has all been a thrill. As dancers, our world is sometimes decidedly narrow; we are experts, self-declared bunheads—we love what we do! I've loved our foray into another realm, the food world, a world with similarly dedicated participants who are passionate about what they do. In terms of singular moments, it was awesome when we took our first orders from Steps on Broadway and Whole Foods, both iconic locales that were our prime choices!
Q. Is business more fun and more creative than you thought it would be? Any examples of the creativity of it?
It's very creative. A couple of examples: The playfulness and finesse of professional interactions can sometimes feel like a carefully choreographed duet; We (along with our designer, Alexa) got to create our brand—what fun; And we continue to adjust our voice as we evolve. Actually, an adviser whom I deeply respect often refers to entrepreneurship as "adult play".
Q. What have been some of your biggest business mistakes? Some of your biggest business achievements?
I'll just say I've learned that it is imperative to stay focused and pay attention all the time. Think a few steps ahead. Not unlike dancing.
Q. To end on a ballet note, new ballet roles and new ballet goals?
I feel excited about this period in my career. My body feels healthy and my mind is in a good, sound place. I'm looking forward to the seasons ahead and want to continue to explore my artistic potential with new roles and celebrate this great opportunity I've been given as a dancer.
Q. What are some of the most common mistakes that ballet students make?
Self-doubt is a biggie. Have patience with yourself and try to persevere through uncomfortable times. Also, don't let gossip get to you—try to stay above it and remember why you are in the studio, to focus, work hard, and get that incredible payoff!
Q. Any interest in also doing some ballet teaching?
I have taught from time to time, and I'm very close with several incredible teachers. I may just add that to my dance card yet!
Q. How does a ballet student gain the attention of a teacher?
Listen to corrections. Go ahead and write them down…it will be so much easier to remember them and thus apply them! And try to have fun while working hard; smiles are not off limits!
Q. Any advice on staying healthy and having a long dance career?
Cultivate aspects of your life outside of dance. When I decided to attend college, I realized it made my dance career richer. Bring the richness of your more varied life experience into your artistry as a dancer. Oh, I also highly recommend Gyrotonic and Pilates!
Q. Any favorite ballet movies?
I certainly went through a period in life when my friends and I rented The Turning Point every weekend! I am a fan of Black Swan, though I wouldn't really call that a ballet movie, more a thriller set in the ballet world.
Q. Favorite ballet books?
I read Suzanne Farrell's autobiography about 8 times when I was a kid.
Q. Favorite ballet quotes?
Dance as if no one can see you, love as if you can never be hurt.
To check out, Julia's Barre website, click here: http://realfoodbarre.com/. To return to Ballet Connections, click on the back arrow in the upper left hand corner of your browser.
To check out Julia on the Pittsburgh Ballet Theatre website, click here: http://www.pbt.org/. To return to Ballet Connections, click on the back arrow in the upper left hand corner of your browser.