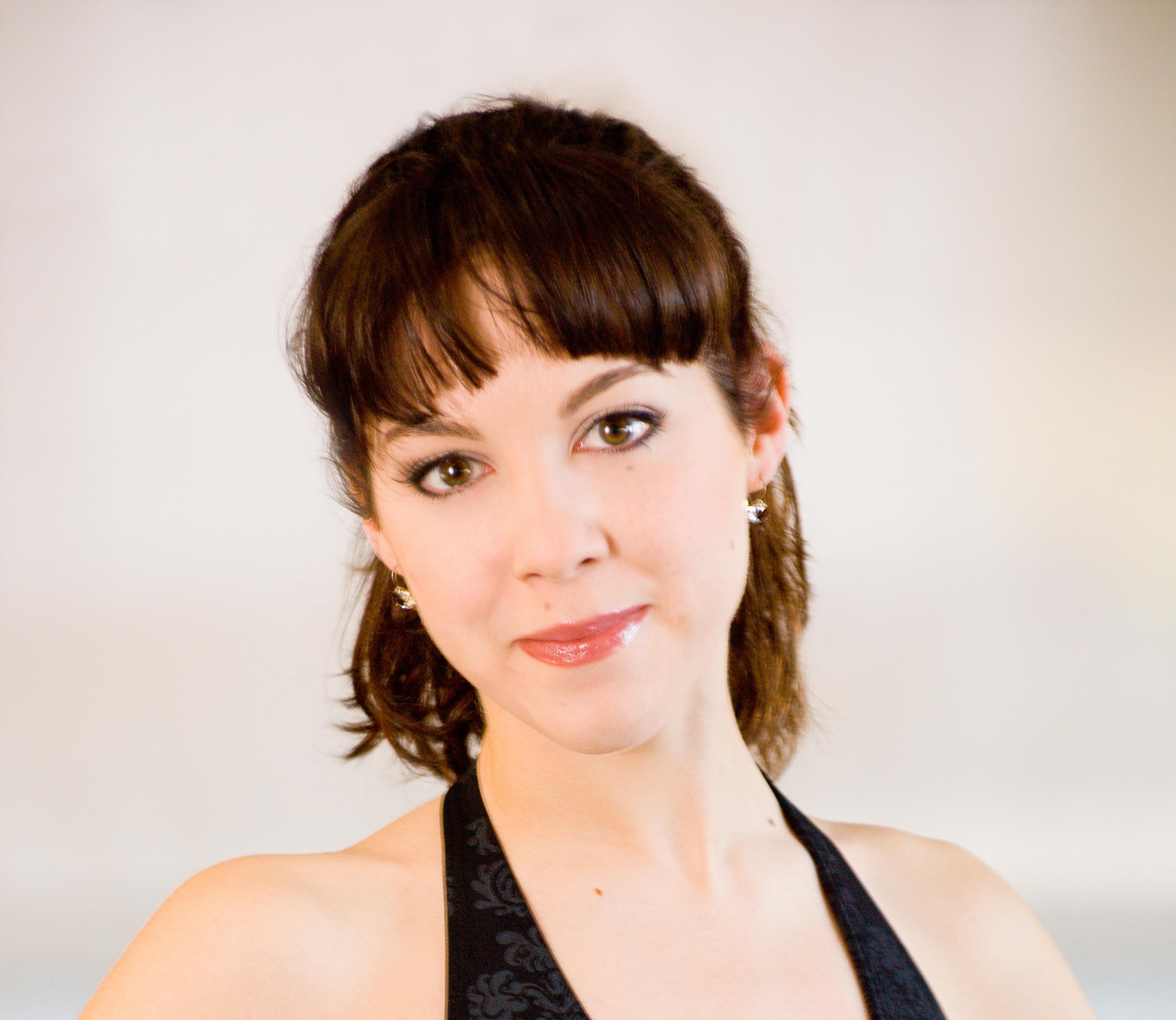 Born in San Diego, California, Katharine Precourt began her dance studies at the San Diego School of Ballet. From her early teens, she attended summer intensive programs on full merit scholarship at Houston Ballet's Ben Stevenson Academy, the School of American Ballet, American Ballet Theatre, and the San Francisco Ballet School. Ms. Precourt joined Houston Ballet in 2004 as an apprentice and is currently a Demi Soloist. Some of her leading roles include William Forsythe's In the Middle, Somewhat Elevated, Jirí Kylián's Petite Mort, and the Dark Angel in George Balanchine's Serenade. Ms. Precourt is an ARTS Awards winner in ballet.
Q. The Houston Ballet has three levels of soloists—demi soloist, soloist, and first soloist. You've just become a demi soloist. What's the distinction?
There is a difference in salary, and as far as I know, seniority is also a factor. Usually, a higher-ranking dancer is featured in more lead roles but at Houston Ballet that is not necessarily a rigid rule. I can speak from experience that if someone is well suited for a part, he or she will be cast for it regardless of rank.
Q. Who actually does the casting?
I think it depends on the piece to be performed. I believe it is a cooperative effort between the artistic director, artistic staff and the guest choreographer or artist who is setting the piece.
Q. In terms of your own career, do you have a strategy of where you want to be in two years or five years?
I definitely do. It is very important to have goals and use them to help guide your career, especially in a dancing career that is so short. I know some dancers set goals that have to do with progressing through the ranks. I would have to say my goals have a lot more to do with learning and performing a lot of the repertoire and in the process becoming a very versatile dancer.
Q. Do you set goals for yourself every year in terms of improving certain aspects of your technique?

Absolutely. Every dancer knows there is always something that needs improvement, something that can be better. This is the challenge that we face everyday during class and rehearsals.
Q. Ballet is very competitive. Is competition something that you've always thrived on or have you had to learn how to deal with it?
I would not necessarily say that I thrive on competition but I have definitely learned to use it in a constructive way. Society today is driven by competition. People are so caught up in the race to win and to be number one. I believe it is important to use competition in a positive way as a tool to better yourself.
Q. When did you realize you wanted to be serious about your dance career?
When I was ten years old I performed in Swan Lake and also as Clara in The Nutcracker, both with the San Francisco Ballet. It was an incredible experience and a deciding factor in my career path. At the time I was also very involved in playing classical piano. However I felt I could never express myself as fully through music as I could through dance and to the disappointment of my piano teacher I chose to devote more time to ballet.
Q. Have you kept up your piano?
So far I do not have a piano in Houston, but I know at some point in the future I will get back to it.
Q. Did your piano playing help your dancing?
Immensely. I would encourage any dancer to play an instrument. Musicality is such an important part of dancing, that in my opinion having a basic knowledge of music is imperative for any dancer.
Q. Ballet is a tradition where mentoring is important. Who have been some of the important influences on your dancing?
I have been very fortunate to study under many wonderful teachers, starting with my early schooling and continuing on through my career. I know a lot of dancers have one special mentor/teacher that guided their career in a certain direction. I have not had that, but I would say, in a manner of speaking, that I became my own teacher and learned along the way. I believe the exposure to many methods of teaching has made me stronger and more open to different styles and artistic views.
Q. As a student, you spent many summers at various programs in Houston and New York and San Francisco. How did you make your choices for summer schools?
Every program I attended was the appropriate choice at the time based on my teacher's recommendations and my parents' approval.
Q. How old were you in New York?
I was fifteen years old.
Q. Where did you stay in New York?
I stayed at the SAB dorms at Lincoln Center.
Q. Had Center Stage come out by that time?
Yes. It came out a year earlier when I was at the San Francisco Ballet School for the summer. I remember we watched Amanda Schull take company class and everybody was so excited.
Q. Looking back on your student life are there things you would like to have done differently?
I try not to dwell on the past too much. I could have done some things differently but overall I do not have any major regrets. I believe that everything that happened led up to where I am now, living my passion and that is all that matters.
Q. Ballet students always have to be very proper in what they wear and everything is dictated but once a dancer becomes a professional, they seem to love coming to class wearing rags.
It is true that as a student you have a dress code. You have to keep your hair pulled back and make sure your shoes have no holes in them and sew your ribbons and elastics properly and I would say that as company dancers we still do that. We have more fun and freedom in what we choose to wear but we try not to wear rags.
Q. What's the difference between the ballet master and ballet mistress and the artistic director? What are their different roles?
At Houston Ballet we have ballet masters and mistresses who teach company class and run rehearsals. The artistic director is the head of the company and makes all the artistic decisions. It is very exciting that at Houston Ballet the artistic director, Stanton Welch, is also a renowned choreographer and he creates many new ballets for the company.
Q. When you read about Balanchine, it seems like any day a whole new ballet might come out of a rehearsal. Is it like that at Houston?
We always have a set schedule for each day in accordance with union rules. Therefore, the dancers know ahead of time what each rehearsal hour is for, whether it is for a new piece being choreographed or for a ballet that has been done before.
Q. Ballet emphasizes everyone looking similar and yet as a dancer you want to stand out. How do you deal with that contradiction?

I once took a master class with Alonzo King, the artistic director of Lines Ballet who is also a very inspirational teacher. One of the many insightful things he said was: "the eye always goes to where the energy is." This can be interpreted in many ways but for me it always meant that if you want to stand out you must dance from your heart. It is that certain spark, that energy you bring to your performance that makes the difference.
Q. You have said your favorite ballet is Roland Petit's Clavigo. Why is that?
I happened to see a ballet clip on the Arts Channel on TV of a pas de deux from Clavigo. I was very impressed with the choreography and in particular with the music, an original score by Gabriel Yared. Although I was familiar with other works by Petit, I had not seen this full-length ballet before. I immediately bought the DVD. It is a very intense and dramatic ballet and it became a favorite of mine.
Q. Houston Ballet performs a mix of classic and modern ballets. Do you have any preferences?
I love the mixture of classical and modern. It is great that at Houston Ballet we get to perform such a diverse rep by a wide variety of choreographers. I do not have any preferences; I love to perform both styles. In a classical ballet I like the challenge of creating freedom within the context of very strict and precise movement. For modern, the reverse is true: I like to give the free movement that certain shape as constructed by the choreographer. I love creating the balance in each.
Q. When you're at a ballet as an audience member what do you watch?
As a professional dancer I cannot help but look first at a dancer's technique, body and facility. However, what impresses me most is when the technique and artistry come together. That's what makes a performance truly memorable, when everything looks so effortless even when what the dancers are doing is very difficult, when you start living what they are living.
Q. Houston Ballet is performing Swan Lake this year and I've noticed there is a trend to do Swan Lake now with a happy ending. Do you have an opinion about that?
In my opinion any ballet is worth exploring and choreographers who have a new idea of what a story ballet could mean should pursue it because dance is a living art. I feel that in order for a ballet to be believable the ending must follow the way the story is being told. I am not a purist in that we should always perform a work in its original format. What ultimately counts is that the artistic vision rings true.
Q. Now that you are getting bigger parts, how do you prepare for the emotional or psychological aspect of a role?
For me the music sets the tone, it creates the moods and emotions that are intrinsic to a role. I also always have the story in mind, which I use as the foundation for my performance. I guess a bit of method acting goes into my approach as well as I try to become the character I portray.
Q. Is there anything you would have liked to have known when you were student about the life of a professional dancer?
In school, they always tell you that the life of a dancer requires sacrifice and dedication. You do not realize how true that is until you live it. However sometimes people forget to tell you also how amazing the rewards can be.

Q. Any favorite ballet movies or books?
As far as movies go, I would have to say The Turning Point has been a favorite. I have many dance videos that I love watching over and over. YouTube is a particularly great tool that provides the opportunity to watch dancers from the past and present. I also have a fairly large collection of dance books, some of them out-of-print editions I bought at used bookstores. When I prepare for a new part in a ballet I use my books and videos many times as references to supplement the coaching and rehearsing at the studio.
Q. Do you have any ways that you like to relax and get away from ballet?
That is probably one of my more difficult things to do. I need to learn to relax a little better. I never feel however that I want to "get away" from ballet. It is not something I can disassociate from. It is part of who I am.