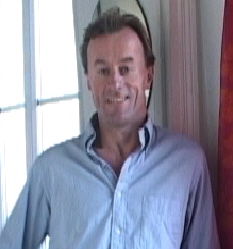 Laurent Gentot is a French filmmaker and former dancer whose brilliant documentary, Prima Ballerina, profiling the famous Russian dancers Ulyana Lopatkina and Svetlana Zakharova has just been released on DVD by First Run Features.
Q. What is your background or interest in ballet?
I studied dance in Paris with Raymond Franchetti and Andrei Glegolvsky. Then I came to New York and studied at the Juilliard School in the Dance and Music divisions (I play the piano). Back to France, I joined different ballet companies (Opera de Nice, Opera de Lyon, Opera de Bordeaux, Ballet du Nord (director Alfonso Cata).
Q. How did you get interested in film?
I bought a video camera and started to shoot the rehearsals of friends. I experimented setting dance onto different music (for example, Flamenco on sacred music or Ballet on rythmic music…). Those first trials were shown at some video dance festivals ( The Place London) and a video art festival (Santiago de Chile).
Q. What is your background in film?
I joined a one year program training Video Direction in Paris. Then I worked as a freelance editor, joined Canal+ for 6 years as a technical director and decided to create a small company Crescendo FX to develop different projects in graphics, shooting, editing, production and directing. The company still exists (10 years) but it is still very small and I'm eager to get some sponsors.
Q. How did the idea of this documentary come about?
I just fell in love with the dancing of Ulyana and Svetlana, as well as many other dancers. But the opportunity came when I went to Russia invited by the French Cultural Institute to show some of my early work, and to shoot Sveltana in rehearsal and the film started from there.
Q. The two dancers are Ulyana Lopatkina and Svetlana Zakharova. Why those two dancers?
Ulyana is amazingly musical and I am breathless every time I see her dancing. When Valery Gerghiev is directing his Mariinsky orchestra and she is dancing, it's like music in motion. She is also very intelligent and thinks a lot about the interpretation of her feelings on stage.
Svetlana is beauty in motion and so talented, with an incredible sensuality and rage to work hard and depth in her dance.
I really wanted to understand their magic.
Q. The narration seems to be in Russian. Was the documentary originally developed as a Russian production?
I love the Russian language and learned it in order to do the interviews. It was hard but I wanted the film to be in Russian. Unfortunately, I couldn't get a production company in Russia to be involved in the project but who knows maybe on the next projects.
Q. The narration at the beginning of each segment is very well written, almost poetic. Each narration captures the flavor of each dancer. Who wrote the narration? Who came up with the idea? How long did you work on it?
I wrote the narration while I was looking at the sequences, and also found a great text by Jean Blot (from his book Le soleil se lève à l'est ). He is quite old but when I showed him the beginning of Tsarine de la Danse with his text, he cried (with delight) and let me use his text.
Q. Some ballet documentaries cut up the ballet dance sequences; some keep the dance sequences longer. You have chosen to keep the dance sequences longer. Why did you make that decision?
I am trying to make documentaries that are artistic and not too didactic. Seeing dance is a different journey for every one and it needs to breathe. I like the idea of illustrating ballet as a video clip–telling a story–where the choreography is edited and the music is not. I am dreaming of doing 3 minute video clips on ballet or opera, the way modern music videos are done (special FX, fast editing and so on…) I have done many personal works that way and just love it.
Q. Part of the documentaries are interviews with the dancers; part of the documentaries are dance segments. How much footage did you take of each and how did you match up the interviews with the dance segments?
I had around 15 hours of footage on each dancer. I traveled 2 or 3 time to Moscow and Saint Petersburg. The editing process was very intuitive.
Q. What was it like filming in Russia? Difficult? Easy? Any interesting stories?
Russians are very fond of ballet and know it very well. They wait in the snow just to get a glimpse of their idols. I had to wait myself in the winter and was just out of the plane with no shapka ( the famous Russian fur hat) or gloves and I was not sure the camera would stand such temperatures or my ears.
Q. French directors have made a lot of good ballet documentaries. Why do you think that is?
I think the CNC (Centre National de la Cinématographie) provides us with the possibility and the financial help to develop original projects. Thanks to them.
Q. Did you shoot in film or video and which do you prefer and why?
I shot on video for a obvious cost considerations, and I like that media for the easy way of handling post production issues (color correction, FX.).
Q. You have two distinct beginnings for each profile. The first opening is very airy with clouds for Zakharova. The second opening is rainy and stormy for Lopatkina. Why did you pick those openings for each dancer?
When you are in a theatre, there is no day or night or seasons and it's always a surprise when you go out. But climate is very inspiring and strong in Russia. It seems like it makes you more extreme in your sentiments.
Q. What advice do you have for budding documentary filmmakers?
Have passion and enthusiasm and don't try to be conventional. Try to create a trend rather than follow it.
Q. What film projects are you working on now or have planned for the future?
I just finished a documentary on the Mikhailovsky Theatre of Saint Petersburg which aired on Mezzo Channel this December. In the Heart of the Mikhailovsky Theatre. (short promo on http://justaucoeur.com/farouk.html)
I am dreaming about working with other companies, or doing some promos for theatre about their season or special event. Anyone interested?
Click here to learn more about Prima Ballerina
on Amazon.
Click here for Youtube excerpt from Prima Ballerina:

First Run Features has also released such well-known dance documentaries as The Dancer,
Ballerina
and Etoiles – Dancers of the Paris Opera Ballet
.