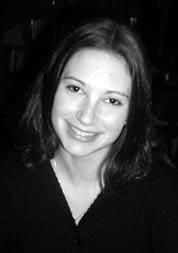 Lesley C. Anderson is from the seaside town of Rockport, Massachusetts, and has always had a love of dance and art. From the age of thirteen, she has had her artwork featured in galleries and museums and currently she works as an illustrator, web-designer and pet portrait artist. Her dance career has taken her from ballet lessons to community theatre to writing and producing children's musicals. Gwendolyn, the Graceful Pig
is her first children's book.
Q. When did you start drawing?
I've been drawing for as long as I can remember, though I didn't really begin pursuing it seriously until about 7th grade when I enrolled in a local art program outside of school called Future Art Academy in Gloucester, MA. The director of the program really mentored me and helped me to approach drawing in new ways – seeing darks and lights, shapes and tones instead of trying to draw a specific object based on what I thought it should look like.
Q. Have you taken professional lessons?
Aside from Future Art Academy, I enrolled in art courses throughout middle and high school but found myself frustrated by the lack of student enthusiasm and resources available. I took a few art courses during college but didn't follow art as my course of study.
Q. What do you like to draw?
I love to draw people and animals. Aside from the cartoon style that I employed in Gwendolyn, the Graceful Pig, I also enjoy creating pieces in a more photorealistic style.
Q. How did you get the job as an illustrator of Gwendolyn, the Graceful Pig?
I saw an advertisement online for a children's book illustrator and thought, "well, I have nothing to lose if I inquire!" The author said that he had several candidates for the position and asked that I draw what I felt the main characters would look like based on his description of the story and the characters' backgrounds. The other candidates did the same, and then the collective drawings were shown to children. The children were the deciding factor in whose drawings would be chosen to continue in creating the book, and they chose mine!
Q. Do you have any kind of dance background?
I took ballet as a young child for two years, and as an older child for another year. I also pursued dance onstage in over 20 school and community theater productions as an actor. While I am by no means a professional dancer, I can say that I've done quite a few arabesques, and a Charleston or two!
Q. Did you do any ballet research when you were drawing the book?
I was actually taking private ballet lessons at the time that I was creating the book, so it happened to work out well! Generally, I just drew from my memories of ballet class as a child.
Q. How did your dance background help you in making the book?
While my ballet outfits didn't much resemble the voluminous tutus that Gwendolyn and the other children wear in the book, my experience as a little ballerina definitely played a part in my illustrations. For example, in the pictures where the children are practicing, I tried to incorporate plies and other ballet exercises that I recalled from my days in the ballet studio. I also knew I could convey some struggling with Gwendolyn and Omar, since I was often losing my balance or having trouble stretching the right ways.
Q. What was the process you used to illustrate the book? Did you have the script for the book?
I had a script for the book and the author and I worked together to designate where page breaks would be. Just reading the book, I formulated mental pictures of how I thought the pages could flow together. Once I knew which pages would be which, and which ones would connect to each other across a spread, I could come up with even more creative scenes in my mind to make use of illustrations spanning two pages, or balancing elements on the pages with the text.
Q. How did you decide which aspects of the story to illustrate?
I tried to put myself in the position of a child looking at the book. When I was little, I loved to listen to my parents read to me before I went to bed, and I always felt so immersed in the illustrations. I wanted to create illustrations that bounced off of one another – illustrations that could convey the story clearly enough to be understood if a child were looking through the book, not yet old enough to read, but also illustrations that were supplemental and interesting to complement the text for older children.
Q. What did you base your drawings of the main characters on?
Honestly, the characters I drew were just what came to my mind when I read through the story. I could picture Natasha with her hair tightly pinned in a bun, and sweet Gwendolyn with her hopeful smile and adorable shoes, and lovable, clumsy Omar, with his un-tucked shirt, freckles, and tuft of tawny hair.
Q. Many of your drawings are humorous. Was that difficult coming up with funny ideas?
Strangely enough, it wasn't difficult at all. I think the characters lend themselves to being funny, in an endearing way. The key was to be subtly funny without making fun of anyone. I think we can all relate to the feelings that Gwendolyn and Omar feel throughout the story, and it helps to remind us that it's okay to laugh at ourselves once and awhile too.
Q. What kind of response to your book have you gotten from kids?
The response has been very positive. I think that little girls are drawn to the book more than little boys initially, obviously because of the cover design, but upon opening it, both boys and girls are enjoying reading about the characters and their journey.
Q. You use colored pencils for your drawings. It's very effective but why did you choose pencils?
I chose colored pencils because it's a medium that I have been working with in many different ways since I was little. I have created cartoonish drawings like Gwendolyn on family greeting cards and drawing pads, but I've also used colored pencils to create more intricate, realistic pieces. I think they're very versatile and give a really nice texture to the pictures. They also allow me to be more detailed than something like paint or chalk for small-scale artwork.
Q. How long does it take you to do a drawing? Do you do sketches before hand? Does the drawing go through many revisions?
With this book, I created a storyboard of rough pencil sketches first to show what my first thoughts were for how the illustrations would be laid out. After some revisions, we went to the color drawings that are contained in the book. To create a color drawing in this situation, it didn't take as long as it might normally since I had a black and white sketch to work from first. Depending on the complexity of the page and the background, a drawing could take a couple of hours.
Q. How long did the whole project take?
It's still ongoing! To create the drawings and see them turned into a finished book, the process took approximately 14 months. But the work doesn't stop there! We are marketing and distributing the book continuously.
Q. Have you got any future books planned?
I don't have any specific future books planned, but I definitely hope to write and illustrate books in the future. Given the positive recognition that this book has received, it has given me the confidence that this could be possible for me to continue in my career.
Q. What other art projects have you got going?
I don't currently have any other books under way, but I do have many other projects! I am working part time as a marketing consultant and copywriter for a small publishing firm in Rockport, and I am also pursuing freelance web copywriting and marketing consulting on a per-project basis. Outside of these professional services, I also write children's musicals at Kidstock Creative Theater Education Center in Winchester, MA, create pet portraits through my website www.southpawgallery.com, accompany professional theater productions for a new Stoneham, MA theater group, Cellar Door Productions, and I'm in the process of planning a wedding with my fiancé! Needless to say, this is a very busy but very exciting time for me right now, and I feel so blessed to have so many opportunities to exercise my creativity. I can't wait to see where it'll take me!