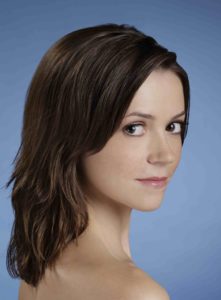 Megan Fairchild was born in Salt Lake City, Utah, and began her dance training at the age of four, studying with Judy Levitre and Kaelynne Oliphant at Dance Concepts in Sandy, Utah, and at the Ballet West Conservatory in Salt Lake City with Sharee Lane, Deborah Dobson, and Maureen Laird. While at the Ballet West Conservatory, Ms. Fairchild was also a Ballet West trainee.
Ms. Fairchild entered the School of American Ballet (SAB), the official school of the New York City Ballet, in the fall of 2000, studying under the guidance of Suki Schorer, Susan Pilarre, and Kay Mazzo. In November 2001, Ms. Fairchild became an apprentice with the New York City Ballet, and in October 2002 she joined the New York City Ballet as a member of the corps de ballet. Ms. Fairchild was promoted to the rank of soloist in February 2004, and in January 2005, she became a principal dancer.
In 2014, Ms Fairchild took a leave of absence from the NYCB to star on Broadway in On the Town. After a successful year on Broadway, she returned to the NYCB.
Q. How did you get involved in ballet?
I started out tap dancing when I was 4 but I went to a school that offered tap, jazz, and ballet. And I ended up becoming most interested in ballet because it had a more specific technique, and I liked that challenge.
Q. Your younger brother is also a dancer. When you were growing up at home, were you constantly getting him to partner with you?
No, we never really partnered. We just danced side by side for our parents in the living room. He's my little brother so he couldn't pick me up.
Q. I understand you're from Utah and there's, of course, this other famous brother and sister dancing duo from Utah, Julianne and Derek Hough. You're approximately the same age. Were you aware of each other? Did you know of each other?
I never knew of them when I was in Utah.
Q. You grew up with the Ballet West. Who were some of the dancers you enjoyed?
Oh, all of the principal dancers that were there. I looked up to this one dancer, named Jennifer Demko who was short, like me, and she was really beautiful. And also Jane Wood and Maggie Wright.
Q. Were there any particular performances that you found inspiring?
Since I was nine, I was in the Nutcracker and was on stage beside my favorite dancers and could watch them dance up close. And I'm actually friends with some of them now and they tell me they remember me from when I was so little. When I was Clara, I'd get to sit on stage and watch all of Act Two and it was like a personal performance just for me. It was really cool.
Q. Who were some of your teachers at Ballet West and what were some of the important things that you learned?
I think I learned a really good technique. Sharee Lane who danced with Joffrey was one of my first teachers and then I had Debra Dobson, who was a soloist at ABT and then Maureen Laird who danced with Ballet West. Together they made a great combo. So, I learned a great deal from them.
Q. There's a reality show about Ballet West and in the show the conductor is a source of conflict for some of the dancers. They're concerned about the tempo, about the level of communication. So, I was wondering, at the NYCB what kind of relationship do you have with the conductor?
It's an important relationship. With the New York City Ballet, the conductor comes to the last couple of rehearsals before the performance and makes sure that you're happy with the tempo they're setting.
Q. You've also been on Broadway, now. Of course, it's a much smaller orchestra. I assume it's a little more intimate in terms of your relationship with the conductor.
Actually, we have a really big orchestra for our show. It's 28. It's one of the biggest orchestras on Broadway. It's five more chairs than is required by the union rules for the orchestra. But the producers made the decision to play the Bernstein score to its fullest. So they didn't skimp on the single instruments that weren't listed in the score.
Q. How long is the run? As long as the audiences are packing it in? Or do you have a specific date when you're going to leave?
On Broadway unless they start out with the idea of a limited run, most Broadway shows are open ended and are based on ticket sales and they try to go as long as they can. But I have a year long contract that gives me an easy exit after the Tony's. And since I missed the last fall season with the Ballet because we were already in rehearsals for On the Town, I'm leaving a little before the year contract is up so that I can get back to the Ballet and not miss more than a year there.
Q. So, this fall you'll be dancing with the New York City Ballet.
Yes. My last show at On the Town is August 9th, and then I take a week of vacation, a week of training, and then back into rehearsals.
Q. Is there anything specifically that you're looking forward to? Do you know what you'll be dancing?
I don't. We never know exactly, it's always up to the director. With the ballet, you're not really sure what you're cast for until the two weeks before the show goes. I have things that I've done in the past that I hope to do again like Liebeslieder. It is a really special ballet that I got to be a part of the last time it went, and it's very different from the things I normally do. It's very formal and you dance in these very, very fancy gowns. You're in heels at one point and then you're in pointe shoes. It's really romantic and it's not super technical. It's more about the ambiance you create. Usually in the company I do the really, really technical parts, so to be in a ballet that's just about making something beautiful and not trying to do the most athletic, difficult thing your body can do, is really fun for me. But I don't cast myself. I don't pick my career in that way and go, "Oh, well they should put me in this or that." I don't want to live my ballet career that way. They're going to put me in what they want. It's a company of ninety people, so when you get cast in something, you're exactly perfect for it, because they have so many options to choose from. So I trust them and I get to do plenty of wonderful things and I'm always pleasantly surprised at what they want me to do. And sometimes it's not what I think I should be doing, and then it pulls something fun out of me, so, it's really up to them to cast you.
Q. I guess you're not wearing ballet shoes in On the Town.
Actually, I am. I wear ballet flats. And, ironically, during my acting scene I wear pointe shoes, but I don't dance in them. The director wanted to make it look like I came from a ballet class. So in the acting scene I'm wearing my pointe shoes but I don't really dance. In the rest of the show I'm in heels, which was really something to get used to.
Q. Are your shoes specially designed for On the Town?
Yes, they're custom made. I went in and they took measurements of all of my foot, and then they made a shoe, and then I went in and tried it on and they changed it a little bit. So, they're custom.
Q. Have you always worn the same ballet shoes?
Since I've been at SAB and in the company, I've always worn Freed.
Q. What do you like about Freed shoes?
First of all, it's the shoe they pretty much make you wear at New York City Ballet. If you really push them, you can force a different shoe on them, but they like the look of the Freed. And what's nice about them is that it's a performance shoe. It's made to be perfect right as you put it on. I step on the box and do a couple of little things to it, but it's pretty much ready to go as is.
Q. Ballet West is a professional ballet company with a very good ballet school. What prompted you to leave and go to New York to SAB?
When I was a student at Ballet West, the director of Ballet West was only interested in dancers that were really tall. I've never even heard of requirements like his. The women, to audition, had to be 5'6" or taller, and the men had to be 6' or taller, which is just insane. A company can't do a lot of things if everyone's tall. You don't have any fast movers and nobody to do ballets like Tarantella. But that's how it was when I was there. The director really liked me anyways, and I was there as a trainee during my sophomore year of high school. But the company dancers told me, "You're really talented. Get out and go to SAB." Or really any place that I got into. I auditioned for every summer program and I went where I got the biggest scholarship which was SAB. So that's why I made the move. I also was at the top level in my ballet class in Utah, and there wasn't anybody to look up to anymore, so it was time to get my training somewhere else.
Q. When did your brother join you at SAB?
He did everything three years after me, because he's three years younger.
Q. You were sixteen when you went to SAB in New York City. What was that like?
I grew up in Utah with Mormons, so I was pretty tame. I just stayed at the ballet school and did my homework and didn't venture too far out.
Q. How did the training differ at SAB from Ballet West?
At SAB, it was all about learning how to move quickly, and be on your toes and not your heels. I remember the first week of the summer program I felt really overwhelmed and I just didn't feel strong enough. Every single class was in pointe shoes and you had to do everything with that big shank underneath your foot, and it's sometimes hard to balance. That first summer made me a lot stronger.
Q. At the NYCB you have a brother who is a principal dancer and your husband is a principal dancer. Do you partner with either of them?
I hardly ever dance with my brother. We did one thing together once. My husband and I do the same repertoire, but we're different heights, so sometimes we'll dance together, but usually I'm with Joaquin de Luz, who's on the shorter side. Since I'm the shortest female, we often dance together.
Q. What are some of your strengths as a dancer?
I think my strength is that I'm very technical, but I also think that that can sometimes be my weakness. At least in the past, I really prioritized making sure that I was doing something in this perfect way, instead of just going out and being freer with myself. So I feel like everything I've been cast in originally has been very technical. But as I'm getting older and having opportunities to do more things that are freer and less technical, I'm opening up and just dancing instead of trying to control a really difficult step and getting all perfectly aligned. It's nice, as I get older, that I feel like I have a little more permission to just go be on stage.
Q. As a principal dancer how do you push yourself to improve as a dancer?
I look up to the dancers around me. Especially Sara Mearns. She's someone I love to watch dancing. We're very, very different dancers, but I think that we both respect each other and the things that we do really well. So it's great that we have each other to be inspired by. For me, at this point in my career, it's about having the opportunity to work with different choreographers and the different things that come out of my dancing because of it.
Q. Is there much difference between the stage where you perform in Lincoln Center for the NYCB and the Lyric Theatre where you perform On the Town?
The Lyric Theatre is enormous, so I was kind of excited about that. It isn't like a regular Broadway stage where the audience is right up in your face. I felt I could project the same way that I normally do. But what's different is that with the ballet, usually you're doing something serious, and on Broadway, at least my show, is a comedy. We're trying to get people to laugh. So it's a lot more outgoing. At the ballet, it's more about being reserved and mysterious. On Broadway, I'm getting to be more of an actress, and can mug a bit.
Q. On the Town is based on a Jerome Robbins' ballet, Fancy Free. Did you ever dance Fancy Free?
No, I never did.
Q. I watched the rehearsal of the Turnstile Number on Youtube, You get tossed around a lot in that number. Is that one of your skill sets?
I don't know. I mean I'm short, I'm a petite person. So I'm easy to get tossed around. But that was the choreography before I came into it, so it didn't specifically have anything to do with me. But it's definitely interesting being on Broadway because we do so many shows a week there's a lot of performances where we don't have the same cast, and you have to do these scary, scary lifts with a new guy. So that's something that's been challenging. To just be like, "Okay, let's just hope it goes well!"
Q. There are a lot of male dancers in that number…
It's nine guys. And then Tony and I dance together but that's a different kind of partnership. We had a good three weeks of rehearsal to get used to each other, but what's the hardest is that I have to really trust the swings–the guys who go on in place of a regular. So that's been a learning curve for me–to figure out that I need a serious amount of trust for the guy who's going on at the last minute.
Q. You sing in On the Town. Did you take singing lessons?
I never did. They asked me to audition and I told them, "I'm not a singer, but thank you for thinking of me." And they wrote back, "You don't have to be a principal Broadway singer." And I was like, "Okay, I'll give it a whirl." So they gave me all of the music and I sang around my house for two days, and sang in front of a friend who is a great Broadway singer, and she gave me a lot of confidence and helped me get ready. She said, "You're gonna nail this!" And when I went to the audition I sang in front of this whole panel of people and I got the part in the room, so I guess I wasn't so bad. They gave me three singing lessons to prepare. I didn't really feel the need to do anymore because in the role it doesn't really matter how well I sing. My whole part is that I'm taking singing lessons. So I always have the freedom to say that if I sound funky one night, it goes with the script. But in the process of doing the show and being around all these great singers, I really have learned how to sing, and it's something that's really fun. It's a whole new thing that's opened up for me that I would totally love to pursue. Oddly, I feel like I want to take singing lessons now when I go back to the ballet.
Q. Did you ever have a dream to be on Broadway?
I grew up watching all those Hollywood musicals. And I started out as a tap dancer. My mom's really into those big Broadway musical movies, so they were always on.
Q. Do you have a favorite dance movie?
Yes. I like Singin' in the Rain
. It's my favorite.
Q. Did you watch the movie On the Town
with Gene Kelly?
I did. After I got the part, I went home and watched it.
Q. It's very different from the Broadway show.
I'd never seen the show, so I didn't know what was different until the first day of rehearsals when I heard everybody else's songs. Then I found out when they made the movie, they didn't think Bernstein was a big enough star. So they had someone recompose all of the songs, except for a couple. I think there's one or two of the same songs, but that's it.
Q. In the movie, Vera-Ellen plays your role but the Turnstile number like the rest of the movie is very different.
Of course it's different, but in some ways it's similar. In the movie, she goes into different situations every eight counts. She's in a different costume. And I don't change costumes, but my guys change costumes the whole time. But overall I think we did a nice nod to what they did in the movie.
Q. Dancers—whether on Broadway or in the ballet—are always under a lot of stress. Do you ever do anything as a stress reliever?
About a year and a half ago I started TM (Transcendental Meditation).
Q. How did you hear about something like that?
I was told about it by a ballet mistress at New York City Ballet who did it.
Q. How does it help?
I think it keeps me calmer. I don't get as worked up over all of the little things. I'm also more present in my shows. The dancing just happens and my mind seems to witnesses everything that is going on. And I can make last minute changes or decisions if something is going wrong. So it's helpful in the performance aspect, too.
Q. I read in an article about you that you and your husband have a basset hound. I can't think of a dog that is less graceful. Why a basset hound?
Well, first off, we picked our dog because he's really cute, and we also wanted a dog that wasn't going to need to run around a ton because we have busy schedules and couldn't take him out a lot. And at that time, we lived in the city.
Q. Any dance books that you enjoyed and recommend?
I just read Jennifer Ringer's autobiography Dancing Through It: My Journey in the Ballet
. She's a really good friend of mine, so that was fun. She said to me, "Why did you read that? I wrote that for a different audience." She was all embarrassed that I'd read it. But she's a wonderful person and I've always been inspired by her. I was fascinated to read about some of the serious struggles she's gone through and how she dealt with them. She also talks about certain ballets that I love. One of the ballets is a ballet she retired with and I got to be on stage with her in that ballet. And there was this one moment where we got to hold hands but the audience can't see it. We grab each other's pinkies and squeeze. When I read the book, it was fun to think of all those memories.
Q. Any future plans?
I never planned to be on Broadway, so I don't know what else is in the future. You never know what's going to pop up along your way. I've learned you have to try and live in a way that is open to new opportunities. I think TM helped me be very positive about my decision to audition for On the Town because normally I would have told myself, "Oh my gosh, that's not what you do. It's going to be stressful and scary." Instead I was in a place where I could say, "Let's try something different! Be out of your comfort zone." So that's been my motto my whole year of being on Broadway. And I want to continue that aspect of my life. I guess that would be the mantra I want to live by, "Stay out of your comfort zone."
Q. Are you enjoying the Broadway side of Jerome Robbins?
It's crazy. As big of a deal as he is in our ballet world, he is huge on Broadway. You know he did Fiddler on the Roof, Gypsy, and West Side Story. I didn't even realize until I got here, how influential he was in the Broadway world. It seems he is most known for his work on Broadway, but I think his heart was really at the ballet.
Q. And what are some of your favorite ballet moments?
My favorite role at the ballet is Coppelia. It was one of the first big principal roles I did and it fits me really well. I like to be on stage and hear the audience laugh. That's what I've gotten to do with On the Town and I really love it. With Swanhilda when she comes out dressed as the doll, you can hear the audience gasp. And then when, she has some funny bits in there, the audience really laughs. So any ballet that has comedy in it is the most fun for me.
To visit Megan Fairchild's website, click here: http://www.meganfairchild.com/. To return to Balletconnections, click on the Back Arrow in the upper left hand corner of your browser.
Photo Credit: Paul Kolnik