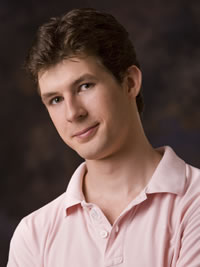 Milan Madar was born in Hungary and trained with the Hungarian National Ballet Academy from 1996 to 2004. He joined the Hungarian National Ballet in 2004 and three years later joined the corps de ballet of the Dutch (Het) National Ballet. Milan is also the co-founder of Network Dance, a website designed for the dance community.
Q. How did you get interested in ballet?
I studied Hungarian folk dance at a dance school in Budapest when I was 9 years old and wanted to do it professionally so I auditioned for the Hungarian National Dance Academy (HDA) when I was 10. I didn't know that at HDA even if you want to be a folk dancer, you must study ballet as ballet is the main priority of the academy. I never did ballet before so it was completely new for me. However I liked it so much that a few month later, after watching ballet performances, videos and the cool technical tricks of the older students I decided to become a ballet dancer instead of a folk dancer. So actually I was already doing ballet before I got interested in it.
Q. How do you gain the attention of the artistic director or a choreographer?
I stand at the front without warm up clothes on in ballet class. If I know I can look good in a combination I will do it more than once, too. I know it would also help a lot to have a "little chat" with teachers/directors/choreographers about anything, but I don't do that. I did it once and it didn't feel right afterward. I felt like I "cheated," although it's very common and effective in the dance world to get roles that way. Don't get me wrong, I don't think it's a bad thing to do, I probably should do it too.
Q. What is your individuality as a dancer and how do you show it?
I'm tall and have nice body lines, so I try to highlight that when I'm dancing. I used to be quite bad in character creation, but knowing it, I forced myself to overdo my characters in rehearsals. I knew when I felt "it's too much" it was actually just enough. Eventually, I became good in forming a character – be it only an acting role or dancing while staying in a character. So that's an artistic individuality which is now being recognized. Modern roles are usually about visibility so there again I try to highlight my physical talents.
Q. How important is technique in achieving artistry in your opinion?
I think it's very important. Technique is your tool for the dance movements. If your technique is not stable enough, then it takes too much concentration, focus and energy during the show just to do the movements physically. I can not truly enjoy the dance until I feel technically safe in it. People who are watching can actually see it.
Q. What is your favorite piece to dance?
I don't really have a favorite. I enjoy strong, powerful dances as well as lyrical pieces from classical to modern. If I like the dance then that's my favorite at the moment. But a few weeks later my favorite changes…
Q. Do you prefer classical or modern ballet?
I enjoy both but I'm better in classical. Also, I was trained more for classical, so I find that to be easier to dance but I really like all the possible surprises and new challenges of modern choreography. The repertoire of Het National Ballet has a good variety of modern, neoclassical and classical pieces from many different choreographers so I can enjoy following the strict rules of the classical ballets and a few weeks later the free movements of a contemporary piece.
Q. What's your most memorable dance performance?
Shortly after I joined HNB in 2007, we did Romeo and Juliet from Rudi van Dantzig. I did Paris with Anna Tsygankova the principal dancer of Het National and Hungarian National Ballet. Dancing with her and feeling the support of all my new colleagues was great. I did a few classical ballet performances in Tokyo, too. Although those were guest roles for schools, I still loved those shows.
Q. When your only number is in the third act of a ballet, how do you prepare?
The procedure is to come in before the first act anyway, so I have a lot of time then to spend in the theater. I go to the canteen and eat something first with other company members. Then, I go to the gym and start warming up slowly while chatting with the other dancers. Later, depending on the performance, I go to the studio to practice some movements as part of the warm up. I then do my make up and wear the costume. During the intermission I go on stage to get into the mood of the performance.
Q. Is it a let down when your only number is in the first act? Do you just go home?
We do about 8 -12 shows of one program in a row. I like to watch performances from the audience, so I make sure that I watch the rest of the show at least once from outside. I also stay there to see the show with all the different casts, at least once with each but those are mostly from the wings. Staying there is often fun anyway because you are among friends and good people and you can usually find someone to watch it with. But I don't stay there for all the shows.
Q. What's the difference between preparing for a classical role as opposed to a modern role?
As a corps de ballet dancer, I often dance together with many people in a classical role so it's a lot about spacing, keeping formations and not just the dance itself. The steps are clear because they are classical ballet steps, so rehearsals are mostly about formations and moving together. When learning modern choreography we focus more on the movement itself at the beginning as well as creating the right atmosphere. Musically, contemporary pieces can be tricky too sometimes, so getting the counts and accents right takes more concentration during rehearsals.
Q. What are some of your professional career highlights?
In the Hungarian National Ballet I danced the Nutcracker prince, which is the first principal role for many dancers. I, of course, was happy about it, but to be honest I liked the rehearsing process more then the actual shows. Another milestone is when I joined Het National and I did Paris from Romeo and Juliet and later I danced Commandatore in Krysztof Pastor's Don Giovanni.
Q. What has driven you throughout your career as a dancer?
Mostly just enjoyment and the fun of being on stage and dancing. Also I am a careerist person, so I was motivated about getting better roles, solo roles and dance in famous theaters and challenging myself artistically as well as technically. I also wanted to dance for a big international company somewhere in west Europe but that part has come true already.
Q. What do consider your biggest challenge?
I was a very shy person and still I can get intimidated when I work with famous choreographers or teachers. It was hard to overcome that problem and keep my self confidence in situations like that in the rehearsals but sometimes even on stage.
Q. Any books you recommend?
Honestly, Winter Season: A Dancer's Journal is the only ballet book I read when we learned about Balanchine and the New York City Ballet in school. It was in English so it took me a long time to read it back then but it was an interesting book.
Q. Any ballet movies you love?
I watched Center Stage in Hungarian. We watched the dancing scenes of Ethan many times but I've only seen it once from the beginning to the end. It's a good movie overall showing the competitive world of dance. Not only dancers can enjoy it. I've seen The Turning Point with Mikhail Baryshnikov but that was in English and I could barely speak English then, so I hardly understood what was going on but Baryshnikov's dance kept me watching. I want to watch Mao's Last Dancer now.
Q. Many companies say that they are an international company but the Het National Ballet truly is an international company in terms of the number of dancers from different countries. What language are classes taught in?
We have 80 dancers and only about 15 of them are Dutch. We have dancers from Canada, USA, Brazil, Spain, Germany, France, Finland, Hungary, Slovakia, Russia, Armenia, Korea, Japan etc…. That is true not only for the ballet company but also for the city of Amsterdam. Classes, rehearsals and company meetings are always in English, even if we work with a guest teacher or choreographer. If someone doesn't speak English when they join the company they will learn it very soon naturally without taking language classes just by communicating with people inside and outside of the company.
Q. You yourself are Hungarian and you danced with the National Ballet of Hungary which has much fewer dancers from different countries. What are the pluses and minuses of having a more international mix?
Dancing-wise you can learn a lot from your colleagues just by watching them in class and examining the differences between them. Cubans are great turners,.French use their arms beautifully. Russians can make great poses and have a good base technique, etc… So you pick up what you think they do better and keep what you think you do nicer. We talk about different styles, too, without arguing and make conclusions about what is more effective or what looks better in different situations. Seeing a wide variety of dance education is useful for any dancer. The downside is that it is hard for the teachers to bring all these styles together to have a Het National style. In Hungary, 90% of the dancers learnt everything the same way, so when you join you will not stand out. In Amsterdam, when you are watching a very strict classical ballet you can tell sometimes the differences among dance schools when it shouldn't be that way. To make everyone look the same when they need to can be a difficult task for our teachers. From a personal, social point of view it's just great. You can hear interesting stories about how it was being trained in other schools, growing up and living in different cultures. You can learn a lot about the world, the different lives and different points of views just by talking to the people around you. I really enjoy it. Most people come here alone without friends and family, so the company members can have very close relations with each other. Sometimes it's really like a family.
Q. Hungary has a long history of support for the arts. What is the support for ballet like in the country?
Not worse then the other art forms. I mean the arts are not the main priority in any country and in difficult economic times support for the arts is less and less. In Hungary, financially most classical and bigger (25-40 dancers) modern companies which have their own theaters are supported by the government or the city governments so dancers and teachers get a fixed monthly salary and the management has a fixed yearly budget to work with. The dancer's salaries in these companies are near the average salary of the city but in the National Ballet it's usually even higher. That goes for the 4 to 5 main companies of the country. Smaller contemporary companies are suffering. Some of them constantly work with a few dancers but late payments are not unusual. There are also some small contemporary companies which are project based. There are some invitations for tenders by the government which can give an additional support for the companies or projects. Also, we have some dance festivals sponsored by the government. International competitions (Nureyev International Ballet Competition) and international galas (World Star Gala at Budapest) are held every year but those are not sponsored by the government. The media gives little priority to ballet. I know 3 dance magazines in Hungary which, of course, write about ballet. Other then that, you rarely see ballet on nation wide TV or in newspapers. Local TV channels and newspapers mention the new premieres and other main events of their local dance companies. Ballet dancers are generally respected by the people – even if the people have never seen a ballet before.
Q. You've just started a new ballet website, NetworkDance with Jozef Varga, a principal dancer with the Het National Ballet. How did that come about?
Jozef and I were colleagues for a half a year when he heard that I make professional websites. He told me about his raw idea to make a informational and community site for dancers. A few months later, we started planning the project and developed it to a much larger scale to help dancers and students find companies and schools, get to know each other's work and give a direct promotional platform to dancers, choreographers, companies, schools, organizations and more.
Q. What's the purpose of the website?
Everything is for free. The main purpose is to help dancers and students to find ballet auditions and dance courses and to simplify the application process: artists can easily create a professional dance resume using our template with unlimited dance pictures and dance videos, then they can apply to many auditions and courses with just one click and companies and schools will get all their information. We have already helped dancers to join and to audition for the Monte-Carlo Ballet, Royal Ballet and other companies. We focus on providing useful and interesting information about artists, too: dancers, students, choreographers, teachers, photographers, videographers and journalist can create their full profile where they can post their videos and photos, performances, and general info about themselves like their company and rank, etc. They can share information in their blogs to tell people what they are working on at the moment, what's their next role or which choreography they are working on, or anything else they feel like. We have a huge database of ballet and contemporary companies and schools where in one place people can learn about the company's repertoire, schedule, artistic staff, watch videos and photos about them and get all the required contact information. Companies, schools and organizations have their own complete profile too so you can get the latest infos coming straight from the companies without delay, including news on auditions, courses and new premieres. NetworkDance has a media library where you can watch and upload dance videos, ballet photos and organize all of them into albums. Use is unlimited and free, too, like eveything else. Choreographers use it to create a full portfolio. We feel that dancers should have a place where they can communicate with each other and with the companies. Schools, too, so you can send email to each other through the site (you can turn this feature off) send messages and comment on each others profiles, works, pictures, videos, choreographies and more. There is a forum where you can have your say in any ballet discussions and start up new dance subjects. Journalists can write dance related articles, reviews and publish them on NetworkDance for free and receive feedback from the dance community. So the long and short of it is: it's a great place for auditioning, going to dance courses, promoting yourself, your company or school, finding jobs, and learning about companies, choreographic pieces and socializing with the dance world.
Q. Do you do the programming yourself? How do find the time to work on it?
Yes I do it myself. It's a non profit project at the moment, so I develop it in my free time, mostly in the evenings and on weekends. I must miss some fun times because of it but I don't mind when I get good responses from dancers like "Thank you for making this site so I could apply to 10 auditions in 10 minutes" or "It's great, I have my complete choreographer website on NetworkDance for free". I spend a lot of time with NetworkDance but I make sure it's not bothering me as a dancer.
Q. What are your future plans for your dancing career and your website?
As a dancer I will continue what I've done until now. I will keep working on my weak points, continue dancing with the Het National Ballet for at least a year. I would be interested in working with another company permanently either in England or the USA, but that also depends on my personal life. I also want to dance some more important roles because I enjoy those much more than the corps work. I've done both during my career but right now I need something more challanging. I have good hopes for NetworkDance. We will bring out more useful and fun features to help auditioning even more for the companies/schools and dancers/students. We've received very valuable feedback from our users, some of the changes have been implemented already but the bigger ones are still coming. More and more people are becoming aware of its usefulness and that it's an easy opportunity to show yourself as a dancer, and all this is for free. People usually ask me how am I making money with it, but at the moment we just don't and we are not trying to. Perhaps in the future it will cost more to keep it up so we will need introduce an advertisment system or some extra features for a small annual payment. But the main goal for the future is to meet the needs of the artists and the companies. In the long term we are planning to organize events but that's far ahead.
Q. Any other projects in the fire?
I am working on another site with a friend, too. That will be a community place for creative professionals so musicians, photographers, actors, etc can show their skills, find the people they want to work with and be found. It will be called TalentBlend, but it's in an early stage yet as my main focus is NetworkDance.
Q. Any advice for young dancers?
As we try hard to improve, be better than other dancers and try to get better roles and opportunities, we can became overly sensitive and take small things too seriously. Not getting what we want when we want it can let us down too much and even make us lose motivation or self confidence. So stay positive and train yourself for future opportunities even if it seems to be a looooooong way off at the moment. Don't be afraid of being rejected. You must know that many things are just about luck (right place, right time) but those who don't try will have no chance to be lucky. Nowdays everything is speeding up and you receive so many opinions from others, it's sometimes hard to focus on the things you need as a dancer: constant hard work, regular relaxation and being yourself. So stay focused: work when you need to work, relax when you need to relax and know who to listen to!
To check out Milan's NetworkDance website, click here: http://www.networkdance.net/.
To return to this website, click on the Return Arrow in the upper left hand corner of your browser.