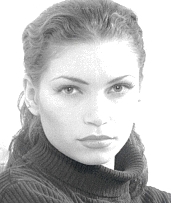 Natasha grew up in Woodbury, CT and received her Vaganova based ballet training at Nutmeg Ballet under the tutelage of Sharon E. Dante and Eleanor D'Antuono. Mrs. Brooksher received honors in competition on the local, national and international levels at ARTS Recognition and Talent Search, IV New York International Ballet Competition, IV Paris International Ballet Competition, and the 20ieme Prix de Lausanne, Switzerland. Natasha spent her professional career dancing with Boston Ballet, Texas Ballet Theatre, and Ballet Arizona where she enjoyed working with choreographers such as Paul Taylor, Twyla Tharp, Elisa Monte, Elliot Feld, Lyla York, Trey McIntyre, and Graham Lustig performing leading roles in American Classics such as Rodeo, Billy the Kid and Company B and Tinkerbell in Peter Pan as well as premiering Merce Cunnngham's Breakers at the Kennedy Center in Washington DC. Most recently, Mrs. Brooksher is a founder of, and serves as Artistic Director for, Southwest Classical Dance Institute. Mrs. Brooksher is currently Resident Guest Faculty at The Nutmeg Conservatory for the Arts, and serves as the AZ State Representative of the Classical Dance Alliance, an organization created to promote the highest of standards for classical ballet in the United States. Most recently, she has been named Ballet Mistress for NovaBallet in Phoenix, AZ. She shares her passion for her career and her life with her husband Joshua and two year old son Ian Flynn.
Q. You were born in England and moved to the US when still young. Did you take dance in England and was it much different than taking dance in the US?
I did actually. I was about 4 when my mum took me to my first ballet class….my older brother had boy scouts, and my little sister was a handful, and I was sort of left out. I went to a small school in the RAD method, and passed my first examination with highest honors at the age of 5!
When I got to the states, we weren't really sure where to go…I went to a local dance studio for a couple of years with the annual recital etc. At age 9 I auditioned for Nutmeg, and they just about pounced on me…it wasn't until I was dancing there that I began systemized training method geared towards professional dance. Although having a couple of years of jazz and tap under my belt certainly helped a great deal later on in my professional career.
Q. Can you point to specific points in your life when you grew as a dancer? When and what were they?
I think the one that stands out the most was preparing for and competing in the Prix de Lausanne…I really had to have everything at the highest level. The intense class training and coaching I did in preparation was really difficult…but served me well when actually at the competition, which was absolutely exhausting…like a ballet marathon! I was the only American finalist that year…there were only about 20 of us in the final round out of 250+ in the first round.
I think my academic achievements really went through a similar phase at that time as well. During all of the preparation for the competition I was also applying to Ivy-League universities, taking all AP-Honors courses…I had to miss all of my mid-term exams in order to go to the Prix. Upon returning home, I not only had to catch up on material missed before the exams, review and take the mid-terms, but also keep up with the current course load on all of my classes as well. I think I took the SATs twice in there sometime too…by the end of the school year, I had achieved Valedictorian of my high school class.
Through all of that I really learned a great deal about pushing myself, about having the mental and physical determination and fortitude to push through towards success no matter what. And a lot about time management too! You should have seen my day-planner!
Q. Do you think dancers have changed physically or mentally in terms of flexibility and muscularity and just general ability? What do you think accounts for the advances?
I think we are better educated about the possibilities of what can be achieved, and how far one can be pushed, as well as ways of preventing injury in order to further those achievements. For instance…better understanding the benefits of a sprung floor…of proper stretching and conditioning in conjunction with regular training….and additional disciplines of meditation and yoga to help train the mind etc.
I think that the aesthetic has changed dramatically, especially since Sylvie Guillem…her natural physical abilities have had a profound impact on what is considered a desirable aesthetic.
What I see that is lacking however, especially in the United States, is a true understanding of the history and tradition upon which classical ballet has been based…and an appreciation for true artistic quality, taste, manners and protocol.
Q. Who was responsible for your early training?
I really consider Sharon E. Dante, artistic director of Nutmeg Ballet, along with her faculty, responsible for my training and pedagogical development. I cannot tell you how many teachers' courses I demonstrated for, or how many pose marathons I did!!
Q. Do you remember your first professional class and what was it like?
My first professional class…well, having grown up in a school which developed us to a professional standard right from the beginning, it wasn't so much a big deal I guess. I suppose my audition for Boston Ballet would be a good example… it was right up my alley. There were a lot of students who were completely lost in the class, as they had no idea about epaulement or even some of the terminology used in the Vaganova syllabus…and at that time Anna Marie Holmes was a major influence at Boston Ballet, being their Associate Artistic Director. It was easy to weed out those who had not had adequate training….and easy for those of us with it to enjoy ourselves.
Q. What was your dance dream?
I have always admired Makarova and Baryshnikov…I always dreamt of dancing as they did.
I also have bad dreams about dancing…terrible anxiety dreams where I cannot find my costume, then cannot get my shoes tied, then cannot find the stage, all the while my music is playing and I am supposed to be on stage….I wake up in a cold sweat!
Q. As a young dancer, you entered dance competitions and did well at them. Were they valuable for your career? What advice do you have for dancers entering competitions?
See my answer above about the Prix…but yes they were very important and helpful…as long as you don't put to much weight in the winning. It certainly helps, but the journey you take to get to that level of accomplishment is in itself a reward, as you improve so much during that process. Competitions are very useful tools also, not just for growth and development, but also as a fantastic place to network and help find work. Just don't get too caught up in the political decisions, as they always happen, no matter how even the playing field may seem to be.
Q. What were some of the obstacles you've had to overcome in your career?
I was not born with great feet, so that was a constant source of work, pain and frustration for me. I was constantly stretching my arches. I also have a pretty high degree of scoliosis…most people could not tell from the front that I had this problem…but look at me from the back, and wow. The great thing about dancing is that it was exactly what the doctor ordered to help keep it in check.
Q. Can you recall the moment when you realized you wanted to be a professional dancer? Or when you realized you were good enough to be a professional dancer?
I think my grandfather took me to see La Fille Mal Gardee when I was about 5 and that was it for me…I was hooked. After that it was never a doubt in my mind…I just always knew that was what I wanted, and I was determined to do whatever it took in order to accomplish that. I was pretty certain that I also wanted to be a doctor, so my academics were also a very important priority.
Q. How did you prepare for a performance? Did you have routine for after a performance?
I had a very specific regiment that helped get me in "the zone" for performances.
• Early dinner…nothing too heavy, but definitely something with protein…no junk food.
• Get to the theater by 5 or so for an 8:00 show.
• Nap for 20-30 minutes
• Shower…as hot as I can stand it. Get a cup of tea and any headpieces, jewelry, or whatever I need from wardrobe.
• Makeup—1 hour
• Hair—1/2 hour
• Warm up class ½ hour
• Pointe shoes on
• Go to wardrobe for costume
• Get on stage at 10 minutes to curtain and go over anything difficult, get with my partner or whatever.
After the show I just got out of the theater and home as fast as possible…just needed to get horizontal and get off my feet. If it was Swan Lake, I would stick my feet in ice cold water to take down the swelling.
Q. How do you bring movement to life?
Understanding epaulement, port de bras, and facial expression. I was very lucky to have a teacher with a great understanding of musical theater when I was younger, who integrated character acting into her choreography. I also was very fortunate to have had a strong fundamental understanding of epaulement through my Vaganova based training. I was lucky enough to have that expounded upon with wonderful coaches from the Kirov Ballet while in Boston. They really gave me an incredible sense of port de bras style for classical ballet.
Q. How do you show your individuality as a dancer?
I think the most important thing is to let your personality shine through. Your dancing and technique should be a vehicle by which you can show who you are on stage, and connect with your audience.
Q. How important is technique in achieving artistry?
It is the most basic building block through which it is possible to create dance as a performance art. Without the basis of technique, and an integrated understanding of the correct physicality of movement, one's physical vocabulary is quite limited. Dance is a physical language, and just like the spoken word, it must be studied in order to eloquently convey particular descriptions, feelings, emotions, enough to have an impact on one's audience.
Q. What was your favorite piece to dance?
I have long said that I have a love-hate relationship with Swan Lake…it is one of the most intensely emotionally moving love stories, the music is just absolutely incredible, and the choreography is perfectly matched to both the story and the music. It is a joy to experience both as a dancer, and as an audience member. The choreography is so challenging, and thrilling to dance once you have reached your performance peak.
But it is SO hard to dance! The rehearsal process is painstakingly tedious and painful—-the repetition to get it exactly right that is required…the sore muscles—the ice buckets after Act III to bring the swelling of your feet down …my GOSH! My calves used to literally ache from growing so quickly once we would start to rehearse swans!
But really, all of it was very interesting to me, and what I love is not necessarily the pieces I danced, or specific characters I portrayed—what I love is the dance itself, and the medium it provided for me to express myself and explore different aspects of the human condition.
Q. Do you prefer classical or more modern ballet?
I think I do prefer classical—I have always had a certain affinity for its stylization, port de bras and sensibilities. Although I always did quite well with modern and contemporary work as I was very interested in the different coordination of movement, the very physical, difficult and exhilarating partnering required, the different styles of music, and the freedom it allowed in choreographic creation. I think also, I had a good visual memory, and so was able to pick up complicated and syncopated timing and choreography fairly easily. I have worked with many modern and contemporary choreographers, and I always did very well, and had a wonderful time.
Q. Do you have a few favorite choreographers?
I loved working with Twyla—very intense, demanding, but the results were fabulous. I also had a great experience working with Elisa Monte and her husband David—I loved their piece they did for Boston called VII for VIII and was just absolutely able to sink my teeth into it.
Q. What was your most memorable dance performance?
I think my premier in VII for VIII—it was quite challenging in so many ways—physically strenuous requiring great strength, stamina, coordination and so many things all at once. I also have wonderful memories of pas de trios in Swan Lake of just feeling as if I was flying through the air during the coda! Huge jumps!!!
Q. What's the secret of your success as a dancer?
There is no real secret—persistence, hard work, not giving up, my dedication, my drive and passion for excellence, my love of dance. My willingness to seek out and pursue the best teachers and training I could, as well as make the choice to do all the work and make all the time commitments necessary to reach my goal and dream. It is the same with most people who have a passion for something. But it is always, always backed up with a strong (almost obsessive) work ethic.
Q. Now that you are a teacher and run your own school, what do consider your biggest challenge?
Educating parents as to what is necessary to reach that high level of training in order to succeed at the professional level. If I just have to deal with the students, no problem, but parents get worried, angry, defensive, fearful, if they feel it is too hard, or their children are upset or frustrated. They want to protect them…I know. However, world class level instruction is hard, it's difficult, it's not easy, and not always fun every minute. This is hard for many parents to understand unless they themselves have gone through a similar experience. I also hold my students at a high level of personal responsibility and accountability, even at a young age, and this can also be difficult for some parents.
Once you have the trust of the parents, and we work with them together as a team to help their child achieve their dream…and once they understand that we are on the same side to help their kids…then the rest is fairly easy as long as the lines of communication stay open.
Q. You and your husband seem very devoted to the classical ballet tradition and in particular the Vaganova method of teaching. Why is that?
Very good question. Well…it is the methodology that we have both been trained in, have had successful careers with, and are intimately knowledgeable about. We have added to that our own experience as artists, and use it as the base for training our students. It is also a time-tested method with proven results for training highly skilled technicians coupled with an understanding of artistry and how they go hand in hand. It is also the method which has single-handedly revolutionized what was thought physically possible in dance. Through the former USSR's influence, it has had the furthest reach in established training methodology over all other styles and methods. The most influential dancers and teachers of our time have all come from this tradition.
Q. What do you look for in dancers?
To start, one must always consider physical ability and natural gifts. However, if a dancer or student has the drive, passion and work ethic, there are many limitations that may be overcome. There are many driven individuals who did not have the perfect ballet bodies who did what was needed to change themselves through training, or in the very least accommodate their weak areas to a point. However, there are very few people with completely natural talents who will still make it as a professional if they are lazy and do not have the work ethic to apply technical training and discipline to their gifts.
Q. At your school do you recommend or require any specific toe shoe? Why?
As every person's feet are different, pointe shoes should not be set uniformly for all students. There are so many makes and models out there, that it is possible to find a properly fitting shoe for each dancer. And the same shoe may not continue to work for that dancer as time goes on, as her feet change, as she gets stronger, as she grows. We are very lucky to have a professional pointe shoe fitter work with us to fit all of our students. She is not tied to any one retailer or store, and so her first priority is to the well being and safety of the student, and what shoe will work for her the best. I feel that having someone with this kind of perspective is crucial. Badly fitting pointe shoes can ruin your feet with blisters and whatnot, making it painful and an unpleasant experience. When that happens bad habits begin to form in order to shy away from the pain, and this is extremely detrimental to proper development of technique. This can eventually be quite dangerous with a high probability for injury.
I was not fit in the right shoes until I had been dancing professionally for 4 years. I pretty much had to learn how to stand up on pointe all over again, but the result was incredible and changed my dancing completely.
Q. How do you teach your dancers to connect to the audience?
The most basic thing is facial expression and the eyes….they truly are the windows to the soul, and they must be even more expressive on a very large scale for the audience to read your emotions.
Q. In the age of classical dance, the goal of a choreographer was to create something beautiful. Today, it seems that all choreographers want to be is original? What is your take on the direction of dance today?
I think that dance has taken on an overly physical and competitive nature— gymnastic and calculated…it has gotten away from the essence of what performance art is about—an emotional spontaneity and connection with another human being….not just to shock the audience or make them laugh but then forget what they saw 5 minutes later. The real challenge is to connect with your audience, to have an emotional effect on them, get them to think about what they saw—perhaps get them to think about themselves, their lives, the human condition as a whole. To experience something, to take them on a journey.
Much of what I see now is executed with great precision, by very skilled technicians…but I do not see very much by way of artistry, very little passion or sincerity of emotion either on the part of the choreographers or the dancers. Not that the dancers couldn't do it necessarily, if they were given the chance to or taught how. For example, I think of Cranko's Onegin and cannot help but think that I have not seen recent choreography able to capture the same kind of tension, stress, heart-wrenching anguish, and delicious sense of fatality as the final scene in the ballet—and all Tatiana is doing is standing on stage facing the audience with her fists clenched at her side…..
Q. Any favorite dance books? Any favorite movies?
>As a teacher, Vaganova's, Basic Principles of Classical Ballet,
of course. I keep re-reading her introduction and foreward, and relish every word, and try to put it into practice every day.
My grandmother gave me a wonderful book on the Vaganova school with lovely photos of their students, and some of the company, back when Kolpakova and Berejnoi were still dancing!
Also, the movie, The Company,
with Neve Campbell, about the Joffrey Ballet… I thought the documentary style in which it was done was very good for showing the ins and outs of life in the ballet…it brought back so many memories—of the exhilaration performing brings,…but also of behind-the-scenes political nonsense that goes on…the struggles, the casting drama, the relationships, etc.—some of the things I don't miss! But it was good to see it all again.
Q. What's your advice to young dancers?
Find a teacher—and once you find them…stick with them until you have learned absolutely everything you can. Don't be distracted by the 'easy' way (immediate gratification of too many trophies from competitions….etc.), or those who say you should go somewhere else because it's the popular thing to do. Also, be careful not to be seduced by those with big promises or extreme praise. You may be lucky enough to find one with whom you can study over many years. As you get older, you will probably find that you have several who influence you deeply. But especially as a young student it is important that you find someone knowledgeable, qualified, and with a sense of integrity about them, who has your best interests and highest good at heart.
Just because someone was a great dancer does not mean they are a great teacher….we are out there—come and find us! We want to teach you everything we know—it is our passion, our responsibility, our burden to do so. Just as we don't want students who just want to dance—we want students who HAVE to dance……so there are a few of us out there who do not have a choice as to whether we teach—we HAVE to—our spirits demand it of us…and we have to fulfill ourselves in this way or we would not be true to who we are.
For more information about Natasha and Southwest Classical Dance Institute, please go to: www.swcdi.org. To return to Ballet Connections, click on the return arrow in the upper left hand corner of your browser.