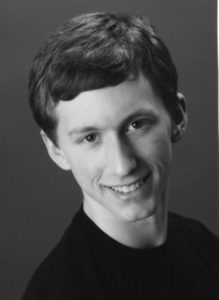 Patrick Yocum joins Boston Ballet II after training with Boston Ballet School's trainee program during the 2008-2009 school year as a Sydney Leonard Scholar. Patrick attended the Pittsburgh Ballet Theatre Graduate Program on full scholarship and danced with the company in Don Quioxte, Terrence S. Orr's The Nutcracker and Derek Dean's Alice in Wonderland. He has also performed with The New Horizons Dance Alliance.
Q. How did you become interested in dance?
From the time I was very young, I always had a big interest in theater. I performed in my community theater and sang for my church choir. In elementary and middle school I was always working with the drama department. When I started high school, I decided I wanted to be an actor on Broadway, a stage actor, but I couldn't dance at all. So what I did was find a local teacher-George Thompson-and I started taking lessons in strict classical ballet. At first, I hated it. It was really hard to do and I didn't think it was anything I could go far with. After a while though, I really started enjoying it and ever since I've just trained strictly in dance.
Q. When did you start at the Boston Ballet School?
I started in the summer of 2008 when I was nineteen.
Q. Where were you before?
I graduated from high school in 2007 and I went to the Pittsburgh Ballet Theater School for a year in their graduate program. From there I had a meeting with Margaret Tracy, the Artistic Director of the Boston Ballet School, and she invited me to come to Boston. I came for the summer and I've been here ever since.
Q. What do you like about the school?
When I first came here, I would have to say the location and the architecture of the building blew me away. The facility here is gorgeous and it's in such an interesting location in Boston. And I guess what's kept me here is not only that they gave me a wonderful scholarship, but I knew that as a trainee I would have some great performance opportunities with the company. That was a real key element in keeping me here and it's been a pleasure so far.
Q. Where are you from?
I'm from Souderton, PA which is about 45 minutes west of Philadelphia.
Q. Where do you live here?
There are some students in school who stay in a dorm. It's called the Grace Performing Arts Academy but most of the trainees find their own apartments. I've been living in the South End.
Q. Did the school help you find an apartment and a roommate?
They did. I live with two other dancers who are in the school, who I met through friends in the summer course. The school was supportive in finding housing and pairing students who would stay for the year.
Q. Do you consider yourself a student or a trainee?
For this past year, I've been in the training program. We're still pre-professional students and high school graduates. We're all about the same age and we're all reaching for the same goal of finding a job in a professional ballet company.
Q. What is the program like?
For most of the year it's six days a week Monday through Saturday. We start at 10 AM and depending on the day and what kind of rehearsal schedule the company is going through, we'll have anywhere from 3-6 hours of dance along with whatever company rehearsals we're involved in. It actually adds up to quite a lot.
Q. Wherever a dancer goes, there are always teachers who have a great influence on them. Can you tell us about some of the teachers who've influenced you?
I definitely couldn't have gotten where am today without some pretty inspirational teachers. The first, of course, being George Thompson who was the man who introduced me to dance in the first place. He was extremely kind and generous and really taught me that ballet is a lifelong passion. Here in Boston I'd have to mention two teachers. The first would be Ms Kathleen Mitchell, who teaches the trainee program quite regularly. She's great because she has such a keen eye at spotting imperfections in your technique but she's never overly critical. When she works with you in rehearsal it's really interesting to see the way she's so interested in every facet of your performance from your fingertips all the way down to the focus of your eyes. The other is Yo-el Casell, our modern teacher. Before I came to Boston Ballet School I had limited modern experience, and when I came here I was fascinated by his unique style of movement. It's extremely liberal and very flowing and free, like nothing I've ever seen before. He choreographed for the Massachusetts College of Art and Design earlier this year and I had the opportunity of dancing with him. We did Alcina, the Handel opera and he needed some student dancers to perform with him. Working with him was so interesting because he lets you put a lot of the movement together yourself. You're bound by what he's looking for-the quality and style of the movement – but he really encourages you to take it a step further and examine what you think it should look like from your perspective. So, it was really a collaborative effort even though it's between a student and a teacher.
Q. Every ballet student goes through a tremendous amount of training. Do you have any ideas of how the process of learning ballet could be made better?
That's a very difficult question, especially in my position as a pre-professional student. In my opinion, I feel that no matter where you are in your career a dancer is a student. I feel like I could take ballet class for the rest of my life and still learn something new about myself, about life, about dance every day. So, because ballet is so human and so personal, there can't be two teachers who are exactly the same. That's why ballet is so interesting. The reason that it's beautiful and why it lasts is because there are so many different types teachers out there. There's no universal style. So it's hard to say what I would want to change. I guess if I had to give an answer I would encourage students to study the history of dance a little better. Sometimes I'm not sure of the history and the traditions that it comes from and the kind of cultures that influence it. I guess I would also encourage students to study different types of movement – that's how the art form evolves.
Q. What are some of the roles that you've performed since you've been a student with the Boston Ballet School?
I've had some really wonderful opportunities to dance with the company. Most of the trainees at least get the opportunity to understudy parts for ballet roles which is great because you get to learn so much new repertoire. In my case, back in October we gotto perform James Kudelka's Cinderella. I got to perform in the corps de ballet for that. Of course, Mikko Nissinen's The Nutcracker was next. It's a very traditional version so I got to be in the party scene and I was an understudy for Russian. I really enjoyed doing George Balanchine's Jewels. I was in the Diamonds corps de ballet. Most recently, we did a mixed bill that celebrated the centennial of the Ballet Russes, and one of the ballets was Balanchine's Prodigal Son. I had the great fortune of going in as one of the goons. It was a fascinating experience to be a goon; you're dressed in a bald cap and a tunic, covered head to toe in splotches of black makeup to make you look dirty. For the movement, we were stomping the ground and punching each other – there's no elegance or classicism to it at all. Balanchine choreographed it when he was still early in his career – and it was so interesting for me to learn because your whole dance career your trained to be graceful and elegant and beautiful and all of a sudden you're asked to do stuff like this. It's shocking, but it's not intended to be beautiful. It's a story of adolescence. It's not a story about what ballet is traditionally about like princesses or royalty. It's about peasants. It's about normal people who go out into the world and explore who they really are, so I'm not surprised that Balanchine wanted it to be a little more contemporary and more human than ethereal.
Q. I was just thinking that Balanchine is always talking about how ballet is all about women and yet this is a ballet that is all about men.
That's completely true. I loved performing Diamonds because it is such a beautiful ballet, but it is all about the women and that was at the peak of George Balanchine's career. But Prodigal Son is mostly about men. Maybe because Balanchine was growing up himself at the time, that particular story meant a lot to him.
Q. Have you done much pairing in any of your roles?
I have had a couple of opportunities, especially dancing in the Diamonds corps de ballet. In Cinderella I got to dance with some company women, some students and also some girls from BBII. It's been great to get to know everybody.
Q. Who was your first pas de deux with?
I actually first danced with a partner this year in Cinderella – I was in the second act and I got to be a bachelor of the ball. I had the good fortune of dancing with Krista Ettlinger of the corps de ballet and she was really great to work with. It's pretty complicated choreography, in a very specific style. The ballet's based around the dances of the 1920's so it is great to be able to relate to a company member early on in the year with some fun choreography.
Q. What's it like when you are a trainee and suddenly you're paired off with a girl who's higher up in the ranks?
It is stressful but then again pas de deux in any variety is always stressful. You have to make sure that it's all about her. But I'm grateful that I've had partners who've been extremely kind to me. I'm glad that dancers here do not treat people unfairly because of their rank. I haven't had to deal with that.
Q. What's it like in the company in general in that trainees must be on the lowest level of the pecking order?
It is a little stressful at first when you go in for your first rehearsal and you don't know who anyone is and the artistic staff doesn't know you at all. It's a brand new experience, and it is very scary, but at the same time you're mostly understudying. Because you're understudying the parts, there's a little less tension and pressure for you to know it right then and there. You also get to observe how the company works and get to know a few people. I really love the company here because they're wonderful people and great to work with.
Q. I gather in most companies that is the role of the trainee – to be the understudies or covers?
Exactly. We're there to make sure that the show can go on. When you're a trainee, it's your job to make sure you understand the music and understand the role and to make sure that you're always ready to go in; because accidents do happen and they have happened. So you have to be prepared and when your opportunity arrives it's terrifying but also a blessing because you finally get to show your stuff.
Q. As a trainee you must also have a lot of roles as a filler, being on the stage as an extra.
In ballets like Sleeping Beauty there is a lot of pageantry and the company needs a lot of extras. It's fun because it's not very difficult on the technical side but you get to be a part of the show and you get to observe your fellow dancers, especially the principals and the soloists. It's a great learning experience. Even though you don't do much dancing yourself, it's a great opportunity to learn from others.
Q. You must do a lot of pantomime and a lot of acting off on the sides. Do you plan together with the people who you will be with what you are going to do?
In the rehearsal process that's probably one of the most interesting parts. You could be a peasant or a Hungarian wedding guest or whatever your costume determines you to be. So, when you learn what part you are and you're watching the rehearsal, you get to think about who your character is and how he would react to what's going on on stage and to your fellow corps de ballet members who are on stage with you. So, to just think through the scene is one of the best parts because you have to explore internally what the show means to you.
Q. What kind of preparation will you be doing over the summer for joining the BBII?
Over the summer, I'm not going to be in Boston. Boston Ballet has been kind enough to send me to a summer program in the Rocky Mountains in Canada. It's called the Banff Centre for the Arts and it's a five week intensive program for pre-professional students. I'm not sure exactly what it's like but I have heard from people who've been there before that it's a really rewarding experience.
Q. What kind of program is BBII?
I would have to say that there are very many similarities between the training program and BBII. BBII's a student company of about ten dancers and while we're still here to be supplements to the corps de ballet, we're also part of the outreach for Boston Ballet. In BBII, we get to do lots of shows for local schools and arts festivals that come along in Boston. So there are a lot of extra performance opportunities other than the repertoire of Boston Ballet. It's where you get to explore more of the advanced roles, even though you're still a student. You learn some of the heavier leads and get the chance to perform them in the community. It's a great way to grow even though you're not quite in the professional division yet. It's a way to continue your training and become accustomed to the company life style.
Q. To join BBII was there an audition process?
As a Boston Ballet trainee student they actually asked us not to come to the open company auditions which were held in March. While on the surface that seems kind of strange as to why we wouldn't audition for the company, when you look at it a little deeper I think it says good things about the connection between the school and the artistic staff of the company. They observe us very closely and there is a lot of verbal and physical interaction between the school and the company, so they know us well enough without extra auditions.
Q. Do you get any kind of a salary as a trainee? How are you able to survive?
On the good graces of my parents. I'm very grateful for what they've been able to offer me. They've helped me out so much over this process ever since I was young. In BBII we are offered a salary. It's a great luxury to be a student and get paid to do what you love.
Q. Do you prefer classical or modern dance?
Personally I prefer classical work because I don't have much experience in modern dance. I enjoy dancing classical because I have more confidence in myself. But at the same time I enjoy watching contemporary and modern ballet to see how choreographers interpret human movement and turn it into something that means so much.
Q. What's some advice that you've learned as a student that's stuck with you?
One of the most important lessons I keep in mind even to this day is that in ballet nothing is written in stone. Especially with all the different styles out there. It's difficult to ever put a universal label on anything. You can't say that this is supposed to look like that and no one can say otherwise. It doesn't exist. You can learn a certain style your entire life and then turn around one day and find yourself in a rehearsal with someone you've never met and they're asking you to do something that is completely against what you've learned. If you're not willing to roll with it and accept it, to process it in your brain, then you're just taking a step back. It's about learning as a continuous process. I guess that's the best thing I've learned so far.
Q. How do you prepare for a performance?
It's mostly mental for me. It's a lot like preparing for a class. Of course, you need to warm up your body and stretch and make sure your costumes are in order but a lot of it is about the focus that you want. From the time you step into the theater-and I like to get there pretty early-everything you do needs to be preparing yourself to go on stage and be who you're asked to be. To focus your brain in a way that you're not going to freak yourself out and you're not going to get too scared but that you're not going to lose the energy you get from performing. So I do a lot of internal activities: it's a lot of thought and it's a lot of meditation and breathing and making sure that everything is prepared in my head as well as my body.
Q. For a girl, the big moment is when she gets her first toe shoes. Is there a similar rite of passage for a male dancer?
I can't say that there's anything as extreme as toe shoes but I'd have to say one of the biggest things for a male dancer is learning pas de deux and to dance with girls who are en pointe because you know that all the pressure is on you. You're helping her to achieve the common goal of creating something beautiful, and it's a difficult, ongoing process no matter what role it is. You think, "I'm getting there."
Q. Do you have any favorite ballet books or movies?
I'm actually the proud owner of several Sylvie Guillem documentaries who I adore. She's an inspirational figure for me. I've actually been given a few DVDs by some teachers here and it's wonderful to observe her. A book that I really enjoy reading is How to Dance Forever by Daniel Nagrin. It was written quite awhile ago-about twenty years I'd say-and he has some great theories about what it is to live the life of a dancer. He was more of a contemporary dancer and had a career as a soloist performer being a guest artist all over the world. I enjoyed reading about how he lived his life because it is so different from being a solo performer compared to working in a company. Learning about the styles he used and the injuries that he faced really helps you have foresight into your own future. And he has some really great philosophies as to how dance should be viewed by the dancer.
Q. Any advice for students who want to be professional dancers?
I wouldn't give any advice that I wouldn't give myself. Continue to work hard but at the same time know what you're going for and don't continue if you don't love the art form. I certainly put a lot of work into whatever's thrown at me. But I still have a long way to go before I'm up there at the level of the company. I work on strength and just keeping my head in the game. Sometimes focus is hard to keep – I'm sure that's a challenge for everyone.