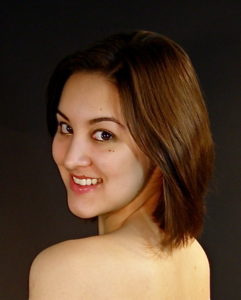 Phillipa Armes was born in Hyderabad, India but she began her ballet training with the Royal Academy of Dance syllabus in Singapore at the Sylvia McCully School of Dancing. She came to Raleigh from Great Britain in 2002 where she continued her training at the Raleigh School of Ballet and Raleigh Dance Theatre. Ms. Armes also trained during the summer with Boston Ballet; she attended Carolina Ballet's inaugural summer residency in 2007 as a trainee; and most recently she trained at Alonzo King's LINES Ballet pre-professional program in San Francisco. She has performed with Carolina Ballet in the corps of several productions including Swan Lake, Firebird, Sleeping Beauty, Raymonda Variations, Nutcracker and in the Wilmington and Raleigh productions of Waltzes of Old Vienna. She is currently with the Alonzo King Lines B.F.A. program in conjunction with the Dominican University in San Francisco.
Q. You've just graduated high school and left the Carolina Ballet Trainee program and are beginning a new phase in your dance career. What exactly is the Alonzo King B.F.A. program in conjunction with the Dominican University that you're now joining?
The LINES B.F.A. program is a Dance major four-year Bachelors of Fine Arts program offered at Dominican University of California. Entrance is by audition only, and the maximum class size is 16 students. I'll have the opportunity to work with past and present LINES Ballet dancers, as well as Alonzo King himself, and much of his artistic staff and choreographic colleagues. I believe the schedule will be something like dancing in the morning and early afternoon, then academics (the Dominican G.E. courses) in the afternoon. The dancers also take courses in Kinesiology, Anatomy, Music for Dancers, etc. I'm sure though with rehearsals and whatnot that our dancing will extend into the evening too. I'm also going to be enrolled in the Honors Program, and I'm planning on minoring in Writing, so I'll have additional courses to take for that.
Q. What will your role be with the Alonzo King ballet?
The LINES B.F.A. program is relatively new; when I'm a freshman next year, this program will see its first class of seniors. I know that the B.F.A. students have performed with the incredible LINES Ballet Company in the past, so I'm excited to possibly also have that amazing opportunity. The B.F.A. program dancers also have their own performances throughout the year, throughout the community. Also, I know that some of the students assist the faculty at LINES and the LINES Ballet School to set choreography and demonstrate works.
Q. One of the things you said you learned as a Trainee at the Carolina Ballet was "Patience." Maybe you could explain a little more what you meant and why you felt it was important?
I think that exercising patience makes you a more tolerant and sane person. Being patient also helps you put things into perspective and to understand that good things come to those who wait, and to those who strive for bigger and better things. Patience is also important so that you don't get overworked-up over things (especially in dance) that really aren't that terrible when put into perspective. This past season at Carolina Ballet has helped me put some of those things into perspective. I had to learn to be accepting of certain unchangeable situations regarding casting, working constantly with the same people, dealing with bad days, trying to handle the stresses of balancing school and a professional dance career, waiting for good things to finally happen, etc. This past season was certainly a test of my own personal tolerance and patience.
Q. What is the pecking order of ballet that a young trainee falls victim to in a professional company? Maybe you could give us some examples.
Being a Trainee in a professional company means that you fall on the bottom rung of the long ladder that comprises the divisions in a company. As a Trainee, I experienced a veritable amount of prejudice regarding our legitimacy of actually being in the company. Aside from the influences that plague every company, there were also issues that were exclusive to the Trainees. For example, when we were in theater, we practically shared our dressing room with the physical therapy area, with only a curtain hanging from the ceiling to about the midriff (if we were even lucky enough to have a curtain) separating us from whoever was working or being worked on. Also, we were given a hard time regarding some aspects of company policy. There appeared to be double standards that only applied to us, even though they weren't clearly made known to us, such as attendance at rehearsals for which we weren't actually called. Aside from all that though, the entire experience was definitely rife with valuable and very real professional dance life lessons.
Q. In your blog you said that working with the Carolina Ballet taught you the beauty of imperfection. Could you elaborate on that? Why is imperfection beautiful? What kinds of imperfection were you talking about?
I actually really started appreciating the beauty of imperfection when I went to the LINES Ballet Pre-Professional Summer Program in the summer of 2008. It was the first time that I had ever been in such a supportive and enriching dance environment. As most classical ballet dancers will tell you, we are told from the start to strive for "perfection" and to try to emulate whatever style of ballet it is that we are studying, be it Balanchine, Vagonova, RAD, etc, etc. Last summer I came to realize, through experience and observation, that it's really all the little oddities and imperfections in each dancer that draw us to them. If we were all "perfect," well, we would look like cookie-cutter clones of each other. I also firmly believe that perfection is such a subjective term, with infinite connotations, that it cannot therefore be something universal and tangible. Every dancers' movement quality is unique, their habits and quirks are unique, their abilities to touch us spiritually, emotionally, psychologically, personally, are all unique. So it's the uniqueness and distinctness (imperfection) of these dancers that is so beautiful. Diversity is infinitely more interesting and moving than identicality. Also, for example, if being perfect means never falling out of a pirouette, then there is really a huge wealth of interest and beauty in its opposite, imperfection. Falling out of a turn leaves room for improvisation, and the ability and opportunity to truly dance in the moment. It's those imperfect moments that show a dancer's strength and creativity.
Q. When did you start on a professional ballet track and how did that change your life? How did it affect your relationship with your fellow students and friends?
From a very early age (before I'd ever even witnessed ballet), I somehow knew that I wanted to be a professional ballet dancer. I started training in the Royal Academy of Dance syllabus at the Sylvia McCully School of Dancing in Singapore, which provided me with an excellent strong and structured base for my entire dance career. I suppose I got on the professional ballet track when I moved to the States and started dancing at the Raleigh School of Ballet and Raleigh Dance Theatre. On top of that, in my high school years, I danced with Carolina Ballet (this past season as an employed Trainee in the company). The biggest impact my decision to dance professionally has made on my life would have to be the obvious amount of time I need to dedicate to dancing, and the crucial requirement of having good time management. I had to learn to prioritize all the things in my life, and to hone my dedication, perseverance, time management, and self-discipline skills. Also, I have had to sacrifice a "normal" pre-teen and teen existence of hanging out with friends from school all the time and having a social life. I have become accustomed to having my "dance friends" and my "school friends." This past year I've really learned that fostering those relationships outside of dance really keeps me sane and well-balanced.
Q. Did you feel that you were maturing must faster than your fellow students and friends and did that affect your relationships?
I think that in general, dancers tend to mature faster than "normal" people because we are forced, if you will, to learn the social and communication skills that are generally associated with an older age. Dancers also tend to mature faster than their peers because they are made to make more important decisions earlier on in life, such as the choice to dance professionally. Also, most dancers learn independence sooner than their peers because they "go away" for summer intensives, therefore giving them an opportunity to experience "real life" away from the comforts of home; dance also calls for a more mature mindset that allows for greater artistic exploration and more open-mindedness. I wouldn't say that this maturing has had a measurable impact on my relationships, but it has actually made me more acutely aware of other peoples' psyches and tendencies. So even though it's hard finding a happy middle ground between school-friend life and dance-friend life, the lessons learned from being put in those situations are really ones that last a lifetime.
Q. You talked in your blog about getting fitted for Freed Shoes when you joined Carolina Ballet—now that you are moving to a new company will you switch shoes?
I think I've tried almost every kind of pointe shoe out there! I actually used to wear Gaynor Mindens prior to joining Carolina Ballet. They are incredibly comfortable, and are anatomically the best pointe shoes you can get. Also, they last forever (as opposed to one week or less with a pair of Freeds), so they fit my student budget! So I will be wearing Gaynors again as there is no brand-specific requirement for the B.F.A. program.
Q. Do you think that there are shoes that are better fitted for a more modern repertoire and shoes better fitted for a classical?
I think that whatever works best for each unique dancer is what that dancer should wear. I'm not sure that the brand really makes much of an impact at all – it's about what fits best and feels best and allows the dancer to work true-to-form, to her best ability.
Q. What was your favorite role you danced with Carolina?
I loved performing Phlegmatic and Melancholic in Balanchine's The Four Temperaments. I also enjoyed Robert Weiss' Symposium.
Q. Did you attend different summer programs and why did you choose to go where you did? What did you get out of them?
Yes – my first summer away from home I attended Boston Ballet's DanceLab program in the summer of 2006. I chose that program because at the time it was in its old format and was geared towards a younger age group of all-girls. The class sizes were also very small and offered an opportunity to work closely with one teacher more often than others, providing a great window to get to know that teacher (and vice versa), and your own strengths and areas to improve in. The next summer (2007), I attended the Carolina Ballet / UNCW Summer Intensive and Residency as a Trainee. I had the chance to take class with the company and work directly with the artistic staff of Carolina Ballet, so they got to know me better as a dancer. I also had the opportunity to perform with the company in the world premiere of Robert Weiss' Waltzes of Old Vienna. Last summer (2008), and this summer (2009), I attended Alonzo King's LINES Ballet Summer Pre-Professional Program. I needed something different and all-encompassing, and a healthy, supportive, inspiring atmosphere. The program is incredibly intense, with dancing 6 days a week, pretty much all day. I absolutely love Alonzo's philosophies regarding dance, self-image, societal values, art, etc, etc. Before attending LINES last summer, I had never experienced an environment so devoted to the development of the dancer and with such open-mind, -soul, and -heartedness. I fell in love with LINES and how great dancing there made me feel. I learned to move in ways and to do things I never thought I was physically, emotionally, or psychologically able to do. I also fell in love with the challenges I was presented with everyday, and the prospect that a place like LINES would better prepare me for a career in our demanding dance world. It is not enough to just be a "ballet" dancer anymore. You have to be able to do it all, and I want to be able to do and be exposed to it all. I realized that there is so much more outside of the "box" I had previously learned to stay within. Very much of my incredible experience at LINES during the summer motivated my decision to go for the LINES B.F.A. program.
Q. You've said you like to work out in the gym a lot—Have you tailored for yourself or has someone tailored for you a program for dance and what does it consist of?
I have tailored my own workout program. I spend anywhere between 30 minutes to one and half hours on the elliptical (approximately 3 – 10 miles), then I do some light weights on the machines with lots of reps, then I use the adductor and abductor machines for my legs, then I do a lot of abdominal work – a mishmash of exercises I've thrown together as I accumulate them. And of course, I always stretch out!
Q. What are some of the goals you've set for yourself over the next year technique-wise? Career-wise?
I really want to be able to dance without inhibition. Right now I'm working on taking risks and dancing BIG. And I'm always working (and hoping!) for higher extensions! Mostly though, I just want to find myself as an artist and to feel really great about my dancing. I'm also very excited to be able to have GYROTONIC and GYROKINESIS at least twice a week with the LINES B.F.A. program – both really help with freeing up dancers' joints, aiding alignment, bettering fluidity, improving tone, etc.
Q. Ballet dancers seem particularly interested in inspiring and motivational quotes—Have you got a few favorites and what are they?
Yes! I have MANY favorite quotes!
"The real beauty in life is that beauty can sometimes occur." – Colum McCann, Dancer
"Where there is love, there is life." – Mahatma Gandhi
"Même les artichauts avoir des coeurs." – Amélie, Amélie
"Thought is real. Physical is the illusion… What's true in our minds is true, whether some people believe it or not." – What Dreams May Come
"Ferocity doesn't care what it looks like." – Maurya Kerr
"The artistic path is a fearless occupation." – Alonzo King
"To change the world, you must first change yourself. And baby, that's hard enough." – Alonzo King
"The world loves a clone and a good knock-off. It cheats the artist… In the obsession for technical wizardry, people disappear; and if your voice isn't present in a relationship, you don't matter." – Alonzo King
"The deep art… That's the part that has to be guarded like a miser would his money… Like a dope addict would his dope… Like a lover with their love." – Alonzo King
"Be IN it. Get drunk in the moment." – Alonzo King
"In life, as in dance, grace glides on blistered feet." – Alice Abrams
"To be an artist includes much; one must possess many gifts – absolute gifts – which have not been acquired by one's own effort. And, moreover, to succeed, the artist must possess the courageous soul… The brave soul. The soul that dares and defies." – Kate Chopin, The Awakening
"Why are we inspired by another person's courage? Maybe because it gives us the sweet and genuine surprise of discovering some trace, at least, of the same courage in ourselves." – Laurence Shames
"People need to see that, far from being an obstacle, the world's diversity of languages, religions and traditions is a great treasure, affording us precious opportunities to recognize ourselves in others." – Youssou N'Dour
"The world bursts at the seams with people ready to tell you you're not good enough. On occasion, some may be correct. But do not do their work for them. Seek any job; ask anyone out; pursue any goal. Don't take it personally when they say 'no' – they may not be smart enough to say 'yes.'" – Keith Olbermann
"It is better to live your own destiny imperfectly than to live an imitation of somebody else's life with perfection. So now I have started living my own life. Imperfect and clumsy as it may look, it is resembling me now, thoroughly." – Elizabeth Gilbert, Eat Pray Love, after the Bhagavad Gita
"In a world of disorder and disaster and fraud, sometimes only beauty can be trusted. Only artistic excellence is incorruptible. Pleasure cannot be bargained down." – Elizabeth Gilbert, Eat Pray Love
"… I do know certain things that I will and will not do… I will reach upward. I will attempt to do better… I will always be grateful for what pleasures I have enjoyed, what joys I have yet to experience. I will take opportunities as they come, but at the same time, I will not trust so easily. I will look at who is at the door before opening it. I will try to be fierce. I will argue when necessary. I will be willing to fight. I will not smile reflexively at every person I see… I will not pity myself. I speak to these people, and I speak to you because I cannot help it. It gives me strength, almost unbelievable strength, to know that you are there. I covet your eyes, your ears, the collapsible space between us… I am alive and you are alive so we must fill the air with our words… I will tell stories to people who will listen and people who don't want to listen, to people who seek me out and those who run… How can I pretend that you do not exist? It would be almost as impossible as you pretending that I do not exist." – Dave Eggers, What Is The What
"Great creativity begins with tolerance." – Yo-Yo Ma
Q. How do you manage being friends with those you are in constant competition with?
It can be hard sometimes to be on "friend" terms with the competition, but a good friend of mine gave me some very sound advice on how to deal with disappointments when it comes to casting and whatnot. She encouraged me to try to be genuinely happy for the person that was given a role rather than to brood over the fact that I was not cast (or was cast as a cover). I also try to encourage myself to not get upset regarding decisions in casting or hiring because the reality of the dance world is that it is so subjective. What one person sees and hates may be just what another is looking for and loves. I think that everything works out the way it is supposed to in the end, and that good things are worth waiting for. Also, I learned to leave the dancing issues at the studio. At Carolina, once I left the studio each night, I let those nagging, draining worries stay there so that they wouldn't interfere with my relationships with my fellow dancers outside of the studio. I also really, really learned the value and importance of fostering my relationships with my family and friends outside of dance. They are a wonderful, loving source for encouragement and untainted perspective.
Q. Alonzo King Ballet seems like it will have a very modern repertoire. Do you like modern best? Are you concerned about being "typecast" as a modern dancer?
I would actually say that Alonzo King's LINES Ballet has a contemporary ballet repertoire. Alonzo describes "ballet" as "western classical dance." I definitely do not think I can be labeled as a "modern" dancer. I am much more of a ballet dancer, and have an extremely strong classical ballet upbringing, but I absolutely love the LINES repertoire. There's something about the movement quality of contemporary ballet (LINES and elsewhere) that I absolutely love, and that I am dying to explore further. I also love watching it, and am entranced by its power. Of course, I love to dance and watch all other kinds of dance too. So no, I would not call myself a "modern" dancer, but rather a "dancer."
Q. Young dancers often go to competitions. Have you thought about that? What is the decision process like? Have you discussed it with anyone?
I personally have never partaken in a dance competition, and I personally do not believe in them. I think that the dance world is competitive enough as it is, and I love dance for its artistry and beauty. I feel that competitions drain this grace and artistry from dance and are really more of a gymnastics / tricks show. I want to watch dancers that really MOVE me.
Q. Do you have a particular teacher or dancer mentor(s) that you rely on for advice? What is some of the best advice they've given you?
I predominantly rely on my parents for advice, service as a punching bag, and unconditional love! Dance-teacher-wise, I look up to many of the teachers at LINES Ballet. At the LINES Summer Intensive, each level is assigned a mentor with whom we can discuss absolutely anything that may be on our minds. I also look up to Alonzo King himself and his teachings. Last summer Alonzo shed light on many of the issues that had been plaguing me for a long time, including those of societal doctrines tainting beauty, body-image versus body-reality, the fallacy that is "perfection," body-types, artistry, etc, etc. At the end of it all, and among many other things, I learned to dance for myself. I had heard this before already from my mum, and had been putting the lesson into practice, but Alonzo really drove it home. I also learned to be "in the moment" and to embrace imperfection and "mistakes" as an opportunity to discover something new. The idea that a dancer's ability to move the audience and to inspire is also infinitely more important than the shape of that dancer's body was also really driven home; something I've struggled with for quite some time.
Q. When you watch ballet what do you look for?
Inspiration, charisma, spark, PRESENCE, connection to the audience!
Q. What do you like in a ballet teacher?
Teaches a challenging, motivating class; gives good corrections; gives combinations that allow the dancers to stretch their potential and really DANCE big; gives attention to all the students; really watches when the dancers are dancing and gives constant feedback; is approachable and open to communication; is open to questions and artistic freedom / expression; pushes students to work for MORE.
Q. Any advice for ballet students?
Do what you love and love what you do! Never give up, and dance for yourself! Things always work out the way they are supposed to in the end.