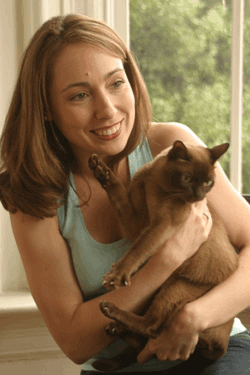 Rachel Howard is the freelance dance correspondent of the San Francisco Chronicle. Her first book, The Lost Night, a memoir about the emotional aftermath of her father's unsolved murder, was published to acclaim in 2005. Rachel began her journalism career as a staff arts writer for the Santa Barbara Independent and later the Orange County Register. From 2001 to 2003 she served as the dance critic of the San Francisco Examiner. Her writing has appeared in the New York Times, the Village Voice, Dance Magazine, and other publications.
Q. How do you become a ballet critic?
There isn't really a clear career path. But I took ballet classes off and on from the age of four throughout my childhood. I never wanted to become a professional ballet dancer. I wasn't that serious, but I loved ballet and when I went to college, I also took ballet classes there. But I knew I wanted to become a writer. Then, I thought, how can I combine the two and my junior year I decided, why not try to become a dance critic? I took classes in the history of dance and read as much as I could on ballet, and after I graduated, I eventually got a job with a paper in Santa Barbara reviewing dance and then all the arts.
Q. What kind of preparation do you do for a review?
I can't say that I'm scientific about it. But I try to strike a balance between being well informed about the history of the work I'm seeing, or if it's a World premiere, I want to know something about the choreographer. I want to be informed but I also want to see the ballet in a state where I'm not bringing in all my preconceptions. I want to see it fresh because the most problematic thing that can happen is to walk out of the theater not knowing what you think. If I walk in with everyone else's hype about this dancer or that choreographer, it can be really crippling. So, for me it's all about striking a balance between being well-informed and over informed by everyone else's opinion. When I'm leaving a theater, I try to be very, very protective of my own opinion. I want to have a strong gut reaction because what I write is only useful if it's my own strong opinion. I'm not saying I'm the final word or the right word but it needs to be my word or it's useless. So, I do not talk about what I've seen with other critics until after I've written about it. If I have guests I've brought with me to the ballet, I might ask them what they thought but I don't share with them my own thoughts.
Q. How long do you have to write a review?
Generally, when I go to a show my copy is due at 9 the next morning. So, usually, I will leave a show, go home and write it. It might take me until 1 or 2 in the morning. 4 in the morning if it's a review I want to wrangle deeply with or if I'm having a bad writing night. Most of my reviews are like that, but sometimes if I'm lucky with a Friday night review, I might have until Sunday morning to get the copy in, so I'll get to sleep on it and write it on Saturday. Typically, I spend between 2-3 hours on a review. I know that might not seem like much time but I think of it as kind of a performance. A review is never the last word. I think of writing reviews the way dancers perform. You have to give everything you can to make yourself fresh for the moment you go out on stage and I do the same thing. I try to come to the theater in as receptive and informed a state of mind as I can and then I go home and I have my 2-3 hours to do my performance. And I do the best that I can within that time limit, and like a dancer, some nights I hit it and some nights I don't.
Q. Do you have a chance to see different dancers do the same ballet?
When it comes to the San Francisco ballet, I know that company through and through and I enjoy it. If it's the right kind of show that provides the opportunity to grow, I know all the casting and I will go back 3 or 4 times.
Q. Is it hard to review a ballet when you know the dancers personally?
No, it's not. I do know some of the dancers personally, but while I might like them and admire their technique, I would not go so far as to call them friends. I think of myself as being part of the dance community but more as someone who has a role in that community. People here know me enough that they understand that it's my job to be a critic. I think the dance people here are strong enough that if I give someone a bad review they understand it's not a reflection on their talent and hard work. I hope most of them don't begrudge me for it because they know it's coming overall from a point of empathy with what they're trying to accomplish in their art.
Q. Do you ever change your mind or rewrite something that you wrote that you later thought was erroneous?
I DO change my mind about things, and even come to believe I've been wrong in my assessment of an artist or a work. But I DON'T get the chance to rewrite things, and don't rewrite reviews that have already been published. I have to live with my mistakes remaining public, although, perhaps, "mistakes" isn't quite the right word when we're talking about responses to art, it's more like a change of heart. I have to simply admit to them and learn from them (I hope) going forward. Anyone who tells me they don't change their mind about art is putting too much stock in their identity as a critic and using their reviews as a way to prove their worth to the world. Everyone when they see art sees different things at different times. They have an impression about it based on who they are at the time. If they see it years later, they may think there wasn't nearly as much depth to it or it wasn't as funny or as intelligent as they thought. I think the important thing for me is that I love writing about dance. I can't think of a more vital way to make my living. At the same time, I don't conceive of my identity as being a critic. I write different things. I write books and I think that's helpful because I don't feel like I have to be constantly proving myself. I don't feel as if I have to be better than other critics, most of whom have far more experience and a more encyclopedic knowledge than I do, since I've only been writing about dance for 10 years. I hope that by giving myself the freedom to say I was wrong, that enables my reviews to have more nuance.
Q. What do you like best about being a critic?
I get to see dance 2, 3, 4 times a week and it's wonderful dance. I feel lucky. It enriches my life to see artists develop over time, and not only the dancers, but the choreographers—to go deeply into their works and feel the emotion and understand the ideas the choreographers are trying to convey. In a great piece of choreography, there are deep ideas about what it is to be a human being on this planet. Being fortunate enough to see that enriches everything in your life.
Q. Do you see any trends in ballet?
I have to answer that from a very narrow perspective because I see mostly the San Francisco Ballet. The San Francisco Ballet has never tried to become just a pure Balanchine company. In fact, they're doing more of Jerome Robbins these days. And this season, they're doing a lot of new choreographers. In April, they're doing a festival of new works which consists of ten world premiers by ten different choreographers over three days. It's going to be a mind-blowing opportunity to see a huge volume of new works. So, I think you can say that there's an emphasis on the new at the San Francisco Ballet.
Q. Are you concerned about how the Internet is affecting newspapers?
Yes. Papers are in a bad way. I'm very fortunate to be paid by a newspaper to do reviews and those opportunities are becoming fewer and fewer. There's a lot of amazing writing available on the Internet particularly on a site called Dance View Times (www.danceviewtimes.com). It has some of the finest critics in the world writing for it. It's a good thing that dance writing is migrating to the web but the problem is how do you make a career out of it. Web writers rarely get paid. You also have the problem of how to get a wide audience to read about ballet on the web as it's mostly dancers and people who are already interested in ballet who go to ballet websites. I still have, perhaps, the ideal dream that some people read my reviews in the newspaper and become interested enough to go see the ballet. Still, I think the problems with newspapers are going to get worse before they get better and I don't have any answers. I've experimented with writing more and writing less on my blog. Right now I use my blog as a way to enhance my contribution to the dance community; while my newspaper writing remains my main springboard. I don't write consistently for the blog now, but I post my reviews there and offer extra commentary that doesn't fit the space requirements of my newspaper. I'm sorry I don't have time to write exclusively for my blog more, but I'm glad so many dance lovers and very smart dance watchers are blogging and adding their voices to the conversation about dance. It's crucial, and I'm glad that my own modest blog sometimes puts me in contact with them. But the primary focus of my work is the Chronicle because that is where I make my living