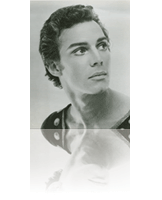 Richard Rutherford was with The Royal Winnipeg Ballet for twenty years, starting in the corps de ballet in 1957, before rising to the rank of soloist and then principal dancer. He retired from the stage in 1970 and was made Associate Artistic Director of the company. He left in 1977 and joined the staff of the Canada Council for the Arts as the officer in charge of grants to individuals in dance. The Canada Council for the Arts in Ottawa is the equivalent of the National Endowment for the Arts in Washington D.C. Mr. Rutherford kept that position for eighteen years until he retired.
Q. How did your dance career begin?
As it happens with many careers, my interest in dance began when I was very young and in the third grade under the influence of a very creative teacher. She had all of her third grade students improvise to music in the afternoon after lunch. I think it was unusual for this to happen but I seemed to take to it and my teacher encouraged me so I enjoyed it more and more. It was a long time before I actually started to study dance. That didn't happen until I was in high school in Raleigh, North Carolina. I started taking one class per week and during that time I had the opportunity to see The American Ballet Theatre and the London Festival Ballet. Of course, I was smitten. My dance teacher told me that if I wanted to become a professional I must to go New York. She seemed to think I could become a dancer so when I graduated from high school on June 4, 1955 I moved to New York on June 5. My teacher happened to be in New York herself that summer and introduced me to different studios and the one I chose to stay with was the School of American Ballet, the school of Ballet Theatre. There were many wonderful teachers there but the one that seemed to suite me the most was Robert Joffrey. He was a very fine teacher and also encouraged me a lot. I seemed to be able to communicate with him. I really wanted to get into his company but, of course, I was not ready. I had only been studying ballet for about two and a half years and barely knew the basics. That didn't seem to bother me and I auditioned for everything, the Metropolitan Opera, summer stock, commercials and finally the Royal Winnipeg Ballet. Mush to my surprise I got the job and the Director at the time was Benjamin Harkarvy, who later became the director of the Dance Programme of the Julliard School.
I had no idea of where Winnipeg, Manitoba, Canada was and didn't really care. I just knew I was going to dance and that was all that mattered at the time. Well, Winnipeg is a rare city and in many ways takes some getting used to. Weather is extreme. Very, very cold in the winter and quite hot in the summer. It is isolated from a lot of Canada because it is in the middle of the country and, as Agnes DeMille once described it, about $500.00 away from anywhere. The people, however, are very supportive of the arts and in a population of less than 700,000 they have two dance companies, two symphonies, several professional theatre groups, many visual artist and writers live there and they also support a lot of sports. Thanks to Winnipeg the Royal Winnipeg Ballet is now sixty-five years old.
My first years with the company were not easy. We had a short contract with the company followed buy thirteen weeks of television and summer theatre after that. The repertoire was very limited but that meant we were always creating new work. Mr. Harkarvy had a disagreement with the board in the middle of the first year and left. Arnold Spohr was there revising some of the works he had done for the company when he was a dancer there and was asked to be the director. I don't think he knew what he was getting himself into but he accepted the job and worked very hard to build the company. He brought in very good teachers and choreographers and the seasons were lengthened and the tours got longer and we were performing a lot. There didn't seem any good reason to go back to New York because we were creating so much in Winnipeg.
Q. From that time The Royal Winnipeg grew considerably and did a lot of touring. Was it difficult? Do all the different stages you have to dance on make a big difference?
I loved touring. For me physically it was much easier than being at home. At home, we had an hour and half class first thing in the morning and six hours of rehearsal after that for a full week. I was in every ballet so that was a lot of jumping and lifting the girls. Touring was sitting on the bus watching the world go by, doing a class and performing, much easier than rehearsing. Yes, the stages were a challenge because they differ in sizes from theatre to theatre. The same ballet had to fit all and that was a challenge. During the early sixties, here in Canada, there were not a lot of nice theatres, mostly old Vaudeville theatres and high school gymnasiums. In 1967, for the centenary, many cities started to build new theatres so we had the opportunity to be some of the first troupes to perform in them. That was a real treat.
Q. Did you enjoy partnering?
I am short for a dancer so partnering was always a challenge. Fortunately, I had some wonderful partners and we managed to work things out. In order to build up my chest and arms I used to do 200 push-ups each day. That was on top of all the rehearsals.
Q. What do you feel are some of the most important things about partnering?
Coordination and cooperation and a real partnership.
Q. Weren't you also involved in stage acting?
My best work was in ballets and stage works that depended on acting as well as dancing. I did several Broadway shows in summer theatre in Winnipeg, like West Side Story, Bye Bye Birdie, Brigadoon, Carousel, Damn Yankee, etc. and my favourite ballets were ones that required acting, like Rose Latulippe by Brian Macdonald, Mayerling by Peter Darrell, The Bitter Weird and The Golden Age by Agnes DeMille. I liked being a character rather than just pure dance. I committed suicide twice and stabbed a man in his back on his wedding day and did a lot of silly things but when the curtain came down I didn't have to pay the consequences. However, when the curtain went up again I had to make it better than the time before.
Q. Have you noticed any changes in male dancers over the years?
The changes I have notice in all dancers is they have stronger techniques. Dancers today seem to be able to do just about anything that is asked of them. The big changes are in the choreographers. A lot of the pieces are very technical abstract pieces that are more about mood than substance, if I can express it that way. Not to say this is wrong, just that it leaves me less involved with a situation and more with design. I must say I am overwhelmed with what the human body is capable of doing.
Q. After many years of dancing you became Associate Director of the company. What was that transition like?
In my thirteen years of dancing we traveled from Flin Flon, Manitoba to Moscow and my body was giving out. I started my dance career before I was physically ready for all the demands. Those years of constant physical work took its toll and I began to experience pain that was changing my love for dance. Both my feet and back were giving out. One day at the end of a tour of Italy I said to Arnold Spohr, "I think you should start thinking of replacing me because I don't think I can go on much longer." He needed help in running the company and I needed a new direction so when I was offered the job as Associate Director I took it. It was very different to tell dancers what to do rather than do it yourself. I enjoyed trying to keep the ballets alive. I had worked with many of the choreographers and understood their work and knew the motivation behind the movement. To me that was more important than knowing the steps. Those you can get off a film but I wanted the dancers to know why they were doing certain steps.
Q. What do you look for in a dancer?
Their love for dance, their instinct for movement, their wanting to work as a team, their enjoyment of bringing this art form to an audience. After all, the audience is the reason we dance. They must forget themselves and deliver and in order to do this they must be willing to work very hard. If they are willing to do this, they will be rewarded by an admiring public who will pay to come back again and again to see them dance.
Q. From Associate Director you moved on to being a member of the Canadian Council for the Arts. How did that come about?
After seven years as Associate Director I became restless and needed a change. The job was not satisfying me as it once had and it seemed time to move on. I had been on the advisory panel to the Canada Council and there was an opening for an "Officer in charge for grants to individuals in dance." The Canada Council for the Arts is equivalent to the National Endowment for the Arts in the U.S.A. I understood the workings of the council and the job was offered to me so I accepted it and moved from Winnipeg to Ottawa. This new job was administrative but it introduced me to forms of dance other than just ballet. I got to know something about classical Spanish dance, classical Indian dance, Native dance and a lot of new contemporary dance. I was responsible for putting together juries to adjudicate the applications and arrange the auditions across Canada. The programme was open to all professionals whose work was important to the development of dance. That included dancers, choreographers, teachers, technicians, historians, administrators and even dance photographers. I became involved with all sorts of dance people and provided them with the chance to apply for a grant to extend their training or to develop new works.
Q. What advice would you give to a young dancer?
Frankly, I would not know how to advise them except to say, follow your heart. If an artist asks his or herself too many questions it will probably ruin the love for what they are trying to do. When you ask yourself "what am I doing this for and where will it get me," it is usually time to give it up. Being young, naive and just a little stupid will get you farther than asking yourself too many questions. If you are really a dancer, you will dance!! When I joined the royal Winnipeg Ballet in 1957 I was twenty-two going on fourteen, and today I am seventy-one, going on twenty-two. My career as a dancer was not a long one but very fulfilling and I am very grateful to have been a dancer.