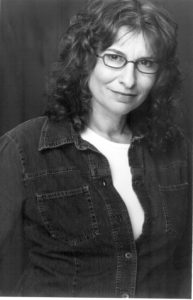 Rose Eichenbaum is one of the most respected photojournalists working in the dance field today. She is an award-winning photographer and author of Masters of Movement-Portraits of America's Great Choreographers and The Dancer Within-Intimate Conversations With Great Dancers. Ms. Eichenbaum's photography and articles appear regularly in numerous magazines and newspapers including nationally acclaimed Dance Magazine, Pointe, Dance Spirit and others. She is a gifted inspirational speaker and has been addressing university dance departments around the country promoting dance literacy and education.
Q. When did you start dancing?
I discovered dance in high school at the age of sixteen—inspired by my first dance teacher who introduced movement in such a unique way that I was hooked from my very first class.
Q. What type of dance were you involved in?
My first experience with theatrical dance was modern dance. I then took classes in ballet and jazz, and studied the dance of different world cultures—Ghana, India, Israel, Korea, Thailand, and Indonesia—Java and Bali as part of a dance ethnology major at UCLA.
Q. You went to Israel to continue your dance education. What was that like?
I was accepted into the Reuben Academy of Music and Dance, a prestigious performing arts school in Jerusalem, Israel after passing an audition. The curriculum included ballet, modern, jazz, music theory, dance history, philosophy, anatomy and other related subjects. Almost all of the subjects were taught in Hebrew—which I was not fluent in. Trying to learn a new language and dance technique at the same time posed some interesting problems. However, most of the modern dance classes were taught by an Israeli woman who had trained with Martha Graham and had performed in her company. Jean Hill Sagan who had worked with Alvin Ailey also taught there. Both spoke English and I was to gain great insights from them.
Q. Why did you switch to photography and when?
p>My decision to become a photographer came quite by accident—not really a switch from dance, but in addition to. I discovered photography after my children were born. I picked up a camera to photograph them and fell in love with it. That was almost thirty years ago—
Q. How did your professional career photographing dancers come about?
A neighbor of mine saw me photographing my kids and asked me if I would take pictures of her daughter dancing in a concert. While taking those photos, a woman approached me and asked for my business card. She said she was a choreographer and was interested in seeing my portfolio. Her name is Zina Bethune. I didn't have business cards or a portfolio—only pictures of my kids. Thinking fast on feet, I told her that if she gave me her card, I'd get in touch with her in a week's time and show her my work. During that week I visited the ballet school where I had trained and photographed dancers taking classes. I came away with enough photos to fill a book. I presented them to the choreographer and she hired me on the spot. This launched my career as a professional dance photographer. I still shoot for her more than twenty years later.
Q. How did you get hired to take pictures for magazines like Dance and Dance Spirit?
I sent a promo card—a card with one of my dance images –a man doing a jete to the managing editor of Dance Magazine. He was impressed with the image on the card and phoned asking if I had more. "Yes, of course," I told him and sent in what I considered my best work at the time. Before I knew it, the magazine was using my photos and giving me assignments.
Q. Were you also involved in writing the articles and is writing articles to accompany your photographs an important part of being able to get magazine and newspaper jobs?
I understood that in order to have my photographs used in magazines they would need to illustrate feature stories. So I began to pitch story ideas to the editors and they liked them. One editor said, 'That's a good idea why don't you write it?' And so I tried it and found I loved writing. From then on I often did both.
Q. How and when did the idea for your first book, Masters of Movement occur?
By 1998 I began to feel that working mostly as an editorial photographer was not all that fulfilling. I began to view my monthly submission of articles and photos as disposable art—once the new issue was out, the old issue with all my hard work was tossed out. I felt that I had within me the capacity to create something that could serve the art form more substantially. And then an assignment with Dance Magazine led to the idea for Masters of Movement. Dance Magazine's art director gave me the job to create portraits of a few big name choreographers. A light bulb went off in my head. What if I were to create a photographic archive of some of the great choreographers and pioneers of dance in America? I knew that by doing a project of this scope that I would be creating an important educational resource for dance but would also be satisfying my own artistic needs and challenge myself in new ways.
Q. What was the process like to find a publisher?
Finding a publisher was a trial! Masters of Movement was rejected by just about every mainstream publisher citing that while it was an extraordinary work, "dance books don't sell and we won't make money on it." I worked with two very capable literary agents but neither one could sell it. Finally, on my own, I sent the submission to Smithsonian Books and they immediately picked it up for publication. I held the first copy in my hands in the fall of 2004, six years after I began.
Q. The Dancer Within and Masters of Movement are expensive books to produce. There's a lot of travel and hotels and the books themselves are large, hardback books. How did you find the money to produce these books?
Smithsonian Books and Wesleyan University Press incurred the publishing costs for both of my books but the expense for creating the text and photos came out of my pocket—a ten year investment that required extensive travel, photo expense, (most of the photography was shot with film), personal sacrifice, time and money, lots of money. I can't even begin to calculate how much money was spent. Everything I had and everything I earned through my free lance photography business, teaching and financial support from my husband went into the creation of these books.
Q. What was the process like getting the choreographers and dancers to agree to the interviews and photos?
Asking the choreographers and dancers to participate in these books was often more difficult than I could have ever imagined. Generally I would just pick up the phone and call "their people." The more prominent and famous they were, the harder it was to get them to participate. For example, it took four years to get Judith Jamison to finally say yes, five years for Paul Taylor. Patience and persistence with generous portions of wishful thinking was the only way to go.
Q. How do you get through to someone like a Liza Minnelli or a Mitzi Gaynor?
In the case of Liza and Mitzi—very tough people to get to, I had help. I could not have done it alone. Master jazz teacher, Luigi who I knew from working with him on Masters of Movement and Frances Roach helped me with Liza. I knew Mitzi's publicist and he contacted her for me and then continued to nag her until she said, okay!
Q. Were there some dancers and choreographers you wanted to get but couldn't and what was the problem?
There were only a few choreographers and dancers that I really wanted who refused to participate. I can only site selfish reasons or vanity issues.
Q. The interviews are incredible in terms of the depth and number of insights. Both the dancers and the choreographers give a lot in the very few pages of each interview. Were the interviews much longer? Did you do a lot of editing?
There is always editing just to bring conversational interviews to a literary level but in almost every case, I had very well thought out questions specific to each person and I went straight for the nuts and bolts. Because I had been a dancer I understood the dancer's experience, knew the language of dance and could speak to them in a way that made them feel as if they were speaking to one of their own. And for this reason I think they felt compelled to open up to me.
Q. Were there any general differences interviewing the dancers as compared to the choreographers? And since you interviewed choreographers and dancers from all types of dance forms, were there any differences to their interviews?
I didn't find a difference between the choreographers and dancers with regard to the interviews. All spoke candidly about their process, their experiences etc. Their style of dance was also not a factor. However, posing for the lens was a different story. The dancers were much more concerned about appearances and more guarded about their image. Generally speaking, vanity played a role with the dancers—not so much with the choreographers.
Q. Were you yourself surprised at how rich the responses were and how did you encourage it? What I also found fascinating was that the depth of the insight and devotion to dance changed little no matter who the dancer was or what type of dance they were involved in. The Hollywood stars were as devoted to dance as the ballet dancers. Why do you think that was?
All of the artists featured in my books where chosen because of their contribution and devotion to dance regardless of their style or performance venue—stage or screen. I quickly learned that I was dealing with highly intelligent, articulate and committed individuals.
Q. The only two disappointments in terms of interviews were Mark Morris who's answers were very curt and Baryshnikov who only consented to a picture. Are there any background stories you can relate regarding those two "interviews."
It's interesting that you ask this question in this way. I don't view these encounters as failures or disappointments but more as revealing portraits of these two men. I learned a lot about them by what they did not say or do.
Q. From reading the books, it seems like it never took many shots to get the photograph you use in the book. Dancers are obviously photogenic but how many shots did it really take? How long were the photo sessions? Were there any unusually short or long sessions?
In both books, I was usually limited with time…just what the subjects were willing to give me. Out of necessity I learned to shoot fast and be highly attentive. I don't usually need to shoot much. My ratio of good images is very high. With Liza Minnelli I had seven minutes to create the photo you saw in The Dancer Within. Turned out she had to catch a plane at the last minute and so I had to pull it out as quickly as I could. This sort of pressure played out many times over.
Q. What were some of the most meaningful interview moments?
I couldn't even begin to answer that one. I will say that I learned volumes from just about everyone I interviewed—whether it was something they said or just a feeling that I came away with. Pushed to the wall…I think I was most personally moved by my encounters with Anna Sokolow at the age of 90 and Jose Greco at 81, Gregory Hines, Katherine Dunham, Fernando Bujones, and Fayard Nicholas, and of course Russell Clark who died during our work together (Read That One!).
Q. What were some of the worst? Beside Mark Morris and Baryshnikov?
Again, I don't judge my encounters this way…best or worst. I think of them as very telling, very revealing about the kind of men they are—how they treat others, how they present themselves, and interact. One of the lessons learned in creating this work was….just because someone is highly gifted or talented doesn't always mean that they are nice people.
Q. Most surprising interview?
They were all very surprising.
Q. What were some of the things you took away from your interviews?
Masters of Movement in particular was life changing for me because it informed me of what it means to live the artist's life— to maintain balance of one's personal and professional life, create with integrity and for the right reasons, to value the human spirit and work towards giving rather than receiving, to never give up on a dream and trust one's instincts. What I learned from these great masters of dance was enlightening and profound and changed me in ways that I am still discovering. Their words continue to inform and inspire me.
Q. What are your secrets to getting a good interview? Did you change any of your interview techniques from the first book, Masters of Movement, to the second, The Dancer Within?
Cultivate good people skills if you're not one that communicates easily with others. Establishing trust with your subject is the key. Be yourself, be real, be honest, and come in having done your homework. Take the time to research who ever you're interviewing and think through your questions so that they illicit responses that add something new to the mix. It's a lot like digging for hidden treasure—you don't know what you'll find but you have to be digging in the right place. My interview style hasn't changed much since I first began.
Q. What are your tips for good photos?
Photography is an art as well as a learned skill and in order to come away with really good photographs, one needs to work at it like any other discipline. Study photography—know its history and the basic fundamentals of lighting, composition, perspective, etc and practice as much as possible. Never rely on chance.
Q. Any career advice for budding photographers and journalists?
Do personal work!!!!! Find something that excites and moves you and then work to develop it with your own voice and your own unique expression. Often that means taking creative and artistic chances and risking failure but there are many inherent lessons there too. So dive in.
Q. Any new projects that you'd like to tell us about?
I am currently working on creating a series of companion books to The Dancer Within for Wesleyan University Press. The next in the collection is The Actor Within which will feature some of the most celebrated actors of stage and screen.
To see some of Rose Eichenbaum's photographs and to learn more about her books, you can visit her website at: http://www.rosesfoto.com/