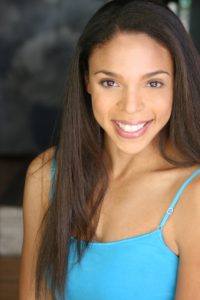 Sandra Colton is a member of SAG, AFTRA, ASCAP and The Recording Academy. As an elected member, Sandra serves on the Los Angeles Board of Directors for AFTRA and was appointed to the SAG Dancers' Committee. Along with the release of her first book, BOOK ME!, Sandra is currently writing her first screenplay and publishing her newest magazine called Dance Track in January of 2010. She is also penning her very own dance-inspired greeting card line called Spot On! Greetings, also available in early 2010. Sandra was a top finalist on Season 1 of FOX's So You Think You Can Dance, performed on the Tonight Show with Jay Leno and danced in music videos for Snoop Dogg, Justin Timberlake, Chelo, The Game, Katharine McPhee, Raphael Saadiq, Marie Serenholt, Cascada and Too Short. A former Laker Girl, Sandra's credits also include commercials, an HBO special with Cedric the Entertainer, and roles in Bring It On: All or Nothing and The Day The Earth Stood Still. JUST DANCE, Sandra's album, garnered Los Angeles Music Award nominations for Best Pop Artist and Best R&B Song in 2007. Sandra launched her magazine Original Girl® in September of 2008 and plans to launch her clothing line O.G. Style in the fall of 2010. Born in Des Moines, Iowa, Sandra has been performing since age 3 and got her start in Las Vegas as an opening act with her sister performing alongside Bill Cosby, Lou Rawls, Savion Glover and the Nicholas Brothers. The sister act, Colton and Colton, went on to win the Teen Dance category on Star Search in 1992.
Q. What got you into dancing and what kind of dancing are you involved in?
My mom is actually the one who got me into dance when I was three years old. I was too young to take piano lessons and so she thought dance was the next best thing. Currently, I enjoy hip-hop, jazz, jazz-funk and tap. I'm also trained in stunts, gymnastics and cheerleading as well.
Q. When you were 12, you and your sister competed and won on teen star search. How did you hear about the competition, prepare for the competition and enter the competition?
My sister Christine and I were performing around the Bay Area as we lived in Millbrae, Calif. Our dance teachers, Micki and Steve Granger (Steve was part of the vaudeville era and taught Shirley Temple and the many others on the MGM films including Our Gang and others), closed their studio and moved to Las Vegas to retire and my sister and I went to take lessons from them over the summer months. We never went back to Millbrae, we stayed in Las Vegas and our mom relocated our belongings so we could continue to take dance from them. We got an agent in Las Vegas and started performing on the Las Vegas Strip and our agent is the person who submitted us for Star Search and ultimately we won the Teen Dance Championship in 1992.
Q. Who was responsible for your early training?
My early training was in Tap. My sister and I were hailed as the "Female Nicholas Brothers" because we were very clean and styled and acrobatic as well. The Nicholas Brothers came to our Final Championship appearance on Star Search.
Q. Do you remember your first professional class and what was it like?
My first professional class didn't really come until after I graduated from the University of Oregon. I auditioned for D.D.O. in Los Angeles and that was my very first professional class, if you will, competing right alongside dancers dying to get an agent and having been training in L.A. for years. It was nerve wracking and I had performing experience but the competitive atmosphere was something I hadn't seen in a very long time.
Q. What was your dance dream growing up? And what is your dance dream now?
My dance dream growing up was not really one that emulated anyone else's. I always wanted to be a teacher and just happened to be a good dancer. I always wanted to share my knowledge with others and believe that this is still my dance dream now; To share what I've learned and help people along the way to accomplish their dreams.
Q. After you won teen star search what was your next step in establishing your dance career?
After my sister and I won Star Search, we took our act, "Colton & Colton" to the stage and on the road. We opened for Lou Rawls and Bill Cosby on the Las Vegas Strip and also performed in Atlantic City, NJ. We did public service announcements for latchkey children in Las Vegas and were voted "Entertainers of the Week" by the local media.
Q. You went to the University of Oregon. Spending 4 years in college is not a choice every dancer makes. Why did you decide to go to college and why the University of Oregon when you got into NYU and USC which are much more obvious choices for a dancer who wants to have a professional career?
I applied to 3 and was accepted to schools, NYU and gained early admittance to their Tisch School of the Arts, USC and University of Oregon. The reason I applied at the U of O is because my sister went to their campus as she was attending University of the Pacific. Pacific played Oregon in football and she told me that the Oregon Cheer & Dance Team was outstanding. So my options to attend USC and NYU were obvious ones to advance my theater or television career. Instead, I opted to attend the University of Oregon and focused on obtaining my B.A. with Honors in Sociology and Journalism. This was best for me as I knew that education in a different area of study would be important as a fall back option. I, ultimately, have used my degree in many ways, starting my own magazine, Original Girl Magazine and in writing my new book, BOOK ME1 How To Become A Successful Working Dancer In Hollywood.
Q. Looking back on college, is there anything of value that you now use in your dance career that you learned in college?
I use many things now that I learned while in college. Learning how to live and work with many cultures, understanding deadlines and being at your best in addition to being part of a team are all things I can say help me in my dance career that were emphasized while I went to college and participated as a student athlete cheering for four years at the University of Oregon, working in the Athletic Department and representing the school in their leadership council.
Q. You've worked in various cities like Las Vega and Los Angeles. How do you move to a strange city and set up yourself as a dancer and start getting work? What kind of preparation do you make before you move? What are some of the first things you do when you arrive in a new city?
It is very difficult for anyone to pick up and move to another city; especially if the person doesn't know anyone in this new town. Los Angeles, Calif. and Las Vegas, Nev. are both difficult cities to move to because they are entertainment capitols of the world. This means that there is more competition for jobs, relationships to build with choreographers, clients, producers, directors, casting agents, etc. Work needs to be put in if you want to see anything come from it. And even when you put the work in, you may not reap the rewards for a very long time. In my book, I strive to give dancers the tools they need to prepare themselves for the long hard road they will travel in putting together a successful career in Hollywood. By coming into the new city prepared with skills and technique, your foundation will be solid. You must also come with a sound mind and body and a work ethic as well. Be hungry and never settle.
Q. What were some of the biggest obstacles you've had to overcome in your career?
Some of the biggest obstacles I've had to overcome in my career were my own personal wants and goals for myself. At many times in a dancers' career, the "no, you're not right for the part," can become daunting and you can hear it for many different reasons. For me, I never let that stand in my way of getting what I wanted accomplished and branched into other areas of entertainment. I recorded an album called Just Dance and it is available on iTunes. I started a magazine called Original Girl. I started blogging about dance and started Dance 365 to become a hub of where my dance and entertainment thoughts can be accessed. I wrote my new book called BOOK ME! and ran for a seat on the Board of Directors LA Chapter and was elected. I started acting and gained recognition in a few roles including one in The Day The Earth Stood Still. For me, when I heard "No, not this time," or "No, we're looking for…." someone who was taller, shorter, skinnier, curvier, etc, etc, etc…I just did my own thing in addition to auditioning for dance, commercial and acting parts and continued to hone my craft. These were the obstacles I encountered and combated with my own version of energy pushing myself into the more well-rounded asset for the next time I auditioned.
Q. You worked as a dancer in Las Vega, what kind of jobs did you have and what was that time like?
I worked as a go-go dancer in Las Vegas after graduating from college at Rum Jungle inside the Mandalay Bay Hotel & Casino.
Q. You also worked as a Laker girl. Why did you decide you wanted to work as a Laker girl? Was it just to open doors to other opportunities or did you really want that job?
I always wanted to be a Laker Girl, and it is a great addition to your resume also. Since watching Paula Abdul on the court, I thought it would be a great job to have and great seats too!
Q. You've also appeared on a couple of dance shows—So You Think You Can Dance and Dancing with the Stars, what was that experience like?
Appearing on So You Think You Can Dance and Dancing with the Stars were great experiences. I think any time you are featured on a show that highlights the great importance dance has in our culture it pushes dance to the next level. I'm grateful to have been a part of that.
Q. Acting is something else you've done. Do you take acting lessons?
I do take acting lessons. In L.A. lessons are very expensive and taking classes is very good to continue to get better and hone your skills. I've taken scene study and audition technique classes and have also worked with coaches for upcoming auditions as well.
Q. How did your dance training help you with your acting career and visa versa?
I think my dance training helped me to explore my expression but acting is a different animal and unless you really study nothing can really prepare you for each experience, as they are all unique and individual.
Q. You've now published a book called, Book Me. What's the purpose of the book?
I wrote, BOOK ME! How To Become A Successful Working Dancer In Hollywood, because I wanted dancers and other entertainers such as singers, actors and comedians to have a leg up on the competition. Stories from over 50 working dancers, and tips from over 50 working choreographers along with all of the top dance agents and casting directors are what will help the reader be a step ahead of the thousands of talented people who move to Hollywood to "make it" each year!
Q. How long did you take to write it?
It took me a year to write BOOK ME! How To Become A Successful Working Dancer In Hollywood.
Q. I noticed that the price of the book is $55.00 and that it has full color pictures and over 350 pages. Why did you go that route for a book about how to get dance work instead of a less expensive book to publish with just text?
In writing this book, there are multiple pictures of how to audition with techniques on showing your hands, standing in a height line, facial expressions, examples of dancer headshots, photos of choreographers you should know and so much more. By creating a full color book, it increased the price of the book but I didn't want to do anything less than what I thought would help dancers succeed. This is a quality book that deserved to be done in the right way for dancers to really benefit from it.
Q. Reviews have called your book a valuable dance resource and a "dance bible." What is the range of information that's in it?
You will find information on contracts for SAG and AFTRA, quotes from over 50 working choreographers on what they like to see at an audition and on the job, over 50 working dancers give their advice on how they built successful careers, make up and hair tips from celebrity make up artists and yours truly, and my own personal knowledge working on television and in film and on stage and the importance of preparation and what you'll need to know while out on tour. So much information is in this book, it's crazy!
Q. Obviously, you want people to buy the book but can you share with us some insights about getting "booked" and having a professional dance career. What are some common mistakes? What are some important things for dancers to do?
Doubting ones own ability is the most common mistake. Not going to the audition because you don't think you're right for the part when your agent thinks it's totally you! You never know whom you'll meet at an audition, or what contact you might make while there. Even if you aren't right for the part, you're still auditioning for the next audition. Remember that!
Q. Where do you live now and what are some of your current projects?
I'm currently teaching all over the country and traveling to promote my book, BOOK ME! How To Become A Successful Working Dancer In Hollywood. I'm working on a screenplay for a dance movie as well as a dance DVD, so look for those in the future.
Q. You seem to be branching out into a lot of different areas. Are you concerned about spreading yourself too thin?
I find that I have a lot of ideas and places to throw my creative forces. I don't want to ever stifle that juice and want to make sure that each idea gets the full attention it needs. Yes, there are only so many hours in a day and I don't get much sleep. But I figure that with the amount of projects I'd like to do, each one will have its day.
Q. What are your goals now?
My goals now include finishing my screenplay, pursuing more acting and possibly directing. I always want to be a voice for dancers, and stay committed to helping the community. I'm on the SAG Dancers' Committee and stay involved on that front as well.
Q. What keeps you dancing?
My love for the art keeps me dancing. Trust me everyone's body will not withstand the test of time as a dancer so as long as I can, I'm going to bust my butt to make my moves shine! Plus, sweating it out brings your sexy back!
Q. What's the most exciting moment for you when you're dancing?
The most exciting moment for me when I'm dancing is when I can see that the audience is with me on the journey and that they are going to go with me wherever I take them.
Q. What's a typical day like for you now?
My typical day, hmmmm…a day in the life of a dancer is never typical. Lots going on, dancing, teaching, writing, singing and playing all day long!
To visit Sandra Colton's website, click on the URL below. To return to Ballet Connections, click on the upper left hand arrow on your browser.
www.SandraColton.com
To check out Sandra Colton's book on Amazon, click here. BOOK ME! How To Become A Successful Working Dancer In Hollywood

To return to Ballet Connections, click on the upper left hand arrow on your browser.
(Photo credit: Deidhra Fahey)