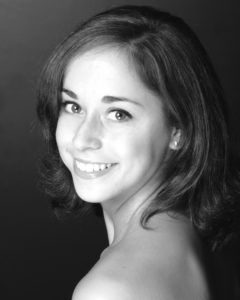 Sara Esty is from Gorham, Maine where she trained at Maine State School for the Performing Arts and danced with Maine State Ballet. In 2004, she became a student with the Miami City Ballet School in 2004 and then joined Miami City Ballet as a Student Apprentice in 2005. She was promoted to member of the Corps de Ballet in 2007. Sara has a twin sister, Leigh-Ann Esty who is also a member of the Miami City Ballet.
Q. Since the Winter Olympics are going on as we speak, let me ask if you've watched any of the Olympic figure skating?
Yes. I watched the couples, the pair skating and last night I watched the women's short program and I watched the men's last week. I was really excited about the men's outcome but we'll see about the women's.
Q. As a dancer, is there anything you can learn from watching figure skating?
You look at some of them and their port de bras, their upper bodies are just so fluid and their legs are so strong. They land on like a razor blade on the ice. I can't ever imagine doing that. I try to be graceful when I'm on ice skates but it doesn't always work out. So, yes, I think you can learn from watching. You can pull things.
Q. Gymnasts compete when they're thirteen. But skaters are closer to ballet dancers in terms of when they reach their prime. Why do you think that is?
I think the oldest girl who was skating last night was twenty-eight. Ballet and skating must use some of the same muscles but for skating your legs have to be really, really strong. Ballet, of course, as well but you're not on ice.
Q. Were there specific points in your life you remember as being very significant to your dance career?
My first big realization that I wanted to take dancing seriously and pursue it was when I made the choice to leave home, which is Maine, and come down to Miami to attend Miami City Ballet School and try myself in a bigger pond. Where I come from it's such a small town and such a small ballet company. So that was a big step for me. It was either that or stay home and be in a small town all my life. But it was a defining moment where I said to myself, "OK. I'm going to go and I'm going to do this." The next one was definitely when I got accepted from the school into the company. It was our student showcase gala night, and Edward Villella came up to my sister and I and asked us if we would like to join the company. I was freaking out because my parents had come down and the whole family was there and it was really something special. I think another defining moment for me was when Edward nominated me for a Princess Grace Award. I mean even the nomination was incredible. But when I put my video together and wrote my essay and he wrote a recommendation—a really wonderful letter—and when I found out that I had won, and I got to go to New York to the Gala and I accepted my award on stage with all these other incredible dancers. I could look around me and see dancers from New York City Ballet and American Ballet Theatre and I felt like I had made something of myself and it's been recognized. That was incredible for me, really.
Q. What are some of the secrets for your success?
I've always tried to look at other dancers and pull little characteristics that they have that I really admire and try to incorporate them in my dancing. I like picking what I like and using it. But I also have really tried to find myself and say, "OK. They will do this step like this but how will I do it?" For me and my personality and my way of dancing. Sometimes I have to block everyone else out and say, "OK. How would Sara do this?" Everyone else is beautiful in their own way but I really want to be able to stand out as my own type of dancer.
Q. Who are teachers that have influenced you?
When I was really young my sister and I both went to the Maine State School for the Performing Arts which is the school of the Maine State Ballet Company. And the Artistic Director is Linda McArthur Miele who used to be with the New York City Ballet. I think she got in at a very young age. I think she's almost the youngest to have ever been accepted. I think she was fourteen. And she's been responsible for a lot of my development. She and her daughter, Janet Davis. They've both been the most wonderful teachers. Still even to this day when I go home, I see them and take class with them and whenever I'm encountering a new role here, I go back to what they said and what they taught me.
Q. What is your ballet dream?
It's every girl's dream to be a ballerina. I'm twenty-three and I'm still dreaming about it. I feel like you can never learn enough. You can always move up. You can always get better. And every day I try to fulfill that dream a little bit more and hopefully every year I progress. There's one particular role I've always dreamed to do in Rubies, the principal role. I would love to do it someday. And there's ballets like Afternoon of a Faun where the music is just so gorgeous, you weep every time you see it. Just parts that you can really touch the audience through the movement. Those are the parts I dream to do.
Q. What are some of the obstacles you've had to overcome?
Ballet is a very, very competitive industry. My sister and I are twins, so we couldn't be more alike but it's hard growing up, being so very close to her and friends whom you dance with. You can't help being a little jealous if they get to do something, and then when you get to do something, they're kind of jealous of you. I consider myself very lucky having grown up not going to a huge ballet school because they're very humbling. Everyone supports each other in a small town. I'm trying to carry that through here. You look around and you see a lot of drama. It's kind of my goal to stay out of that. It's not who I am and I don't want to be one of those dramatic people. Luckily, here it's not too, too bad, although there are moments. But it's only natural in this kind of work that we do. But I would have to say the drama has been somewhat of an obstacle. But that's for everyone.
Q. What's the exciting moments for you when you're dancing?
I really feel that when you get a piece of music that's absolutely to die for and that's big and grand and beautiful and you can't help but grin. I love those moments on stage when you feel so happy and excited that you're dancing to this incredible music with these incredible steps and you're on stage with your friends and you can see each other and smile at each other. For instance, I did a role with my sister in Twyla Tharp's In The Upper Room and I've never felt a rush like that on stage before. Just the music and the steps and you're so exhausted but you just keep pushing and going. The Phillips Glass music is incredible.
Q. Who are some of the dancers you admire?
In this company, I am inspired by the dancers on a daily basis. Just being surrounded by these dancers and getting to know everyone and the way that they work. My sister's an inspiration to me. My friends. To name a few. The principal, Jennifer Kronenberg. She is just the ballerina everyone wants to be. She's fast and sharp when she needs to be but then she can turn around and do something like Giselle with the most fluid and beautiful movements and she never ever slacks or takes it easy. She's always working hard. Same thing with the Delgado sisters. They're just incredible. And the nicest people you'll ever meet. My friend, Jennifer Lauren. Everybody around me has been really supportive. They're all inspiring to watch.
Q. What makes a dancer great? Certain dancers seem to have "it." What do you think that "it" factor is?
For me, I think the "it" factor is the performance quality. I could care less if their leg is over their head or if they can do a million pirouettes but if they don't smile or show the music through their movement and look like their enjoying themselves, they're kind of boring. If you see a dancer on stage who can do everything but has nothing going on in their face, then, I think what is that? I can't watch it. But if you show me somebody who has no flexibility and no feet, but if they have that performance quality— if they have that something so you can't take your eyes off of them just because of the way they're moving and their face and the characteristics they have, that's for me. Don't get me wrong. People who can get their leg up and do all the other things are very impressive but I would rather watch someone who looks like they're having the time of their life than someone who's trying to impress someone.
Q. How do you keep your composure before a performance, during a performance?
It's funny. I never used to get nervous before I went onstage. It was more excitement. But lately I've been getting nervous. I think it's because the roles I'm being given are more challenging. But I try to give myself enough time to get my make-up and hair done and maybe an hour before the show, I give myself a nice, relaxing warm up where I get really warm and I can feel my muscles and my body and maybe put some music on and put my earphones in and try not to get too worked up and just know I can do this. I have music I always listen to. During a performance, sometimes if it's a more serious role, I can't talk to anyone when I come off stage. I try to keep myself in the zone. But if it's a more fun, exciting part, then I can share that excitement with other people. So, I guess it depends on the role. I guess I just try to keep myself as calm as possible and try not to psych myself because I know that will only make it worse.
Q. How do you bring movement to life?
My favorite thing to try to do is to hear the music and then bring the music to life through the steps. Some people simply do the step to the music. But I try to take the steps that I've been given and use them in a way where I see the step and see that the music fits that step perfectly. You see it and you can bring the music to life because of that step. I want the audience to feel something while I'm dancing. That's my number one goal. I never want them to see it look hard or taxing on me. So that's my personal goal to bring to the audience what I'm personally feeling while I'm dancing. I want everyone to feel and know how amazing it is to dance.
Q. Most ballet companies now have dancers from all around the world. Does that ever create a problem with people counting in different languages?
I'm not really a counter. Sometimes it helps, for example, in the ballet Rubies, there's a five and then a six and then an eight and then a five and this gets complicated, so you have to count for the first couple of weeks when you're learning. But for me it's more the music/muscle memory. If I hear a piece of music I associate those steps and the timing with it. But it does get confusing sometimes when you hear Spanish over here and French over here, but you just try to plug your ears and go for it.
Q. Did you study music, along with your ballet?
I did. From middle school to junior year of high school, I played in the band. I played the French Horn. My sister and I were also in our chamber choir in high school, so we have a bit of vocal training because of the high school musicals, etc.
Q. It sounds like the music is very important to you?
I'm kind of a dork that way. I love the music. I download movie soundtracks and lots of classical music and I always notice the music.
Q. The last ballet performance of Miami City Ballet included a lot of costume changes. Do the costumes help or hinder you in your dancing?
The costume definitely helps. You put on a costume and you become that role. For sure, it definitely gets you deeper into the piece.
Q. Are the costumes usable as regular clothes that you could wear out on the street?
The costumes are tailored and fit to a certain person. There's a lot of little hooks and eyes and they're made to be more durable than a usual evening gown. Like, for instance, Twyla Tharp's Nine Sinatra Songs has a lot of evening gowns but they're tailored so you can dance in them. You can't just dance in any old dress.
Q. Do people share costumes?
There are usually 2-3 people to a costume. The costume is tailored to the first cast person and if you're the second or third cast person, you get the adjustments.
Q. Are the costumes washed between performances?
I think it depends on the material and the time. Like last year we did Don Q. and it's a big, long ballet with lots of costumes and there just wasn't enough time. Our costume guy walked around with Febreze to try to make it a little better.
Q. Do you have a preference between classical and modern ballet?
I would love to be able to do everything. I'm working on achieving my personal best in everything that's thrown at me. I'm a big fan of the neo-classical—Balanchine ballets which are a little more jazzy and a little less Sleeping Beauty. I love them because they're very jazzy and quick and witty and you can use your expression throughout them.
Q. How do you get the attention of the choreographer or the director?
I think the way I try to reach them is onstage. Not so much that I'm trying to stand out but that I'm just doing what I do and luckily they've liked it. I just try to do my best onstage and hopefully it gets noticed.
Q. What's been your biggest challenge?
My first huge ballet with Miami City Ballet, I did the pas de deux Tarantella and it was the hardest thing I've ever done onstage. It's about ten minutes long and it's all jumping and turning. It's you and a boy and you both come on and then he leaves and you dance and then you leave and he dances and we each probably have three or four times to come on stage and I remember at the end of the dress rehearsal, Roma, our ballet mistress, was trying to talk to me to give me corrections and I was so dizzy I had to sit down. I thought I was going to throw up. It felt awful. That was the hardest thing I've ever had to do. The rest of the day I couldn't move. I just sat around, drinking Gatorade and thinking I have to go onstage for real next time. And you have to have all your energy as strong at the end as at the beginning for the big finish.
Q. As a ballet dancer you have to do a lot of PR things and interact with audience members and subscribers and donors. Do you enjoy that aspect of the business?
I love it! Some people don't like to do it. But being a fanatic of the arts and going to shows and seeing performers come out the back stage door, I get star struck every time. And when I get a chance to talk to performers, I get so excited. But then I think, "Wait a minute, I do that." So, whenever I meet someone and they're saying, "Great job and we loved the show." I'll spend a couple of minutes talking to them. I love to share what I can with them.
Q. What's a dancer's responsibility to the teaching staff?
I would love to gain the respect of the artistic staff and prove that I'm a hard worker. I definitely try to keep a good relationship with them. Checking with them how I'm doing and what I can work on. Just to keep a positive attitude in the work place. Even if I'm feeling sluggish or have a problem that day, I try not to let them see it because it brings them down and brings up all sorts of negative questions like maybe I'm in a bad mood or is there something wrong or is she not happy here. I try to keep a positive attitude.
Q. Any ballet movies or books that you like?
I like to see the movies. I think some of them are good. But I most enjoy taking out full length ballets that have been filmed because they're a more intimate, personal look. I like Youtube. I like researching the different ballet companies. It's amazing there's so much out there to find.
Q. Any advice for young dancers?
I would say what my mom always told me. Take one day at a time. Don't let the bigger picture overwhelm you. Keep working hard every day. Even if you don't feel like you're being noticed or you don't feel that it's worth it, it does pay off. I think I'm living proof of that. You can start in a very small place and end up in a very big place as long as you put your head to it and you stay focused. Yes, you have to make some sacrifices through the years but for me definitely it was worth it, and hopefully it will be for many other young dancers.
To see a video interview of Sara Esty made by the Miami City Ballet, click on the URL below. To return to balletconnections.com after watching the interview, click on the back arrow in the upper left hand corner of your browser.
https://youtube.com/watch?v=aD_Bn3Rqe6k%26feature%3Dyoutube_gdata