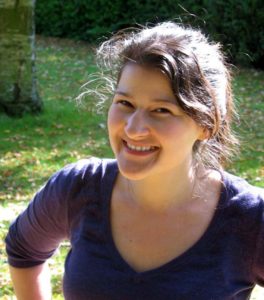 Sarah Rubin grew up on an island off the coast of Maine. She spent most of her childhood in costume, directing her younger siblings in lavish living room productions. After stealing the show as The Littlest Christmas Tree in The Snow Queen Ballet, Sarah focused more on her one true love: writing.
Sarah earned her BA in Creative Writing and History from Skidmore College in New York. After teaching dance and drama for a year, Sarah moved to England where she received an MA in Writing for Children from the University of Winchester. Her first book Someday Dancer was published in America in 2012. Sarah currently lives in England with her husband and son.
Q. When did you figure out you wanted to be a writer?
I knew I wanted to be a writer from a very young age. I think I wrote my first story at 7, and I sent my first manuscript to a publisher when I was 12. Of course, it got rejected.
Q. Your book's about dance. Why did you choose the subject of dance?
I get ideas for stories from all sorts of places. The original idea for the character of Casey Quinn came from seeing a pair of old converse high tops and wondering what kind of person could have worn them out so much. Casey's voice just popped into my head and once I had this image of a girl who loved ballet but couldn't afford ballet slippers I couldn't get her out of my head.
Q. What's your own dance background?
I started ballet as a young girl, but I only kept it up for a few years. I got back into dance in high school, taking up swing dancing (which is still my favorite). And in college I started taking ballet again. I only took ballet causally, but I had a lot of friends who were more serious dancers, so I would go to see their performances. That's how I got introduced to Martha Graham's work. It absolutely blew me away.
Q. You were raised on a very beautiful island in Maine. It would seem to be a perfect place to set a story. Why did you decide to set your book in South Carolina?
I visited South Carolina briefly when I was 19, and I couldn't get over how red the earth was. Being a writer, all of those experiences get tucked into your memory bank, and when I was working on the plot for Someday Dancer, the image of little clouds of red dust being kicked by Casey's shoes felt right for her character and the story.
I would love to set a story in Acadia National Park in the future.
Q. The book has two of the most well-known figures in dance as characters: George Balanchine and Martha Graham. What was the decision process like when you were creating the book and you decided to use real characters?
I started with Casey's character, then the idea of a girl wanting to go to New York and 'make-it' as a dancer. But from the beginning I knew it would be unrealistic for her to be accepted by a ballet school if she had never had any training. I came up with the idea of her meeting Martha Graham instead, and when I started researching I realized that Graham was a perfect fit. Graham herself didn't start her formal dance training until she was in her late teens and so I felt sure she'd take Casey on.
It was really intimidating to think about writing Martha Graham as a character. I didn't want to misrepresent someone who was so important in the world of dance, but I thought if I could do a good job, it would be an amazing addition to the story.
Once I decided to have Graham, I had to have Balanchine as well. He was the director of the New York Ballet, and it would have been rude to leave him out.
Q. Both Balanchine and Martha Graham were around for many years. Why did you decide to set the book in 1959?
I'd always hoped to set Someday Dancer in the 1950s, because it's such an evocative time in American history. A time when people were making big changes and it seemed like anything was possible.
I settled on 1959 because that's the year George Balanchine and Martha Graham collaborated on Episodes. I'd originally thought this would be an interesting part of the plot, but my characters had other ideas and I never found the right way to include it.
Q. Casey, the heroine of the book, has obstacles to overcome but one of them isn't self-confidence. So, many teen books have the main tension in the book arise from the protagonist's lack of confidence. Why did you decide to make Casey so self-confident?
I think in order to make dreams come true, you need to have the confidence to chase those dreams. Casey had so many other obstacles to overcome, if she hadn't been confident, I don't think she would have set her foot out the door in the morning.
Q. What kind of research did you do about Balanchine and Graham and the period of 1959?
The good thing about choosing such well-known figures to write about is that there is a lot of material available to read and watch. American Masters and the BBC did a wonderful documentary about Martha Graham called The Dancer Revealed which was very helpful. The hardest part was writing the actual dances because Graham was against having her performances recorded, but that documentary had some great footage, and a lot of interviews with Graham herself.
To get the time period right, I watched movies from that era and read books set in the same time period. I also watched a lot of government public service videos from the 1950s. Those were a riot.
Q. Did you put any boundaries on yourself since you were dealing with real characters such as not using interior monologue for them? Or using them only in specific kinds of scenes?
When I wrote the first drafts, it was really important to me that I created a realistic Martha Graham. She's a legend.
I did a lot of research and almost all of her dialogue were direct quotes, I didn't want to put words in her mouth. In later drafts, I relaxed this a bit so that she could interact with Casey more naturally, but by then I felt like the core character was honest, or as honest as a fictional portrayal of a real person could be.
I was much less disciplined with Balanchine. Mostly because he has more of a cameo appearance. I didn't need to explore his motivations, just create a reasonable impression of the man.
Q. When a writer has characters that come from a region like the south where people have significant accents, the writer has to decide on how to express that accent in terms of spelling and expressions. How did you decide to express southern accents and did you do any research on that in terms of reading other books with southern characters?
Personally, I really dislike spelling accents phonetically. It distracts from what the characters are actually saying. I do try to give a flavor of the region though, with specific words and phrases. In Someday Dancer, I did a lot more research on getting the 1959 language right than the South Carolina language. I cringe a bit because, being from up North, I bet I got a lot wrong.
Q. The book is very fast moving. Did you do a lot of editing? How do you feel you achieved making the book so enjoyably fast paced?
I wrote the first draft of Someday Dancer in two weeks, by hand, after my computer broke down. Because I was writing by hand, I skipped a lot of description and just got right to the action of each chapter. When I was rewriting, I worked really hard to maintain the pace even with the added details and descriptions. Every scene had to push Casey closer to her goal.
I did do a lot of editing. I had a lot of help from fellow writers, my agent Lindsey and editor Imogen at Chicken House. It's so useful to have outside opinions.
Q. Casey is in junior high school yet she goes by bus to New York for auditions by herself. Did you ever think of making the characters older?
I know. My parents would have NEVER let me do that. Actually, Casey started off younger. She was only 11 in the first drafts. I had to make her a bit older to get her onto that bus. I drew the line at 13/14. I don't think she could have done it today, but in 1959 it was just possible.
Q. Most dance books deal solely with ballet. Why did you decide to introduce modern dance into your book?
I've read a lot of really good ballet books, but I hadn't read any books (YA fiction books) about modern dance. So when I started to write about a girl who loved to dance, I thought it would be a great opportunity to do something different and maybe introduce my readers to something new. I'll be really excited if it inspires any of my readers to learn more about Martha Graham.
Q. What writers and books do you like? What are your inspirations?
I could take pages answering this question. I will read anything I can get my hands on. But there are a few books that really inspired me. The Phantom Tollbooth was the first book I read that made me think, I want to write something like that. I love anything by Dianna Wynne Jones. I've reread Deep Secret at least 10 times. And, while I was writing Someday Dancer, I took a lot of inspiration from Karen Hesse's Out of the Dust an amazing story about a piano playing girl living in the dust bowl told in a series of first person poems.
Q. What dance movies do you like?
I love any of the old golden age musicals: An American in Paris; Singin' in the Rain; West Side Story. I also loved Strictly Ballroom. I guess I'm a sucker for a big production number.
Q. You now live in England. How did you end up there and are you thinking of setting a book in England? How long do you think it takes to understand English characters and patterns of speech well enough to put them in a book?
I came to England in 2005 to get a Master's Degree. I met my husband while I was studying and have lived here ever since. I did try to write something set in England when I first moved here, but it just didn't ring true. I think because I write for children, I will always draw on my own childhood for the essential 'truth' of a story. Someday Dancer was set in South Carolina, but lots of the small-town details came from my own experience.
I have a young son now, and I wonder if watching him grow up in England will make me want to try again.
Q. One gets to see more depth in your "mean" character Priss, than one usually does in a teen book. Was that an angle you wanted to have happen in the book from the beginning or did it develop as you were writing?
I knew from the beginning I wanted Priss to be a well-rounded character by the end of the book. I wanted Casey to mature enough to see her nemesis was a real person with her own struggles and dreams. I think an antagonist who has her own issues is much more interesting than someone who is just mean for no reason.
Q. Quinn and Priss, two of the main characters, have a complex relationship that seems to have a lot of paths left to develop. Any thoughts of a sequel?
I've thought a bit about it. I do love their relationship, but I'm not sure there's another book there. I think if I wrote about Casey and Priss again, it would be as secondary characters. Maybe they'd be two eccentric teachers at a dance school for a new batch of up and coming girls. But you never know, I might just not have thought of the right story for them yet.
Q. Did you have any kind of outline for the book?
I did a very rough outline that covered the basic plot points just to keep me on track, but it changed a lot along the way.
Q. How many drafts did you do?
In all I wrote about 20 drafts. I remember telling that to students at my old elementary school and seeing their jaws hit the floor, but that's what writing is. No one gets it right the first time.
Q. The book has two different titles for the American and British versions—did you choose the titles? Did the publishers? The book also has two different covers. Did you have any hand in creating the covers? How do you like them?
I didn't chose the titles. When I started, the book was called You Can't Do Ballet in High Tops because in the first draft Casey's shoes were a huge image, but by the time I was done with draft number 20 the shoes weren't such a big thing and the title didn't seem quite right. So we came up with Dreamer Ballerina. Scholastic (the American Publishers) wanted to change the title to reflect that Casey didn't just do ballet in the book, so they suggested Someday Dancer. As a first time author, you don't get a lot of say in cover design, but I've been lucky and really liked both the British and American versions.
It's been really fun to see the different covers and titles for all the foreign translations too. The Polish version was just Dancer, the Greek was Pirouettes in the Dust (very poetic), and the German's called it A Dream and Two Feet. The German cover is my absolute favorite. It's a close up of two feet in pink converse sneakers-so vibrant.
Q. Although you are an American and the book is totally based in America, it was published first by a British publisher. How did that come about?
It's really just because I was living in England when I finished the book. I wanted to work with an agent who was in the same country, just because I thought it would be easier. I got a lot of rejections though, because the story felt too American. But I got lucky and was signed by Lindsey Fraser or Fraser Ross Associates. She thought Chicken House (the British Publisher) would love it, and they did. They were great to work with. But I have to say I am so excited that Scholastic is the American publisher. As a kid I LIVED for the scholastic book fair.
Q. Your book exists in an e-book version and a CD spoken version. Do you like ebooks? Do you have a kindle or other ebook reader? Do you think it changes the reading experience at all?
I'm in favor of anything that makes reading easy and available. I love physical books, and book stores and libraries, but I don't think reading on a kindle will change the experience. If it's a good story, it should make you forget you're reading at all.
Q. Do you listen to books on CD? Have you listened to your own CD and how do you like it?
I love books on CD, although a lot depends on the reader. When I was a kid my brother and I used to listen to John Erikson's Hank the Cowdog books, and His Dark Materials by Phillip Pullman. They turned reading into a family experience.
I did try to listen to my own book on CD. I loved Katherine Fenton's voice and style, but it was really surreal to hear someone else speaking the words that came out of my head and I could only listen to the first chapter. I might try again in a year or two when it isn't so fresh in my mind.
Q. Do you write with a computer?
I do write on a computer for the most part, although I make it a rule to never use the delete key (except for the worst spelling mistakes) otherwise I'd spend all of my time self-editing and end up with nothing but a blank page.
Q. How many hours a day do you write?
It fluctuates quite a bit. I have a young son, so I do most of my writing during nap times: 1-2 hours a day. If I'm on a role it can be more. If I've just finished a draft, I'll take time off before I go back to start editing.
Q. What are you working on now?
I'm working on a mystery. The detective is a young girl who is excellent at math and uses her analytic skills to solve the disappearance of a famous scientist. It's a really different experience to writing Someday Dancer because I've had to do so much more planning, but I love detective stories and am having a great time writing it.
To learn more about Sarah Rubin's book on Amazon, click here: Someday Dancer.
To return to this website, click on the Back Arrow in the upper left hand corner of your browser.
To find out more about Sarah Rubin, click here: www.facebook.com/SarahRubinBooks. To return to this website, click on the Back Arrow in the upper left hand corner of your browser.