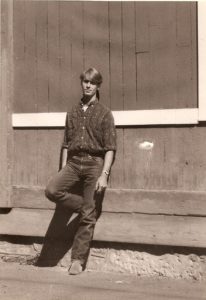 Scott Thyberg was born in rural Connecticut. A music prodigy, he received early formal education in Piano, French horn, Music Theory and Ear Training. At 16, he moved to New York City to accept a scholarship to The Juilliard School. While at Juilliard he was a frequent featured performer in Carnegie, Avery Fisher and Alice Tully Halls under the world's leading conductors including Leonard Bernstein, Zubin Mehta, Herbert von Karajan, and Mstislav Rostropovich.
Mr. Thyberg studied classical ballet on full scholarship at Nutmeg Conservatory for the Arts and made his debut as a dancer in the role of Franz in Nutmeg Ballet's Coppelia opposite Victoria Mazzarelli. He later trained and performed with Patricia Wilde's Pittsburgh Ballet Theatre ll. At Rudi van Dantzig's invitation, he completed a teaching internship (Vaganova Method) at the Dutch National Ballet School. Several years later he was one of only ten American teachers selected to receive pedagogical training in the Paris Opera Ballet School's syllabus with Claude Bessy and Serge Golovine.
Mr. Thyberg choreographed his first ballet World of Wonders in 1989, commissioned by the Nutmeg Ballet. He was immediately engaged as the company's Resident Choreographer and Ballet Master. From 1998-2002, Mr. Thyberg was on the senior faculty of Ballet Academy East (NYC) and for six summers he taught at Central Pennsylvania Youth Ballet. Mr. Thyberg and Kyle Passaro founded Dansereye Productions in 2003. Three galas – The Persistence of Vision (2003), The Continuous Vivid Dream (2004) and The Suspension of Disbelief (2005) -were presented at the Warner Theatre, Torrington, Connecticut. These performances featured dancers, mostly former students, from American Ballet Theatre, Boston Ballet, Frankfurt Ballet, Miami City Ballet, MOMIX, New York City Ballet, Pacific Northwest Ballet and Staatsballett Berlin. Guest Artists have included Ethan Stiefel, Gillian Murphy, Alexandra Ansanelli and Damian Woetzel.
Q. You started out as a musician, how did dance begin for you? Was there some event or experience that drew you to dance?
It was a case of mistaken identity. Standing in the elevator of The Juilliard School, an elderly gentleman inquired why I had missed class that morning; he was choosing dancers for the company. I attempted to explain that I was not a dancer, rather a French horn player. He shook his head and said, "You will be bored. Brahms not writing any new symphonies." I had friends at School of American Ballet and told them of the encounter. They informed me that it was George Balanchine. It took me a while to come to the realization that dance would permit me to be a musician with my entire body and so I never had the opportunity to work with Mr. Balanchine directly. Ultimately, my peers convinced me to try a class and there was no looking back.
Q. How important is a leadership quality?
A leader is commonly defined as a person who goes first. In the theatre, it is more akin to being a good host. It is the director's responsibility to ensure that everyone has a positive experience.
Q. Can you point to specific points when you grew as a choreographer? When and what were they?
When I was pressed into service as assistant to a ballet master who was staging classics such as Les Sylphides, Paquita and excerpts from Raymonda . I came away from this with an appreciation for the importance of doing one's homework and for efficient rehearsal practices.
Q. Can you choreograph in your mind or do you need dancers or do you have to dance it out yourself?
I often imagine dances fully formed in my mind. I generally work out movement motifs alone. If I am utterly prepared before I go into the studio with dancers, it avoids wasting their time and only then does it allow for spontaneity.
Q. What kind of dancers do you look for your pieces?
Naturally, it depends on the piece in mind. Generally, though, I seek dancers who possess a strong classical technique so that we speak the same language. More importantly, I look for individuals with distinct personalities and unique movement qualities.
Q. Do you think dancers have changed physically or mentally in terms of flexibility and muscularity and just general ability? What do you think accounts for the advances?
Unquestionably dancers are better athletes than they were even 20 years ago. Whether this is a result of changes in aesthetics or the reverse is open to discussion. Advances have not kept pace in terms of the average dancer's overall knowledge of culture and history, however. Artistry has suffered.
Q. Who was responsible for your early training?
Joan Purdy, who taught using the RAD method and Sharon Dante, a proponent of the Vaganova syllabus.
Q. What were some of the obstacles you've had to overcome in your career?
Being a late starter. I was 17 when I took my first ballet class.
Q. Can you recall the moment when you realized you wanted to be a choreographer?
It was probably on a subconscious level. It was, for me, the perfect marriage of music and movement.
Q. What's the most exciting moment for you when you're choreographing?
When the ballet takes on a life of its own and begins to reveal itself. I feel as if I am taking dictation.
Q. For the choreographers of classical ballet, the goal seemed to be to create beauty. For many modern choreographers, their primary goal seems to be originality – anything that draws attention to themselves as choreographers. What do you think of that statement as it pertains to choreographers today and what are your choreographic goals?
First, I would say that this statement implies that classical ballet is a thing of the past. Beauty is subjective: I am sure the Parthenon was beautiful when it was new, but is it not beautiful in its present state of decay? As for originality: If one sets out to be original, the result is almost guaranteed to be derivative. My goal as a choreographer is, to paraphrase Anna Deavere Smith, to pursue the spooky truth.
Q. How do you bring movement to life?
The two are synonymous.
Q. Do you have a few favorite choreographers?
Of course, Balanchine and Jerome Robbins. I admire the work of Paul Taylor, Mark Morris and Christopher Wheeldon.
Q. What drives you?
The simple desire to do good work; the next ballet.
Q. How does a dancer gain the attention of the artistic director or the choreographer?
This varies from director to director. Assuming his or her skill level is remarkable, a dancer must possess an inherent alertness and intelligence. Ironically, the dancer who draws attention with affectation is the easiest to ignore.
Q. How do you start a piece?
Not to be disingenuous, but I start a piece by starting.
Q. As a choreographer, do you need a familiarity with all forms of dance? Do ballet schools provide sufficient training in different forms of dancing?
It would be impossible to be familiar with all forms of dance, insofar as those forms are learned skills based on codified methods. On the other hand, if one is bi-lingual, each subsequent language becomes easier to acquire. To the second question, I believe most ballet schools do not provide sufficient training in ballet.
Q. How do choreographers hone their skills?
There is no substitute for the act of choreography itself. Also, I would strongly urge every choreographer to not eschew teaching.
Q. Where do you get inspiration for a piece?
Ordinarily, a piece of music chooses me. On occasion, a word or phrase has triggered a physical response. My ballet Katabasis, for example, was suggested by its definition: a tacit admission of failure or defeat. Another, The Lazy Mason, was prompted by a joke told to me by a young student.
Q. What advice do you have for dancers?
Read books, go to museums, listen to all types of music – not only the stuff that can be counted in 4's – and see live dance performances in the theatre. Have a life outside of the studio.
Q. What's the difference between choreographing a narrative ballet as compared to an abstract one?
It has been my experience that there is less difference than one might suspect, except for how much clothing the dancers are wearing. To borrow from the sage wisdom of Doris Humphrey: Every dance must have a beginning, middle and end, but not necessarily in that order.
Q. How do you connect to the audience?
The key is maintaining a continuous vivid dream, so that once the audience enters your world, there are no unintentional interruptions or gaps.
Q. Do you like to collaborate with the dancers?
Well, I enjoy having them in the room immensely. Collaboration takes many forms. I find it stimulating to see what happens when an idea of mine does not work and how the dancer finds a different way of expressing the same intention. Good faith mistakes can be fascinating. A choreographer is dependent on dancers to realize his vision on stage and without interpretation by the performing artist an essential dimension of the work is lost.
Q. What do you consider success for a choreographic piece of yours?
When I have the courage to edit the dance, even if that means omitting choice material. One ballet is not every ballet.
Q. How do you go about researching a piece?
I spend a great deal of time studying the musical score. A piece like The Slice, a comic ballet, required meticulous storyboarding. Mirth, a work subliminally concerning the life of insects, drew upon scientific journals and led to a foray into Praying Mantis Kung Fu.
Q. Who were your mentors?
My first public school music teacher, Bruce Haynes, influences me to this day. I'll never forget his maxim: If you can't play Mary Had A Little Lamb and make me cry, you are not a musician. My horn teacher at Juilliard, John Cerminaro, taught me that sometimes the good players get lucky. And Marci Dale Weary, founder of Central Pennsylvania Youth Ballet, answered my question: "Don't you ever get tired of saying the same thing?" with, "They haven't heard it as many times as I've said it."
Q. What's the most important thing for a choreographer to learn?
To be observant. Or, as Henry James would say, "Be one on whom nothing is lost."
Q. What advice do you have for choreographers?
If one thinks of steps as words and a string of words as a coherent sentence, the question I would put to each choreographer is, "How much do you love sentences?"
Q. How do you make sure that what you've choreographed in a studio translates to the stage?
With a thorough knowledge of stagecraft and the realities of technical theatre.
Q. What is Dansereye, how did it come into being and what are you trying to accomplish with it?
The name Dansereye comes from the Flemish, meaning dance stuff, which suggests a certain fluidity of purpose. The project was conceived in 1998 as a laboratory for developing new work. We produced our inaugural concert, The Persistence of Vision, in 2003.
Q. What are you working on now and what are your future plans?
In October 2009, we started the Dansereye Open Ballet Class Program. The next step will be the creation of a permanent home and the eventual formation of a small touring company.
To visit Dansereye, click on the URL below. To return to Ballet Connections, click on the upper left hand arrow on your browser.
http://www.dansereye.org/Dansereye.swf