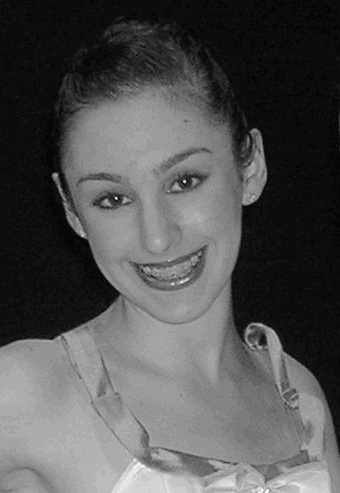 Taylor Gordon attended the Rock School at Pennsylvania Ballet and graduated at the age of 16. She's now living in New York and attending Marymount Manhattan College as a Communications Arts Major and will gradtuate at the age of 19 in January. She is pursuing a dance career and also a career in journalism and has interned at Pointe Magazine and Ellen Jacobs associates and Movment Magazine.
Q. How did you become involved in dancing?
My family owned a local dance school and I started dancing there by the time I could walk. I have pictures of me when I was about 3 standing at the ballet barre with 8 year olds. I just loved it, and when I was 7 I started taking classes in the intensive division of the Boston Ballet School, doing Nutcracker and other ballets with the company until I moved away when I was 14.
Q. Why did you leave Boston Ballet School?
I had first gone to The Rock School in Philadelphia for a summer program in 2002, and after my second summer I was accepted to attend their year-round program called RAPA. It's basically a ballet high school. They have a boarding school program with serious ballet training and go-at-your-own-pace academics, and it was convenient for me because at home I lived far away from Boston and had a long commute every day. At The Rock, everything is in one place. You live right across from the dance studios. I went there in my sophomore year in high school, finished 2 years of school in one, and graduated my second year there, in 2005. It was a big adjustment living away from home but it was the right choice for me at the time.
Q. What is the application process like?
They have audition tours where they go across the country auditioning dancers, but I had already been to the summer program twice so they knew me.
Q. What was the school like? In books and movies, there's always the cliché of anorexic students, lots of back-biting and tough teachers.
I think in a place like a strict ballet school where the nature of it is inherently competitive, it can get like that to an extent. But it definitely varies from school to school and from teacher to teacher. I think that the stereotypes are often carried too far in the media and in that in some ways we kind of play into them, unfortunately.
Q. How do you keep up your self-confidence in situations like that?
That was kind of tough. At that school there were only about 30 students that you lived with, went to school with, danced with, were friends with, and that's it. For me, I had always kind of defined myself as being "a dancer." I came from a small town where nobody else did ballet, and so that's what made me special. But when moving to that environment where everyone identifies themselves as dancers, and everyone is so talented and so good at what they do, I had to figure out who I was as a person outside of ballet. I had to figure out what makes me different – my writing, becoming kind of a leader among my friends, working hard at school – and find a way to appreciate that about myself rather than just ballet. You can't derive your self-worth only from your turn out and it's hard to see that when you're in the midst of things. But friends certainly help (laughs)!
Q. You graduated from The Rock at 16, then what did you do?
I applied to college. I knew I was too young to join a company, but I desperately wanted to go to New York. I ended up going to Marymount Manhattan College as a Communication Arts major and continuing to train full time at Ballet Academy East. I danced there the past two years and now I take class with my amazing teacher, Kat Wildish.
Q. You've also worked as an intern at various magazines.
Yes. In the spring of 2006 I was very lucky to get an editorial internship at Pointe Magazine. From there I interned at a public relations agency representing dance companies. This past summer I worked with Shelter Interiors Magazine, and this fall I was at Good Housekeeping's Quick & Simple Magazine. I've also written dance reviews for OffOffOnline.com and ExploreDance.com, and I blog on TheWinger. I just recently got the opportunity to write a longer piece for movmnt magazine, which is a new and very hip dance magazine. Starting in January 2008 I'll be interning at The New Yorker, which, to me, is like the epitome of the magazine world. This has all been on top of full time dancing and school, mind you.
Q. As a dancer is it difficult writing reviews of other dancers?
Not really. I read a lot of criticism and a lot of the dance writers come from a journalistic background and were not dancers. It's different coming at it with a trained eye. A good performance is not just about how high you leap or how many turns you can make, but there are a lot of subtler technical points that make for a good performance. I think as a dancer I can understand more of what steps are difficult and what the dancers are actually going through and I can bring that out in my writing. Also, I like to write more features rather than just reviews.
Q. How did you get involved with TheWinger website (thewinger.com)?
I loved how the website exposed so many voices from the dance world and I eventually got in touch with the founder, Kristin Sloan, and asked to be a contributor. She thought I'd bring an interesting perspective since I've been dancing and doing school simultaneously so I started writing for the site.
Q. What are your goals?
In terms of writing, this fall was my final undergraduate semester at Marymount Manhattan College and it was also my first in the Masters Degree program in Publishing at Pace University. After I graduate in January I want to finish the graduate program and continue writing freelance for a while, as much as I possibly can. Of course I still want to dance professionally and I have a few projects coming up on top of auditions.