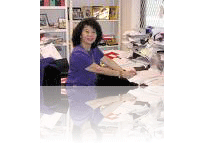 Thelma Browning was born in Hong Kong and educated in England where she gained a BSc (Hons.) degree in Business Economics and a BA (Hons.) degree in history from London University. Thelma's first business, designing hand knitted woolen garments, is still active today after some 30 years. Thelma lived in the US for nearly two decades, managing her own businesses and on her return to the UK was instrumental in setting up Wear Moi Dancewear in May 1996. Thelma and her staff are still making Wear Moi Dancewear in the same studio today. Thelma is married to William Browning.
Q. When did you get interested in designing costumes?
About 35 years ago, I started designing hand knitting cardigans and sweaters.
And fashion for ladies and men. I was always interested in designing. From a very early age—about 5 years old—I helped my father design costume jewelry that sold worldwide. From the age of 10, I designed all my own dresses and outfits. Then, I started designing for friends and family members, usually when they saw me wearing one of my designs, they'd want something like it. Now I design ballet tutus, dance dresses and dance wears for my business worldwide. I also design costumes. And more or less as a hobby I design leather handbags and elegant evening bags, jewelry and even shoes. I just love creating my own ideas and transforming them into reality and have them be enjoyed by whoever sees me or have them be enjoyed by the people whom I design them for. I get lots of pleasure seeing others wearing or using my designs.
Q. Were you always interested in ballet? Did you train at all as a dancer?
My schooling was as a business/economics and history major.
Q. What is your background in costume design?
I was always interested in design. From a very early age in life, I designed my own dresses and outfits. I also designed clothes for all my friends and family before I even went to college.
Q. What did you do before starting your own companies?
I was a student in London.
Q. You have traveled a lot and lived in many countries. Why did you settle in London and start your businesses there?
I was educated in the U.K. from the age of 12 on and England is more like a home to me than any other country, although. I lived in California for 15 years.
Q. I know you have two companies: Aurora Dancewear and Wear Moi International? What are their different missions?
Aurora is more for costume creations, Wear Moi International is more for manufacturing dancewear to sell worldwide.
Q. You do costumes for the ballet, the stage and film? Are the requirements very different?
Yes, Ballet is more Lycra wears and uniquely designed Tutus. Stage is what the story is about, we create the costumes to meet the story. With movies, the costumes are designed more for the special effects such as in Troy we designed costumes that made the actors wearing them seem bigger and heavier.
Q. Did you start designing for the ballet or the stage first?
The ballet first and then the stage.
Q. What are some of the most important things you have to keep in mind when you're designing ballet costumes?
That the design be elegant, graceful and CLASSY!
Q. Many times, more than one dancer will have the same role. Do you have to design a ballet costume so it can be worn by different dancers or do you design two or three of the same costumes for each role?
We use the same design for each role.
Q. Do you work with specific dancers and know their sizes or do you always have to do fittings?
Fittings are always necessary.
Q. What are some of the ballets you've done costumes for that had the biggest challenges?
Some of the ballets we've made all the costumes for are Romeo and Juliet, The Nutcracker, Sleeping Beauty and Cinderella. We've done these ballets many times. The biggest challenge is always to make the costumes work—seem both beautiful and real–within the budget that the companies have offered to pay.
Q. You've also done costumes for movies like Troy. Is it very different making a costume look good on film as compared to making a costume that will look good on the stage?
Film work is different than stage wear. For instance, we made 300 costumes for the extras on Troy who were mostly students. But our costumes were designed to make them look more like soldiers than skinny students.
Q. One of your specialties is making costumes quickly. How did your company develop that expertise?
We have a professional tailor and a talented designer on staff. We also have a master cutter who can design and cut paper patterns in our studios working full time. We also have a team of professional, highly skilled machinists working full time.
Q. What's involved in being able to produce or alter a costume quickly?
You need to listen to whatever the customer requires and then act on it. We don't get lost in worrying about the problems. We do whatever's necessary and do it immediately.
Q. You are known for having a very devoted and talented staff. What do you look for in an employee?
We look for people who have creative minds, are dedicated, loyal and hard working.
Q. Who were some of your mentors for your business?
Professional dancers and stage, movie actors and actresses.
Q. What advice do you have for someone who wants to become a costume designer?
Work with talented people and do whatever the customer wants.
Q. What are some of your future projects?
To promote more on our websites, to create a new catalogue, and more exciting new designs. We make livery gowns, and scholar's gowns as well. We can make tuxedo suits, tailor made suits and lady's fashion. We can make all type of designs besides ballet wears.
Click on URLs to see Thelma Browning's websites.
www.auroradancewear.co.uk
www.wearmoi.co.uk