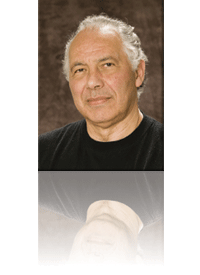 Anthony Williams, founder of BalletRox, is of mixed race heritage (Afro-American/Italian). He was born in Naples, Italy, and raised in Jamaica Plain and Roxbury. He spent his formative years (8 through 18) living in the Bromley-Heath housing project. Through his interest in gymnastics, he discovered ballet and he received a scholarship from the Boston School of Ballet which led to a successful career as a professional international ballet dancer. He worked his way up from corps-de-ballet to Principal with such companies as the Boston Ballet, Joffrey Ballet, Royal Winnipeg Ballet, the National Ballet of Portugal, and the Norwegian National Ballet. He has taught ballet in the New England area for 22 years and is currently the director of BalletRox. He is the father of three young sons.
Q. How did you get interested in dance?
It was in the gym at the Boston YMCA in the early sixties when I was thirteen. I used to do gymnastics and wrestling after school and some guys down there who were gymnasts told me about how the Russian gymnasts would do ballet. Some of the guys decided to go up and do a ballet class and one day I went along with them. I observed a class and thought it was something I would like to do.
Q. What was your training?
I trained that summer. I took a class and liked it because it was so athletic. I found a little Lithuanian ballet teacher, Tatiana Babuskina, who had a studio on Boylston Street near the Berklee performance center and that's where I got my first technique. She recommended that I go to Boston Ballet because they had other boys there and she thought I could get a scholarship. So I went down and took a class with E. Virginia Williams (no relation), the founder of the Boston Ballet, and she liked me a lot and offered me a full scholarship. So, I trained that year doing three or four classes a day, five or six days a week and they also gave me private lessons with Sydney Leonard. That was my training, and after about nine months, they needed a boy for the actual debut of the company at the Boston Arts Festival at the Boston Public Gardens and I joined the company. I danced for that first season when the company went from the New England Civic Ballet to the Boston Ballet. I was in the corps for La Fille Mal Gardee choreographed by Fernand Nault.
Q. What did you enjoy most about dancing with a professional company?
Well, it wasn't so professional at the beginning. But I enjoyed the rigor, the camaraderie, and being part of a team. I just loved the whole thing. Every aspect of it. I enjoyed the performances more than anything. That's what any dancer would say—to get a chance to dance in front of a live audience.
Q. What were some of the highlights of your career?
Some of the highlights were dancing in 1967 after just a few years of professional dancing and having the lead in George Balanchine's Scotch Symphony with Kate Mazzo (currently Co-Chairman of Balanchine's School of American Ballet). She was a principal dancer with the New York City Ballet at the time and we got very nice reviews from the New York Times. Also, making the audition with Bob Joffrey of the Joffrey Ballet. That was exciting to be accepted into their company and dance in New York City and on the road. That was my first real experience with a professional company in that they were on salary for forty weeks of the year. They had a costume department, two conductors. The whole nine yards and they toured around the world. I was there for three years and toured throughout Europe and the United States.
Q. Now you are the head of your own dance school and company. How did you transition from dancing into this position?
It started, of course, due to the natural aging process that dancers go through. Somewhere in their late thirties or early forties changing careers becomes a physical necessity. I found it really hard to transition from my performing career into another career. I taught for several years and I was trying to find a place to put my energies and my passion and my desires. Finally, I decided I wanted to found my own school and have a place where I could create my own situation and pass on my experience to the younger generation. I wanted to do it in my home town of Roxbury/Jamaica Plain, and I was able to make that work.
Q. What is it like working in a multicultural neighborhood like Jamaica Plain?
It's fantastic it's amazing. I like different types of people and where I am has a very diverse population. Being able to have my career fit into that slot is very satisfying.
Q. What do you look for in dancers?
I look for the desire to dance. Passion. And technically a dancer that can move and is flexible and who can really make the music come alive.
Q. What do you think is important for young dancers to know?
Dancers that are on the professional track should know that it's not easy. It's a short career and they must make the most of it. So much of the time is devoted to practicing and the obstacles are so many—very few paying jobs, injuries, having to deal with competition and rejection. It's a big sacrifice. You have to do it because you love it .
Q. Your production of the Urban Nutcracker has been very successful. Why don't you talk about how that got started?
I needed a showcase for the kids in my school. I thought it would be good to do a ballet that was in line with their own experiences growing up. And I wanted to do something that would please the parents and give the school something to unify around and provide it with a lot of public exposure. So, it was both a practical move and a strategic move but it's become very successful. We use many dance styles—ballet, hip hop, flamenco, swing, step and tap. It's turned out very well and the audiences love it..
Q. What are your plans for the Urban Nutcracker?
Try to mature its possibility so it becomes an annual tradition and improve it every year. We've had six great years so far. We had a great success, selling out shows when we moved downtown to the John Hancock Hall last year! It'd be nice to take it on tour, to some other countries. Some places have expressed interest in it.
Q. Any plans for new ballets?
I just did a new ballet that I choreographed and premiered at my studio with three dancers. It's a contemporary piece and we're booked in March to do Ben's Trumpet which is another story ballet based on a children's book by Rachel Isadora.
Q. Now that you are a director as opposed to a dancer, have you gained new insights into dance and the people you danced for in your career?
I'm so obsessed with the dancers themselves and how hard they work, it's been a bridge for me to my own dance career and how hard I worked. I want the best for the dancers and I've only deepened my appreciation of how hard dance is. Of course, now I also have the whole behind the scenes of maintaining an organization. When you're a dancer on a salary and you get that paycheck, your job is just to prepare yourself and go out and be the best dancer you can be. But as a director, there's a whole other side and I really appreciate my former artistic directors ( E.Virginia Williams, Bob Joffrey, Arnold Spohr and Sam Kurkjian). I know how hard it is to keep a professional organization together. But it's very rewarding when you can do it because you're not just fulfilling your own dreams. You're fulfilling the dreams of all the dancers and students and their parents and the audiences that come to see what you put on. I love to do it and it's lucky I love to work because it requires a lot of it.