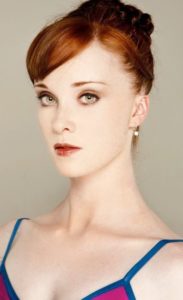 Born in Cork, Ireland, Tracy Jones started dancing at the age of 5 and trained at the Royal Ballet School. In her graduate year, Tracy performed with the Royal Ballet company in various ballets at the Royal Opera House and went on their international 2007 tour to Mexico and the U.S.A. In August 2007, Tracy joined The English National Ballet as an artist, performing with them in the UK and Beijing, China. The following season, Tracy joined Barcelona Ballet (previously Corella Ballet), Spain as an artist, where she has danced a number of soloist and principal roles. Tracy began creating ballet skirts in 2011 after surgery on a knee injury. She fell in love with creating new designs and making the skirts and thus began her own business: Tulips by Tracy. Tracy is now back dancing, and uses her time outside of the studios to bring skirts to dancers all over the world.
Q. You were born and raised in Ireland. How did you get into ballet as opposed to something like Irish folk dancing?
My Mum sent me to ballet as a child as she used to do it when she was younger. I fell in love with it straight away and so I stuck to it.
Q. Where did you take dance in Ireland?
I trained with Mary Gibson at Ballet Theatre Ireland in Cork.
Q. How old were you when you were accepted in to the Royal Ballet School?
Eleven.
Q. What kind of try out process do you go through?
I flew to London with my parents for a weekend to attend the final audition for White Lodge. It ran over two days and consisted of ballet classes and physiotherapy checks as well as the teachers checking how flexible we were and how suited our bodies would be to the vigorous training involved.
Q. The Royal Ballet School is located in a large mansion called White Lodge in the middle of a park in London. It's incredibly beautiful and historic. It must be quite thrilling for a young girl when you first arrive and look up at this huge place and realize it's going to be your home. Maybe you can talk about your first day and your first impressions.
The first time I saw White Lodge, I knew it was a special place. Apart from the building and its surroundings being beautiful, I was so aware of how many famous ballerinas had gone through the school and made it to the top. I was lucky enough to have attended a summer course at White Lodge prior to my first day as a full-time student so I knew my way around a little and knew what to expect, however I still remember it being heartbreaking to say goodbye to my parents. I was very homesick for my first few weeks but the staff and fellow students were all really helpful and I quickly settled in.
Q. Can you talk about the history of the place—it was a residence for many of the British royalty.
White Lodge has such a wonderful history. It dates back years and was a home to many members of the British Royal family. I studied history while I was a student there and found it very fascinating to learn that The Battle of Trafalgar (1805) was planned by Horatio Nelson in the now called "Nelson Room" of White Lodge. This room was used as the staff room while I was there.
Q. The Prince of Wales is the head of the Board of Trustees. Did he ever visit while you were there or other members of the Royal Family?
Yes. In 2004, Prince Charles became president of the Royal Ballet School. I was in my final year there at the time. He was very nice. He spoke to us all and asked a lot of questions about our time there. He became president after Princess Margaret who also came to visit while I was in my first year at the school. I was lucky enough to be part of a group of students that were chosen to meet and greet him here at the entrance of the school.
Q. Is everyone who goes to White Lodge a boarding student or do they have day students as well?
They have day students, but most board.
Q. There's this expression these days—it takes a village—it certainly takes a village to make a ballerina. Can you talk about some of the help you've had from your family and others, in your training.
I think that as a dancer, if you don't have some sort of support system, it is really hard to succeed. For me that support system has always been my family. Without them I would not have been able to have had any of the opportunities that have made me the person I am today. Ballet can be really tough, both mentally and physically and I have gone through my fair share of injuries and ups and downs but my family have always supported me and kept me grounded.
Q. Particularly, at a place like White Lodge there must be a tremendous amount of pressure—not only from your own desires to succeed but knowing how much has gone into getting there. How do you deal with that?
I was brought up to know that as long as I have given 100% and tried my best, then I can never look back and regret. You can only ever do your best, and so I try to always have that approach whether it be in ballet training, academics or life in general.
Q. Is there a day when everyone gets their first toe shoes? Do fitters from Freed descend on the school? What was that like and have you kept the same shoemaker throughout your career? Have you switched and why?
There is a day when everybody's pointe shoes arrive. We all get fitted together by fitters from Freed of London and then a few weeks later the pointe shoes arrive. When my first set of pointe shoes arrived, we actually had a film crew at White Lodge running a documentary. This is the link. About three minutes in you can see us with our shoes!
I wore Freed for my time at White Lodge, and then I discovered Bob Martin's Dance Workshop. He used to work for Freeds, and then moved to create his own shoe. It was created especially to fit my foot and I loved it, however, two years ago, his factory closed and so I had to find a new shoe. I am finally happy again with a special order of Bloch pointe shoes. They feel great and last longer on my feet than Freeds.
Q. What's the daily schedule like at White Lodge?
Wake up call at 7 AM, Breakfast at 7.30. Classes start at 8.30 and run in 2 hour blocks so for example, you might have Academics from 8.30-10.30. Then break, then Ballet class from 11-1 then Lunch, then academics again from 2-4. Then there are different dances classes from repertoire, character, pas de deux, choreography etc. from 4.15 to 6.30. Dinner starts at 6.30, and then from 7.15-8.15 you have a set hour to do homework.
Q. As intense as it is, I always imagine that at 4 PM everything stops for tea. Do they have formal teas at the place?
At 4pm, there is a break where the canteen opens up and serves biscuits, with tea and juice. I don't think I ever experienced a Formal Tea though!
Q. In movies and books British boarding schools are not so pleasant places. It seems traditional for the older students to torture the younger students. Are their White Lodge hazing rites that go on that no one but the students know about?
As with any school, White Lodge has a number of traditions but I never experienced anything like how boarding schools can be portrayed. In fact it is almost the opposite. There is a system set up where the older students are given a younger student to look after for their first year and help with learning how to darn your first pair of pointe shoes and dealing with blisters. White Lodge has a real family feel to it and to this day I am still close with the friends I made there.
Q. Having gone to White Lodge you are a member of a very exclusive club—do they have reunions or secret handshakes?
I don't know of any secret handshakes, but we do get together from time to time. It is difficult as dancers tend to be scattered all over the planet but whenever there are a few of us in the same city, we get together to catch up!
Q. How old are you when you graduated and what is the next stage of your ballet training?
I graduated from the Upper school at 19 and went on tour with the Royal Ballet Company to Mexico and the USA. After that in 2007, I joined the English National Ballet, and then moved to Spain and joined Barcelona Ballet (previously Corella Ballet) in 2008.
Q. What was some of the best advice you got as a student? And as a professional?
I think as a student, the best piece of advice that I received was that you have to take advantage of the attention given to you as a student because when you join a professional company, more often than not, you are left to your own devices and really have to work for yourself. As a professional, the best piece of advice I have heard was to try to not worry too much about the technique but to focus on how you perform. An audience cares much more about how much you are enjoying dancing and how that is put across than they do about pure technique.
Q. What was your first professional company? Having trained at the Royal Ballet School was the transition fairly easy or was it still a jolt when you had your first professional classes? What were some of the differences?
My first professional company as a corps de ballet member was the English National Ballet, London. The transition for me was fairly easy as we were lucky enough to take company class with the Royal Ballet while we were students at the Royal Ballet School. I also worked quite a lot with the Royal Ballet during my graduate year, so I had a fair idea about how company rehearsals were run etc. I guess it was different when I did join ENB as I had gone from being in the top year of school, to "the bottom of the food chain" so to speak. I had to establish my place in the company and learn a new repertoire quite quickly so that was a little stressful.
Q. Now, you're dancing in Spain. How did that transition come about?
As a student, I auditioned for a place in Angel Corella's new company and was offered a place but it wasn't due to start until 2008. I had always set my heart on going there as I wanted to experience a different country and learn a new language and Angel was really positive and I thought it would be really great to work with him. I was fortunate enough to get a job at ENB for the time where I had to wait, but I was always supposed to go to Spain.
Q. Maybe you can talk about the company you are with? The Artistic Director—The kind of repertoire—Where you perform?
Well, Angel Corella is the Artistic Director at the Barcelona Ballet. He is wonderful to work with and really pushes me to a level artistically that I didn't even know I had in me. It is great to learn from someone who is so positive and has such great experience. The repertoire we perform varies from full lengths such as Swan Lake, to La Bayadere and many triple Bills. We do a lot of ballets by Christopher Wheeldon which is great for me as I love his work. We also do Twyla Tharp, Jerome Robbins, Balanchine etc. It is a new company so the rep is growing. We tour Spain as well as internationally so we perform everywhere. It's a really great opportunity to travel!
Q. In a way Spain must be somewhat like Ireland in that dance plays a strong role in the country but it's more the traditional folk dancing than ballet. How is ballet received?
Ballet is not quite a priority in Spain. Before Angel's company, there had not been a classical ballet company in Spain for over 20 years. But over time it is becoming more popular and the company has started to gain a following of fans through Spain.
Q. What is life like for a ballerina in Spain? Where do you live? What is your daily schedule Like?
I live with my boyfriend about a 10 minute walk from the studios which is right in the center of Barcelona City. Our apartment is right by the port so it is perfect in the summer! We normally start with class at 10.30 AM followed by rehearsals from 12 to 6. When we are on tour, we start class later followed by rehearsals on stage and then the show.
Q. You are also the creator of a line of ballet clothing. How did that come about?
I started making Tulip skirts officially last year. Unfortunately, I injured my knee quite badly and it resulted in me having to go through with surgery in September 2011. Afterwards, I was restricted to my living room for quite a while and so to stop me from going crazy, I decided to be creative and started to knit and sew. My first creation was a little sweatshirt for my dog and then during the Christmas holidays, I came up with the idea to create a ballet skirt. I was in Kentucky, USA at the time visiting my boyfriend's family. Lucky for me, his Mum happens to know a thing or two about sewing machines and the right places to go to find some great fabrics so she help me choose a pretty lace chiffon material. I used an old skirt that I liked the style of to cut a pattern and created my first "Tulip".
Q. You've been focused on ballet your whole life. How did you ever gain the skills to make clothes?
I have always enjoyed arts and crafts and loved to make things when I was younger. I never went to school as such to learn how to sew, but it is something that I really enjoy and so I practiced until I was happy enough to have made a skirt good enough to sell.
Q. What ballet dancers wear is fairly traditional. What do you see as the needs of dancers and how do you want to fill and expand that need?
Dancers love to feel special, whether it is in class or rehearsal. As you mentioned, what we wear is fairly traditional so I have taken a traditional ballet skirt, and made it different so that although you are still wearing a skirt, it is a little more modern. My skirts offer dancers the opportunity to style their own skirts and choose the length, the material, the colors, etc.
Q. What kind of materials do you use and wear do you find them?
I use three different materials and I find them in various fabric stores around Barcelona.
One is a light georgette chiffon material which is perfect for ballet skirts- it hangs well and flows without being too heavy.
The second is a lacy elastic material. Lace is really popular right now and dancers like the fact they can have a plain black skirt but have it made from a material which is both comfortable to dance in makes the dancer stand out. (It also comes in a number of colors)
The third material is a slightly silky, two toned chiffon fabric. I use this especially to make my long rehearsal/teacher skirts. The material flows really well and looks really pretty when it catches the light.
Q. Where do your design inspirations come from?
I am always looking for new design ideas, and I spend a lot of time searching the web looking at dancers in rehearsal and what type of skirts they like to wear. I try to offer a variety of lengths and there is always the option of custom designing your own skirt so it is up to the dancer just as much as it is to me.
Q. Do you do market testing with yourself and other dancers?
I do. Almost all of the girls at Barcelona Ballet own original Tulip skirts that they have each helped design and model for me. I also like to wear a tulip skirt every time I purchase a new fabric so that I can test how it feels and how durable it is.
Q. Costumes are a large part of ballet. Do you ever make costumes or do you see yourself getting into that line of work?
One of the dancers of Barcelona Ballet is choreographing a new work for our next season and he has asked me to collaborate with the wardrobe department to create the costumes. It is a really great experience and a big learning curve for me to be able to see how much work goes into making a costume. I am not sure if it is something that I would like to do later on, but for now I am really enjoying the experience.
Q. Where do you see your company going? What other types of ballet clothes or accessories are you perhaps interested in creating?
Well, I have set up an online shop which is doing really well. I have also taken skirts with me to New York recently where I sold them to the girls of the American Ballet Theatre. For now my aim is to reach as many dancers as I can so people hear about Tulips by Tracy. I am looking into collaborating with a number of ballet stores worldwide and already have them being sold through Stone Dancewear in Amsterdam. I would also love to give leotards and men's tights a go, but I think for now I am focused on my skirts.
Q. Any desires to expand into non-ballet items?
Interestingly enough, I have had a number of orders from non- dancers requesting my skirts to wear at the beach. I would love to maybe expand this idea and make a range of beach skirts. I would also like to make a range of skirts for everyday wear but keeping to the "tulip" theme of course!
Q. How do you find time to build a company and yet maintain your dance schedule?
It is difficult, but it is something I really enjoy doing, so I spend the evenings and weekends making skirts. I am also lucky that my boyfriend helps me out with cutting the materials and helping me out when I have many orders.
Q. Who carries your clothes? How does someone buy them?
You can currently buy them online at www.tulipsbytracy.weebly.com or from Stone Dancewear www.stonedancewear.com.
Q. What are some of your most popular items?
The Lacy Tulips and the long Tulips.
Q. In the world of fashion, there are famous names—are their famous names in the world of ballet clothes and who do you admire?
I love Yumiko. I am actually the YumiGirl for Barcelona Ballet so I am in charge of all of the orders. I also like Bloch and have a number of nice warm up items from WearMoi.
Q. Any ballet books that you love?
I love autobiographies, so I am a big fan of Darcey Bussell's Life in Dance and Gelsey Kirkland's Dancing on my Grave.
Q. Any ballet movies?
I guess Center Stage. I know that dancers may have an opinion that it is not an accurate account of the ballet world, but it came out when I was really young and so I have fond memories of watching it, and being inspired.
Q. Any quotes that have or still inspire you?
My favorite quote is one by Mark Twain:
Keep away from people who try to belittle your ambitions. Small people always do that, but the really great make you feel that you, too, can be great.
To check out Tracy's skirt company: http://tulipsbytracy.weebly.com/
To return to BalletConnections click on the Back Arrow in the upper left hand corner of your browser.
To check out Tracy dancing a beautiful solo:

To check out Tracy in a WerMoi fashion shoot: