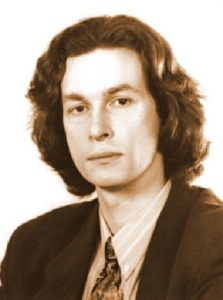 Born in 1963 in Moscow, Vladimir Moiseyev is a member of one of the most distinguished choreographic families in Russia. In 1981 he graduated from the Moscow State Academy of choreography and joined the company of the State Academic Bolshoi Theatre of Russia. Since 1991 he has been a leading character solo dancer at the Bolshoi Theatre. From 1988 to 1992 he studied at the Russian Academy of Theatrical Arts, from which he graduated as a producer-choreographer. In 1996 was awarded the title "Honored Artist of Russia". In 2001, he co-founded the "Russian National Ballet theatre," where together with colleagues who hold the same views on choreography, he stages his versions of famous classical and modern ballet interpretations.
Q. What do you look for in dancers for your company?
Dancers need to have good training from an excellent school to begin with. They need athletic ability, style and personality as well.
Q. What is the auditioning process like?
Auditioning dancers join my class and I see on a daily basis what they can do.
Q. You seem to get a lot of your dancers from the Moscow City Ballet and the Perm State Choreography School. What is it that you like about the dancers from these two schools and does your company have a special relationship with them?
We have many great companies in the Russian Federation and there are are many great professional schools. We have some relationships with all of them.
Q. Many directors of companies seem to look for a specific physiological types of dancer—someone of a particular height or weight? Do you look for specific physical characteristics and what are they?
We look for long legs and graceful arm movements. Dancers have to look right for the parts they play. We need to have both older and younger dancers so that some have tremendous athletic ability and others have long stage experience.
Q. Companies that are very particular about what their girl dancers looks like often seem less concerned about the height and weight of their male dancers. Why do you think that is and is it also true with your company?
No, we care as much about the weight of the boys as the girls. They both have to dance well.
Q. In America, companies have to rely on private donations, income from teaching ballet through a school associated with the company and ticket sales. Very little money comes from the government. How is that different for a Russian company?
For us as a private company the situation is the same as in America. We do not have much government support. We also get some support from businesses.
Q. Your company is relatively new and came into being under the new era of Russian politics. Did that make forming your company easier or more difficult?
Politics and art a combustible mixture!
Q. How did your association with Evegny Amosov, your partner, come about and how did you form your company?
We met in the Bolshoi Academy. Later were both in the The Gitis Academy of Theater Arts.
Q. What is the goal of your company? What do you want to contribute to the world of dance?
We received the traditions of the Moscow school of Ballet from our teachers and we need to pass them on to the next generation.
Q. Your company has a focus on younger dancers. Why is that?
Ballet is an art for young dancers.
Q. How do you maintain your focus on younger dancers since the dancers who join the company will naturally age every year? Is there a policy that dancers only dance with your company for a certain number of years and then they must move on to another company?
They dance different roles as they get older. They know when they are able to dance certain roles and when they are not. It is very subjective.
Q. You come from a very famous family of dancers and choreographers. Your grandfather was Igor Moiseyev who founded the world famous Moiseyev Dancers. What has been his influence on you growing up as a dancer and now as the director of your own company?
Dance runs in our family. My grandmother was a famous ballerina. Her name was Tamara Zeyfert. She and my grandfather formed the Igor Moiseyev Academic Folk Dance Company. Everyone in my family has danced.
Q. Your grandfather was a pioneer in promoting the importance of folk dance. Do you incorporate aspects of folk dance in your company?
Yes, I do.
Q. Russia is still made up of many different nationalities and traditions. Do you try to find dancers who have roots from all over your country?
For us it does not matter where they come from so long as they dance well and in the correct style on the stage.
Q How do you and Evegny Amosov divide up your responsibilities and run the company?
We have recently changed places so that I do the administration and he is doing the artistic work now.
Q. Your company incorporates modern and classical dance in its repertoire. Where do you put your emphasis?
Now we do mostly classical dance. The future might bring us more modern dance. We made a special modern dance program for the 300 anniversary of the city of St. Petersburg. The music was by Isak Schwarz and Johann Sebastian Bach.
Q. How do you keep the repertoire of classical ballets fresh? How do you add your own visions to them?
It's classical ballet because it stays fresh. We have young dancers keeping it new. Each dancer has some new expression to give as well.
Q. Recently, your company did a version of Romeo & Juliet that involved nudity. How was it incorporated into the ballet?
We did it with a lot of fog in a dream scene.
Q. What do you see as the future of your company? New tours? New ballets? New choreographic works?
All of the above, plenty of it.