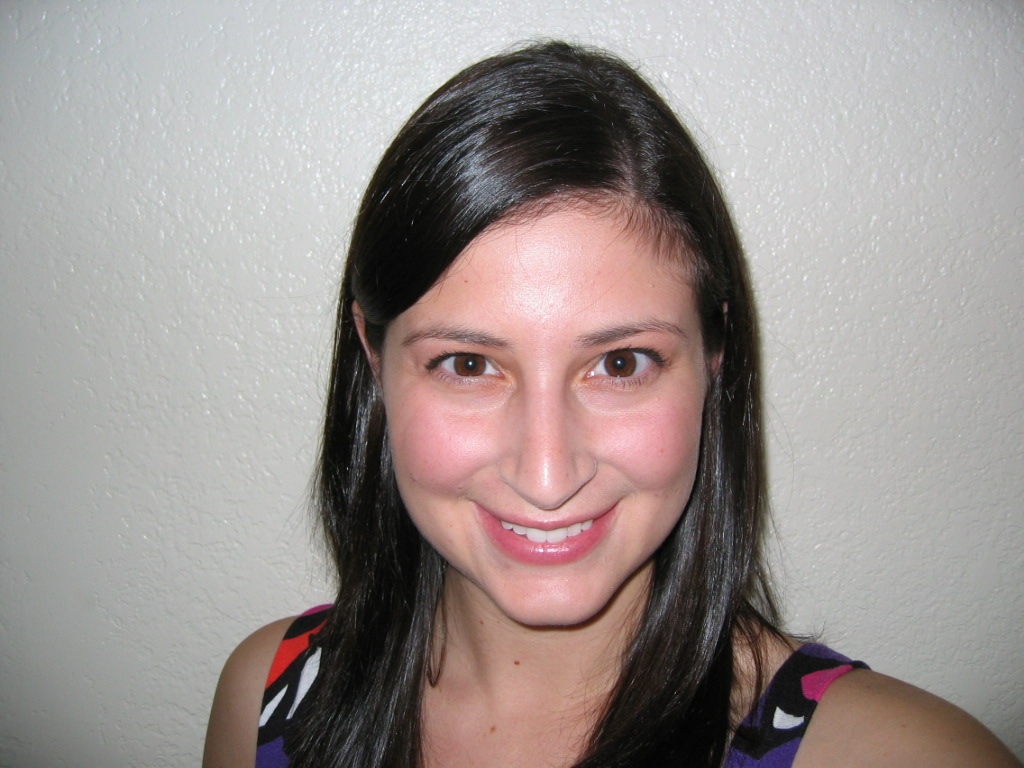 Wendy Garofoli is a featured blogger for DanceUniverse.com, Dancer Magazine's website and she recently finished writing her sixth book for Capstone Press: a children's non-fiction on Irish step dance. Previously, she was a contributing editor for Dance Spirit magazine, and a writer for Dance Magazine, Dance Retailer News and Cheer Biz News. In college, she was a dancer and captain of a national championship–winning dance team at NYU, and she continues to teach, consult and choreograph for various all-star, high school and collegiate dance teams.
Q. When did you start to dance?
I started dancing when I was seven years old. I studied at the Charlotte Klein Dance Center in Worcester, Massachusetts until I graduated high school.
Q. What type of dance studio was it?
I would call it a classical dance studio in that we did ballet, pointe, jazz, tap, and toward the end, I started getting into modern and lyrical. Once I moved to New York and began dancing in college, I got into hip-hop, which is what I ended up doing professionally.
Q. You went to NYU. Was dance involved in selecting NYU?
They have a wonderful dance program, but I wasn't a dance major there. Through Tisch School of the Arts, they have a conservatory-style dance program. They also have a dance education program through the Steinhart School of Education. I took classes in both of those schools. But I was mostly involved with dance as an activity. I was on a competitive dance team. We performed at basketball games and we competed at a national competition every year and did community and charity events. My major was in communication studies, but I danced 11-12 hours a week on the dance team and also took ballet class 3 hours a week.
Q. How long have dance competitions and dance teams been around on college campuses?
I would say they started popping up around the early nineties. They were originally formed as an offshoot of cheerleading, so their initial purpose was to support sports teams and rev up the crowd. Through the years, they've become much more closely associated with competitive jazz and hip-hop dance. Dance teams still dance at basketball or football half times, so I suppose you could associate their movements with the type of routines you see at an NBA game by their dancer/cheerleaders. It's a lot about synchronization, too, so you might compare dance teams to the Rockettes. However, some of the more competitive teams are really quite technical. I worked harder on the dance team than I did probably on anything else. We practiced perfecting our turns, our leaps, our lines, and every little motion. We also did strengthening, toning, and cardio exercises. The organization where we competed was called the National Dance Alliance—NDA. In my senior year of college, we actually won the championship. That was a huge moment for all of us, because it was just after 9/11, and we danced a tribute to the city of New York. So many of the girls on the team were personally affected—many lost their dorms and all of their possessions for months, but through it all, they never missed a practice. Being on the dance team was a way for all of us to cope. And to win the championship on top of that was so rewarding. It's something I don't think I could ever put into words.
Q. How do dance teams differentiate themselves from regular cheerleading?
There's no vocal cheering. Some dance teams might, but we never held any pom-pons in our hands. We don't create pyramids or do stunting. We do dance routines, like something you might see at a studio. The only difference between dance teams and competitive studios is that studios might have more creative license. They've got a stage. They've got a backdrop. They can pull people on and off. A dance team performs with all 18-20 members of the team together at the same time for the entire routine, so it's pretty massive. It's a big visual kaleidoscope.
Q. So, colleges will have cheerleaders as well as a dance team.
The more competitive programs absolutely will. In fact, they may have more than one cheerleading squad, plus a dance team and a mascot. They have an entire spirit organization, especially the big schools like the University of Louisville. Many colleges have scholarships to be on the cheerleading squad or the dance team. The dancers at those schools are incredibly talented.
Q. Are the college teams divided into divisions?
They're usually divided by school size. There are two major national college associations—NDA and UDA. UDA might split up their competitions by categories so that one team will compete in jazz; another team will compete in hip hop, whereas NDA splits up their competitions by divisions. A division 1A school means the school has a really big athletic school program and the dance teams reflect that.
Q. When you joined your college team, is that when you got into choreography?
I actually got into it a little bit before then. At my high school, Wachusett Regional, we had a choreography class you could take in place of gym. So, I started experimenting there. Then I was asked to co-choreograph one of our high school musicals. And once I got to NYU, I started choreographing a lot of our dance team's competition and game routines.
Q. What inspires your choreography? How does that process work in your mind?
The music drives everything. Some people have actually requested I come up with choreography without music and I can't do that. It needs to come from the rhythm or the lyrics or something within the song for my creative juices to flow. And, of course, I always look at who I'm choreographing for. I don't just blindly put together a routine. I like to see the group dance, perform or rehearse before I choreograph to get an idea of their level and their style. Then, I do my best to challenge them because the routine is going to be with them for a while as they work on it and perfect it. I always try to take them a little bit above what they can handle at the moment, but at the same time not choreograph above their heads.
Q. How do the teams hear about you?
Pretty much word of mouth. I've judged and choreographed for a competition company called Cheerleaders of America. They've been instrumental in recommending me. Before that, it was just peer connections you make in the industry.
Q. Do they tell you the music they want to dance to?
Sometimes the organization will send me the complete piece of music and say this is our routine and please choreograph to it. And some organizations want more of my input, so I'll suggest music or a few songs and maybe they'll pick from that selection.
Q. Is there a standard ratio of males to females in these competitions and how does that affect your choreography?
There isn't a standard ratio but I would say there are always a lot more girls than guys. You need to choreograph differently for a guy than a girl. Some moves can be very feminine and you don't want to put that on a guy. You want a guy to dance like a guy. And, of course, depending on his level, if he's really a spectacular dancer you can highlight him and do some partnering work with him. It's always exciting when there's a guy because you can change things up and give the routines different shadings.
Q. At college, you auditioned for professional dance jobs. What was that process like? Where did you go? What did you do?
Being in New York City for four years in college really helped. I was already exposed to that world a little bit. Obviously as a student, I was somewhat limited but, for example, when the Madonna tour came through, I said, "Oh my god, I have to audition." I stood in line for three hours and when I got to the front door, they started type casting. Out of 40 people standing there, they picked one tall, gorgeous girl to come in and audition, and sent the rest of us home. So, that was my first eye-opening experience where I realized, oh, maybe it's not just about the talent. But to find out about the jobs, you would go to dance studios and check out the flyers up on the wall. You would look at Backstage, which is a paper for actors, performers and dancers, and check their audition postings. Some websites post dance auditions, and word of mouth was a big part of it. Basically, the more you auditioned, the more you found out about other auditions.
Q. You got some jobs with the Bollywood Awards and the Grammy Awards. What were they like?
The Grammy awards were at Madison Square Garden and that was a lot of fun. We were downstairs at the after party and would dance among the studio executives and on stage in between the artists as they performed. The Bollywood Awards were in Atlantic City at the Trump Plaza. That experience was awesome, because the choreographer put together a challenging hip-hop routine that was a juxtaposition of a modern routine, which directly followed our performance. We were the demons, and the modern dancers were the angels. I always liked having a concept, instead of just dancing random movements to a random song. That's why I loved working with Decadancetheatre, which is an all-female company that performs hip-hop ballets. I would say performing with them at Jacob's Pillow was one of highlights of my professional career.
Q. You also got into writing for dance magazines.
Dance Spirit Magazine noticed our dance team and they wanted to come in and do a photo shoot with us—a fashion spread with a few of our dancers. Since I knew I was going to be around all these editors and since I was a communications major, I said, "Hmmm, let me bring my resume." After giving them my resume, I basically harassed them for a few months about getting an internship! I ended up interning there for the summer and part of my senior year, and then got a job with them about a year after I graduated. I started working at the front desk doing menial stuff and worked my way up to an editor position.
Q. That seems like a fantasy New York dream job.
To be a dancer and to be working at the magazine definitely had its perks. I could see all the free shows I wanted! But more importantly, I got to be around all of these amazing dancers, choreographers and teachers who were incredibly influential. I met some of my idols. I traveled to China and Las Vegas. It was a wonderful experience. Of course, for every dream job, there's also the reality. A lot of it was just sitting in my cubicle cold calling, but I was there for 3.5 years and I learned a tremendous amount as a writer and a dancer.
Q. After you left Dance Spirit, you became a freelancer and now you have your own blog.
I was associated with the McFadden Group, which includes Dance Spirit, Dance Magazine, Pointe, Dance Teacher—most of the major dance magazines. I moved to California in 2007 and I continued to freelance for them for about a year. Then, I got this marvelous offer from Dancer Magazine to join their staff as a web editor and a featured blogger. It was a tough decision because they were competitors of the magazines where I had worked for so long. I weighed the options, but my heart told me it was time to move forward and try something new, especially since I was hoping to move more into online journalism and blogging. So I now I blog for Dancer Magazine at www.danceruniverse.com and I have my own blog, www.wendygarofoli.com, as well.
Q. Do you need web design expertise or is that not necessary for what you do?
Dancer Magazine has a design and programming team already in place, but you do need to understand how to work in a new medium. There was a learning curve where I needed to figure out some basic code to program my text, embed videos, and create links. It's different from working in print media where all I needed to understand was formatting in Microsoft Word. Also, there is online writing etiquette that differs from print journalism. You can be more informal, which is fun. In fact, it's encouraged as a means to draw in your audience. Also, tracking who is reading the blog is important. We use Google Analytics to see which stories are most popular, and who throughout the world is clicking on our blog—maybe someone from a small town in Australia or a dancer trying to make it in Tokyo. When you learn things like that, it influences the context of your writing. When you write for a print magazine or a newspaper, you don't know who's reading your stuff unless you get a letter that says I really didn't enjoy this or I liked that. On a blog, you have instant access to your audience.
Q. What are some of the fun things you've done for your blog?
One of the coolest interviews I did was with MC Hammer. He has a dance website called DanceJam and he's located here in the Bay area, so I contacted his people and surprisingly got a face-to-face interview. He's a really interesting guy. Everyone knows him as a rapper, but he's been dancing for decades and he's pretty well connected in the hip-hop world. It was interesting to hear him talk about dancers who've studied under him who are now on world tours with the likes of Janet Jackson. The man is really passionate about dance.
Q. You've also written some dance books.
That was a lucky coincidence. A woman who was a freelancer for Dance Spirit wrote books for Capstone Press, and they contacted the magazine looking for other writers who had expertise in hip hop and dance teams. My editor passed on my information, and soon enough I was talking with the publishers. We had some conversations and I gave them some writing samples, and one thing led to another, and all of a sudden I had two book deals! After I completed books on breakdancing and dance teams, they asked me to do four more titles on jazz, modern, swing dance and Irish step. They're non-fiction, instructional books for children on things like the history of the dance form, how it started, and what's going on today. They also include breakdowns of some basic steps and where you can catch performances in those styles.
Q. What's next for you?
I'm expanding my horizons into more general media stuff and more broad-based entertainment. I freelance for a local newspaper, and will cover anything from a Christian music festival to an organic and sustainable food conference. On my personal blog, I like to discuss new music, movies, politics–it really runs the gamut. I'm just trying to show versatility in my writing and attempting to go more mainstream. I've been writing for dance magazines and dance books and dance blogs for seven years now, so I want to branch out. This fall, I'm heading to Stanford for graduate school in journalism. I've discovered through dance that I love to write, and now I'd like to find out what else I can do with that.