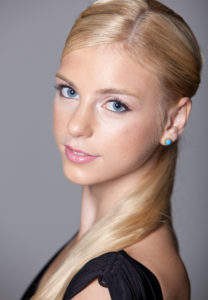 Whitney Jensen began her ballet training in Salt Lake City, Utah. At the age of 10, she won a silver medal at Youth America Grand Prix. The following year, she won the Hope of America Award. At the ages of 11 and 12, Whitney was chosen to perform the role of Clara for the Radio City Christmas Spectacular in New York City. That same year Whitney relocated to New York and began training with Valentina Kozlova's Dance Conservatory of New York. During her training with Ms. Kozlova, Whitney received 7 Gold Medals and one Silver Medal. In 2008, Whitney participated in the 23rd Varna International Ballet Competition where she won the highest award possible, The Special Distinction Medal and Diploma an award which has only been given 4 other times in Varna's 44 year history. Most recently, Whitney performed the principal role of Maria in the full-length production of The Nutcracker with the Hungarian National Ballet in Budapest. Other guest performances include the Baltic International Ballet Festival Gala in Riga, Latvia and the World Ballet Star Festival in Seoul, Korea. She was also featured on the January/February 2010 cover of DANCE magazine. Whitney joined Boston Ballet in 2009 as a member of the corps de ballet and was promoted to second soloist in 2010.
Q. How did you get interested in ballet?
My mom had a dance studio when I was little. Both my older sisters are dancers. They did more musical theater and acting but I just kind of grew up with dance in my life.
Q. You began competing at a young age. How did that come about?
My first competition I was six. I did a competition in Utah. I started out with all types of dance. Hip hop. Jazz. Lyrical. Tap. Everything. So, I developed competition skills at a young age.
Q. Did you enjoy the competitions?
I did. I loved to perform. I loved to get things right. So that I had something to look forward to. I'm glad I started young so it didn't become a fear of mine.
Q. Did they help your dancing? Did they help your dance career? Is there anything you brought away from the dance competitions that helps you now?
I think they have definitely helped because they open your eyes to certain things that need to be taken care of. You need to be very detail orientated when you're going into competitions to make sure that what you're presenting is your very best. A dancer, an artist needs to see what suits them and work on what is best for them and preparing for competitions definitely helps you have an eye for that and it also develops a very good work ethic.
Q. Did they help your dance career?
Yes. After I won Varna, I got some professional offers from a few companies so it definitely helps jump start your career to get your name out there and for artistic directors to get to know you and get to see how you perform on stage.
Q. When you were 11, you moved from Utah to New York…
Yes. I started training with my coach when I was eleven, almost twelve. So, I went back and forth for almost a year. I would go to New York every other weekend and then it slowly progressed to staying there for two weeks and going home for a week and then three weeks and going home for a week. And then I finally just said, "I'm going to stay here." So I stayed and continued to train with my teacher for the last five years.
Q. How old were you when you actually stayed in New York?
I was twelve.
Q. Twelve?
Yes.
Q. Where were you staying? Who were you staying with?
My sister lived out there at the time, so I stayed with her. It was really convenient. No way would my parents let me just go out there without anyone. I had two sisters who lived in New York. And so I lived with one until I was 14, almost 15 and then she moved out to LA, so I started to live by myself. But my other sister was about five minutes outside of the city so I saw her pretty much every day.
Q. So, you're fifteen and living in an apartment in New York City by yourself?
Yes. I was.
Q. You cooked for yourself and all that?
Yes. But I mostly ordered in because I lived on Restaurant Row right in midtown Manhattan, so I had the best restaurants right there. The best.
Q. And what were you doing for actual school school?
I started doing school online through BYU, independent study. It's a college in Utah. I would just work every morning as much as I could before I had to go to ballet. Sometimes I'd have a private lesson in the afternoon, so that would mean I'd have to do school at the studio but basically the studio was my second home. So if I wasn't at my apartment, I'd be at the studio.
Q. So, you're 15 and you've got an apartment in New York and I guess you have friends from the ballet school….
Yes. Most of my friends were from ballet and I went to a scripture study class every morning for four years while I was there so I had friends from that and from church that I knew but most of them were from ballet.
Q. And Saturday night you're fifteen in Manhattan…
Oh, yeah. I was in Manhattan, I would have all my friends come over and have slumber parties at my house.
Q. Your coach was Valentina Koslova. How did you come into contact with her?
I saw one of her students at Grand Prix. Her student was in my Grand Prix competition when I was 11. I really loved the way she was coached and for a year my mom and I were trying to find her studio. But we couldn't find it. It didn't have very good publicity. Then, finally, the next summer somehow we found it and I had a private lesson with her and immediately loved it.
Q. Valentina Koslova's obviously played a large role in your training. What were some of the important things she taught you?
She instilled in me the sense of artistry and simplicity. That is probably the most important thing from her: to make everything look effortless–long and lean and beautiful. Not harsh. Honesty. The purity of ballet is what she strives for, and with regards to her training, she really tries to instill that in all of her students. It's very rare to see that–the kind of old fashioned Russian dancer. Those values are what she really taught me.
Q. The relationship of a dancer and her teacher seems closer than in ballet than other arts….
Yes. I have to say she was my second mom. We had a very, very good relationship. Since I was so young and living by myself and I was basically at the studio all day, she took care of me and made me feel that that was my home. We had a really good relationship from that.
Q. I get the feeling that whatever the competition, wherever in the world it is, you're competing against many of the same dancers? Is this true?
I met a lot of people who I now work with through competitions. It's really great because you kind of get a feeling of family. Your competition family. Some of the same people go to the same competitions. You know who's going to be there and you don't feel such a competitive vibe. It's really nice.
Q. I noticed a few Boston Ballet dancers who were at some of the same competitions as you such as Krista Ettlinger.
Yes. And Jeffrey Cirio, Joseph Gatti and Adiarys Almeida. I know all of them from competitions.
Q. What are some competition tips in terms of getting the attention of the judges, the type of choreography you use, the coaches you hire?
A competition can be kind of a circus because everyone does a variation and you have to bring something new and exciting to the table. You have to adjust the variation to show off your best. You really just have to think about what can show you off best.
Q. When you would go to these competitions I assume you were accompanied by Valentina Koslova.
Yes. She accompanied me most of the time. She did Grand Prix's with me in Orlando, in Korea and Varna.
Q. What advice do you have for those entering competitions?
I think the most important thing is to have a good relationship with your coach and understand that you need to put all you can into it and really look for a variation or variations or pas de deux that suit your personality and push you so you look good and you're challenged and you come across as a beautiful, strong, confident dancer.
Q. Some people say that ballet competitions emphasize showy performances rather than more artistic technique. What's your opinion about that?
That's one thing that my coach did not teach me–to be showy, to be overly perform-y. She's about bringing true art to the ballet, so she wants to make a performance tasteful and always taught me what was appropriate. So I never felt like one of those competition kids who went out there just to show people what they've got. It was more developing the character and dancing a role the way it was meant to be danced.
Q. When you were seventeen, you joined the Boston Ballet. Since you were living in New York in your own apartment when you were fifteen, I guess moving to Boston at seventeen was no big deal.
Yes. I am definitely comfortable and it feels normal to live alone. The only difference I feel is that New York is my home and I didn't know anyone in Boston. So, early in the summer when I didn't know anyone it was kind of scary and it's a very hard transition. Anytime I go back to New York I feel as if it's my home and I miss it, so living alone is not that big of a deal. But when you're in a city you're not sure of, that can sometimes be hard.
Q. Does your love of New York mean that the New York City Ballet is going to be in your future?
I don't personally see myself in the New York City Ballet. I would love to maybe dance with ABT and I would really love to dance in Europe. But mostly I want to dance somewhere that has a good repertoire that can push me in classical and contemporary style.
Q. After you won the competition at Varna, you mentioned you received a few professional offers. Why did you choose the Boston Ballet? What was there about the Boston Ballet that made you want to dance here as opposed to somewhere else?
I chose Boston Ballet because of the repertoire which is really great. We have very good mix of contemporary and classical and I knew the Artistic Director, so it seemed like a safe and good transition for me.
Q. What was your first professional class like?
Nervous. Very nervous.
Q. Biggest memories from the first year.
Having to perform pieces that everyone else already knew that you'd have to learn in a day. That was tough. It's a really fast transition but you're just expected to pick it up. That was sometimes hard. But I remember it went well.
Q. Last year you got to perform in Jerome Robbin's Afternoon of a Faun. It was quite an electric performance you gave. Did you enjoy it?
I did. That was one of the best highlights of the year for me. It was nice to have a simple piece that has a story to it and that you hope will draw the audience in. And that piece draws the audience in more than a lot of other pieces and dancing with Sabi Varga is always a pleasure so it was really great.
Q. The piece seems to have a great sexual deal of sexual tension that builds between you and the male dancer but then it ends on such a quiet note.
That's the point of it. I think the point is just two people at a studio who obviously have that tension between each other and I think the woman just chooses to pull herself out. But it was a very good learning experience for me to be natural and not active so it was good.
Q. More and more dancers are creating their own website. Have you thought about it?
I have. I haven't really put any effort into it actually. But it has crossed my mind.
Q. What are some of the technical improvements in your dancing you want to improve this year?
I think it's always good to make things look effortless. That always takes constant work. It's hard. But important.
Q. Do you have any advice for young dancers?
If they love it, do it. And if you really want it, work your hardest. Find a teacher that you trust. That's the most important thing.
To see Whitney Jensen in her award winning performance in Orlando, Florida in 2007 when she was 15

To see Whitney Jensen in her award winning peformance at Varna when she was 16
https://youtube.com/watch?v=q-WSyqQ4ljc%26NR%3D1
To check out the Boston Ballet website, click here: www.bostonballet.com. To return to this website, click on the back arrow in the upperleft hand corner of your browser.
Photo credit: Rosalie O'Connor