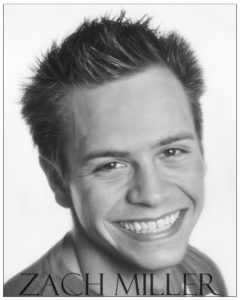 Zachary is the founder and director of www.AuditionInside.com. Zachary spent his performance career as an acrobat, performing with cirque companies around the United States. Most notably, Zachary performed alongside Debbie Gibson in Cirque Dreams Jungle Fantasy and in the Indiana Jones Epic Stunt Spectacular at Walt Disney World. After experiencing the struggle to find consistent work during his performance career, Zachary decided to give back to the artist community. AuditionInside.com is a website designed for performance artists to find auditions, access artist resources, and read performance news and advice. Through Audition Inside, Zachary hopes to break down barriers to entry and make artists careers a little less stressful!
Q. What is your background?
I am an acrobat at heart. I started training in martial arts when I was 4 years old and went for nearly 18 years. Towards my teenage years I started getting involve with the circus. Eventually, after learning acrobatics, I "ran away" with the circus. I have been performing with "cirque" companies since. Most recently, I have decided to make Orlando my home, settling down as a stuntman at Disney's Hollywood Studios…and, I absolutely love my job!
Q. What is the purpose of your website?
First and foremost, AuditionInside.com is a website for live performance artists to find auditions across the United States. Unfortunately, in our industry, jobs always have an ending date. How many ballet shows do you know that have completed a 40-year run (almost the length of our working life)? This means that we always have to be looking for our next "gig." Audition Inside is here to solve that problem. In addition, we have other resources for artists. We have a green room for artists to locate training venues and photographers in their area; we have an articles and blog section for artists to get the latest advice related to the entertainment industry; and we have a new "reviews" section that covers shows in our industry.
Q. What inspired you to create it?
Ha-ha…It's kind of selfish actually. It was really hard to find jobs as acrobat when nobody in your family has ever been in that career. I can't tell you how many dead ends I went down that led to no jobs. I wanted to make an easier way to locate these jobs. After I figured this out for myself, I wanted to help other artists in their journey to find shows. This way artists can focus more on their audition material than actually finding the auditions.
Q. Who is the main focus?
The main focus of the website is live performing arts in the United States. We have almost ever live performance art you can think of. All you have to do is go to the website filter for your genre of performing art (i.e. dancer, singer, and acrobat) and the US state you want to audition in, and then click "submit." Voi-la! You have auditions in that area!
Q. What are some companies that that advertise for jobs on your site?
The list of companies singing up to post auditions is continually growing! Right now we have over 150 employers signed up to post and over 300 auditions currently posted. Some examples of the employers posting are: SeaWorld Orlando, Le Reve, Atlantic City Ballet, Knoxville Opera, and VEE Corporation.
Q. If you live somewhere other than New York or LA are you going to find auditions listed on the site?
This is a great question. Many people often ask the same question. The answer is yes. Although the majority of the auditions on the website are located in New York, California, and Florida, there are many auditions outside of this scope as well. Don't believe me? You can filter on the website and see the auditions available in the different areas. We even get auditions for theatres in Alaska!
Q. What do you think are the best features of the site?
This is a no brainer. The audition filter is the best feature on the website, obviously because it is an audition site. News and resources are great, but ultimately, everyone wants to find their next audition, which will lead to their next gig!
Q. What features do you want to add?
We have two goals for this year. The first one is to get our show review section up and running. We are going to start writing reviews on local Orlando theme park shows and then branch out to theatres in Florida, and eventually all 50 states. Secondly, we want to expand to house artist's information within the site. This way not only could artists look for auditions, but employers could sort through artist's information in their area. It is a win for both sides!
Q. How often are auditions added?
Auditions are added every day. Employers have the ability to create their own account and post auditions as soon as they want. Most employers post their auditions as soon as they are announced. In addition, every day our audition experts are looking for new auditions to post to the site.
Q. What is the best way to be noticed at an audition?
Obviously, the best way to be noticed is to stand out with your talent. However, talent doesn't always get you the job. All artists need to be well rounded. By this I mean that you need to be professional, show up on time, bring your resume and head shot in the proper format, and be on your best behavior. Don't be the most talented person in the room that NO ONE wants to work with!
Q. Besides your website, what are the best ways to find out about auditions?
Ha-ha, are you trying to put me out of business? I am just kidding. This is a great question. I actually wrote an article on "How To Find Auditions." (You can find this article here) If you look hard enough you will be able to find the majority of auditions with only a little trouble! Some places to look and/or resources to use are: news alerts, local newspaper websites, union websites, search engines, employer websites, and theatre websites. The article details more about how to use these resources.
Q. Do you have to pay to use your website?
Yes, we have a couple of membership options. You can pay monthly for $4.99 or yearly for $44.99. If you think about it, it is a pretty cheap option. If you were to value your time at $10 an hour, and you searched for auditions or gigs 5 hours a week, you are looking at least $200 a month for your time. For $4.99/month, on Auditioninside.com, you can quickly view the auditions in your area, saving you time and money!
Q. Many dancers audition to get into serious dance schools. How are professional auditions different or the same?
I personally don't know much about dance schools and their audition process. However, now that you presented this question I am going to research it. What I do know is that all types of auditions should be treated the same. Ultimately, an audition for a dance school is a "practice run" for your eventual professional dance company auditions. You should treat every single audition as if it is for the role of a lifetime!
Q. What's your best advice for going on auditions?
My best advice is to go into an audition and put everything on the table. The last thing you want to do is walk out of an audition knowing that you didn't give it everything you had. You never know who is watching and what opportunities will present themselves. Always give 100% and never regret it!