Ballet Poetry – scroll down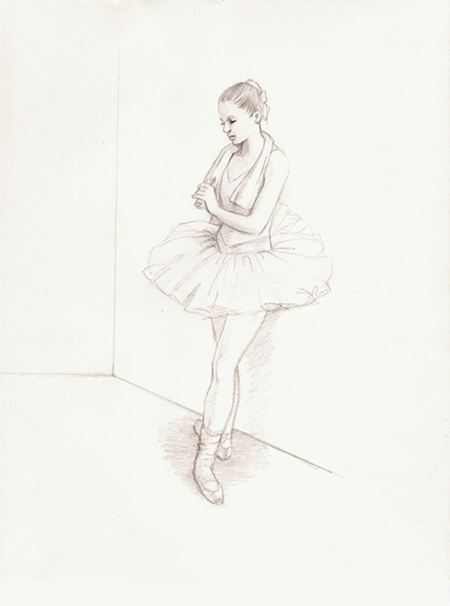 Dance
Mary Carolyn Davies
God's in me when I dance.
God, making Spring
Out of his thoughts
And building worlds
By wishing.
God
Laughing at his own
Queer fancies,
Standing awed,
And sobbing;
Musing,
Dreaming,
Throbbing;
Commanding;
Creating—
God's in me
When I dance.
Jessica Dances
Eleanor Farjeon
When Joy and Molly on the lawn
Danced bare of foot like spirits of dawn
Jessica watched in wonderment
Until delight would not be pent,
And shoe and sock she cast in mirth
And felt her naked toes touch earth.
Swiftly the fresh green joy shot in
Through the fresh young rosy skin,
And in a golden glee the child
Went dancing innocently-wild
Up and down and round and round
Like daisies covering the ground,
Called sunward by the age-long spell
No ages can destroy
Of youth that never sighed or sinned,—
While elfin Molly and fairy Joy
Danced on like lilies in a dell
Or harebells in the wind.
Variation on a Theme by D. H. Lawrence
David Ira Rottenberg from Soldiers of Beauty
when the white feet of dancers beat across the stage
the sound is like the wings of birds at dawn, fluttering,
and when the feathery light bodies rise en pointe, spinning
like the wind across a lake, the sight is romance, uttering.
Javanese Dancers
Arthur Symons
Twitched strings, the clang of metal, beaten drums,
Dull, shrill, continuous, disquieting:
And now the stealthy dancer comes
Undulantly with cat-like steps that cling;
Smiling between her painted lids a smile,
Motionless, unintelligible, she twines
Her fingers into mazy lines,
The scarves across her fingers twine the while.
One, two, three, four glide forth, and, to and fro,
Delicately and imperceptibly,
Now swaying gently in a row,
Now interthreading slow and rhythmically,
Still, with fixed eyes, monotonously still,
Mysteriously, with smiles inanimate,
With lingering feet that undulate,
With sinuous fingers, spectral hands that thrill
In measure while the gnats of music whirr,
The little amber-coloured dancers move,
Like painted idols seen to stir
By the idolators in a magic grove.
Nora on the Pavement
Arthur Symons
As Nora on the pavement
Dances, and she entrances the grey hour
Into the laughing circle of her power,
The magic circle of her glances,
As Nora dances on the midnight pavement;
Petulant and bewildered,
Thronging desires and longing looks recur
And memorably re-incarnate her,
As I remember that old longing,
A footlight fancy, petulant and bewildered;
There where the ballet circles,
See her, but ah! Not free her from the race
Of glittering lines that link and interlace;
This colour now, now that, may be her,
In the bright web of those harmonious circles.
But what are these dance-measures,
Leaping and joyous, keeping time alone
With Life's capricious rhythm, and all her own,
Life's rhythm and hers, long sleeping,
That wakes, and knows not why, in these dance-measures?
It is the very Nora;
Child, and most blithe, and wild as any elf,
And innocently spendthrift of herself,
And guiless and most unbeguiled,
Herself at last, leaps free the very Nora.
It is the very soul of Nora,
Living at last, and giving forth to the night,
Bird-like, the burden of its own delight,
All its desire, and all the joy of living,
In that blithe madness of the soul of Nora.
April Midnight
Arthur Symons
Side by side through the streets at midnight,
Roaming together,
Through the tumultuous night of London,
In the miraculous April weather.
Roaming together under the gaslight,
Day's work over,
How the Spring calls to us, here in the city,
Calls to the heart from the heart of a lover!
Cool to the wind blows, fresh in our faces,
Cleansing, entrancing,
After the heat and the fumes and the footlights,
Where you dance and I watch your dancing.
Good it is to be here together,
Good to be roaming,
Even in London, even at midnight,
Lover-like in a lover's gloaming.
You the dancer and I the dreamer,
Children together,
Wandering lost in the night of London,
In the miraculous April weather.
To a Dancer
Arthur Symons
Intoxicatingly
Her eyes across the footlights gleam,
(The wine of love, the wine of dream,)
Her eyes, the gleam for me!
The eyes of all that see
Draw to her glances, stealing fire
From her desire that leaps to my desire:
Her eyes that gleam for me!
Subtly, deliciously,
A quickening fire within me, beat
The rhythms of her poising feet;
Her feet that poise to me!
Her body's melody,
In silent waves of wandering sound,
Thrills to the sense of all around,
Yet thrills alone for me!
And O, intoxicatingly,
When, at the magic moment's close,
She dies into the rapture of repose,
Her eyes that gleam for me!
To a Gitana Dancing
Arthur Symons
Because you are fair as souls of the lost are fair,
And your eyelids laugh with desire, and your laughing feet
Are winged with desire, and your hands are wanton, and sweet
Is the promise of love in your lips, and the rose in your hair
Sweet, unfaded, a promise sweet to be sought,
And the maze you tread is as old as the world is old,
Therefore, you hold me, body and soul, in your hold,
And time, as you dance, is not, and the world is as nought.
You dance, and I know the desire of all flesh, and the pain
Of all longing of body for body ; you reckon, repel,
Entreat, and entice, and bewilder, and build up the spell,
Link by link, with deliberate Steps, of a flower-soft chain.
You laugh, and I know the despair, and you smile, and I know
The delight of your love, and the flower in your hair is a star,
It brightens, I follow ; it fades, and I see it afar ;
You pause: I awake; have I dreamt? Was it longer ago
Than a dream that I saw you smile? for you turn, you turn,
As a Startled beast in the toils: it is you that entreat,
Desperate, hating the coils that have fastened your feet,
The desire you desired that has come ; and your lips now yearn,
And your hands now ache, and your feet faint for love.
Longing has taken hold even on you,
You, the witch of desire ; and you pause, and anew
Your Stillness moves, and you pause, and your hands move.
Time, as you dance, is as nought, and the moments seem
Swift as eternity ; time is at end, for you close
Eyes and lips and hands in sudden repose;
You smile: was it all no longer ago than a dream?
The Ballet School
Russell Hughes
O, what a ballet-school!
The master is the boisterous springtime wind.
Under his rough instruction, slim grass blades
Curve and bend and learn their porte de bras.
The dandelions pirouette in skirts
Of yellow tarlatan. They are younger, yet
Are premier ballerinas striving to
Become as excellent in technique as
The pink peach-blossom, caught from off her bough
And flung (by a designing maitre-ballet)
Across the floor among the corps-ballet.
Three robins and a cello-throated dove
Make fitting music for pliez and turns,
And arabesques,
O, what a ballet-school!
Haste Thee, Nymph
John Milton
Haste thee, Nymph, and bring with thee
Jest, and youthful Jollity,
Quips and cranks and wanton wiles,
Nods and becks and wreathed smiles
Such as hang on Hebe's cheek,
And love to live in dimple sleek;
Sport that wrinkled Care derides,
And Laughter holding both his sides.
Come, and trip it, as you go,
On the light fantastic toe;
And in thy right hand lead with thee
The mountain-nymph, sweet Liberty;
And, if I give thee honour due,
Mirth, admit me of thy crew,
To live with her, and live with thee,
In unreproved pleasures free …
Gratiana Dancing and Singing
Richard Lovelace
I.
See! with what constant Motion
Even, and glorious, as the Sun,
Gratiana steeres that Noble Frame,
Soft as her breast, sweet as her voice
That gave each winding Law and poise,
And swifter then the wings of Fame.
II.
She beat the happy Pavement
By such a Star made Firmament,
Which now no more the Roof envies;
But swells up high with Atlas ev'n
Bearing the brighter, nobler Heav'n,
And in her, all the Dieties.
III.
Each step trod out a Lovers thought
And the Ambitious hopes he brought,
Chain'd to her brave feet with such arts;
Such sweet command, and gentle awe,
As when she ceas'd, we sighing saw
The floor lay pav'd with broken hearts.
IV.
So did she move ; so did she sing
Like the Harmonious spheres that bring
Unto their Rounds their music's aid;
Which she performed such a way,
As all th' inamour'd world will say
The Graces danced, and Apollo play'd.
At a Wedding
Sir John Suckling
Her feet beneath her petticoat
Like little mice, stole in and out,
As if they feared the light.
And oh! She dances such a way
No sun upon an Easter day
Is half so fine a sight.
The Belle of the Ball
William Mackworth Praed
I saw her at a county ball;
There when the sound of flute and fiddle
Gave signal sweet in that old hall,
Of hands across and down the middle,
Her s was the subtlest spell by far
Of all that sets young hearts romancing;
She was the queen, our rose, our star;
And when she danced—Oh, heaven, her dancing!
Dance Figure
Ezra Pound
For the Marriage in Cana of Galilee
Dark-eyed,
O woman of my dreams,
Ivory sandaled,
There is none like thee among the dancers,
None with swift feet.
I have not found thee in the tents,
In the broken darkness.
I have not found thee at the well-head
Among the women with pitchers.
Thine arms are as a young sapling under the bark;
Thy face as a river with lights.
White as an almond are thy shoulders;
As new almonds stripped from the husk.
They guard thee not with eunuchs;
Not with bars of copper.
Gilt turquoise and silver are in the place of thy rest.
A brown robe, with threads of gold woven in
patterns, hast thou gathered about thee,
O Nathat-Ikanaie, 'Tree-at-the-river'.
As a rillet among the sedge are thy hands upon me;
Thy fingers a frosted stream.
Thy maidens are white like pebbles;
Their music about thee.
There is none like thee among the dancers;
None with swift feet.
I Cannot Dance upon my Toes
Emily Dickinson
I cannot dance upon my Toes—
No Man instructed me—
But oftentimes, among my mind,
A Glee possesseth me,
That had I Ballet knowledge—
Would put itself abroad
In Pirouette to blanch a Troupe—
Or lay a Prima, mad,
And though I had no Gown of Gauze—
No Ringlet, to my Hair,
Nor hopped to Audiences—like Birds,
One Claw upon the Air,
Nor tossed my shape in Eider Balls,
Nor rolled on wheels of snow
Till I was out of sight, in sound,
The House encore me so—
Nor any know I know the Art
I mention—easy—Here—
Nor any Placard boast me—
It's full as Opera—
Mask
Carl Sandburg
Fling your red scarf faster and faster, dancer.
It is summer and the sun loves a million green leaves,
masses of green.
Your red scarf flashes across them calling and a-calling.
The silk and flare of it is a great soprano leading a chorus
Carried along in a rouse of voices reaching for the heart of the world.
Your toes are singing to meet the song of your arms:
Let the red scarf go swifter.
Summer and the sun command you.
Dancer
Carl Sandburg
The lady in red, she in the chile con carne red,
Brilliant as the shine of a pepper crimson in the summer sun,
She behind a false-face, the much sought-after dancer, the most sought-after dancer of all in this masquerade,
The lady in red sox and red hat, ankles of willow, crimson arrow amidst the Spanish clashes of music,
I sit in a corner
watching her dance first with one man
and then another.
They Who Dance
Marjorie Allen Seiffert
The feet of dancers
Shine with mirth,
Their hearts are vibrant as bells:
The air flows by them
Divided like water
Cut by a gleaming ship.
Triumphantly their bodies sing,
Their eyes are blind
With music.
They move through threatening ghosts
Feeling them cool as mist
On their brows.
They who dance
Find infinite golden floors
Beneath their feet.
Sweet Dancer
William Butler Yeats
The girl goes dancing there
On the leaf-sown, new-mown, smooth
Grass plot of the garden;
Escaped from bitter youth,
Escaped out of her crowd,
Or out of her black cloud.
Ah, dancer, ah, sweet dancer!
If strange men come from the house
To lead her away, do not say
That she is happy being crazy;
Lead them gently astray;
Let her finish her dance,
Let her finish her dance.
Ah, dancer, ah, sweet dancer!
The Fiddler of Dooney
W. B. Yeats
When I play on my fiddle in Dooney,
Folk dance like a wave of the sea;
My cousin is priest in Kilvarnet,
My brother in Moharabuiee.
I passed my brother and cousin:
They read in their books of prayer;
I read in my book of songs
I bought at the Sligo fair.
When we come at the end of time,
To Peter sitting in state,
He will smile on the three old spirits,
But call me first through the gate;
For the good are always the merry,
Save by an evil chance,
And the merry love the fiddle
And the merry love to dance
And when the folk there spy me,
They will all come up to me,
With 'Here is the fiddler of Dooney!'
And dance like a wave of the sea.
The Baby's Dance
Ann Taylor
Dance little baby, dance up high,
Never mind baby, mother is by;
Crow and caper, caper and crow,
There little baby, there you go;
Up to the ceiling, down to the ground,
Backwards and forwards, round and round;
Dance little baby, and mother shall sing,
With the merry coral, ding, ding, ding.
The Dance
R. S. Thomas
She is young. Have I the right
Even to name her? Child,
It is not love I offer
Your quick limbs, your eyes;
Only the barren homage
Of an old man whom time
Crucifies. Take my hand
A moment in the dance,
Ignoring its sly pressure,
The dry rut of age,
And lead me under the boughs
Of innocence. Let me smell
My youth again in your hair.
Dance-Hall Girls
Robert William Service
Where are the dames I used to know
In Dawson in the days of yore?
Alas, it's fifty years ago,
And most, I guess, have "gone before."
The swinging scythe is swift to mow
Alike the gallant and the fair;
And even I, with gouty toe,
Am glad to fill a rocking chair.
Ah me, I fear each gaysome girl
Who in champagne I used to toast,
or cozen in the waltz's whirl,
In now alas, a wistful ghost.
Oh where is Touch The Button Nell?
Or Minnie Dale or Rosa Lee,
Or Lorna Doone or Daisy Bell?
And where is Montreal Maree?
Fair ladies of my lusty youth,
I fear that you are dead and gone:
Where's Gertie of the Diamond Tooth,
And where the Mare of Oregon?
What's come of Violet de Vere,
Claw-fingered Kate and Gumboot Sue?
They've crossed the Great Divide, I fear;
Remembered now by just a few.
A few who like myself can see
Through half a century of haze
A heap of goodness in their glee
And kindness in their wanton ways.
Alas, my sourdough days are dead,
Yet let me toss a tankard down . . .
Here's hoping that you wed and bred,
And lives of circumspection led,
Gay dance-hall girls o Dawson Town!
Reasons for Attendance
Philip Larkin
The trumpet's voice, loud and authoritative,
Draws me a moment to the lighted glass
To watch the dancers – all under twenty-five –
Solemnly on the beat of happiness.
Or so I fancy, sensing the smoke and sweat,
The wonderful feel of girls. Why be out there ?
But then, why be in there? Sex, yes, but what
Is sex ? Surely to think the lion's share
Of happiness is found by couples – sheer
Inaccuracy, as far as I'm concerned.
What calls me is that lifted, rough-tongued bell
(Art, if you like) whose individual sound
Insists I too am individual.
It speaks; I hear; others may hear as well,
But not for me, nor I for them; and so
With happiness. Therefor I stay outside,
Believing this, and they maul to and fro,
Believing that; and both are satisfied,
If no one has misjudged himself. Or lied.
The Lost Dancer
Jean Toomer
Spatial depths of being survive
The birth to death recurrences
Of feet dancing on earth of sand;
Vibrations of the dance survive
The sand; the sand, elect, survives
The dancer. He can find no source
Of magic adequate to bind
The sand upon his feet, his feet
Upon his dance, his dance upon
The diamond body of his being.
The Swan
Stephen Spender
The trumpets were curled away, the drum beat no more,
Only the Swan, the Swan, danced in my brain:
All night she spun; dropped, lifted again,
Arched and curved her arms; sunk on the frore
Snow-brittle feathers skirting her; reclined on hands
Buckling her waist, where the moon glanced.
How small her waist was, and the feet that danced!
Sometimes she bent back, and a breeze fanned
Her hair that touched the ground, and, shown
Between her Swan's legs, feather and white down.
Vision of the Sacred Dance
Anonymous
His form is everywhere: all pervading in His Shiva-Shakti:
Chidamburam is everywhere, everywhere His dance:
As Shiva is all and omnipresent.
Everywhere is Shiva's gracious dance made manifest.
His five-fold dances are temporal and timeless.
His five-fold dances are His Five Activities.
By His grace He performs the five acts,
This is the sacred dance of Uma-Sahaya.
He dances with Water, Fire, Wind and Ether,
Thus our Lord dances ever in the court.
Visible to those who pass over Maya and Mahamaya
Our Lord dances His eternal dance.
The form of the Shakti is all delight—
This united delight is Uma's body:
This form of Shakti arising in time
And uniting the twain is the dance.
That Night I Danced
Wilton Agnew Barrett
That night I danced,
And he was still only a little while in the earth.
People, if they had known,
Would have said I was cold-hearted and did not care much,
But all that day I had been seeing his face—
The face shut in the buried coffin—
And the pain had made a darkness of my heart.
So to whirl and wend through the dancers seemed little sin—
To give over to the music, little forgetfulness.
For the dead, if they have the power to remember,
Have the gift to understand.
Dance Me to the End of Love
Leonard Cohen
Dance me to your beauty with a burning violin
Dance me through the panic 'til I'm gathered safely in
Lift me like an olive branch and be my homeward dove
Dance me to the end of love
Dance me to the end of love
Oh let me see your beauty when the witnesses are gone
Let me feel you moving like they do in Babylon
Show me slowly what I only know the limits of
Dance me to the end of love
Dance me to the end of love
Dance me to the wedding now, dance me on and on
Dance me very tenderly and dance me very long
We're both of us beneath our love, we're both of us above
Dance me to the end of love
Dance me to the end of love
Dance me to the children who are asking to be born
Dance me through the curtains that our kisses have outworn
Raise a tent of shelter now, though every thread is torn
Dance me to the end of love
Dance me to your beauty with a burning violin
Dance me through the panic till I'm gathered safely in
Touch me with your naked hand or touch me with your glove
Dance me to the end of love
Dance me to the end of love
Dance me to the end of love